Wednesday, Jan 18, 2023
The Second Annual Orthopedic Surgery Research Symposium for Medical Students in Michigan hosted by OUWB students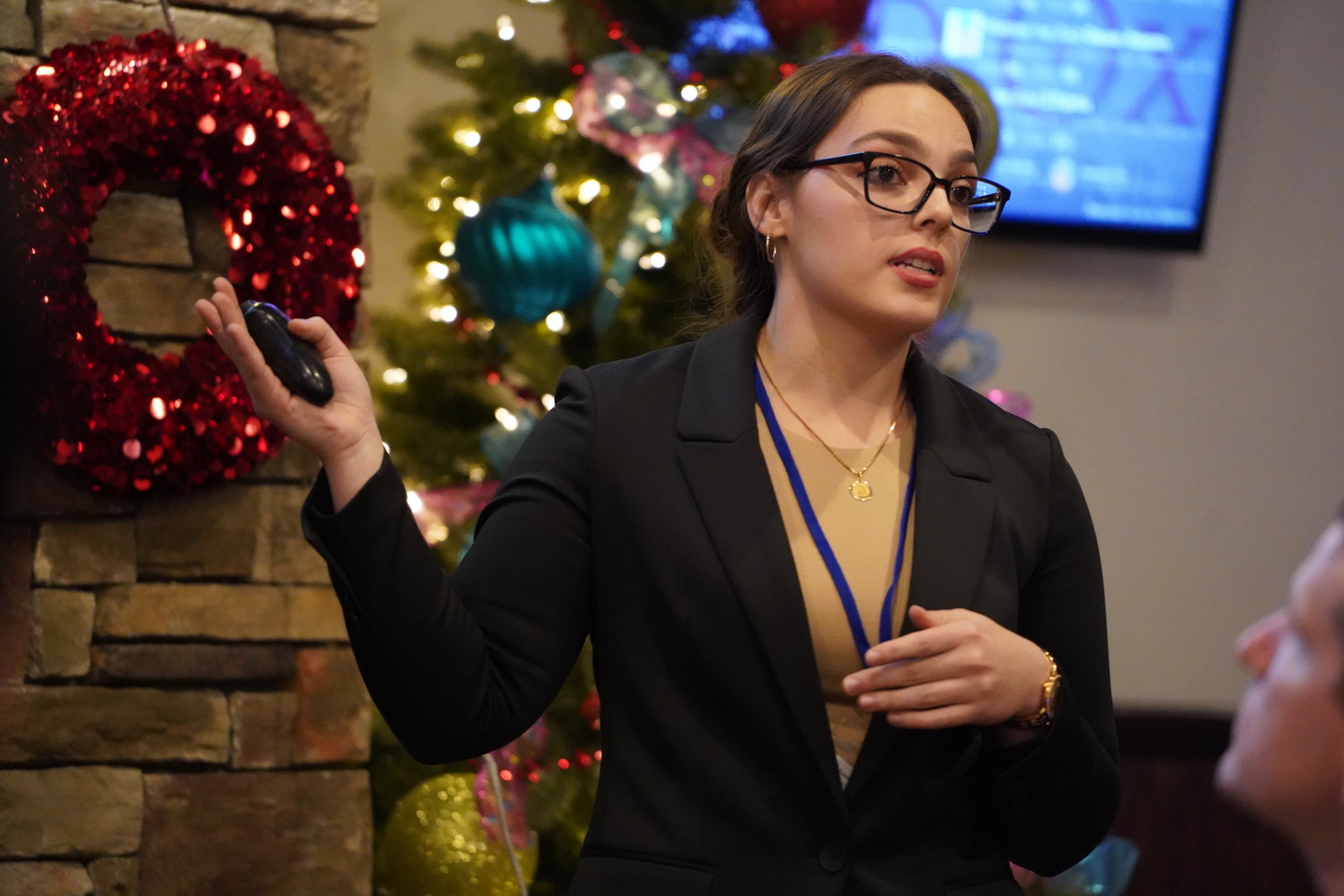 Avianna Arapovic, M2, presents at the 2nd Annual Orthopedic Surgery Research Symposium for Medical Students in Michigan that was held Dec. 8.
Medical students from across Michigan recently gathered at a research symposium hosted by a group of future physicians from Oakland University William Beaumont School of Medicine, where presentations and valuable details about securing residencies in this specialty were highlighted.
The 2nd Annual Orthopedic Surgery Research Symposium for Medical Students in Michigan was held Dec. 8, at Red Ox Tavern in Auburn Hills.
Attendees were students from OUWB, Wayne State University School of Medicine, University of Michigan Medical School, Michigan State University College of Human Medicine, MSU College of Osteopathic Medicine, Central Michigan University College of Medicine, and Western Michigan University Homer Stryker, M.D., School of Medicine.
There were eight podium presentations — including three from OUWB students — and 36 posters.
Several Corewell Health physicians also attended and served as judges for the podium presentations and posters. The experts also offered insight into what it takes to successfully land an ortho residency.
"At its core, the symposium represents what academic medicine is all about — research," said Maddie DeClercq, M3, one of the organizers. "Also, it's about bringing all of these medical students together to network and receive feedback in a way that is super important."
"It provides a glimpse of what our future looks like," she added.
Valuable insights from a program director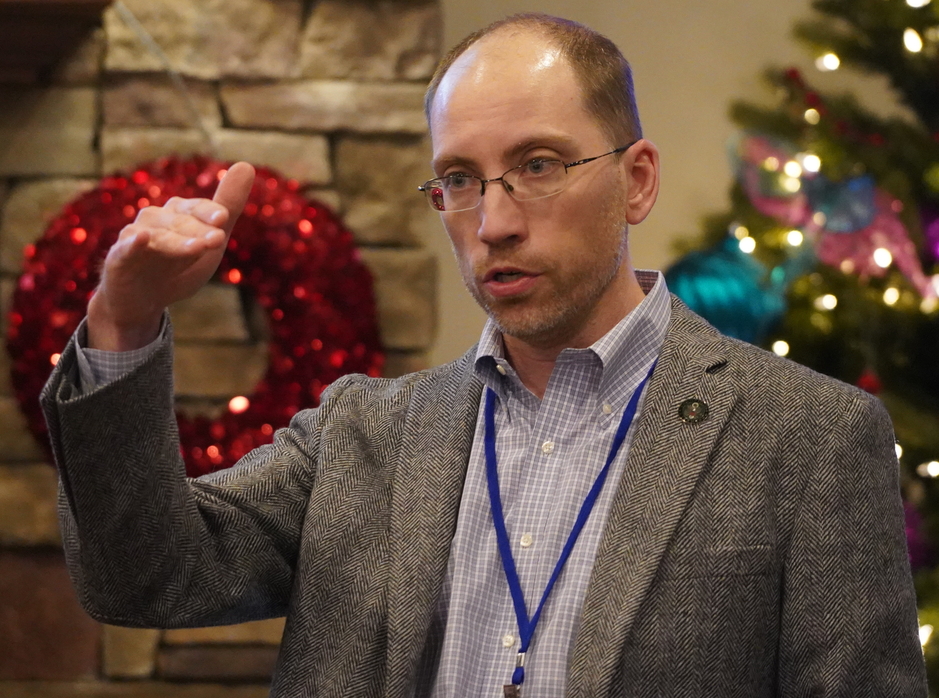 Drew Moore, M.D., program director of the orthopedic surgery residency program, Corewell Health, offered up how medical students successfully match into his program.
Drew Moore, M.D., assistant professor, Department of Orthopedic Surgery, and program director of the orthopedic surgery residency program, Corewell Health, offered up how medical students successfully match into his program.
He also talked about the competitiveness of the field: currently, there are more than 1,000 medical students who apply to 210 programs across the country, and only 875 spots. Moore called it a "high non-match rate" specialty.
For his program alone, Moore said more than 600 applications are received annually, and only six spots are offered.
The 600 are cut in half using baseline criteria: graduating from a U.S. program; having "some sort of research involvement;" and Step 2 exam scores "around 240 to 245."
The roughly 300 remaining applications are read "front to back" and narrowed down to about 60.
Applications from the strongest candidates typically have three to four letters of recommendation, he said, including at least one from a program director or chair.
"What means most to me is a letter from someone that I know and someone that I trust who says that this person is really good and that they want them in their program," said Moore.
Quality research also plays into the equation, he said.
"Research can take an application from marginal and elevate it to the 'good' category," he said.
Moore also emphasized the importance of a strong personal statement.
"Almost all (personal statements) are the same…'I had a meniscus injury when I played soccer in high school…my mom broke her hip…I like to work with my hands…I like sports,'" he said. "If there's something that's particularly unique to you, put it in there…just don't be weird, or try to be too creative because sometimes that can backfire."
When it comes to what Moore called "ideal traits" he seeks in residents, he identified several: initiative; hard-working; good citizens; pleasure to be around; compassionate; honest both with others and themselves; and complete tasks independently.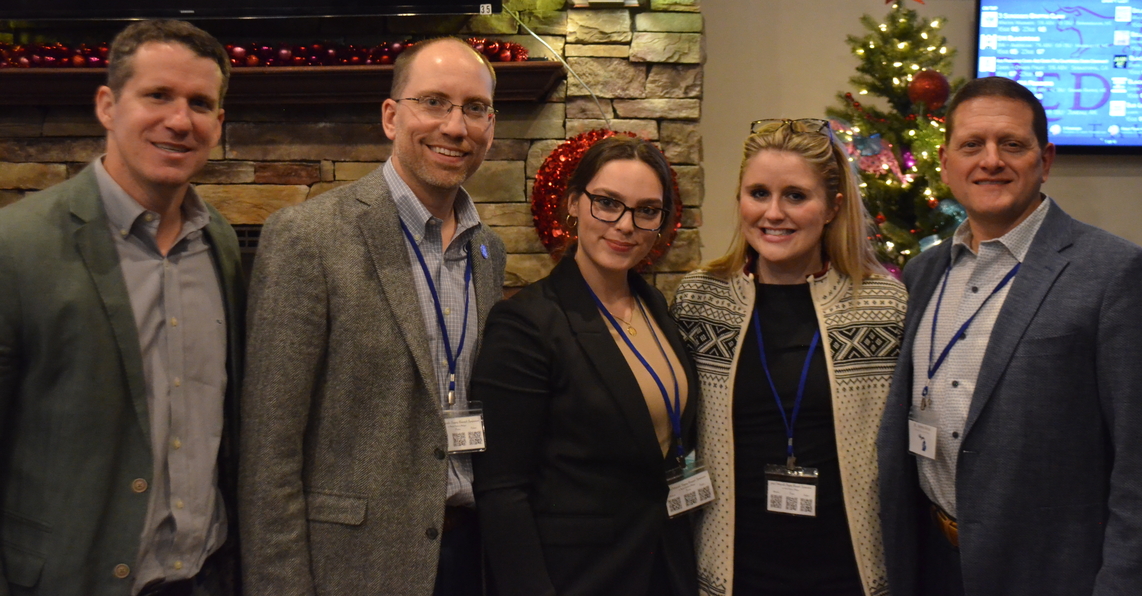 Robert Runner, M.D., Moore, Arapovic, DeClercq, James Bicos, M.D. Runner, Moore, and Bicos served as poster and podium presentation judges.
Moore also offered insight into what medical students can do to have success on ortho rotations.
He urged students to be "sharks, not sponges," and to look for work in ways that are helpful and make residents lives easier. He also urged students to try and work harder than the residents, and to never complain.
"If you can't make it a month without complaining or demonstrating laziness, you won't make it five years," he said.
Moore also recommended students "read, read, read…especially for cases and anatomy."
Jamil Haddad, M3, MSU College of Osteopathic Medicine, said he appreciated the opportunity to connect with experts like Moore.
"As a third-year medical student currently doing clinical rotations, the hospital can be a very difficult place to connect with other students and faculty members on a deeper level," he said. "To have this event that's open to all medical students is a very, very beneficial opportunity."
Event is 'a blessing'
DeClercq said there were about 50 students like Haddad from across Michigan who participated in the event.
All costs, including food, was covered by sponsors of the event: Smith & Nephew Sports Medicine; Vericel Cartilage Restoration; DePuy Synthes Trauma; Miotech DonJoy Bracing; and Zimmer Biomet Joints.
Abdullah Sahyouni, M3, Wayne State University School of Medicine, said he takes every opportunity he can to network and learn from others with interests in the specialty.
"In the past three years — mostly due to COVID — it's been really hard to actually get a chance to interact and communicate with a lot of people who are interested in the same field that I would love to be part of, which is orthopedic surgery," he said. "It's been challenging to just have a nice meal and network, whether it's ortho-related or not. I'm really grateful for this event."
Zechariah Jean, M3, Wayne State, said he's passionate about helping people who have difficulty moving.
"Coming to an event like this is a blessing because I'll be able to see things I'm passionate about," he said. "It's also a great opportunity to connect with people from other schools and build camaraderie…and network."
Jean took second place in the poster awards category for "Sequential meniscal repair device, a biomechanical study comparing all inside repair technique with a sequential all inside repair device."
First place was awarded to Devin Mendez, from Wayne State, while third place went to Zachary Pearson, from Western Michigan.
First place for the podium awards went to Katherine McCollum, from Central Michigan; second went to Nikhil Patel, from University of Michigan; and third to OUWB's Lauren Eberhardt.
For more information, contact Andrew Dietderich, marketing writer, OUWB, at adietderich@oakland.edu.
To request an interview, visit the OUWB Communications & Marketing webpage.
This work is licensed under a Creative Commons Attribution-NonCommercial 4.0 International License.