Monday, Aug 21, 2023
'One big family:' Strong outlook at OUWB's Clinical Skills Training & Simulation Center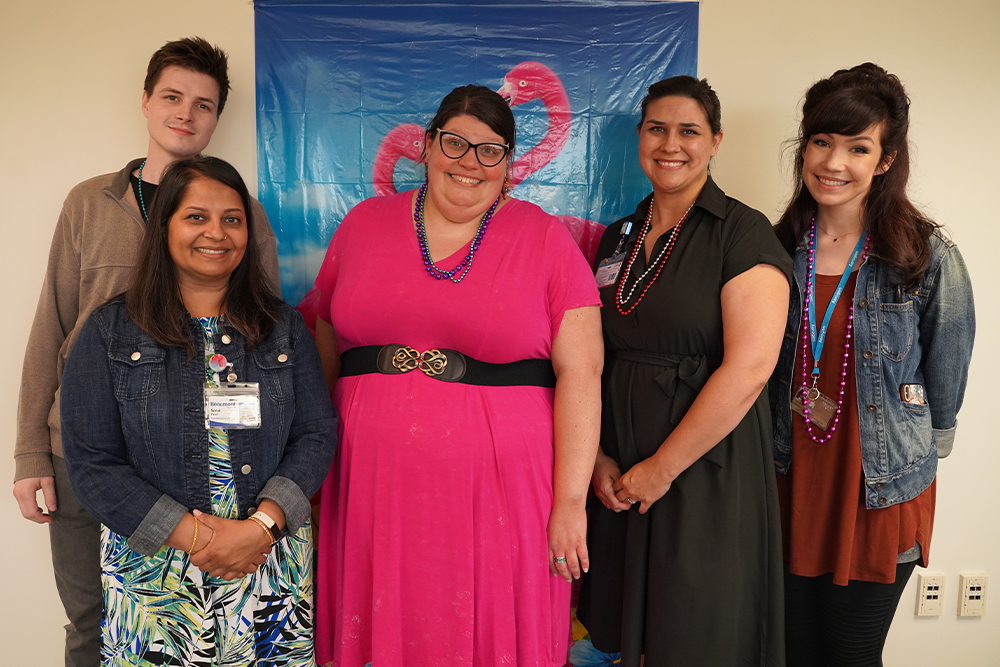 Front, from left, Sonal Patel, Tracie Leitner, Stephanie Marcincavage, and Elizabeth Santamaria. Back left, Greg Beatty.
Before they are in a clinical setting, OUWB medical students practice patient care at the school's Clinical Skills Training & Simulation Center — where leadership is more optimistic than ever about the future.
There are several reasons, too.
Clinical Skills Training & Simulation Center (CSC) Director Sonal Patel and Stephanie Marcincavage, assistant director, have spent the last year stabilizing CSC operations and "building bridges" after a period of transition.
Two new hires were recently added to the team: Greg Beatty, coordinator, CSC, and Elizabeth Santamaria, standardized patient education trainer.
Further, CSC leadership has built up its pool of standardized patients (SPs). SPs are "casual employees" who essentially act like real patients and help evaluate bedside manner of medical students as they learn to do the real thing.
"I see a lot of potential for future growth with this team and this department," said Patel. "We've already received a lot of positive feedback on the changes that we've made and have planned."
'An authentic clinical experience'
The CSC is in a former clinic at Corewell Health Beaumont Troy Hospital.
It's the primary site for OUWB learners to first practice patient skills in a realistic, state-of-the-art facility.
Home to 16 simulated patient rooms, the CSC also has separate student and patient assembly areas, and classrooms, along with video control and observation suites.
Marcincavage said new technology is likely on the way, too: a mannequin specific to emergency medicine that would allow for compressions and intubation, for example.
"I want to make it as realistic as possible for the students," she said.
Clinical faculty teaching students at the CSC come from diverse specialties — among others, there's a hospitalist, pediatrician, neurologist, and an internist who instructs on outpatient medicine.
Together, faculty and staff make up the CSC team that works toward one overarching goal: to provide as realistic a clinical experience as possible in a welcoming environment.
"The Clinical Skills Center is extremely important," said Arati Kelekar, M.D., associate professor, Department of Internal Medicine, and course director, APM 4-5.
"The value lies in students being able to encounter something that's like an authentic clinical experience before they actually see their first patient," she added.
'A sense of fulfillment'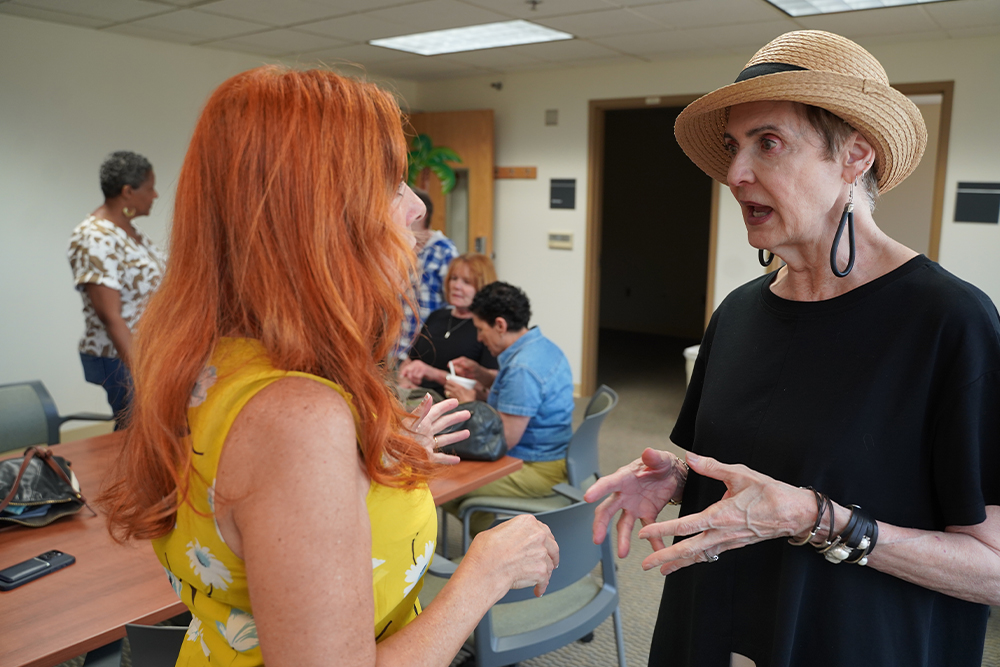 SPs Teri Partyka (left) and Kimberly Cruchon chat during the CSC's recent ice cream social. 
In addition to Patel and Marcincavage, the team includes Tracie Leitner, coordinator, Art & Practice of Medicine, who was hired just before them.
Santamaria and Beatty are more recent additions to the team.
As CSC coordinator, Beatty oversees logistics and operations of the CSC. That means scheduling for the students, helping any who might need special accommodations, setting up rooms, making sure necessary materials are available, and so on.
Beatty joined OUWB after spending the last 11 years at Wayne State University, where he started as an SP and most recently held a position similar to what he's doing at OUWB.
He said he likes working with medical students because "it's really unique…(and) not the same thing every day."
"There's a sense of fulfillment that comes from helping medical students go on to be doctors," said Beatty.
He added that he's "definitely excited" about working at OUWB.
Santamaria expressed similar feelings about her role as the SP trainer. Her job is to essentially make sure all SPs use the same standard when portraying and scoring cases.
She most recently served as a respiratory therapist at Ascension Macomb-Oakland Hospital and has experience teaching.
"I like when students tell me they are learning and finding what we provide useful," she said.
Santamaria said her early goals for the position are to help identify program needs, and subsequently develop the best course of action — including possible creation of new programs.
"I'm excited to work and create something like that," she said.
Santamaria will work with SPs like Brian Kennedy, who was recently hired as an SP. He retired from an automotive supplier two years ago.
"I heard about the program and thought it would be a good thing to do…a good way to give back and also earn some extra money," he said. 
The "upbeat and good-natured" leadership team at the CSC makes it especially easy, he said.  
Longtime actor Kimberly Cruchon, who has been an SP for four years at OUWB, expressed the same sentiment. Events like a recent ice cream social hosted at the CSC for faculty, staff, and SPs offer a kind of "personal touch" that makes all the difference in the world — and has everyone excited about what happens next.
"It feels like we're one big family now," said Cruchon.
For more information, contact Andrew Dietderich, marketing writer, OUWB, at adietderich@oakland.edu.
To request an interview, visit the OUWB Communications & Marketing webpage.
This work is licensed under a Creative Commons Attribution-NonCommercial 4.0 International License.