Friday, Jul 21, 2023
Online Summer Enrichment Program promotes OUWB, careers in medicine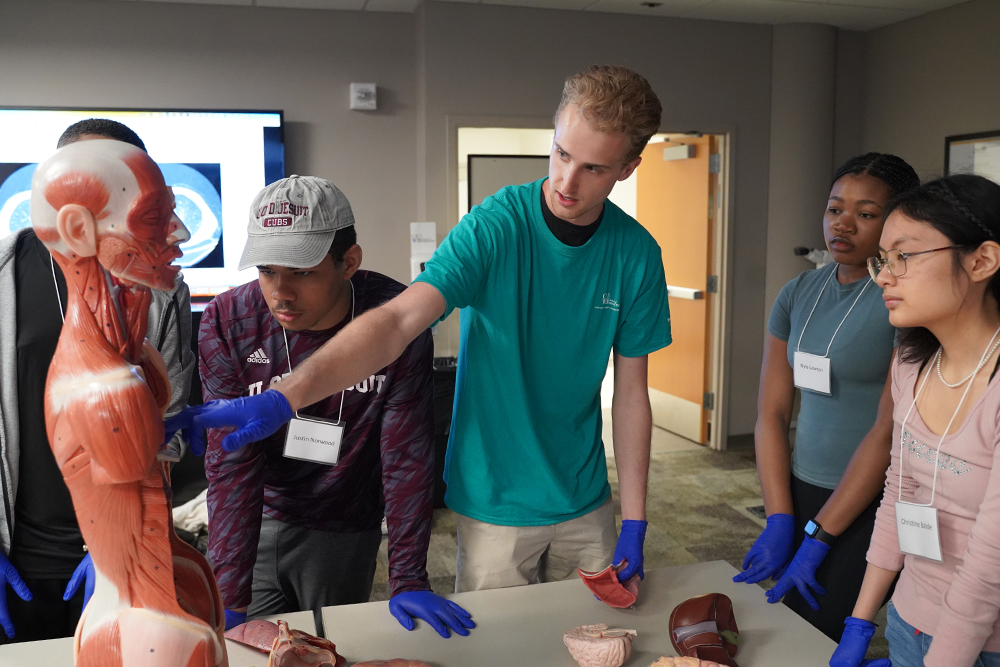 Rising M2 Mark Whitton teaches anatomy to a group of high schoolers who participated in the 2023 Online Summer Enrichment Program.
Nearly 50 area high schoolers recently participated in a program offered by Oakland University William Beaumont School of Medicine that aims to foster interest in medicine and health care.
The Online Summer Enrichment Program (OSEP) took place over the course of five days, with sessions held virtually on four of the days and in person on the fifth.
The program is presented at no cost to participants by OUWB's Diversity & Inclusion department with the curriculum developed and delivered to students by faculty from the Department of Foundational Medical Studies.
Students like Justin Norwood, a rising senior who attends University of Detroit-Jesuit, used the opportunity to explore a field he's long been interested in.
"I've been in love with medicine ever since I was 7 years old," he said. "My mom had an operation, and the anesthesiologist came in and I asked him all about his career. I thought to myself 'I want to help people just like you do.' That's how it all started."
Grabbing interest early
OUWB traditionally has offered spring and summer pathway programs like OSEP.
Kenya Lawton, coordinator, Diversity & Inclusion, said several goals exist for such programs.
One of the primary goals is to simply make more people aware of OUWB and Oakland University.
Kyeorda Kemp, Ph.D., assistant professor, Department of Foundational Medical Studies, said it's also important to reach students who are interested in medicine and science at the youngest possible age. Kemp was one of the faculty who developed the curriculum and delivered it to participants.
"We know that in five to 10 years, Michigan is going to face a deficit with regard to individuals who are involved in health care, as well as in biomedical sciences," she said.
"If we can get people before they go to college, we can help them become aware of all of the things that are out there and grab their interest early. Then, we can provide them with resources and help them persist."
Kemp said the success of such programs is linked directly to having a curriculum that is fresh and exciting for the participants, which is why the OUWB team asks students to collectively decide what they will study during the program.
For the most recent session, the students decided to study cancer.
'A 360-degree view of cancer'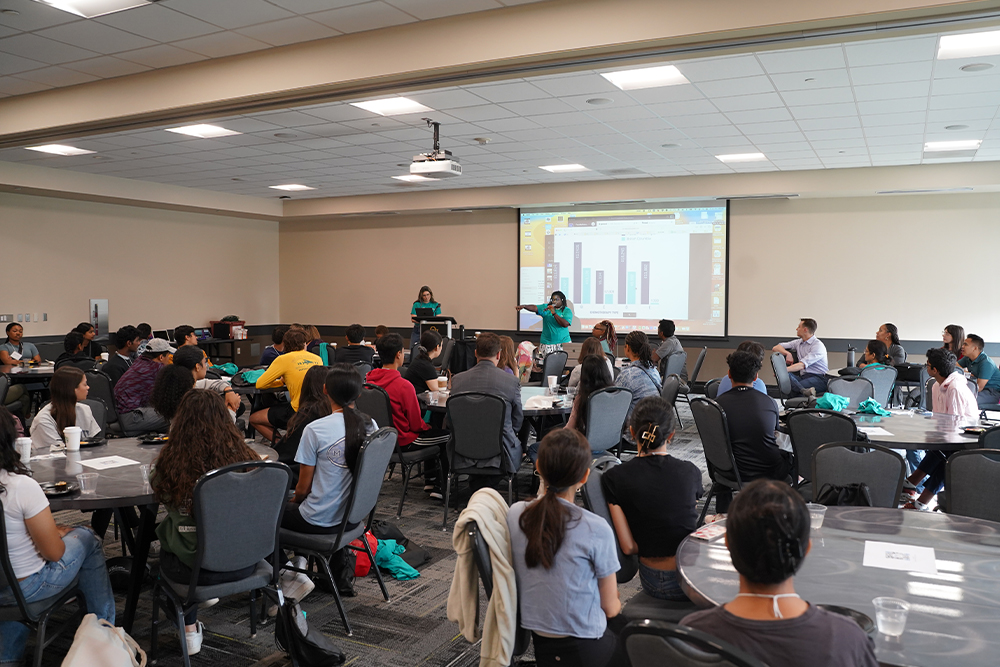 Lewis and Kemp lead the in-person session held on the last day of the program.
Kemp said cancer is a fitting topic for the program because it's such a common disease that many people at least know one person who's been impacted by it.
Developing the curriculum was a team effort, according to Brianne Lewis, Ph.D., assistant professor, Department of Foundational Medical Studies.
Lewis and Kemp came up with what she called "a holistic approach for students to learn about cancer."
That meant not only introducing students to the basics of why cancer happens, but also talking about different therapeutic approaches, environmental hazards that can lead to cancer, and ethics of treatment.
Faculty specializing in areas such as pharmaceuticals and bioethics were tapped to help. During a panel discussion, students were able to interact with an oncologist as well as a patient who has had cancer.
"Students really got a 360-degree view of cancer," said Lewis.
By delivering the curriculum primarily online — a practice that initially started because of the COVID-19 pandemic — students didn't have to give up commitments, such as work, sports, and so on.
"The asynchronous and synchronous sessions definitely have a lot of power," said Kemp. "Students talk about that…how it gives them the space to figure things out on their own, how they can do it anytime they want."
The last day of the week is in person. That's when students get to interact with each other, give presentations that they work on together, and view donor organs with assistance from staff from the OUWB Anatomy Lab.
They also get a brief tour of Oakland University's campus.
'Love the curiosity'
In addition to staff from Diversity & Inclusion and faculty, OUWB medical students also get involved.
Rising M2 Erika Curka served as a mentor during the first part of the week, listened to the in-person presentations, and helped with campus tours.
"It's great because I not only get to meet students who might one day be colleagues, but I enjoy giving them the opportunity to learn more and see if this is something they want to pursue," she said.
Curka said the students were "very engaged" and had many questions for her.
"I love the curiosity," she said. "I definitely don't have all the answers, but I encouraged them to seek out answers on the internet and through other sources."
Rising M2 Marvin Paguio said he wanted to be involved because he knows what a difference such programs can make.
"For those going into a medical or health care profession, it really takes a village and community to reach the destination," he said. "Programs like OSEP are excellent for increasing exposure to these fields and getting students excited about medicine and its possibilities."
Lawson said the success of the program is measured by surveys that the participants take at the end of the week. The surveys are still being reviewed.
However, anecdotal feedback from students like Jessica Stillwell, a rising junior at West Bloomfield High School, already indicates the program was a success.
"The program was a lot of fun. I learned a lot of stuff," she said. "I'm really glad that I took this opportunity to grow and learn so many things I wouldn't have experienced otherwise."
Sarah Vassar, a rising junior at Bloomfield High School, shared similar thoughts.
"It was super professionally done, and grew my knowledge…I just loved it," she said. "Having access to this program at no cost was a great opportunity…I feel like I'm better prepared going forward."
For more information, contact Andrew Dietderich, marketing writer, OUWB, at adietderich@oakland.edu.
To request an interview, visit the OUWB Communications & Marketing webpage.
This work is licensed under a Creative Commons Attribution-NonCommercial 4.0 International License.