Friday, Feb 17, 2023
OUWB opens Anatomy Lab to military medics for 'extremely unique opportunity'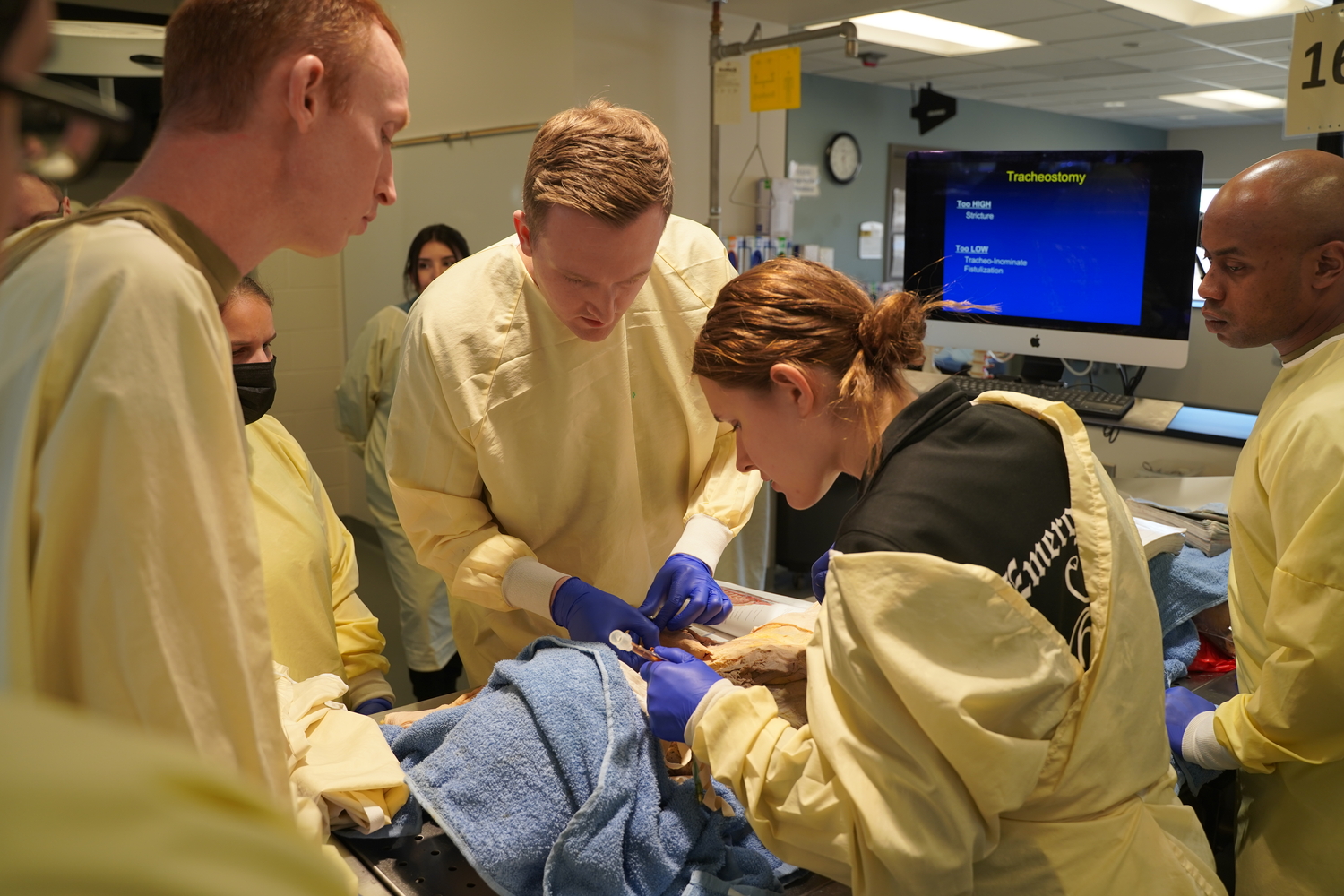 Spc. Tiffany Barron, 3rd Battalion, 238th General Support Aviation Regiment, works with a donor in OUWB's Anatomy Lab under the guidance of Capt. John Kanitra, a Michigan-based surgeon, as other medics from the military look on.
More than two dozen military medics recently visited OUWB's Anatomy Lab to study and train with body donors via a program believed to be the only one of its kind in the U.S.
OUWB M2 and Army 1st Lt. Elizabeth Carlson of the 1171st Medical Company Area Support coordinated the event with the help of Malli Barremkala, M.D., associate professor, Department of Foundational Medical Studies, and Dan Schlegel, anatomy lab manager. Several other OUWB students assisted as part of a service project.
Along with Carlson's unit, there also were medics from the Michigan Army National Guard Michigan Medical Detachment, and the Army's 3rd Battalion, 238th General Support Aviation Regiment.
Capt. James Markman, M.D., a Pennsylvania-based surgeon, and Capt. John Kanitra, M.D., of Michigan — both assigned to the unit — led the session that focused on anatomy-based lessons likely to be most relevant to military medical trauma and/or other emergency situations.
The session was important because, despite extensive training, said Markman, military medics generally don't have opportunities to work with body donors before they are called into action.
"This is an extremely unique opportunity," he said. "As far as I know, we're the only unit in the country that does an annual (body donor) experience. Everyone else is doing it with synthetic models."
'Real-world training'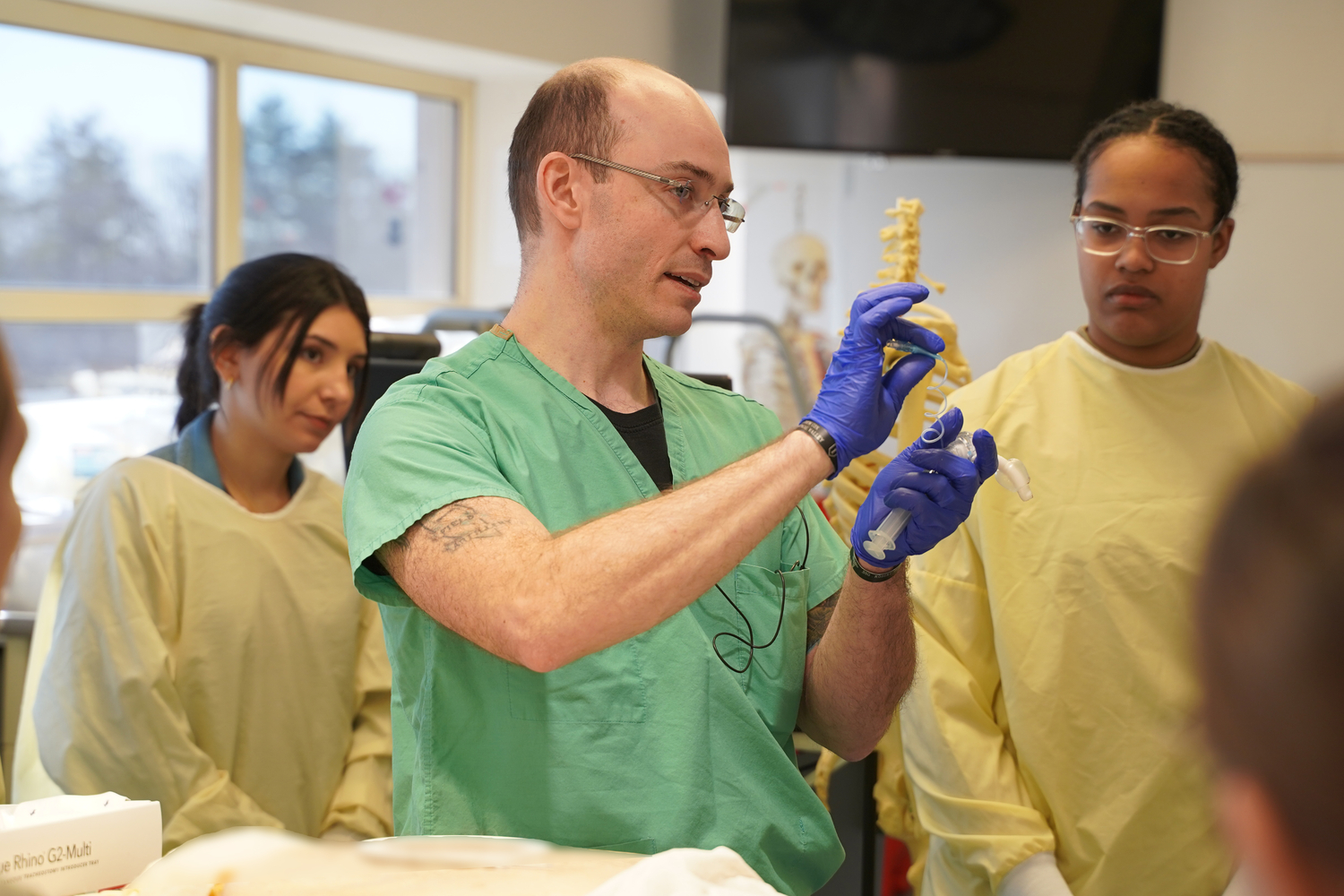 Markman helped the medics better understand three procedures: intubation; cricothyroidotomy; and tracheostomy.
OUWB's anatomy lab is located on the campus of Oakland University, on the third floor of Hannah Hall.
The current state-of-the-art lab opened in 2013, and provides for teaching human medical gross anatomy, neuroanatomy, microbiology, immunology, pathology, physiology and more.
The lab also provides space for interdisciplinary education with medical and physical therapy students, and is used to teach physiology to undergraduate biology students. Further, there is a separate room used for advanced dissection.
It has more than 30 down-draft, stainless-steel tables — each with a donor who has generously donated their body to medical education.
When the medics visited the lab, three donors were utilized for teaching.
Markman and Kanitra primarily instructed the medics on three procedures: intubation; cricothyroidotomy; and tracheostomy. Through a combination of on-screen images (each station has its own computer) and verbal instruction, the medics were able to practice each potentially life-saving technique with the donors.
"The reason doctors generally are in the Army National Guard is purely because we want to help make soldiers better," said Markman. "We're positioned in these units to do training."
"This is the one intersection where we can make real-world training happen before these people are going to be asked to do it in the real world," he added.
'Invaluable training'
Being asked to do it in a real-world setting might happen sooner rather than later.
For example, Carlson said one of the medics who attended last year's training in the lab is currently in Syria.
"If anything happens…these medics are the first line people who are there," she said. "They're the ones who are on patrol, potentially seeing combat…they're the ones who are going to be the life or death for that soldier."
"That's where this training comes into play," she added. "They do need to know a lot more than the average medic on the civilian side because they can't always depend on having a nearby hospital, or even quick evacuation times."
Further, OUWB M2 and U.S. Air Force 2nd Lt. Nikita Lee said there are "certain nuances" the medics obtain from working with body donors versus models.
That's important, she said, because "they'll see a lot more life and death situations that many of us medical students will because we'll go into different specialties, and not necessarily see a lot of trauma."
Medics who attended the training generally expressed appreciation for the opportunity.
Sgt. Isaac Wynn, Michigan Army National Guard Medical Detachment, called his time in the OUWB Anatomy Lab "invaluable training."
"I've been a medic for 10 years, and I get a lot of exposure that way, but being in a lab like this gives me a chance to practice some of the rarer interventions on a human body," he said. "It's good to keep up on those more perishable skills."
Spc. Tiffany Barron, 3rd Battalion, 238th General Support Aviation Regiment, said working with the donors was a first-time experience.
"It was amazing," she said. "We were able to do some of the procedures we learned about in training…it's different when you're seeing it with the human anatomy."
Barremkala said OUWB views providing the access to the medics as part of its community outreach. He said the hope is that it helps the medics be as prepared as possible — and credited the team for coming up with "a very well-structured curriculum."
Another benefit, he said, is that the outreach will help create awareness of OUWB's recently launched body donation program.
"Our lab is a beautiful facility and the more we can utilize it with the community, the better," he said. "This is a win-win situation."
For more information, contact Andrew Dietderich, marketing writer, OUWB, at adietderich@oakland.edu.
This work is licensed under a Creative Commons Attribution-NonCommercial 4.0 International License.