Sunday, Sep 17, 2023
OUWB Student Mental Health Counselors to medical students: 'It's OK to ask for help'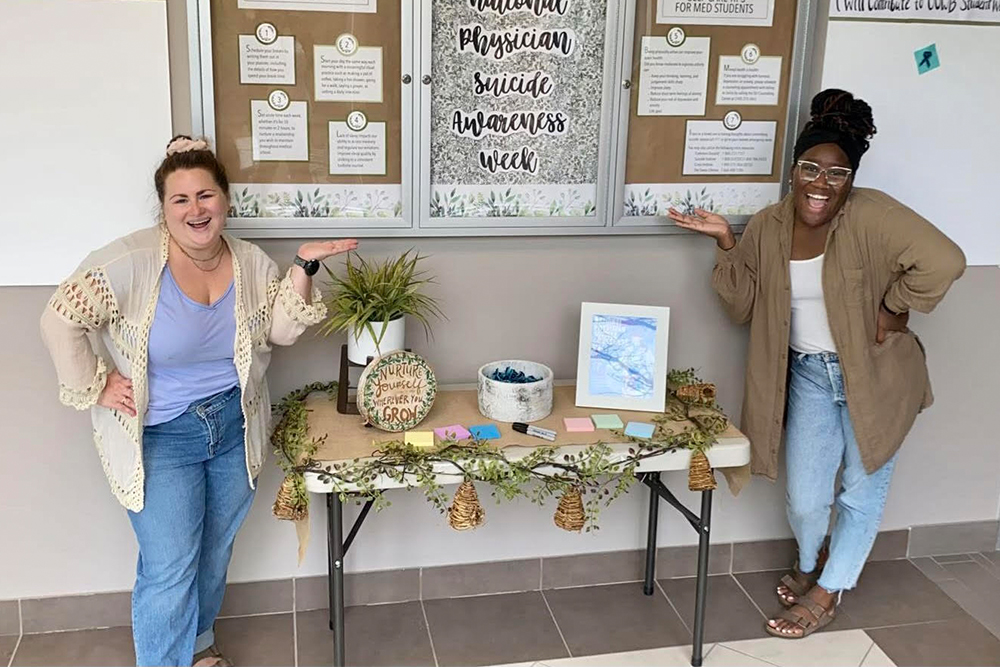 OUWB Student Mental Health Counselors Janae Kinn (left) and Ashley Watters take time for a photo near a display intended to raise awareness of mental health issues.
National Physician Suicide Awareness Day is recognized on Sept. 17, and counselors at OUWB are using the day to encourage medical students to take advantage of available mental health resources.
Doing so could literally mean the difference between life and death, according to OUWB Student Mental Health Counselors Janae Kinn and Ashley Watters.
They say the primary reason is that medical students and physicians who feel a kind of calling to help others, can fall into a trap of ignoring their own needs for various reasons — creating the potential for mental health emergencies.
"It is well-know that medical students enter medical school with the same mental health as their peers or better, and over the course of time, that starts to deteriorate," says Kinn.
Watters adds that, for various reasons, being a physician "can be a really isolating profession."
They both want medical students to know that it doesn't have to be that way, and that reaching out always is an option.
"I always like to say to my clients that nothing changes if nothing changes," says Watters.
Various factors
According to Medscape's Physician Suicide Report 2022, one in 10 physicians considered or attempted suicide in 2021.
Medical students also struggle. "Depressive Symptoms in Medical Students and Residents: A Multischool Study" found that more than 9 percent of fourth-year medical students and residents reported having suicidal thoughts in the previous two weeks.
Further, medical students are three times more likely to commit suicide than their same-age peers, according to the American Medical Student Association.
OUWB students are invited to join Kinn and Watters on Tuesday, Sept. 19, from 11 a.m. - noon in O'Dowd 203, for a presentation on the topic of mental health and suicide in the field of medicine.
Students also are encouraged to check out this website dedicated to National Physician Suicide Awareness Day.
If you are in a crisis, please call the National Suicide Prevention Lifeline at 1-800-273-8255, or contact the Crisis Text Line by texting TALK to 741741.
To schedule an appointment with Kinn or Watters, call the OU Counseling Center at 248-370-3465.
"Thirty percent of medical students and residents suffer from depression and 10 percent report having suicidal thoughts and we think that, in actuality, this is a higher number," says Kinn.
Kinn and Watters point to numerous factors, including: striving for perfectionism; lack of connection/communication with others; and/or poor work/life balance that includes failure to prioritize one's own needs.
Still other factors contribute: the "lethal trifecta" whereby an individual concurrently feels "perceived burdensomeness," loneliness; and learned fearlessness, and the fact that physicians are routinely exposed to tragedy and death results in occupationally induced anxiety, depression, and PTSD.
Watters says because medical students often feel like they are competing against their peers, they can be less likely to talk about their struggles with others who might be feeling similarly.
"Medical students can feel like they don't have support within their own peer group when struggling with something that is really difficult for them," she says.
Kinn says medical students also are less likely to seek treatment for fear of career impact.
Results from a 7-year investigation of 1,300 physician suicides show that doctors and medical students die by suicide due to fear of seeking care that would be disclosed on their applications for residency, hospital privileges, and state licensure.
Kinn says "nine times out of 10" the fact that a medical student sought counseling is not going to impact the individual's career.
"We are talking about protected health records," she says. "Residencies don't have access to those records…they're not able to see if a student even is in treatment."
"A residency program isn't going to find out unless you tell them," says Kinn. "We want students to know that it's OK to ask for help and it's not going to keep them from their goals."
Resources available
Kinn and Watters are licensed clinicians and part of OUWB's Student Affairs team.
Kinn has been with OUWB since September, 2019. Prior to OUWB, her training and background involved working with individuals who had experienced high levels of trauma as well as cognitive behavioral therapy, integrated care, and secondhand traumatic stress.  
Watters has been with OUWB since July. Prior to OUWB, she worked in numerous college counseling centers, most recently at Central Michigan University's College of Medicine. Her background includes working with individuals dealing with generalized anxiety, social anxiety, depression, imposter syndrome, and survivors of domestic violence, sexual assault, stalking, intimate partner violence, and more.
When working with OUWB medical students, both are bound by the Health Insurance Portability and Accountability Act of 1996 (HIPAA). That means they can't disclose anything that is said to them during counseling sessions to school officials. However, they can work with others in the department on general programming related to mental health.
For example, as part of the effort to raise awareness about physician suicide, the team plans to have available ribbons that are teal and purple (the official colors of National Physician Suicide Awareness Day). They also plan to use the school's main bulletin boards to post tips for self-care that are specific to medical student mental health. Handouts on topics like sleep hygiene and test anxiety management.
Additionally, they plan to have posters set up where people are being asked to comment on how they will support their own mental health and/or contribute to student wellness at OUWB.
"We wanted to involve students and ask them to share how they take care of themselves and ask staff and faculty to weigh-in on how they can be contributors to helping," says Watters.
Kinn and Watters also want OUWB medical students that they are there for them.
They both are available for in-person or video meetings. They only see medical students and can see them for the duration of their time at OUWB — there is no session limit or cost for students. Because there are no costs involved, there isn't any type of insurance requirement.
If students prefer to see an Oakland University counselor who does not work for OUWB, they do have that option. However, sessions cost $20 each and there is a limit to the number of sessions.
Regardless of the chosen resources, Kinn says she just wants those who need help to reach out for help.
"If you have a broken foot, you don't just walk around on your broken foot…you do something about it and no one is going to look down on you for going to the doctor," she says. "Why wouldn't you help yourself when you need help? Just because it's mental health and not physical health?"
For more information, contact Andrew Dietderich, marketing writer, OUWB, at adietderich@oakland.edu.
To request an interview, visit the OUWB Communications & Marketing webpage.
NOTICE: Except where otherwise noted, all articles are published under a Creative Commons Attribution 3.0 license. You are free to copy, distribute, adapt, transmit, or make commercial use of this work as long as you attribute Oakland University William Beaumont School of Medicine as the original creator and include a link to this article.