Monday, Feb 20, 2023
OUWB Diversity & Inclusion gets in the groove with hip-hop history session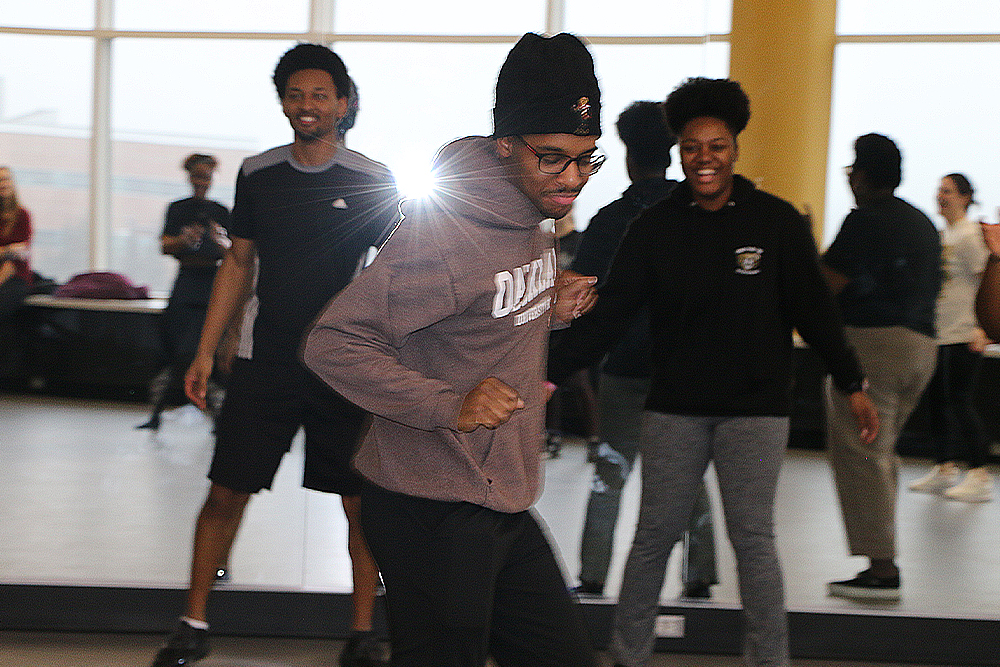 The goal of the session — beyond having fun— was to educate about the history of hip-hop as a culture and show people that anyone, regardless of background, can use hip-hop as a way to navigate their emotions.
A recent OUWB Diversity & Inclusion workshop centered on the use of hip-hop to better understand culture, navigate emotions, and have fun busting out classic moves like the Dougie.
The event was presented Feb. 9, and in conjunction with Black History Month. Titled "Move and Groove" OUWB Diversity & Inclusion collaborated with Oakland University Recreation and Well-Being, and OU Enrollment Management.
The event, held in the OU Recreation and Athletics Center, was facilitated by instructor Angie Freeman, coordinator, Diversity & Inclusion, OUWB, and Thandi Sulé, Ph.D., associate professor, Oakland University.
Freeman, who has a long history of using dance as a form of expression, was the teacher for the event.
"Hip hop always came naturally to me, as far as my identity, my appearance, the way that I move through life," said Freeman. "I've always just liked the grittiness of hip-hop."
The goal was both to educate about the history behind hip-hop as a culture and show people that anyone, regardless of background, can use hip-hop as a way to navigate their emotions.
"Anybody who's experienced trauma, pain, oppression, happiness, joyfulness — all these emotions and all these experiences can relate to hip-hop," said Freeman.
"And that was the mission of the workshop."
Sulé, whose research is focused on hip-hop and provided the historical information the attendees were taught, said that she's been considering putting on a session like this for "a long time."
"I feel like hip hop is really therapeutic," said Sulé. "And I recognize that we're all under a lot of stress. We've been under probably increased stress over the past three or four years…for that reason, I think that…dance and hip-hop or just hip-hop as a culture can be therapeutic for us."
Sulé added that the event is timely — 2023 marks the 50th anniversary of hip-hop.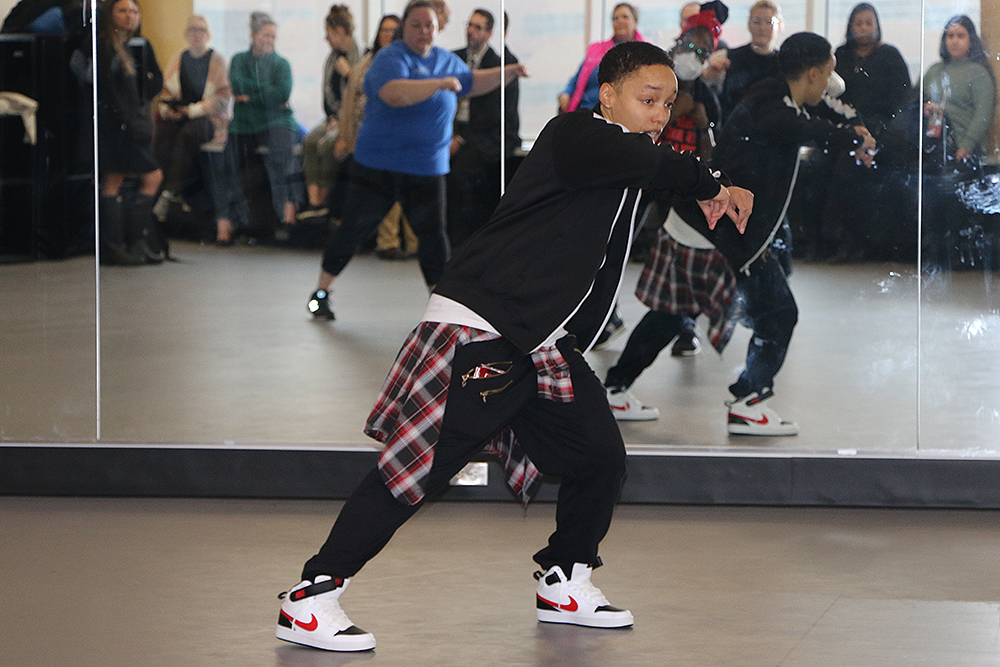 Freeman leads the class.
"It's a nice way to recognize and punctuate (that), particularly during Black History Month," she said.
The event began with a presentation about the history of hip-hop culture in the Black American community. Then, Freeman walked them through a variety of dance moves, such as the Reebok and the Dougie.
Once the participants were well-acquainted with the basic moves, Freeman asked everyone to engage in a free-style session, where participants made a circle and one-by-one, each individual would dance alone in the center, encouraged by the other attendees.
"Circle-ups can be intimidating," said Freeman. "But every single person went in the middle. And they just showcased their individuality, and it was beautiful to see."
Arianna Thompson, an OU student, said she came to the event because of her family's history with dance.
"I just love hip-hop, personally…I learned most of (the moves) through my mom, because she danced on TV back in the day," said Thompson. "So I love dancing — dancing is in my blood."
Alternatively, for OU student Dana Cogshef, the session provided an opportunity to reconnect with something she enjoyed but did not always have the chance to engage in.
"I've always loved dance, but I've never had the courage to do it," said Cogshef. "Coming today and just having fun was a great way to reintroduce me to my passion for dance."
For some attendees, like Elizabeth Adams, international processor, undergraduate admissions, the session provided knowledge and an opportunity to try something new.
"I was just intrigued by the opportunity and (wanted) to do something different on my lunch break, and I know Angie is an incredible instructor," Adams said. "I didn't know a lot about hip hop, so I learned a lot today."
Overall, said Freeman, they were glad to create a comfortable space for people to learn and express themselves.
"I saw people getting out of their element," they said. "I saw people just moving their body so freely. That's the joy that it brings to me: you are using this moment, you are being in this moment to express yourself."
Note: As of press time, Freeman has left OUWB to pursue another career opportunity.
To request an interview, visit the OUWB Communications & Marketing webpage.
This work is licensed under a Creative Commons Attribution-NonCommercial 4.0 International License.