Thursday, Nov 09, 2023
New wellness program at OUWB aims to help students who are caregivers, parents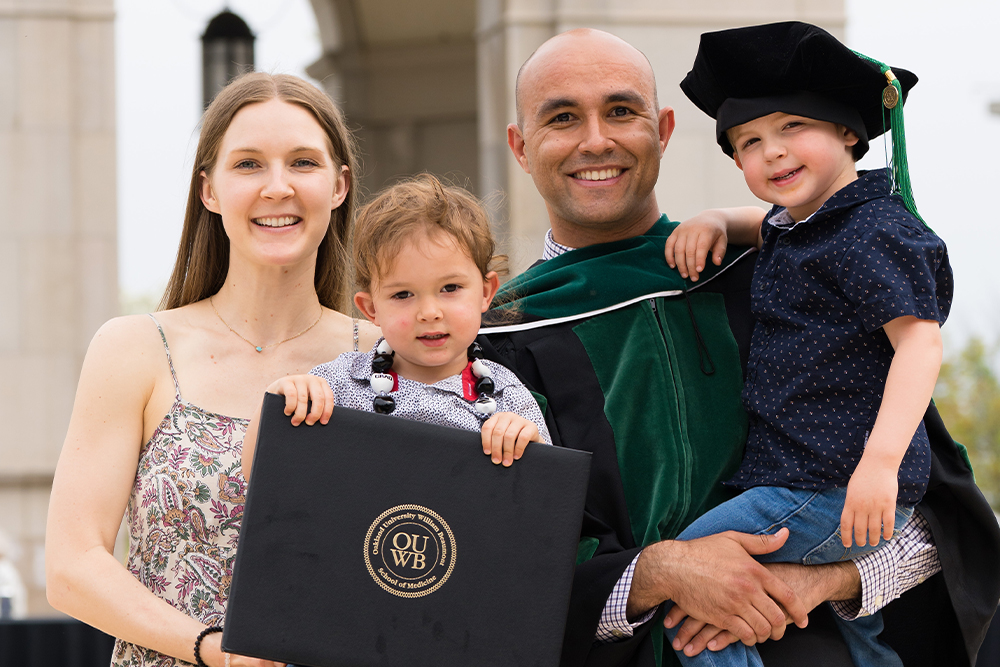 Aidan Zubak, M.D., '23, OUWB, and his family following commencement last May. A new initiative at OUWB aims to help students who are caregivers find resources they need.
A research project at Oakland University William Beaumont School has led to the creation of an initiative aimed at helping students who are caregivers find the resources they need to succeed.
The student wellness program is called Caregiver Advocates, Resources, and Education for Medical Students (CareMED).
It aims to support students as caregivers by helping them navigate current barriers to their learning, evaluating how OUWB can further support students as caregivers, create discussion space for caregivers (including families, partners, etc.), and advocate student caregivers' concerns to administration.
Want more information?
An informational meeting about CareMED will be held Nov. 29, at 4 p.m.
For Zoom link, click here.
The project stems from research M2 Kaitlyn Chalfant started with a former faculty member and has grown to include a webpage with resources and soon will include physical changes, such as baby-changing stations in men's, women's, and unisex restrooms.
"Whenever you get involved in a research project, it's because you have some interest in the subject, or you're really passionate about it," said Chalfant. "Having this passion about making sure caregivers feel included within our medical school space…has been super rewarding and I'm excited to see where it goes."
'Do something about it'
Chalfant said the initiative began as part of an Embark project.
Embark is a required scholarly concentration program of OUWB that provides a mentored introduction to research and scholarship. The four-year longitudinal curriculum consists of structured coursework in research design and implementation, compliance training, research communication, and scholarly presentation, with protected time to develop mentored projects in a wide-range of community and health-related settings.
For her project, Chalfant said she and a former OUWB faculty member began looking at resources available for caregivers at medical schools across the U.S. They also wondered what kind of resources caregivers thought they were lacking.
In the context of their work, a caregiver could mean someone who has a child or children or someone who takes care of another person who is perhaps elderly, sick, or disabled.
Based on her research that included talking with OUWB officials, Chalfant said she generally learned that there are medical students at the school who have these responsibilities.
"Then we decided that if we were going to be doing this research, we should actually do something about it at OUWB," she said.
Chalfant said the initiative started with what she calls "smaller goals," such as the addition of the changing tables, identifying family study spaces, and taking an inventory of lactation rooms on campus. More is on the way, too, such as having the availability of small toys, coloring books, and other items to help children stay occupied when their OUWB caregivers are studying or are otherwise busy.
Also, details for caregivers about what's available to them on campus and off were added to a newly created webpage. (The webpage also asks caregivers about what else they might need.)
And an event is planned for Nov. 29 to allow caregivers to connect with each other, officials to learn more about what they need, and more. (Details on the meeting can be found here.)
"We'd like to have regular meetings where caregiving medical students can gather and first, support each other because it can be a very isolated feeling if they don't know other people are going through the same thing," said Chalfant. "They can also give us ideas of how they can be further supported."
Jamie Vassel, OUWB's Student Affairs Coordinator for Student Activities & Events, is working closely with Chalfant on the project.
She said it makes sense for OUWB to support the initiative.
"Student Affairs is here to support the students in all aspects of their medical journey," she said. "When I learned of this initiative, I instantly volunteered for it. I have kids myself and I've helped take care of my grandparents over the years so it's something that is near and dear to me personally."
"Helping students understand that they're not alone is really important," she said.
For more information, contact Andrew Dietderich, marketing writer, OUWB, at adietderich@oakland.edu.
To request an interview, visit the OUWB Communications & Marketing webpage.
This work is licensed under a Creative Commons Attribution-NonCommercial 4.0 International License.