Monday, Aug 07, 2023
'Best four-and-a-half years of my career:' Mezwa retires as dean of OUWB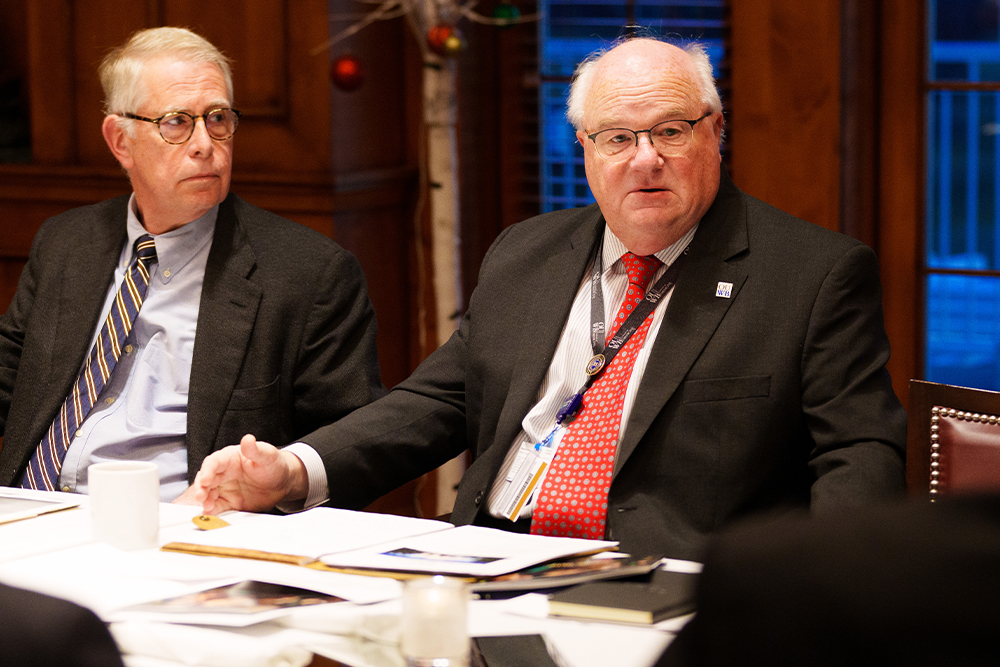 Mezwa speaks during a 2022 Dean's Advisory Board meeting. Mezwa formed the board, which consists of 12 members who have expertise in leadership and a commitment to assisting the school in matters of strategic importance, including community outreach, partnership, and resource development.
When Duane Mezwa, M.D., annually welcomes OUWB's matriculating class, he uses his own professional journey to make a point — the field of medicine affords almost endless possibilities. 
It's how, says Mezwa, he built an impressive career that includes, among other things, becoming a renowned radiologist, leading one of the largest radiology departments in the U.S., and eventually being named second dean of OUWB.
He'll soon add another chapter to the story.
Mezwa retires Sept. 4. He'll stay close to OUWB — and not just physically — but is finally taking his foot off the proverbial gas pedal to focus on the thing he values more than anything: spending time with family.
He leaves OUWB at what he calls "a very good point."
"OUWB is on the map," says Mezwa. "I look at how our students place into their residencies, and I couldn't be more proud."
Even more important to Mezwa, he says, are the kind of doctors that come out of OUWB.
"I'm proud that when you start to ask people around the country what they know about OUWB, they identify us through the kind, caring, compassionate doctor that we help nurture to create," says Mezwa. "It's exactly what was envisioned when the school started."
"I'm so grateful for the opportunity to have led OUWB," he adds.
"I often tell people it's been the best four-and-a-half years of my career." 
'A doctor's doctor'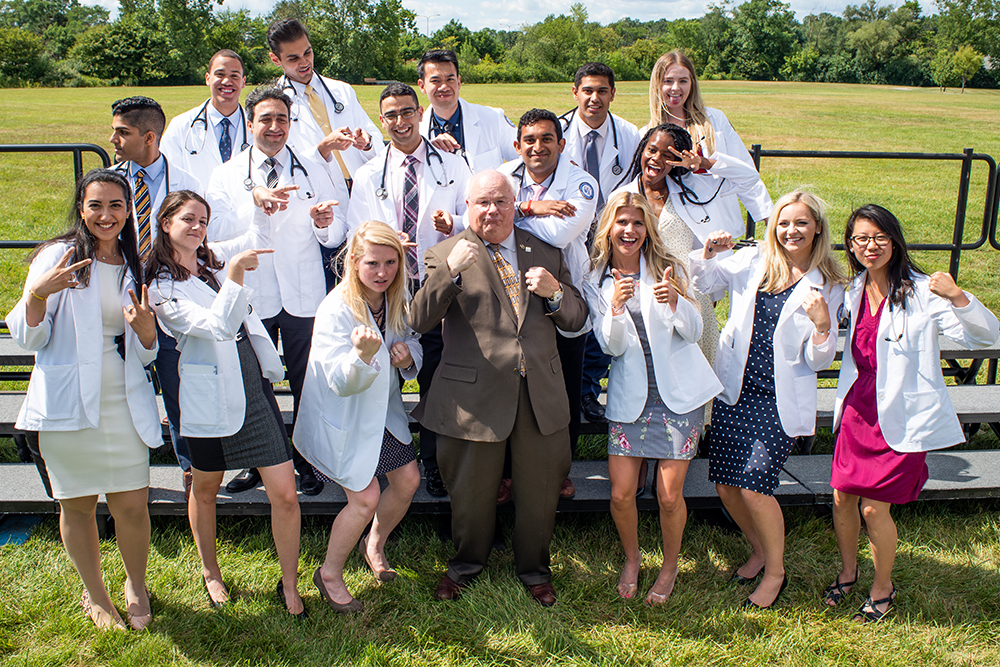 Mezwa says the thing he will miss the most is being close to students. Here, he has fun with members of the OUWB Class of 2023 after their White Coat Ceremony in 2019.
Mezwa grew up in Hamtramck. He lived in an 800-square-foot house with his parents and two siblings. His grandmother and two uncles lived upstairs, while an aunt lived next door.
When he was older, Mezwa attended Orchard Lake St. Mary's, a four-year Roman Catholic high school, and a boarding school for boys. For a long time, Mezwa thought he wanted to become a priest.
However, after graduation from high school in 1971, Mezwa's interest in medicine blossomed as he worked in nursing care at a small hospital near Hamtramck called North Detroit General Hospital.
Concurrently, Mezwa attended Wayne State, where he would not only earn an undergraduate degree, but go on to attend medical school. He became a doctor who specialized in radiology (gastrointestinal and abdominal) in 1979.
Mezwa says he was "enthralled" to do radiology, and says radiologists generally serve the role of "a doctor's doctor" — meaning other doctors often turn to radiologists for help when they can't quite figure out what might be happening with a patient.
In 1983, Mezwa graduated from residency. Before graduation, he had been offered a staff position. He quickly discovered how rewarding it can be to teach.
"I was very involved with resident teaching," he says.
"It was a joy for me to take a first-year resident — who knew little about the equipment that we use — into a room and show them how this magical piece of equipment could look inside the body to help us figure out what was wrong with somebody."
He served as program director for the residency in radiology for 15 years followed by vice chair, and eventually, health system chair and physician executive for Diagnostic Radiology and Molecular Imaging.
Throughout it all, Mezwa held various roles at the state and national level. He served as president of the Association of Program Directors in Radiology. He was also president of the Michigan Radiological Society, a chapter of the American College of Radiology. He was a member of the ACGME Radiology Residency Review Committee having served as vice chair. He also was a member of the American Board of Radiology, serving as a member of the Board of Trustees and the Board of Governors.
Further, Mezwa has been recognized numerous times for his contribution to the science and practice of radiology. He received the gold medal of the Michigan Radiological Society as well as the lifetime achievement award for the Association of Program Directors in Radiology. He was awarded the Healthcare Leadership Award by the Michigan Hospital Association.
He attributes much of his success to a desire to never stop learning, and always seeking out opportunities to better one's self.
As evidence, he points to a decision at the age of 50 to take night business classes at the University of Michigan's Ross School of Business…or to his continuing to take leadership classes, even with just weeks left in his tenure as dean of OUWB.
Mezwa says it's all about his view that physicians are natural leaders, and have a responsibility to serve in that capacity whenever possible.
"Doctor equals leader," he says. "You don't have a choice when you become a physician. Whether it's within a small group practice, department, or hospital. Then you have to decide how far you take those leadership opportunities."
For Mezwa, one of those opportunities eventually came to be serving as dean of OUWB. 
'A true joy'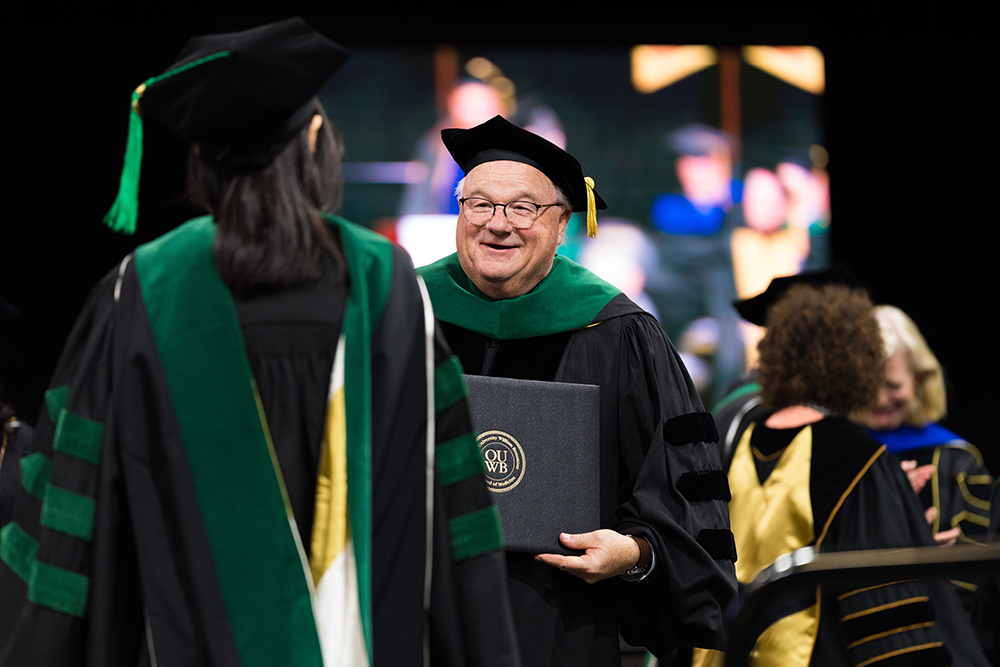 During his tenure at OUWB, Mezwa played a big part of the school's annual commencement ceremony.
When he first learned of Oakland University's plans for a medical school, Mezwa says he "quickly became a believer."
"I believed in (Founding OUWB Dean Robert) Folberg and his vision and mission, the kindness curriculum, and the type of doctor we wanted to try and create," says Mezwa.
Mezwa was asked to be part of Folberg's executive leadership team, served on the inaugural Admissions Committee (and as its vice chair), and chaired the Student Performance Review Committee.  He also represented the clinical faculty to the AAMC as a member of the Council of Faculty and Academic Societies.
Further, he chaired OUWB's Department of Diagnostic Radiology and Molecular Imaging. And he did it all while maintaining his duties as a department chair at Beaumont.
Between his experiences in the clinical setting and his involvement with medical education, Mezwa says it wasn't a huge leap for him to become OUWB's second dean after Folberg stepped aside.
"I knew the school extremely well," he says. "Also, after 40 years of being in the hospital, this was a great opportunity to finish out my career by going back to the university and really getting back with the students, which is something I truly missed…it's been a true joy for me."
Mezwa led OUWB through the rigorous Liaison Committee on Medical Education (LCME) accreditation process, which resulted in the medical school's reaccreditation for eight years, the maximum amount of time awarded by LCME.
Mezwa was instrumental in Oakland University and Beaumont extending their affiliation agreement through 2041.
He also was key in navigating OUWB through the challenges brought on by COVID-19, working with his administration and health care system partners at Beaumont/Corewell to keep medical students learning in a safe environment and their education on track.
Mezwa also established the Dean's Advisory Board, which consists of 12 members who have expertise in leadership and a commitment to assisting the school in matters of strategic importance, including community outreach, partnership, and resource development.
Further, he led the formation of the OUWB Golf Outing, which raises funds that are redirected back into student scholarships.
"I just love everything that OUWB stands for," says Mezwa.
He's quick to point out, too, that it wasn't a one-man show.
"I'm fortunate that our team — faculty, staff, administrators — are all such good people," he says. "I'm very fortunate to have had such experts around me."
He points to the executive leadership team as an example.
"We have this openness," says Mezwa. "We can put anything on the table, everybody is kind to each other and able to speak freely…and we do everything with the best interests of our students in mind."
It's all the students who are now, or soon will be, doctors that make him most proud of the work he's done at OUWB.
"Humanism in medicine makes us who we are," he says. "When someone in Los Angeles says, 'I know about OUWB and they create that special kind of doctor," it's more than the science of medicine. It's the art of medicine. And it's what makes our doctors different."
Post-OUWB, Mezwa says his primary goal is to spend as much time as possible with his wife, Vera, and their three daughters, Christina, Alaina, and Katie, and their families, which include a total of five grandchildren — so far. He'll replace a never-ending cycle of meetings with the little things that mean a lot to him, like walking his grandchildren home from school.
He is staying in Michigan, and says he will never be far from OUWB — Mezwa says he will be happy to offer any help he can to his successor.
And he already knows what he will miss most about OUWB.
"The closeness to the students," he says. "For me, not having that will be the most challenging part of retirement." 
'Something very magical'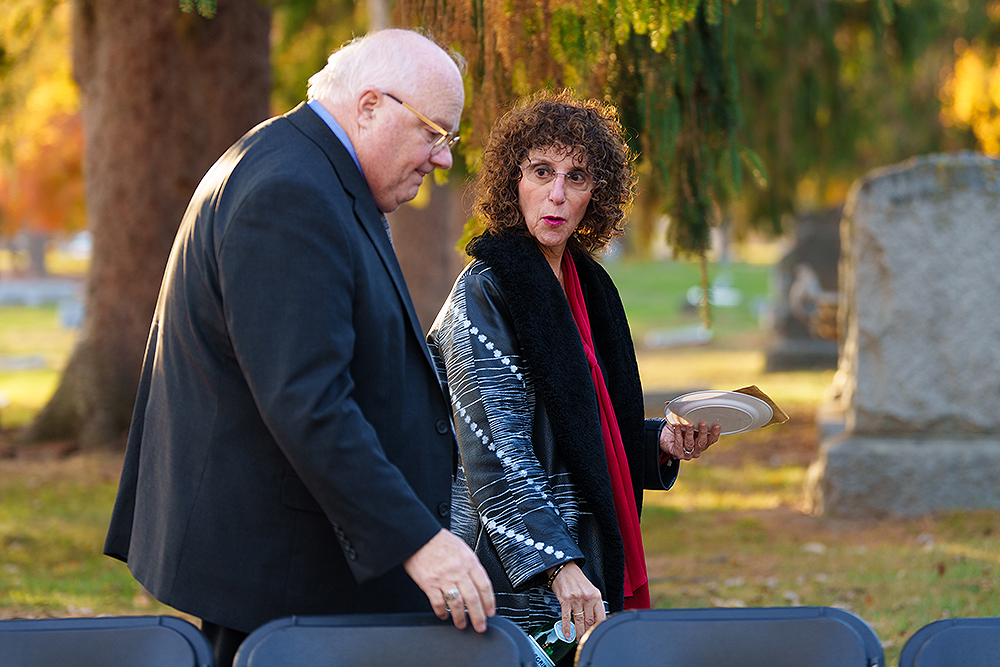 Mezwa walks and talks with Ora Hirsch Pescovitz, M.D., president, OU, after the Oct. 28, 2022 ribbon-cutting for the OUWB Mausoleum and Receiving Vault located in Mount Avon Cemetery, near downtown Rochester.
Britt Rios-Ellis, executive vice president of Academic Affairs and provost, Oakland University, expressed gratitude for Mezwa's "involvement with OUWB since its inception and for the impactful contributions his leadership and vision throughout the past four years as dean have made."
By example, she noted Mezwa had an "integral part" of the medical school's success in leading LCME accreditation.
"Perhaps most importantly, his stellar leadership and mentorship have impacted the lives of the many current and future physicians fortunate enough to have come through OUWB during his tenure," said Rios-Ellis.
She noted that his legacy will continue in many ways, including the Duane Mezwa, M.D., OUWB Recruitment Scholarship.
Others praised Mezwa's leadership.
"During the past four years that Duane has served as our dean, our medical school has continued to thrive," said Ora Hirsch Pescovitz, M.D., president, Oakland University. "It's on an upward trajectory and this is thanks to his incredible leadership, his vision, and his determination."
Chris Carpenter, M.D., chair of Internal Medicine at OUWB, says Mezwa has been "very successful" in building on the school's foundation.
Specifically, he says, by leading the school in a way that has continually emphasized the importance of what it means to deliver patient-centered, evidence-based care.
"That's become a very important component of medical school," says Carpenter. "OUWB does a really good job of that, and a lot of credit goes to Duane."
A big reason, adds Carpenter, is because of Mezwa's personality, and how he is so effective at working with others.
"Duane is great at building relationships because he's so genuine," says Carpenter. "People used to use the term 'what you see is what you get' and that's Duane. There's no putting on airs. He is who he is and people feel that connection with him."
It's that personality and leadership style that others point to as the reason for Mezwa's success at OUWB.
"(Mezwa) has brought tremendous enthusiasm to the dean's position and really galvanized the relationship between faculty and students," says Mark Frikker, M.D., chair, Department of Surgery, OUWB. "He really built on the strengths of the founding dean to carry the effort along."
Kara Sawarynski, Ph.D., associate professor, Department of Foundational Medical Studies, and assistant dean for Accreditation and Continuous Quality Improvement, says Mezwa will have a lasting impact on the school.
"There is no doubt that his impact at OUWB will be felt for many years to come both in his important initiatives and strategic plan goals as well as his modeling of how to be a teacher, clinician, and most importantly a human," she says.
Sawarynski adds that Mezwa "has served as a role model to myself as well as countless others in his steadfast drive to always do what is best for the students, bring empathy and kindness into every encounter, and grow OUWB's positive impact in the community."
Even those who have worked with Mezwa a relatively short time recognize his strengths as a medical school dean.
"I've really enjoyed relying on him as a clinical leader as much as a leader in education," says Ben Schwartz, M.D., MHCM, president of Corewell Health East. Schwartz was appointed to the position in mid-2022.
He points to Mezwa's "willingness to be innovative" that's reflected in the curriculum and the level of faculty drawn to the school.
"Dean Mezwa has put together a program that we're all really particularly proud of," says Schwartz. "What's so wonderful about the work that he's done in the last few years is that he's always putting the medical students first, making sure they have a strong voice in the curriculum and that they were engaged…there's something very magical about a leader like that."
For more information, contact Andrew Dietderich, marketing writer, OUWB, at adietderich@oakland.edu.
To request an interview, visit the OUWB Communications & Marketing webpage.
This work is licensed under a Creative Commons Attribution-NonCommercial 4.0 International License.