Tuesday, Jan 07, 2020
'Find that balance': OUWB's interim dean offers career advice to med students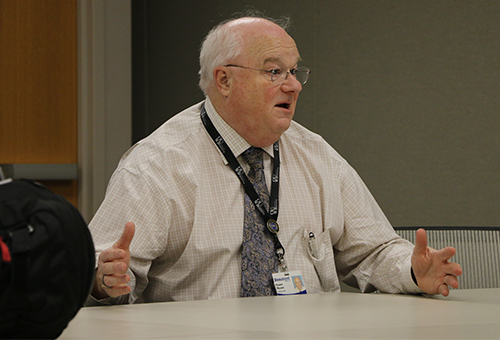 Oakland University William Beaumont School of Medicine Stephan Sharf Interim Dean Duane Mezwa took time to meet earlier this week with the school's Radiology and Radiation Oncology Student Advocacy Group for a candid discussion on life in medicine.
Oakland University William Beaumont School of Medicine second-year med student Kunal Kedar couldn't stop smiling Tuesday following a special lunch hosted by OUWB's Radiology and Radiation Oncology Student Advocacy Group.
Kedar was among more than a dozen OUWB medical students who talked with Oakland University William Beaumont School of Medicine Stephan Sharf Interim Dean Duane Mezwa about his life in medicine and some of the valuable lessons he learned.
Kedar said he enjoyed "Lunch with Dean Mezwa - A Career in Radiology" because he is "fairly set" on specializing in radiology — and that he was encouraged by what Mezwa had to say about the possibilities afforded by the specialty, and medicine in general.
"Dean Mezwa has so much experience that all of us, as first-years and second-years, can't even fathom it at this point," Kedar said. "He's seen it all in his career so for me to hear from him directly is really helpful."
During the candid discussion with the students, Mezwa shed light on how he built a successful career, from his decision to go into radiology to his roles at OUWB.
Mezwa attended Wayne State University School of Medicine and graduated in 1979. He is a 40-year employee of Beaumont Health, where he completed residency. He became an attending radiologist in 1983 and served as program director for 15 years followed by vice chair and eventually Health System Chair and physician executive for Diagnostic Radiology and Molecular Imaging. He was the chair of the Department of Diagnostic Radiology and Molecular Imaging at OUWB until he was appointed Stephan Sharf Interim Dean almost a year ago.
Mezwa has been involved in OUWB since its inception. He was on the inaugural admissions committee and served as vice chair. He has also served on the Deans Executive Committee and previously chaired the Student Performance Review Committee. Mezwa has also represented the clinical faculty to the AAMC as a member of the Council of Faculty and Academic Societies.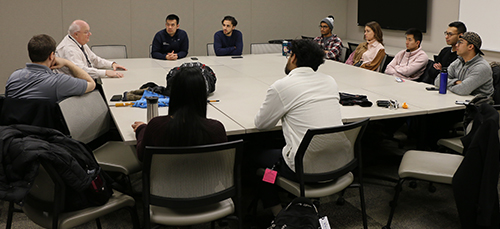 On Tuesday, he shared details with members of the Radiology and Radiation Oncology Student Advocacy Group about how it all began, starting with the decision to specialize in radiology.
"I didn't know I was going to do radiology until my first rotation in my fourth year," Mezwa said.
As he did at the time, Mezwa urged the medical students to keep an open mind as they explore the different opportunities in medicine.
"There are going to be a lot of things that you're going to like, and there's going to be other things where you go through the rotations and say 'I just don't see myself doing that,'" he said.
Beyond taking extra steps to ensure the best possible patient care, Mezwa urged medical students to fully embrace their specialty of choice.
That can include publishing papers (Mezwa has written dozens of peer-reviewed articles, several books and chapters, and many scientific exhibits and presentations), and helping train the next generation of medical students, either in hospital settings or in lecture halls.
"I get a lot of satisfaction from having dozens and dozens of residents that I've trained doing things all over the country in the way that I've trained them," he said.
Fully embracing a specialty should also include getting involved in organizations that relate to a physician's area of clinical interest.
Mezwa, for example, has been a member of multiple committees for the American College of Radiology, served as president of the Michigan Radiological Society, and held several roles — including president — within the Association of Program Directors in Radiology.
"As you get more involved with these types of organizations, eventually you will be asked to participate at a higher level," he said, noting he still frequently is in contact with other specialists he met through his involvement in the organizations.
He also stressed the importance of continuing to learn. That can mean keeping up with the latest techniques and technical advances by reading as much as possible, to tackling new topics altogether, as Mezwa did when he went to business school to learn more about the business of health care to prepare him for administrative positions.
Concurrently, he said, Mezwa stressed the importance of a healthy work-life balance.
Mezwa said he always made family (he is married with three adult daughters and now, three grandchildren) a priority, whether it was attending events his daughters participated in when they were younger, taking trips with his wife and family, or pursuing other hobbies.
"One thing you want to keep in mind when making career choices is how you're going to find that balance," he said. "You have to keep yourself happy and pay attention to your own emotions and body.
No matter the decision, Mezwa advised the medical students to carefully weigh the pros and cons of any decisions they make because throughout their career they will inevitably encounter forks in the road.
For more information, contact Andrew Dietderich, marketing writer, OUWB, at adietderich@oakland.edu.