Wednesday, Feb 22, 2023
Fundraising underway as Pediatric Interest Group gears up for annual roast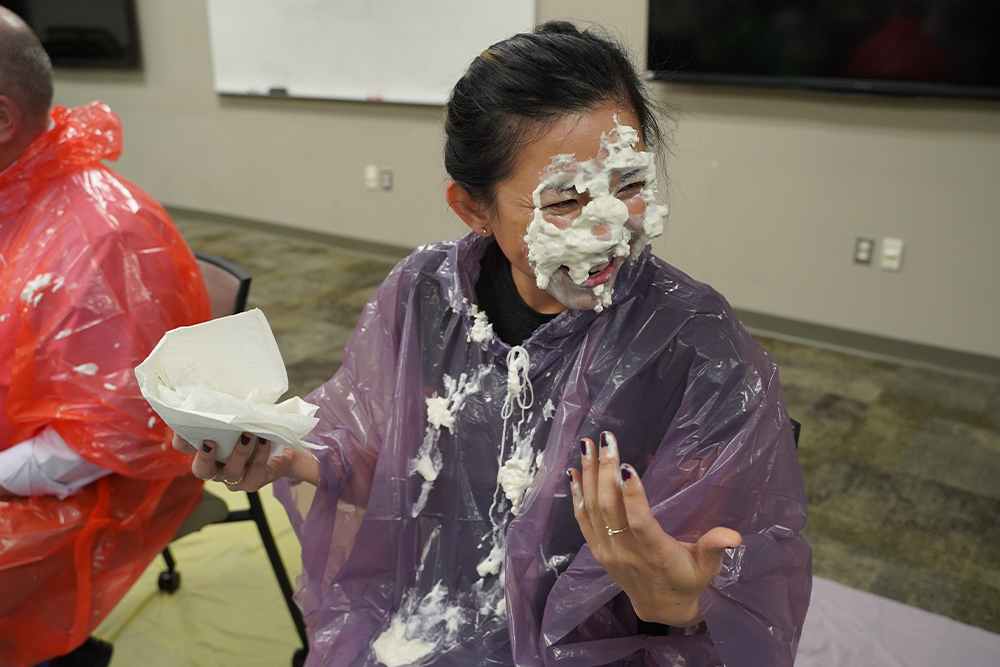 Ngan Nguyen, Ph.D., assistant professor, Department of Foundational Medical Studies, was among faculty who participated in the 2022 Pie-A-PIG event. This year's version is set for March 7.
The Pediatric Interest Group's annual PIG Roast is set to occur on March 9, but there's plenty of fun leading up to the main event.
Since Feb. 14, OUWB students, faculty, staff, and the community in general, have had opportunities to get involved in a series of fundraising efforts.
The activities all lead up to the group's annual Pediatric Interest Group (PIG) Roast. Ticket sales for the event, combined with monies raised during the pre-Roast activities, benefit CARE House of Oakland County.
CARE House's mission, according to the organization's website, is "to be a leading resource in the prevention of child abuse and neglect, and the protection of children through advocacy, education, intervention, research, training, and treatment, in collaboration with the community. Our vision is to impact the safety of every child in Oakland County through intervention, prevention and treatment."
"You don't start helping and working with kids when you're a doctor. You can start much, much earlier," said Max Troyke, M2, president, PIG.
"Care House makes healthy kids: they try to heal, and they do a lot of really, really incredible stuff…one of the best ways to get involved is in your local community, and that's what CARE House does around here."
"I actually volunteer at CARE House, and through volunteering there, I learned that one in 10 children within Oakland County will be either sexually abused or physically abused," said Emelie-Jo Scheffler, M2, vice president, PIG Roast publicity co-chair.
"Not only does CARE House provide service to children and their families that go through sexual abuse or physical abuse, but they actually provide education to anyone in the community…so it's a great organization not only for those kids, but the community as a whole, and I think that's what PIG really stands for."
A lot of work goes into the annual fundraising event — a committee of 15 students begins its planning process at the beginning of the academic year.
It's a massive undertaking, but one that has a great reward. Kristin Sarsfield, M2, PIG Roast coordinator, said that it combines the fun or spending time with friends while giving back to the community.
"It's such a great representation of the OUWB community as a whole," said Sarsfield. "It's a great way for everybody to come together and enjoy the same thing at the same time."
Here's a look at the pre-Roast fundraising activities.
Penny Wars
Between Feb. 14 and 17, the student lounge in O'Dowd Hall was lined with jars flooded with pennies as part of the Penny Wars event, the first on the month's long agenda.
OUWB students had the opportunity to donate money via cash jars labeled with participating faculty members' names in the student lounge. Donations also were accepted via Venmo.
The faculty member with the most money collected will create a skit or act and be part of the PIG Roast.
Restaurant Week
Following the Penny Wars, the group made arrangements with Rochester-area restaurants to donate a percentage of sales to the cause during dining out the week of Feb. 20. 
Events were held at Blaze Pizza and Panera Bread early in the week. On Feb. 24, Oberweis Ice Cream and Dairy Store, 6851 Rochester Rd., will donate a portion of all sales to the cause. Customers merely need to mention CARE House or the PIG Roast at checkout to have a portion of their purchase donated.
Fitness Week
Following restaurant week, students can continue raising money by getting on the move.
On March 3, Orangetheory Fitness, 1470 N. Rochester Road, will donate proceeds from any purchased passes for a class specially made for the fundraiser.
The class will take place at 5:45 p.m. PIG will distribute the sign-up sheet for this event and others via email, Facebook posts, and more.
Pie-a-PIG
"Pie-a-PIG," a fan-favorite among the OUWB community, is set for March 7.
From 5-6 p.m. in the 110 rooms of O'Dowd Hall, students and faculty volunteer to get hit in the face with a plate of whipped cream. Students pay $3 to have the honor of smearing someone in the face with the "pie."
"I got pied last year," said Troyke. "It actually ends up being pretty profitable. It's a really fun time. It's two hours of messy chaos."
"There are always one or two professors who we manage to get to sign up," said Simon Keep, M2, treasurer, PIG, and finance co-chair of the PIG Roast. "It's always a good time...a kind of stress relief."
To request an interview, visit the OUWB Communications & Marketing webpage.
This work is licensed under a Creative Commons Attribution-NonCommercial 4.0 International License.