Monday, Oct 24, 2022
'A real impact now': OUWB volunteers shine on Make a Difference Day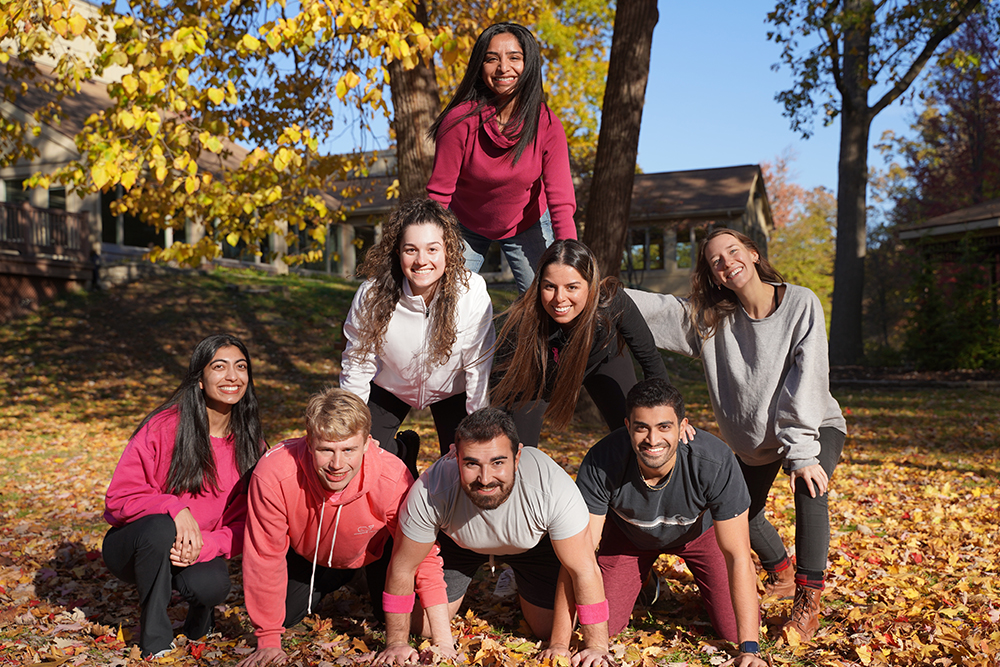 Students at the Making Strides Against Breast Cancer event form a pyramid as they prepare to cheer on participants.
Nearly 70 medical students from Oakland University William Beaumont School of Medicine were fanned out across metro Detroit on Saturday, Oct. 22, with one goal: to make a difference.
Created by the former USA Weekend magazine, National Make a Difference Day was established as an annual occurrence on the fourth Saturday of October. Organizations like OUWB have carried on the tradition.
On Saturday, students volunteered at Capuchin Conner Center in Detroit; The Baldwin Center and Lighthouse in Pontiac; and at the Making Strides Against Breast Cancer event in Rochester. About two dozen students also were on-campus, making tie-blankets for populations in need.
Rose Wedemeyer, Ph.D., director of education training, oversaw the blanket-making and said Make a Difference Day is important.
"It helps instill the idea that (the students) weren't just doing community service before they got admitted to medical school to make their applications look good, but it really is an embedded part of OUWB," she said.
"I appreciate that they are willing to sacrifice their time to spend it providing for others."
Anna Heath, M1, was among the Make a Difference Day volunteers from OUWB.
"It feels nice to step away from learning to one day help to actually make a real impact now," she said as she sorted clothes at Baldwin Center.
"We can see the change that we're making immediately and that feels really good."
Making Strides Against Breast Cancer
Students at the Making Strides Against Breast Cancer event headed up a cheer station located on the walk route through the Rochester Municipal Park to encourage and congratulate the cancer survivors who passed by, and those whose battles may be ongoing.
The enthusiasm from the M1s prompted hugs, high-fives and overall good vibes. Participants wearing survivor sashes shared their joy, and even posed for photos with the students to capture the memory.
"Volunteering and serving the community throughout your life is so important especially as people who are becoming physicians," said Kellan Martin.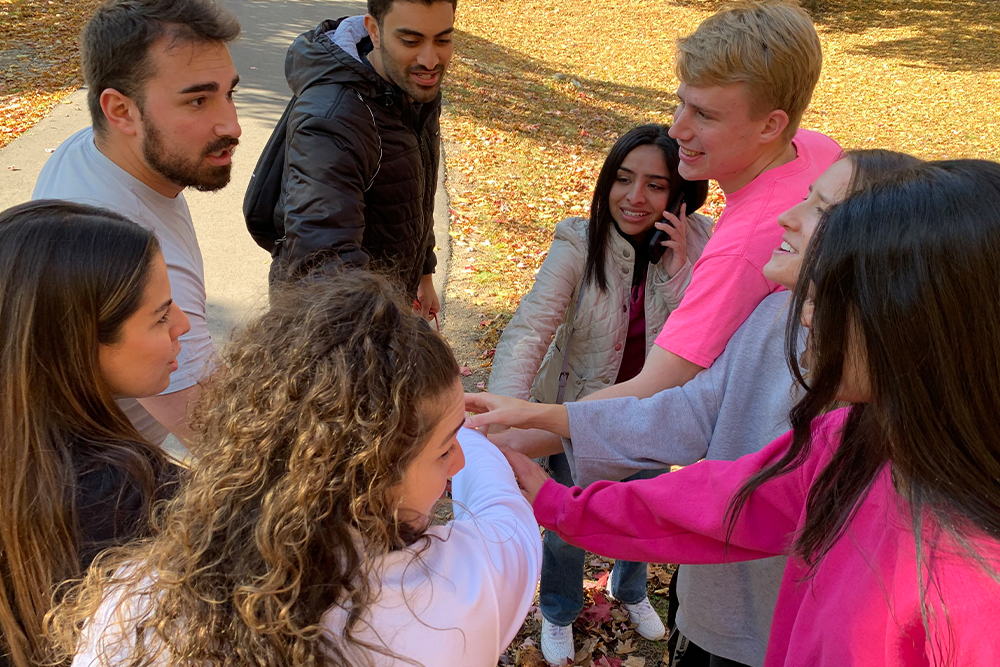 Students prepare to cheer on participants in the Making Strides event.
"It's definitely an honor to be here to connect with the community," said Joe Solomon. "It's important for us, as medical students, to be here and be present because that's often what means the most to people - showing them that we care."
Solomon understands the hardships of the battle with cancer. He supported two of his aunts during their journey with breast cancer. He is grateful that both of them are now survivors.
"What I learned from having my aunts go through this process is that you have to be present for them. And that could be small things by giving them a phone call or texting them," said Solomon. "It's a tough thing to see a loved one fight through it; it's grueling. So, it's important to be here today with my peers to be present. We are cheering on our patients' courage to fight cancer."
According to the American Cancer Society website, there are more than 3.8 million breast cancer survivors living in the U.S. today but more than 290,000 people will be diagnosed with it this year.
The survivors who attended Making Strides wore sashes with "Survivor" emblazoned in pink lettering. They walked in solidarity with family and friends. The day was theirs to embrace their bravery.
"It was really rewarding to be here, cheering them today," said Frosilda Pushani.
Dorai Morante agreed.
"We will be the ones someday who will have patients going through (cancer) so being here today for support is really important," said Morante.
Blankets 'really meaningful'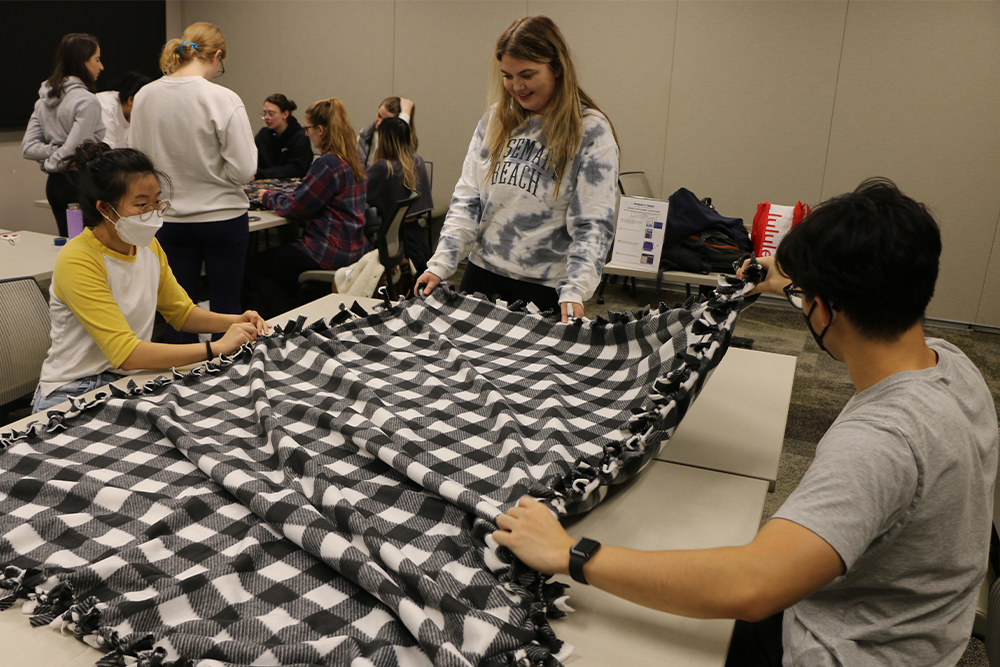 Students work on tie-blankets for World Medical Relief.
About two dozen students were at OUWB's O'Dowd Hall to make tie-blankets that will be distributed to Southfield-based World Medical Relief, which will send them all over the world.
The group made about two dozen of the thick, fleece blankets.
"For OUWB to be able to provide them with something the students got their hands on and helped create is a really meaningful and special thing," said Wedemeyer.
Madison Saunders, M1, was among the group. Saunders said she was involved in similar projects as an undergrad at Central Michigan University and fully understands how important the blankets can be.
"It's super important to be here because as future physicians we're going to be working in the community," she said. "When we have free time like this, we need to give back."
Lighthouse 'couldn't do it' without volunteers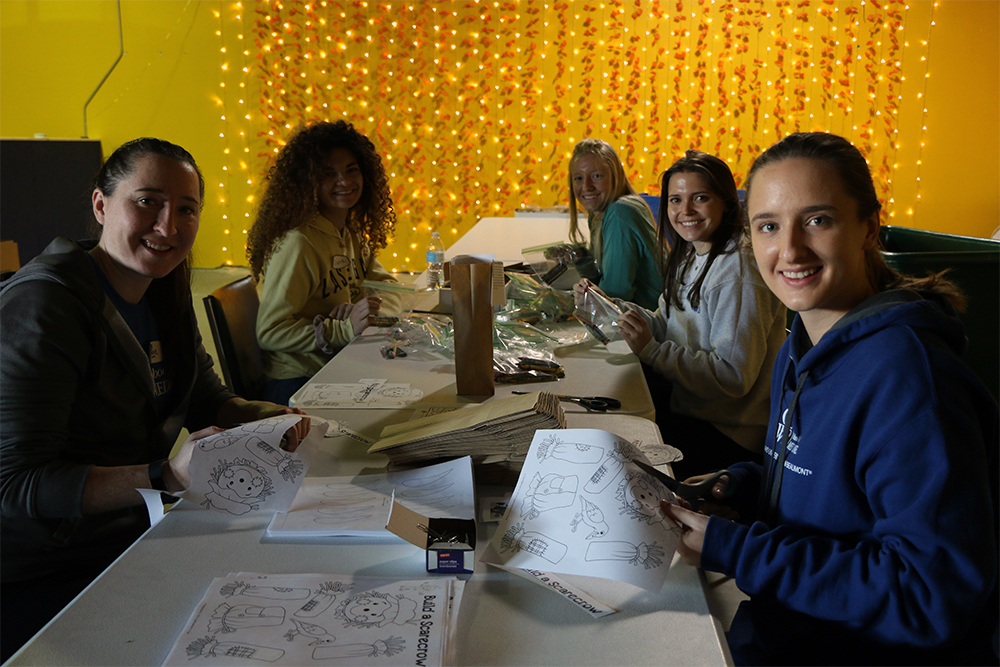 Students work on craft kits that will be distributed by Lighthouse.
At Lighthouse in Pontiac, several students helped the organization prepare for distribution of Thanksgiving meals. Students set up sorting stations and prepared craft kits for children that will be distributed with food. (Anyone who wishes to donate to the Thanksgiving program can do so by clicking here.)
Lighthouse expects to provide about 2,300 meals this year.
Gabby Fagan, volunteer and special projects coordinator at Lighthouse, said the program wouldn't be possible without the help of volunteers like those from OUWB.
"It is so important for people to come here on their own free will and on their own free time to help us," she said. "We couldn't do it without them."
Alex Biel, M1, was among the student volunteers at Lighthouse.
"It's so important to help the community so that everybody can enjoy Thanksgiving," she said. "It just comes down to being part of the community as a student at OUWB. I definitely want to be able to give back to the community that hopefully one day I'll end up serving as a physician."
Baldwin Center helps connect
At the Baldwin Center in Pontiac, students and faculty from OUWB worked to clean-up raised garden beds that haven't been used in a couple of years. They also helped organize the center's Clothes Closet.
Volunteers talked about the importance of serving the community.
"It's important to be here because these are our potential future patients," said Maame Obeng, M1. "In medicine, it's very easy to focus on medications and diagnoses, but we also have to look at what factors are influencing these diseases."
Marvin Paguio, M1, shared similar thoughts as she helped clean the garden beds.
"It's important to learn about the communities we will be serving as future physicians," he said. "To connect our medical education to the community helps make it more real."
Rebecca Pratt, Ph.D., professor, Department of Foundational Studies, was among the volunteers at Baldwin Center. For the future physicians, she said volunteering helps most with perspective.
"When you have a better understanding of what the community looks like that you're sending your patients back into…you start to think more about aligning your treatment and their post-care with what's available for them," she said.
For more information, contact Andrew Dietderich, marketing writer, OUWB, at adietderich@oakland.edu.
To request an interview, visit the OUWB Communications & Marketing webpage.
NOTICE: Except where otherwise noted, all articles are published under a Creative Commons Attribution 3.0 license. You are free to copy, distribute, adapt, transmit, or make commercial use of this work as long as you attribute Oakland University William Beaumont School of Medicine as the original creator and include a link to this article.