Friday, Nov 17, 2023
About 400 families served by OUWB community during Make a Difference Day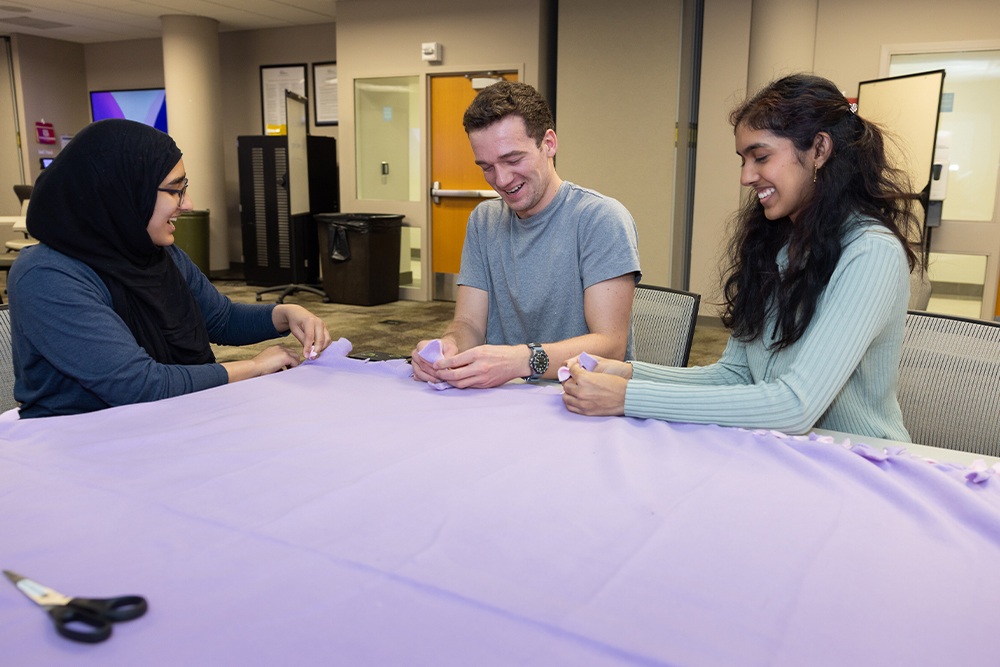 From left, M1s Myra Esmail, Bennett Hendricks, and Soumya Chennupati work on a blanket together as part of OUWB's Make a Difference Day.
Members of the Oakland University William Beaumont School of Medicine community volunteered across metro Detroit on Oct. 28 for Make a Difference Day.
In the U.S., National Make a Difference Day is the largest day of community service. It's an opportunity for people to volunteer at community events and local nonprofit organizations.
About 40 OUWB community members volunteered at Capuchin Kitchen in Detroit and Pontiac; Care House and Hope Adult Shelter in Pontiac; and World Medical Relief in Southfield. Fifteen students also made blankets at O'Dowd Hall to be donated to Care House and Hope Adult Shelter.
An estimated total of 400 families were served.
Jean Szura, director, Service Learning, Compass, supervised the blanket-making activity.
"It's important for our students to see that there is a lot of need and that they can contribute to help those needs," she said.
"There's a variety of different ways to get involved in the community, like making blankets that will be donated," she added.
Students used two pieces of fleece that were 2.5 yards by 3 yards, cut the fabric, and tied them together to make blankets.
Szura says there are plans to use the remaining fabric in January for a Compass MLK Day of Service activity.
Rahul Shamarayar, M1, said he attended blanket-making at OUWB to help people in need during the winter.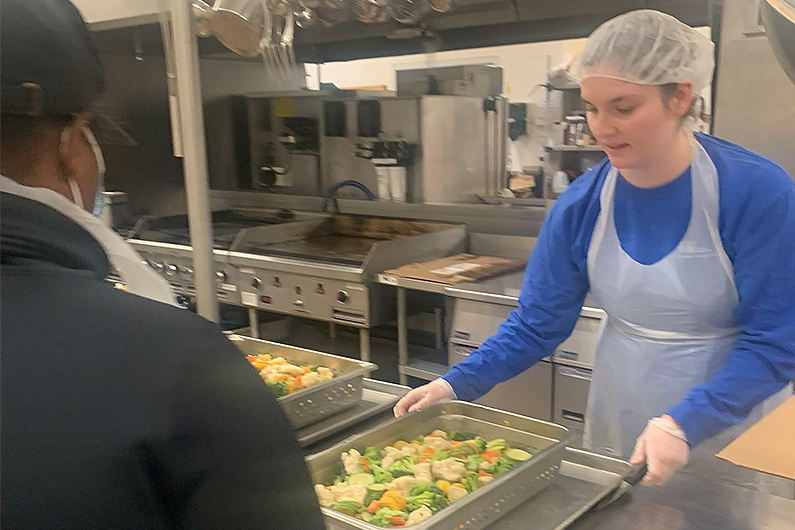 OUWB M4 Ramona Stamatin was among volunteers from the school at Capuchin Kitchen.
"As future physicians, we're going to be interacting with the community a lot and trying to help in a medical way," he said. "We should do as much as we can in whatever capacity...it's especially important that everyone (at Hope Adult Shelter and Care House) stays warm because winters can get really cold."
Bennett Hendricks, M1, was among the OUWB students in attendance.
"Being a good doctor is really having that attitude of wanting to serve your community and putting others ahead of yourself," Hendricks said. "I aspire to be that doctor who is doing service work."
"We are just so fortunate to be medical students, and giving back to the community is a great way to say thank you and build our relationships with other people," Hendricks said.
"Learning to practice medicine isn't just about learning all the knowledge for us – it's also about learning to care and serve those around us," he added.
Myra Esmail, M1, said that days of service help remind her that "it's not all about medicine, but it's also about smaller things like sitting down with community members and working together."
"One of our core values at OUWB is community service, so it's really important for us to be constantly having events where we have accessible ways to volunteer and give back to our community," Esmail said. "We can help people in ways that don't just involve treating them."
Members of the OUWB community served in other ways and at other locations, too.
At Hope Adult Shelter, students, faculty, and others sorted donated food so it could go to local food pantries.
Trini Mathew, M.D., infectious disease specialist, and associate professor, Department of Internal Medicine, said she wanted to participate to help support OUWB students and faculty and gain a new perspective.
"This is an opportunity to connect with other members of the community," Mathew said. "As a physician, you really want to understand what goes on in the community and bring it forward to our everyday interactions."
Nehita Burnett, office assistant, Diversity, Equity, and Inclusion, said she "didn't realize how much of a need is in the community."
"It gives you an insight as to how fortunate you are," Burnett said about her personal realization. "We go about our everyday lives, and we pretty much walk around with blinders on and don't realize people are struggling."
"It just feels good to do something for the community you live in," she added.
To request an interview, visit the OUWB Communications & Marketing webpage.
This work is licensed under a Creative Commons Attribution-NonCommercial 4.0 International License.