Tuesday, Apr 05, 2022
Three OUWB student organizations hold signature fundraisers, raise more than $10K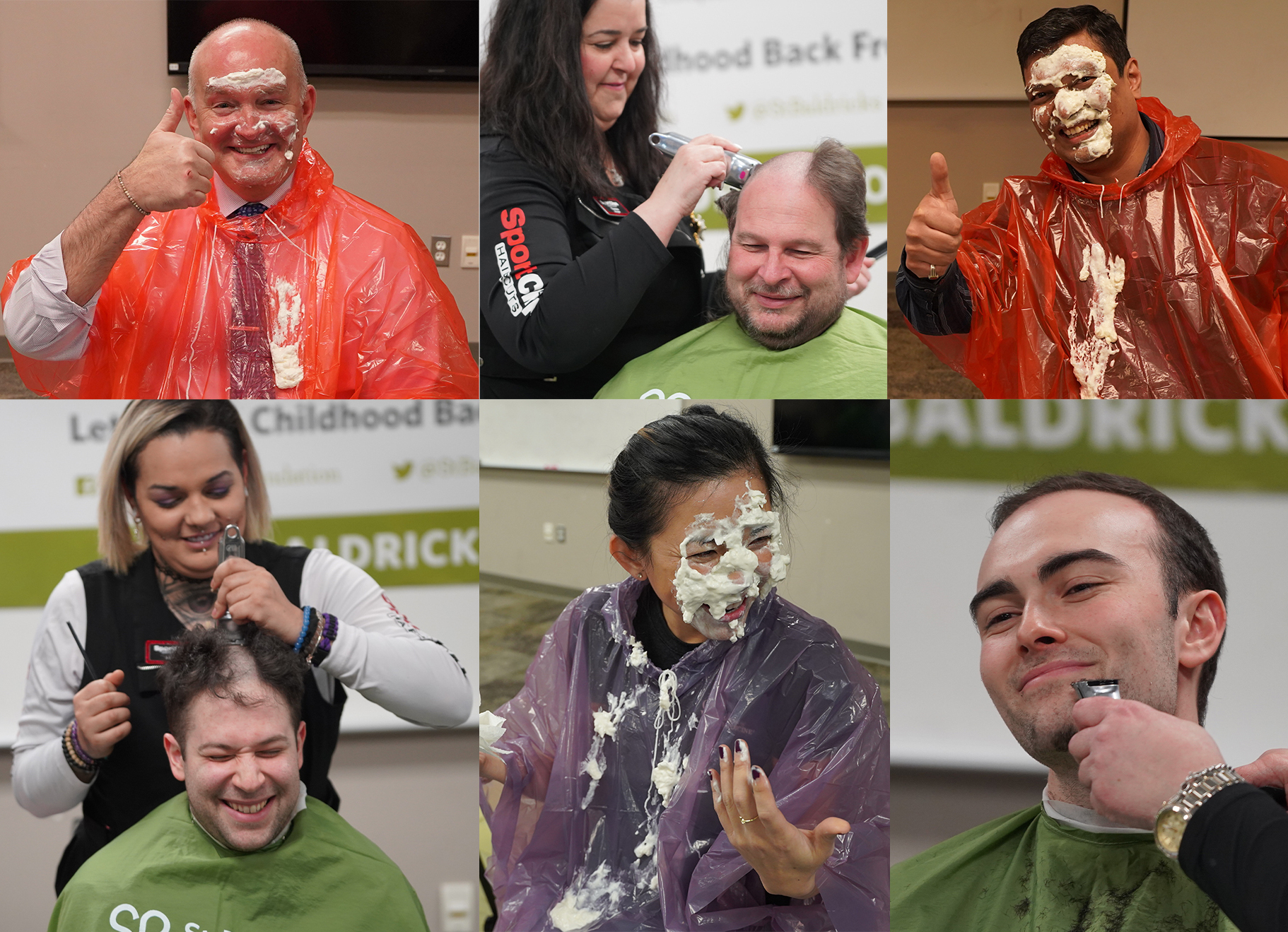 A collection of photos from the "Pie-a-PIG" and the Shave to Save events recently held by OUWB student interest groups.
Three student organizations at Oakland University William Beaumont School of Medicine raised nearly $11,000 for several nonprofits during early 2022.
The signature fundraising events were hosted by the Pediatric Interest Group (PIG) as well as a joint event hosted by the Oncology Interest Group (OIG) and Urology Interest Group (UIG).
The PIG Roast was held March 11 and raised a total of $4,719 for Care House of Oakland County.
Shave to Save was held April 1 by UIG and OIG and raised more than $6,100 for pediatric cancer research.
'It just makes sense'
Shave to Save raised funds for St. Baldrick's Foundation, a nonprofit pediatric cancer research organization. According to its website, the St. Baldrick's Foundation is a volunteer- and donor-powered charity dedicated to raising money for lifesaving childhood cancer research, and funds more in childhood cancer grants than any organization except for the U.S. government.
OIG President Amanda Mazzoli, M2, said the student interest groups teamed up for the event because each has connections to cancer.
"We have someone in our interest group who's a leukemia survivor; there's someone in the urology group who is a testicular cancer survivor," Mazzoli said. "And I think it just makes sense for these two groups who have the same common goal, which is to fundraise and put as much money into pediatric cancer research as you can because that's where the real changes get made — with research."
UIG President Prasun Sharma, M2, said he hopes this event can shift thoughts on cancer.
"The things that you hear about cancer are bad, but when you hear someone talk about it on a personal level, that just changes your perspective," Sharma said.
"And that's why this year, I knew we had to get involved as a group overall."
People in attendance volunteered to either donate strands of their hair or have their heads shaved completely. In total, four students and one faculty member had their heads shaved.
The hairstylists, from the Sport Clips franchise in Rochester Hills, donated their time. Franchise owner Steve Warner said it was the first St. Baldrick's event that his newly opened location has taken part in.
The event started with Daniel Fortney, M2, talking about his experience with testicular cancer via Zoom.
"Super, super great cause that you're all out here for and it's cool to see so many people here participating in these events," Fortney said.
Dwayne Baxa, Ph.D, associate professor, Department of Foundational Medical Studies, said he's always wanted to contribute to cancer research in some way because multiple people close to him have been affected by the disease.
"I didn't do it last year, so I promised this year I would do it," Baxa said.
The first student to shave his head was Harrison Moses, M1.
"I've met a lot of people that have [been affected by cancer] and that's part of their journey into medicine and that's why they're passionate about going into a helping field," Moses said. "That's really inspiring."
Andrew Glaza, M1, was next, and said he's a cancer survivor. He had leukemia as a child, and has been in remission for 16 years.
"Cancer awareness and research funding has always been really important to me," Glaza said. "I just wanted to give back in any way possible."
Emily Babcock, M1, donated strands of her hair. She said she had been looking for ways to give back ever since a family member of hers was diagnosed with cancer.
"It's really had a big impact on just the morale in my family, everybody's mental state," Babcock said. "I've just been looking for ways to give back to the community and uplift these survivors and this cause."
'I immediately said yes'
The fundraising efforts of PIG culminated with its annual roast, once again held virtually and on March 11. Monies raised went to Care House of Oakland County.
Care House of Oakland County is a children's advocacy center that provides services to victims of child abuse and neglect.
PIG Fundraising Coordinator Nell Brigoli, M2, said she recently toured the facility, and came away very impressed.
Chad Ozias, director of Philanthropy, Care House of Oakland County, joined the PIG Roast and talked about the organization and how much fundraisers can help. He thanked those who participated and donated to the event.
"It's super important to have people in the community that are our partners in keeping kids safe," he said. "Thank you all for knowing that it shouldn't hurt to be a child."
PIG Roast planning starts near the beginning of the school year and is done by a committee of about 20 students. Funds are raised via tickets sold to the event, a silent auction, and other mini-fundraisers held earlier in the year.
The smaller events include Penny Wars, a charity virtual bike ride, and the popular "Pie-a-Pig" event.
For the Penny Wars, participating voters put pennies in a jar representing faculty members. The person with the most pennies agrees to take part in the roast. This year's winner was Gustavo Patino, M.D., Ph.D., associate professor, Department of Foundational Medical Studies. A total of $540 was raised from the Penny Wars.
For the charity virtual bike ride event, participants paid $15 to participate in a cycling class at CycleBar in Rochester Hills. There were 25 participants.
During the pie event, students paid $3 to throw (or, more often, slowly smear) a plate of whipped cream in the face of a faculty member or fellow student.
One of the faculty members who participated was Abram Brummett, Ph.D., assistant professor, Department of Foundational Medical Studies. Brummett said he wanted to participate for three reasons.
"I really like fundraisers for a good cause," Brummet said. "I'll do anything that our med school students ask me to do, and I like pie. Those three things just made it an easy decision."
Ngan Nguyen, Ph.D., assistant professor, Department of Foundational Medical Studies, was another faculty member who participated. Nguyen said she wanted to help support a great cause.
"When (Brigoli) sent me the initial email that described Care House, I thought that this is something that really is going to a good organization to protect the most vulnerable populations," Nguyen said. "I immediately said yes… this was something that I wanted to be a part of."
To request an interview, visit the OUWB Communications & Marketing webpage.
NOTICE: Except where otherwise noted, all articles are published under a Creative Commons Attribution 3.0 license. You are free to copy, distribute, adapt, transmit, or make commercial use of this work as long as you attribute Oakland University William Beaumont School of Medicine as the original creator and include a link to this article.