Friday, Apr 29, 2022
Researcher of the Year, Outstanding Research Department awards go to OUWB Dept. of Foundational Medical Studies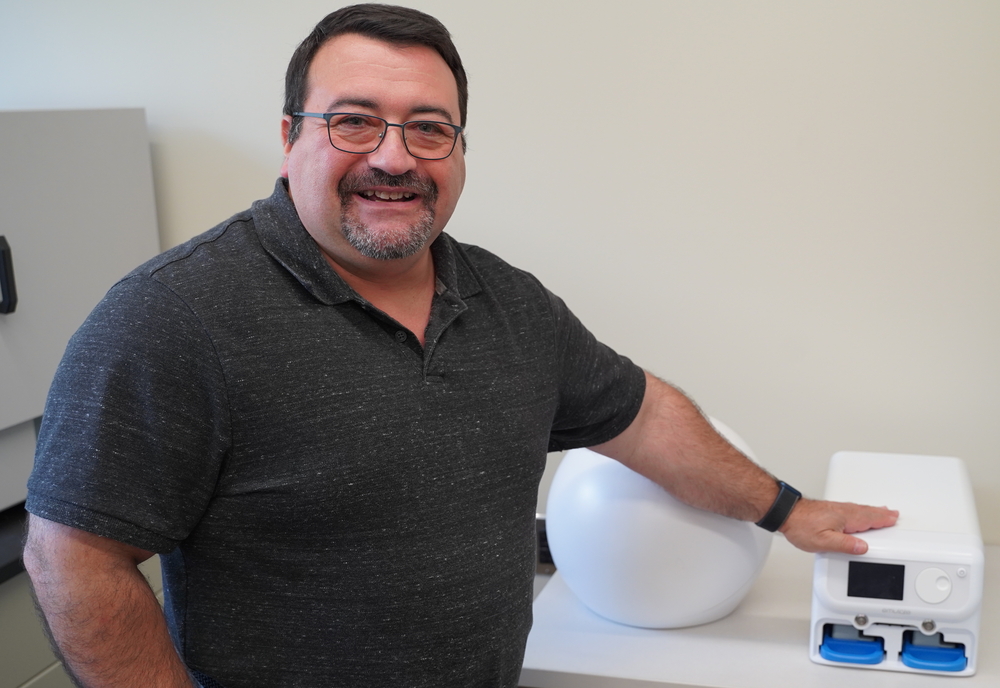 Luca Cucullo, Ph.D., professor in Department of Foundational Medical Studies, OU's Researcher of the Year, proudly shows off one of the many pieces of equipment in his lab.
Researchers from Oakland University William Beaumont School of Medicine had a strong showing at Oakland University's recent Research, Innovation, and Engagement Town Hall.
Luca Cucullo, Ph.D., professor in Department of Foundational Medical Studies, was named Researcher of the Year.
OUWB's Department of Foundational Medical Studies was one of two to receive the Outstanding Research Department Award (the other was OU's Department of Chemistry).
The award ceremony was held virtually on April 7.
"You are all doing yeoman's work, and it's absolutely outstanding in terms of promoting and supporting our research enterprise," said Britt Rios-Ellis, Ph.D., executive vice president of Academic Affairs and provost at Oakland University.
"Together, we look forward to seeing your continued success in current and future projects."
"I'm extremely happy and proud of the faculty," said Doug Gould, Ph.D., professor, Department of Foundational Medical Studies.
Researcher of the Year
Cucullo joined OUWB in September, 2020.
When hired, Cucullo said he wanted OUWB "to be a medical school that pushes boundaries beyond what we currently know."
Originally from Italy, he earned a doctoral degree in chemistry and pharmaceutical technology (biotechnology) from the University of Pisa, School of Pharmacy, in 2000.
He continued his education via post-doctoral training at the Cleveland Clinic Lerner College of Medicine in the Department of Neurosurgery/Cerebrovascular Research Center, where his specialty was in vitro cerebrovascular modeling with emphasis on CNS vascular pathophysiology.
After rising in the ranks at the Cleveland Clinic — and prior to OUWB — Cucullo spent nearly a decade at Texas Tech University. During his tenure as a faculty member at Texas Tech, he held the positions of associate professor and vice chair for Research in the Department of Pharmaceutical Sciences.
Concurrently, he built a strong research portfolio with a large portion focused on investigating the pathophysiology of tobacco smoke and e-cigarette toxicity at the neurovascular unit.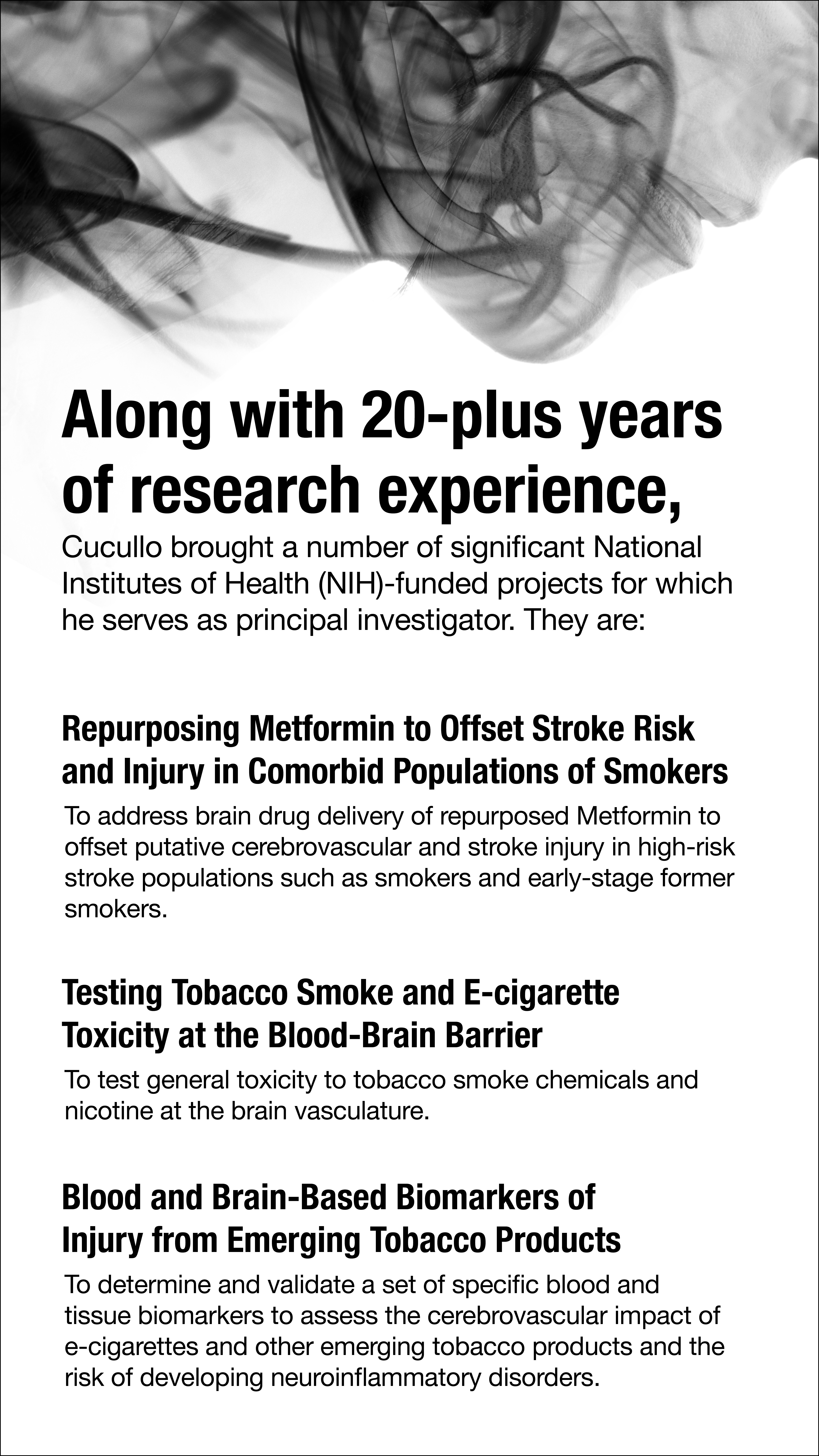 Among other things, Cucullo has led research efforts that have uncovered and exploited side mechanisms of action of well-established antidiabetic drugs (such as Metformin and Rosiglitazone) to promote nuclear erythroid-related factor 2 (Nrf2) activity to counteract oxidative stress-related cerebrovascular pathologies inherent to chronic smoking/vaping. Those research endeavors are supported by two of the NIH-funded projects where Cucullo is principal investigator (see infographic for more on the NIH-funded projects).
Those projects transferred to OUWB with Cucullo.
Work on the projects has continued as Cucullo and his team of researchers have taken on additional projects — and all while building the school's first wet lab.
OU's Researcher of the Year Award recognizes the faculty member who received the largest amount of competitive grant funding in the fiscal year. Cucullo received more than $2.2 million in funding.
Cucullo called being named Researcher of the Year "quite a surprise" and that it truly reflects a team effort.
Cucullo's team of researchers consists of Salvatore Mancuso, Aditya Bhalerao, Farzane Sivandzade, and Snehal Raut, Ph.D.
Bhalerao, Raut, and Sivandzade followed Cucullo to OUWB from Texas Tech.
With the exception of Raut, the research assistants are graduate students from OU's Department of Biological Sciences.
"Whatever we do as a lab and whatever we accomplish, I always want to (recognize) the people who work in the lab," he said. "Without them, none of this would be possible."
Outstanding Research Department Award
The award recognizes the departments that have received the highest amount in research funding in the fiscal year.
The Department of Foundational Medical Studies received $2.5 million in funding, with seven major projects.
In addition to Cucullo, other projects and lead principal investigators included:
"Students: Development and Evaluation of an Educational Intervention," Nelia Afonso, M.D., professor, Department of Foundational Medical Studies, and assistant dean for Community Integration & Outreach ($178,616 from Merck)
"Gaining Perspective on Substance Use Disorder (SUD) Treatment and Recover Service for Foster Care Youth," Deidre Hurse, Ph.D., assistant professor, Department of Foundational Medical Studies ($89,549 from University of Michigan/Michigan Department of Health and Human Services)
"Evaluation Plan for OCHD," Hurse, ($3,500 from Oakland County Health Division)
Gould said it should be noted that the $2.5 million in funding represents a significant increase from just a few years ago.
He said the overall trend for OUWB's research work is "great."
"We're moving in the right direction and we have a really well thought out strategy," he said.
Gould said he will continue to work myriad ways to foster continued growth of the department's research, including supporting the school's current researchers by giving them everything they need while attracting new researchers.
"I view my job as trying to support (the researchers)…so they can focus on the science, securing grants, cranking up publications, and just doing good research," he said. "My job is to just make sure the table is set for them to be successful."
For more on the other researchers recognized at the event, click here.
For more information, contact Andrew Dietderich, marketing writer, OUWB, at adietderich@oakland.edu.
To request an interview, visit the OUWB Communications & Marketing webpage.
NOTICE: Except where otherwise noted, all articles are published under a Creative Commons Attribution 3.0 license. You are free to copy, distribute, adapt, transmit, or make commercial use of this work as long as you attribute Oakland University William Beaumont School of Medicine as the original creator and include a link to this article.