Thursday, Oct 20, 2022
5th Annual Krug Lecture tackles issues related to medical care of transgender children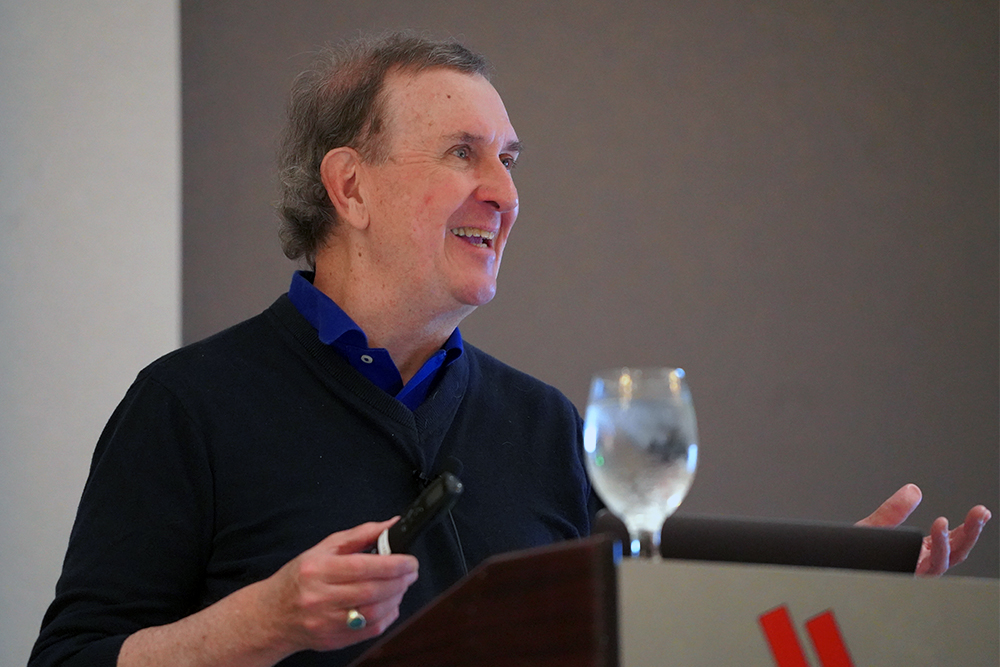 Timothy F. Murphy, Ph.D., professor of philosophy in the biomedical sciences, University of Illinois College of Medicine, was the featured speaker at 5th Annual Ernest and Sarah Krug Lecture in Biomedical Ethics.
More than 120 people participated in the 5th Annual Ernest and Sarah Krug Lecture in Biomedical Ethics to learn more about issues related to the medical care of children who are transgender.
The event was held Oct. 12 at the Auburn Hills Marriott Pontiac with about 70 people participating virtually and the rest in person.
Featured lecturer was Timothy F. Murphy, Ph.D., professor of philosophy in the biomedical sciences, University of Illinois College of Medicine.
His lecture was called "Ethical Aspects of Body Modification in Minors for Gender Expression."  
"What I wanted to do was offer a defense of this practice of medicine with adolescent populations," Murphy said after his lecture.  
Jason Wasserman, Ph.D., professor, Department of Foundational Medical Studies, noted "there are a lot of people who are advocates in this space on one side or the other," and described Murphy as a "perfect fit" for the annual event.
"Good bioethics involves diving into complicated and controversial issues with rigor and thoughtfulness," he said. "I'm all for advocacy, but it's not the same thing as deliberative analysis and that's what we look for in Krug Lecture speakers. That is hard to find on this topic." 
'An indelible mark'
The annual event is commensurate with the significance medical humanities and clinical bioethics have within the OUWB community.
Ernest F. Krug III, M.Div., M.D., played a fundamental role in establishing that significance via OUWB's curriculum and values.
Before retiring, Krug served as Beaumont's director of the Center for Human Development and established Beaumont's first clinical ethics consultation service. After joining the inaugural faculty at OUWB, he developed the Medical Humanities and Clinical Bioethics (MHCB) longitudinal curriculum.
The Krug Lecture in Biomedical Ethics is made possible by a generous donation from Ernest Krug and his wife, Sarah Krug. As a token of appreciation, Wasserman announced that OUWB was honoring Krug with a special inscribed chair reserved for "people who leave an indelible mark on the medical school."
In continuing with that legacy, Wasserman said that Murphy's presentation is exactly the kind of thing sought after for the Krug Lecture.
'Important to hear that kind of argument'
During his lecture, Murphy identified:
Certain contextual aspects for the body modification of adolescents for gender incongruence/dysphoria (GI/D);
The spectrum on which people modify their bodies for gender expression;
The features of ethically justified treatment;
Challenges to the decision-making capacity of adolescents in regard to modifications for GI/D;
The presumptive moral case for body modification treatment for adolescents with GI/D, under certain conditions.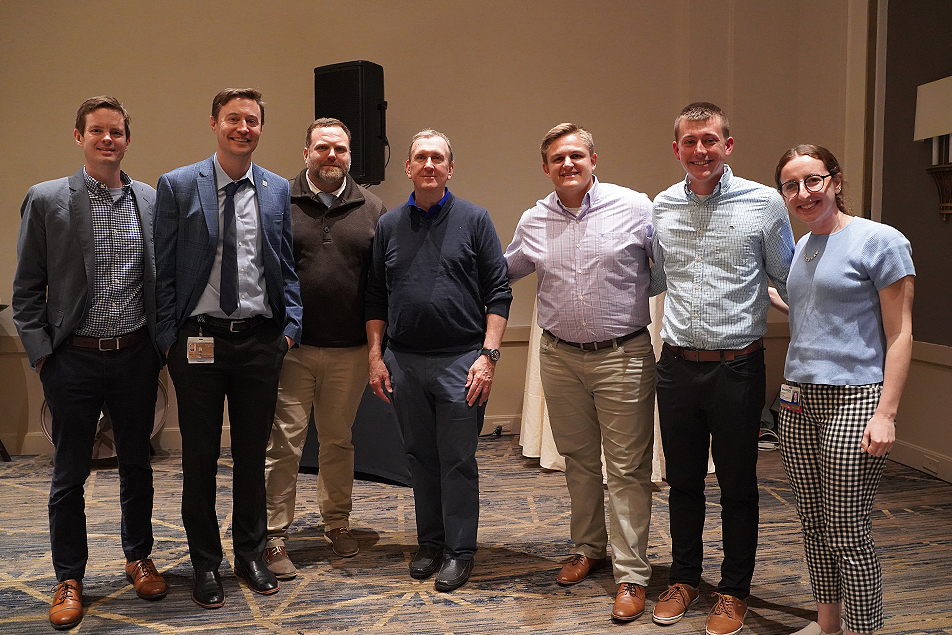 From left, Mark Navin, Ph.D., Abram Brummett, Ph.D., Jason Wasserman, Ph.D., Tim Murphy, Ph.D., and students from the Biomedical Ethics Interest Group Executive Board Randy Hilleary, Corey Shafer, and Jessica Krone.
As Wasserman explained, Murphy "starts from a premise that is widely shared in bioethics that people with decision making capacity should, by virtue of their autonomy, get to make decisions about their own bodies."
"(Murphy) then plays that premise forward into the issue of surgery for trans children and draws conclusions about their rights," Wasserman added. "Whether you agree with those conclusions or not, it's important to hear that kind of argument."
In just one example, Murphy noted how some challenge body modification for GI/D for adolescents based on potential effects. He pointed out how some argue that the practice can leave a patient infertile; that some parties might change their mind part way through the process (leaving them with unwanted body traits); and/or the practice could create lifelong medical dependence.
Murphy replied by noting that infertility, incapacity to gestate, and childlessness are not necessary outcomes of the intervention; that persistence can be a problem but not enough to disable the practice in its entirety; and that other types of interventions create lifelong medical dependence that are justified in the name of beneficial effects.
It was the kind of discussion that attendees generally said left them with plenty to think about.
'A lot of different opinions'
Amy Halder, M4, was among those who attended the event in person. As an undergrad, she had a class with Murphy and said the Krug Lecture appeared to be very much in line with his approach to education.
"He would always present one idea, but then tell you a completely opposite idea to make you feel uncomfortable and challenge students to deal with the sudden discomfort," she said. "It was really good."
Similarly,  Murphy's Krug Lecture topic on ethics related to body modification in minors for gender expression seemed to challenge the audience.
Michael Malian, M.D., a general surgeon at Corewell Health Dearborn Hospital, said he thought it was important to attend the lecture because he feels "somewhat skeptical that we should be doing this very aggressively without knowing more." He called forums like the Krug Lecture "a good idea."
"It's good to talk about it," he said. "There's a lot of uncertainty…(and) this should be explored at the medical school level. I'm glad I had the opportunity to come here and listen."
Jessica Krone, M2, said her biggest takeaway was that the topic "is very complex."
"There are a lot of different opinions and considerations out there," she said. "As future physicians we have to be aware of all of these different things to come to our own moral perspectives on it."
"It's going to be highly debated and that's OK because it should be," she said.
Randy Hilleary, M2, said the discussion served as a good reminder for him as a future physician to think about each patient individually.
"Each individual situation is very different," he said. "As (Murphy) highlighted, it's important to consider how fluctuating that can be, and that it's not just a boundary between one thing and another. It's a scale of each patient as an individual and I think that's really important."
For more information, contact Andrew Dietderich, marketing writer, OUWB, at adietderich@oakland.edu.
To request an interview, visit the OUWB Communications & Marketing webpage.
NOTICE: Except where otherwise noted, all articles are published under a Creative Commons Attribution 3.0 license. You are free to copy, distribute, adapt, transmit, or make commercial use of this work as long as you attribute Oakland University William Beaumont School of Medicine as the original creator and include a link to this article.