Thursday, Feb 11, 2021
OUWB medical students bring first ever virtual talent show to life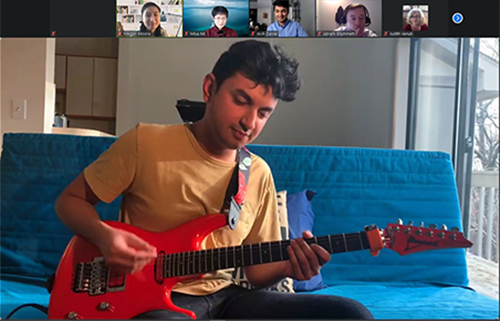 Josh Daniel, M2, OUWB, played guitar during his part of the virtual talent show held Feb. 5, 2021.
Oakland University William Beaumont School of Medicine recently held its first virtual talent show, featuring performances by medical students and faculty who delighted the nearly 70 attendees.
The event was held Feb. 5 and featured seven performers displaying talents such as playing guitar, singing, magic, painting, and even beatboxing.  
Planning was done by five OUWB students who are part of Oakland University's Learning Community for Integrating Arts and Humanities to Health Professions Education, established through the OU Center for Excellence in Teaching and Learning in late 2019.
The OU Learning Community is a forum for faculty, staff, and students to explore, learn, discuss, and investigate how the integration of arts and humanities impacts health profession students. OUWB medical students were invited to join the OU Learning Community in the fall of 2020 and the talent show is the first event organized by students in the group since the start of the COVID-19 pandemic.
First-year OUWB medical student Donna Kayal was part of the planning committee for the virtual talent show. She said she was happy to see so many smiling faces and engagement via chat for the Zoom event.
"It shows how arts and humanities can play a big role in the confidence and happiness of people," said Kayal.
"Though many of us did not know our upper classmates and are still getting to know our current classmates, they were all incredibly positive and supportive and that showed me what being a student at OUWB is like."
Jenny Nguyen, M1, also on the planning team, said she was particularly impressed by the musical performers. Nguyen sang the song "All is Found" from the soundtrack to the movie Frozen.
Other student musical performers were Josh Daniel, M2, Adam Wahl, M2, and Nathan Shin, M1. (M1 Collin Trainer performed magic tricks.)
"Music is very empowering," she said. "I hope that it gave the same kind of empowerment to everyone else as it did for me."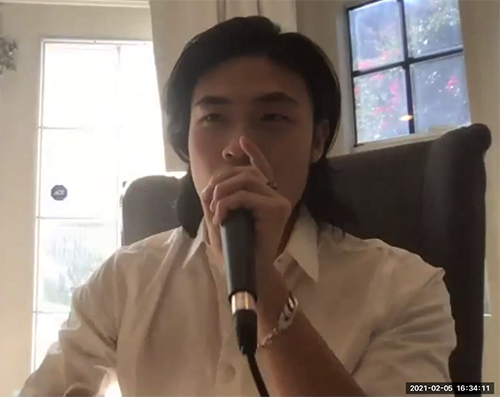 Nathan Shin, M1, beatboxes for his portion of the talent show.
Misa Mi, Ph.D., professor, OUWB, Department of Foundational Medical Studies, and founder of the OU Learning Community, said the origins of the OUWB virtual talent show can be linked to a push by the American Association of Medical Colleges to generally bolster the roles of arts and humanities in the education of health professionals.
According to the AAMC website, "Arts and humanities are essential to the human experience and their benefits to medical education go far beyond joys and pleasures."
"By integrating arts and humanities throughout medical education, trainees and physicians can learn to be better observers and interpreters; and build empathy, communication and teamwork skills, and more," the AAMC website continues.
Mi said she formed the OU Learning Community after receiving a grant from the Oakland University Center for Excellence in Teaching and Learning.
"The OU Learning Community was established as a response to the AAMC initiative," said Mi. "Activities like the talent show are an outlet for students to come together to showcase their talents, develop a sense of belonging, and rejoice in our community at this unprecedented time."
Mi was one of two OUWB faculty members who performed during the talent show. Mi sang "Panis Angelicus," a hymn written by Saint Thomas Aquinas and composed by Cesar Franck. Abram Brummett, Ph.D., assistant professor, Department of Foundational Medical Studies, presented "Canvas Corner with Dr. Brummett," a tongue-in-cheek take on Bob Ross that had everyone smiling. 
OUWB students said their participation meant a lot.
"The faculty being in the talent show and taking time off from their schedules or family commitments to take part in and support the show truly brought home what it means to be part of the OUWB community," said Kayal.
Nguyen said the talent show planners (the others were Maidah Raja, M3, Luu Pham, M2, and Adam Wahl, M2) already are looking forward to next year, with hopes that the show can possibly be in person and that a charity element might be added.
They say they are inspired by the success of the inaugural version.
"We could tell that despite being socially distanced and having to get to know each other through a camera, we all still wanted the social aspect of being surrounded by our classmates and faculty, and it really made me look forward to the day we can be back to in-person," said Kayal.
For more information, contact Andrew Dietderich, marketing writer, OUWB, at adietderich@oakland.edu. 
To request an interview, visit the OUWB Communications & Marketing webpage.
NOTICE: Except where otherwise noted, all articles are published under a Creative Commons Attribution 3.0 license. You are free to copy, distribute, adapt, transmit, or make commercial use of this work as long as you attribute Oakland University William Beaumont School of Medicine as the original creator and include a link to this article.