Monday, Nov 22, 2021
OUWB faculty on 'personal mission' to fight misinformation in health care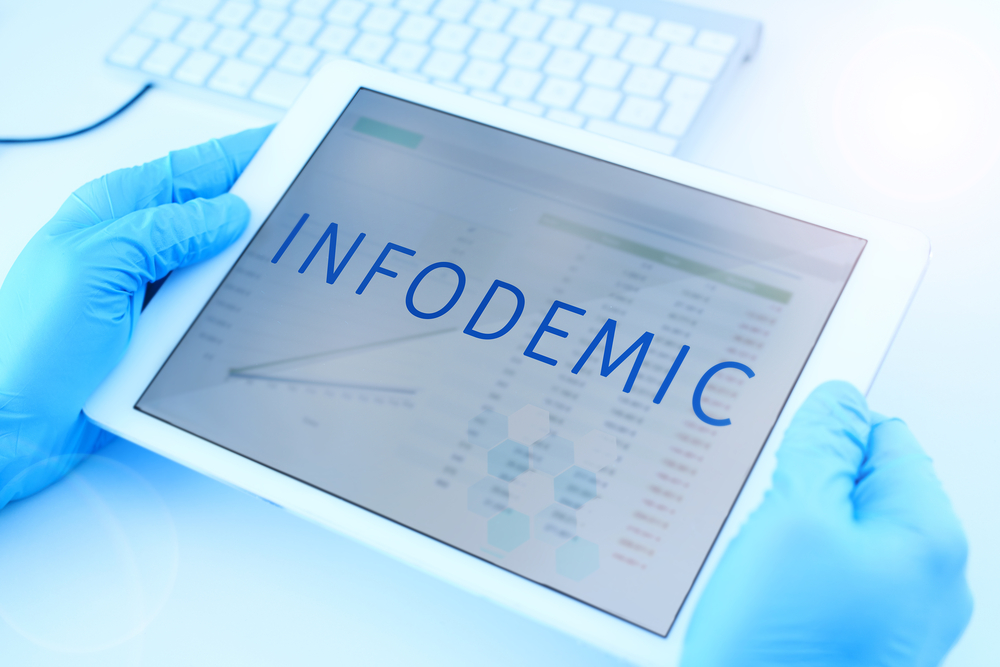 An OUWB faculty and Beaumont Health doctor is on a personal mission to help physicians fight misinformation about health care in the media and on social media.
Asha Shajahan, M.D., associate professor, OUWB, and medical director of Community Health, Beaumont Hospital, Grosse Pointe, says what she calls an "infodemic" regarding health care information has been magnified by the COVID-19 pandemic.
To fight the prevalence of misinformation regarding health care, Shajahan has been writing op-eds, doing media interviews, and participating in town halls to answer questions and clarify info taken out of context.
She also was part of the team that released "MisinfoRx: A Toolkit for Healthcare Providers" — a comprehensive overview of the mechanics of medical misinformation and strategies for addressing patient-held medical misinformation in clinical settings
"Misinformation has proven to be deadly," says Shajahan.
"The COVID-19 pandemic has shown the impact of medical misinformation.  It has caused people to get sick and even die.  It's caused people to question vaccination and science."
Shajahan, who also serves as GME director of Health Equity and Health Disparities, Beaumont Hospital, Royal Oak, says the public is "being manipulated by the media and the social media algorithms and are not getting the medical facts they deserve" — and that she made a decision to do something about it.
"As a family and community physician, it's my duty to help people live their happiest and healthiest lives," she says.
Addressing a problem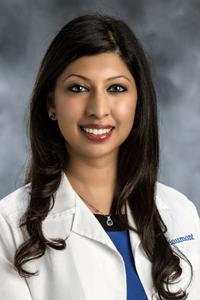 Shajahan
The 55-page MisinfoRx toolkit (available for download here) makes it clear that misinformation and health care have gone hand-in-hand long before the COVID-19, though the pandemic has brought the problem into sharper focus.
The report says that misinformation is a problem fed both by technological advances and human psychological and sociocultural factors that leave humans highly vulnerable to accepting and spreading false health information.
"Medical misinformation is now pervasive, standing as one of the top threats to public health worldwide," the report states.
Shajahan says she saw the impact up close and personal during the earliest days of the COVID-19 pandemic as patients "were falling sick due to lack of accurate information."
"After working on the COVID-19 units…I felt it was a personal mission to equip physicians with tools on how to fight misinformation and help patients make informed medical decisions," she says.
She completed a graduate program in Media and Medicine at Harvard University School of Medicine. While in the program, Shajahan developed the idea for the toolkit, and began work on the project with colleagues Irene Pasquetto, Ph.D., assistant professor, University of Michigan, School of Information, senior fellow, Harvard Kennedy School, Shorenstein Center of Media, Politics & Public Policy, and Daisy Winner and Luke Testa, Harvard Global Health Initiative. 
The process included gathering existing research on misinformation, disinformation, and malinformation. The team also developed case studies based on real patients, and did a literature review on medical misinformation.
The end result is a comprehensive look at how and why medical misinformation is so prevalent today, while offering strategies for addressing patient-held misinformation centered on what the report calls the "Three C's."
Three C's
According to the report, the Three C's were developed to serve as guiding principles for having conversations with patients about medical misinformation.
The Three C's refer to compassionate understanding, connection, and collaboration. Each of the Three C's is broken down within the report, with tips for effective implementation.
Generally, the compassionate section explains that "bi-directional, empathetic conversations offer opportunities to build trust, support patients in making informed, health-promotive decisions, and mitigate the impacts of harmful medical misinformation."
The connection section offers that providers should then "express compassion, seek to empathize with the patient, and meet the patient where they are at."
It all should come together, as the collaboration section notes, when providers "collaborate with the patient on the common ground of working towards shared goals for the patient's health."
"Avoid applying authoritative approaches that seek to compel patients to abide by the providers' medical advice or discount the medical misinformation," the report states.
Shajahan says that the Three C's model was tested on several physician focus groups through the #thisisourshot campaign, a national grassroots effort with members from all specialties across the U.S. (Shajahan serves as an executive member of the #thisisourshot campaign.)
The team behind MisinfoRx expects to produce an updated version of the report based on real-time usage and feedback from health care providers.
Already, the toolkit has been shared with the Surgeon General's Office at Health and Human Services, the U.K. parliament, the WHO communications team, and the Public Goods Project. It also will be presented at other conferences.  
"We are continuing to do focus groups and research on the usage of the toolkit," says Shajahan. "The feedback thus far has been very positive."
"MisinfoRx: A Toolkit for Healthcare Providers" is available for free via this link.
About Asha Shajahan, M.D.
Early in her career, Shajahan's interest in health policy and health disparities led her to intern for former U.S. Senator Carl Levin, D-Mich., in Washington D.C. She also was a senior health care intern for the office of former Michigan Gov. Jennifer Granholm, where she worked to augment health care access for people who were uninsured in Detroit.
Her passion for homeless and vulnerable populations led her to create many initiatives, including the Detroit Institute of Arts (DIA) Arts and Health Symposium that empowers clinicians on how to use art modalities in the treatment of anxiety, depression, and chronic pain, and Dance Medicine, MD, which connects underserved populations with exercise opportunities and health care expertise.
She is also the co-host of Beaumont Health's first podcast, Beaumont House Call, which focuses on a variety of health topics including loneliness, fertility, weight loss, and bullying to empower the community to live smarter and healthier lives.
In 2019, she was honored at the Women of Impact awards, hosted by the Joyce Ivy Foundation — an Ann Arbor-based nonprofit committed to academic advancement and leadership development of young women from the Midwest.
Earlier this year, Shajahan was awarded the Eleanor Josaitis Unsung Hero Award. The honor is part of the Shining Light Awards, presented by the Metropolitan Affairs Coalition and the Detroit Free Press, to recognize regional leadership.
Shajahan is a native of Michigan and completed her faculty fellowship in underserved populations at the University of California, San Diego. She also has a master's degree in Health Services Administration from St. Joseph's College.
For more information, contact Andrew Dietderich, marketing writer, OUWB, at adietderich@oakland.edu. 
To request an interview, visit the OUWB Communications & Marketing webpage.
NOTICE: Except where otherwise noted, all articles are published under a Creative Commons Attribution 3.0 license. You are free to copy, distribute, adapt, transmit, or make commercial use of this work as long as you attribute Oakland University William Beaumont School of Medicine as the original creator and include a link to this article.