Thursday, May 13, 2021
OUWB Class of 2021 wraps up four-year capstone projects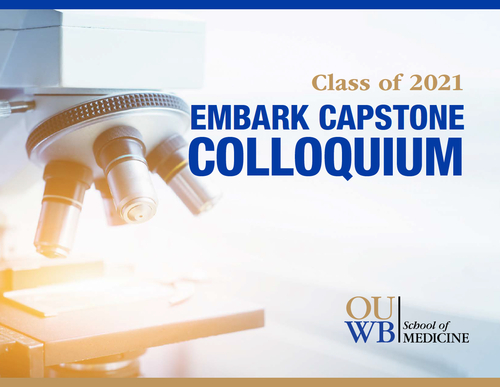 As Oluwatoyin Ibironke excitedly looks ahead to a career in medicine, the fourth-year OUWB medical student says she feels well-prepared to "embark" on future research projects.
Ibironke, who graduates Friday, attributes a large part of her feelings of preparedness to her work during the last four years on a capstone project — a requirement of all graduates of Oakland University William Beaumont School of Medicine through its program known as Embark.
Embark is a four-year longitudinal curriculum that consists of structured coursework in research design and implementation, compliance training, research communication, and scholarly presentation, with protected time to develop mentored projects in a wide-range of community and health-related settings.
Work done by the Class of 2021 led to scholarly activities that included 63 poster presentations, 21 oral presentations and workshops, and 20 manuscripts published and/or accepted for publication. 
Students like Ibironke, who matched in anesthesiology at University of Michigan, say such projects will be beneficial as they move on from OUWB.
"Medicine is about lifelong learning and one of the ways to do it is to get involved in research," she said.
"At OUWB, you are already getting a head start…I want to get in and I want to get involved in research right away, if possible.
"The Embark project has prepared me to be a better resident and better physician because I believe I'll be at the top of my game…because of all of the research opportunities I've had at OUWB."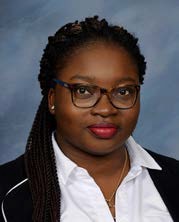 Ibironke
Ibironke's project was called "Tonic Immobility and Posttraumatic Stress Symptom Severity in Relation to Potentially Traumatic Police Interactions." Co-authors were: Scott Pickett, Ph.D., associate professor, Florida State University College of Medicine; Daniel Gildner, Michele Parkhill, Ph.D., and Travis Ray, from Oakland University's Department of Psychology; Erica Kris, a fourth-year OUWB student; and Amanda Burgess-Proctor, Ph.D., from OU's Department of Sociology, Anthropology, Social Work, and Criminal Justice Psychology.
In short, the project found that people "may experience a physiological 'freeze' response, which should not be interpreted as noncompliance." Ibironke said the hope is that the findings might help police approach civilians differently, and possible decrease the rates of excessive force.
The study included responses from nearly 800 people.
"I was really happy to be involved in the project because the hope is that we'll be able to publish a manuscript that would help increase awareness within law enforcement agencies about interactions with citizens and how to best react when coming in contact with someone who probably doesn't responds as much as you want them to," she said.
Ibironke's study is exactly the kind of quality research officials at OUWB say they have come to expect from students. Projects are divided into five categories: Clinical Research; Laboratory Research; Global and Community Health Research; Medical Education Research; and Health Systems Research.
Impressive Research from Class of 2021
"The Class of 2021's Embark projects are yet again another impressive set of research endeavors that address a wide-range of health issues throughout clinical practice, education and the community," said Kara Sawarynski, Ph.D., vice chair, Department of Foundational Medical Studies, and one of the co-directors of the Embark program.
"Graduates have pursued projects aligned with their passions, which shines through in their resilience and perseverance during these interesting times in the education arena," she added.
Dwayne Baxa, Ph.D., assistant professor, Department of Foundational Medical Studies, and Embark co-director, said students "recognized project challenges in the face of COVID restrictions and, for the most part, were able to circumnavigate these challenges to a successful end."
"Importantly, OUWB students have shared their research outcomes with the wider scientific community through publishing and successful presentations of their work at regional and national conferences," he said.
Traditionally, Embark projects are presented at an annual event held on the eve of Match Day. The in-person event was cancelled for a second year as a result of the continuing COVID-19 pandemic.
However, project abstracts and posters can be found via a "virtual exhibit hall" on the OUWB website. Baxa said the hope is that "audience members, including our first- through third-year medical students, find viewing the Class of 2021's work as inspiring as we do."
Thanking mentors and awards
Sawarynski thanked the many mentors for helping students along the way.
"We have continued appreciation for the faculty mentors who have guided these students throughout their Embark program projects, as the success of the students and program would not be possible without their shared expertise," she said.
Several students received extra recognition for their work.
Embark Competitive Mini-Manuscript Scholarship Recipients from the Class of 2021 were:
Ann V. Nicholson Embark Program Manuscript of the Year
David Lee
Assessing the Impact of Resuscitation Residents on the Treatment of Cardiopulmonary Resuscitation Patients
Ravitz Foundation Embark Program Competitive Scholarship, Manuscript of the Year Runner-Up
Nikhil Mankuzhy
Prognostic Significance of Neuroendocrine Differentiation in Prostate Adenocarcinoma with Distant Metastasis
Newman Family Foundation Embark Program Competitive Scholarship
Nikta Khajeh
Assessing the Prevalence of Sport-Induced Urinary Incontinence and its Emotional Impact on Female Gymnasts

Ravitz Foundation Embark Program Competitive Scholarship
Patricia Fuentes Hippocampus Segmentation on non-contrast CT using Deep Learning
Nahrain Putris
Activation of p38-MAPK is Required for VEGFA165-induced Migration, but not Proliferation, of Primary Human Retinal Microvascular Endothelial Cells
Christos Sarantopoulos
The Role of Human Macrophage Histone Deacetylases in Inflammation and Disease: A Systematic Review

Daniel Schoenherr Integrative Module Improves Pathology Self-Efficacy for Students with Lower Course Scores
Oakland University Credit Union Dean's Choice Award
1st Place
Nikta Khajeh
Assessing the Prevalence of Sport-Induced Urinary Incontinence and its Emotional Impact on Female Gymnasts
2nd Place
Jessica Barnes
Comparative Management of Homeless Persons With Infectious Diseases in United States Emergency Departments
3rd Place (tie)
Aryana Sharrak
Understanding Opioid Addiction in the Chaldean Community
3rd Place (tie)
Bhavneet Singh
Comparing In-Hospital Clinical Outcomes Between Conventional vs. Robotic-Assisted Unicompartmental Knee Arthroplasties
For more information, contact Andrew Dietderich, marketing writer, OUWB, at adietderich@oakland.edu. 
To request an interview, visit the OUWB Communications & Marketing webpage.
NOTICE: Except where otherwise noted, all articles are published under a Creative Commons Attribution 3.0 license. You are free to copy, distribute, adapt, transmit, or make commercial use of this work as long as you attribute Oakland University William Beaumont School of Medicine as the original creator and include a link to this article.