Wednesday, Mar 10, 2021
Graduating OUWB medical students in select specialties celebrate early matches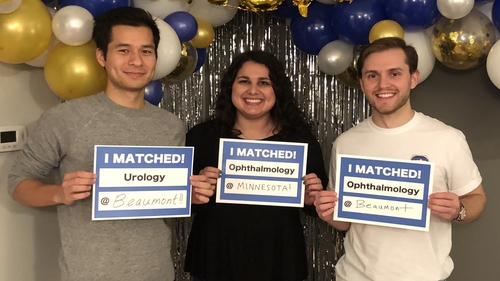 (From left) Jonathan Dokter, Meghan Brown, and Michael Maywood proudly hold up signs showing where they matched in ophthalmology. The specialty is among those that use an early match process.
Oakland University William Beaumont School of Medicine medical student Danny Schoehnerr didn't have to wait until the third week in March — aka Match Day — to find out where he would be spending the first phase of his career as a doctor.
That's because Schoehnerr was among 10 OUWB Class of 2021 students who already have found out where they are headed via early match processes.
Early matches apply to those specializing in ophthalmology and urology, as well as medical students who are seeking a residency with a branch of the military. 
The early match process applies only to these specialties because they are not affiliated with the National Resident Matching Program (NRMP), which annually holds its Match Day the third Friday in March (on March 19 this year).
Because the majority of medical students celebrate Match Day together — whether virtually or in-person — those who match early find unique ways to celebrate their accomplishment.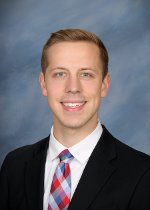 Schoehnerr
"I received the email, didn't look at it, and forwarded it to my wife so she could put it into an envelope and we could have a little Match Day celebration," said Schoehnerr.
Schoehnerr, who earned an undergraduate degree from Michigan State University, will specialize in family medicine. He was a participant in the most recent military match and will begin his residency in early June at Fort Belvoir in Fairfax County, Virginia. It was Schoehnerr's first choice.
Schoehnerr said he feels well prepared for the next phase of his career in medicine, due in large part to his experiences at OUWB and Beaumont.
"Especially in clinical rotations, you get out of it what you put into it, but you also need to have people who are willing to create those opportunities for you and give you those opportunities," he said. "I feel like that was the strong suit of our clinical rotations at Beaumont…. all of the attendings and residents always asked 'What do you want to get out of this? Do you want to do this? Do you want to do that?'"
Josh Hohlbein, who earned his undergraduate degree from Oakland University, also participated in the military match. Beginning in June, he will be at the San Antonio Military Medical Center at Fort Sam Houston in San Antonio, Texas.
Hohlbein, who is specializing in ophthalmology, said it was among his top choices and that he's very happy.
"I was able to do an away rotation there last August and September and really formed good relationships with both the residents and attending physicians that are there," he said.
After being notified via email, Hohlbein said the director of the program called him directly to congratulate and welcome him. He said OUWB helped him get ready for the next big leap in his career in medicine.
"Overall, I feel very prepared and I think that was reflected when I went and did my away rotation," he said. "I think they saw the strengths that OUWB teaches us."
Meghan Brown also is graduating and specializing in ophthalmology, though in a civilian setting. As a result, her match was overseen by the San Francisco Residency and Fellowship Match Services.
Brown, who earned her undergraduate degree from University of Michigan, matched at University of Minnesota and will set out for Minneapolis in June. She said she is thrilled.
"I loved the program director and they were super interested in me as a person as well as my family, which is something that's really important to me," she said. "I really felt connected there."
Brown said the experiences she's had at OUWB have set her up for success.
"It was everything that I ever hoped for," she said. "There really is a sense of community at OUWB and that community really allowed me to not only thrive but enjoy my time in medical school and succeed academically."
Michael Maywood matched in ophthalmology at Beaumont Health. Maywood, who earned his undergraduate at Oakland University, said he was "really excited" because he ranked Beaumont first.
"I chose Beaumont first because I feel like I know a lot of the residents and faculty having done a few rotations there," he said. "They have a great training program."
Maywood said he is particularly appreciative of the amount of autonomy received while training in clinical rotations at Beaumont and noted that OUWB's preclinical courses "were really good at giving us a solid foundational knowledge in the science of medicine."
Like the military and ophthalmology matches, the urology match also takes place in January.
The urology match is independently run by the American Urological Association.
Among those who matched in urology was Fionna Sun.
Sun, who earned her undergraduate degree from University of California-Berkeley, said she "couldn't be any happier" about where she will be working for the first time as a doctor. Sun matched at University of Virginia, her number one rank. Sun said the clinical opportunities provided by OUWB and Beaumont Health were key.
"My clinical rotations gave me a pretty good insight into who I am in terms of the field of medicine and where I fit in," she said. "I was really lucky to meet some amazing mentors."
"I'm very excited to finally be a resident," she added.
For more information, contact Andrew Dietderich, marketing writer, OUWB, at adietderich@oakland.edu. 
To request an interview, visit the OUWB Communications & Marketing webpage.
NOTICE: Except where otherwise noted, all articles are published under a Creative Commons Attribution 3.0 license. You are free to copy, distribute, adapt, transmit, or make commercial use of this work as long as you attribute Oakland University William Beaumont School of Medicine as the original creator and include a link to this article.