The 2021-22 performance season concluded in the spring with a jazz and world music residency at the Flagstar Strand Theatre for the Performing Arts in Pontiac March 30 - April 2, including four concerts and a community workshop with faculty, students and artist-in-residence Regina Carter; the Department of Theatre's production of Pippin, which celebrated its 50th anniversary this year, from March 30 - April 3 in Varner Studio Theatre; a series of Young Choreographers Forum and Senior Dance Concert performances at Detroit Country Day School in April; an Oakland Symphony Orchestra and Oakland University Symphony Chorus performance on April 14 at Orchestra Hall in Detroit; and the Department of Music's reimagined version of Handel's opera, Acis and Galatea, from May 5 -  8 and May 12 – 15 in the Varner Studio Theatre.


The summer season has included two camps for high school students, Low Brass Academy and OU Jazz Intensive, as well as the return of the Summer Carillon Series. Continuous renovations at OU will result in many of the fall 2022 events to take place at various venues throughout Oakland and Macomb counties, so be sure to check our website for details of our 2022-23 performance season. The Varner Recital Hall will be back in commission this January, and all of SMTD will celebrate at a gala event on March 25! 

SMTD Faculty, Student and Alumni News

Jeffrey Heisler, associate professor of music, had his latest album, VENT, featured on the WGTE (Toledo Public Radio) nationally syndicated program "New Music from Bowling Green," curated by pulitzer-prize winning composer Jennifer Higdon and WGTE's Brad Creswell. VENT, released on January 14 by AMP Recordings, features works by American composers (Jennifer Higdon, David Lang, Ellen Taaffe Zwilich, William Bolcom, Marc Mellits, and Bill Ryan) that Dr. Heisler commissioned, premiered, and adapted for saxophone. The album also includes I-Chen Yeh, piano (Oakland University); Matthew Younglove, alto saxophone (Tennessee Tech University); and Jonathan Ovalle, marimba (Saginaw Valley University).

Gayelynn McKinney, lecturer of music, and Mark Stone, associate professor of music, performed with Joe Reilly on January 17 at this year's University of Michigan Martin Luther King Symposium. You can watch the performance(catch McKinney and Stone at the 26 minute mark). Stone was also featured in a recent Percussion Discussion podcast.

In March, Ian Lester (BM, Euphonium Performance, '18) was named the winner of the 2022 UMKC Composition Competition with his piece, Mental Pendulum, which was premiered by the Factory Seconds Brass Trio of the Cleveland Orchestra. In May, two of Lester's compositions were performed by the UMKC Tuba and Euphonium Ensemble at the 2022 Great Plains Tuba and Euphonium Conference at Drake University. Lester also served on a panel presentation led by colleague Taylor Hicks on the processes of commissioning, consortiums, and collaboration between composers and performers. The panel was presented at both the Great Plains and the Midwest Regional Tuba and Euphonium Conferences (the latter held at the University of Kentucky). Lester has also stayed busy playing euphonium, performing with both the Fountain City Brass Band and the Fountain City Youth Academy Brass Band for the 2021-2022 season. The Fountain City Brass Band won the 2022 North American Brass Band Championships in the championship section and the Academy Band received 2nd place in the third section. This coming academic year will be Lester's final year at UMKC before he graduates with a doctorate in euphonium performance and a master's in composition.


Curtis Armstrong (ADA '75) — known for classic TV and film roles in Risky Business, New Girl, Ray, Revenge of the Nerds, Moonlighting and more — visited OU's campus on March 22 and sat in on some SMTD classes, participated in a Q&A discussion and stopped in on a Pippin rehearsal.

SMTD joined in the OU Pride Month celebrations as the Department of Dance virtually presented three dances on film on March 23: "Introducing…Kristi Kreme" by Teresa Muller (faculty); "Faces" by Angela Lowery (student); and "I'appuntamento" by Jane Lyszak (student).

OU faculty members and Broadway veterans Josh Young and Emily Padgett-Young performed March 25-27 in "The Best of Rodgers & Hammerstein" with the Detroit Symphony Orchestra at Orchestra Hall in Detroit. The performance featured showstopper after showstopper, including songs from Carousel, The Sound of Music, Oklahoma!, The King and I, Cinderella, South Pacific, and more.

Dr. Alta Marie Boover joined Mary Siciliano (piano) and John Madison (viola) in a presentation of the Chamber works of Charles Loeffler at the Scarab Club on April 3. Their album, Of Time and Love, includes these works and the work of Nicolas Bacri.

On April 3, the Oakland Youth Brass Band took the stage in their first ever public performance. Under the direction of Dr. Jennifer Oliverio, the band performed selections by Handel Parker (arr. A. Broadhead), Eric Ball, Tom Davoren and Paul Lovatt-Cooper. This year the OYBB had 25 students participate from 11 school districts. "It was an incredible season, I am so proud of the work and enthusiasm of all of the students," stated Dr. Oliverio.

Four SMTD faculty members were honored April 13 during the Founders' Day 27th Annual Faculty Recognition Event: Mark Stone, associate professor of music (Community Engagement Faculty Award); Jeffrey Heisler, associate professor of music (Research); Pamela L. Klena, visiting assistant professor of music (Service); and Josh Young, assistant professor of theatre (Teaching). The Founders' Day Faculty Recognition event recognizes faculty members whose teaching and research excellence, creative achievements and community service have contributed to the betterment of society. Founders' Day honors the memory of university benefactors Alfred and Matilda Dodge Wilson, whose gift of 1,400 acres and $2 million has enriched the lives of thousands of people since Oakland University's founding in 1957.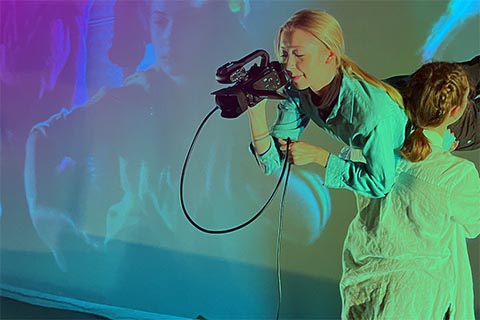 Katie Phelan (BFA '14) successfully defended her thesis and has earned a Master of Fine Arts degree from the University of Iowa's Department of Dance. Phelan's "Exposing Layers" premiered on April 13 during a showcase thesis concert. "This work is a performance that uses a live camera to capture dance on a proscenium stage and projects it on a downstage scrim," Phelan said. "The audience can see through the scrim's projection to observe dancers and camera movement upstage. Today, Internet access has made unveiling digital art techniques a secondary performance through tutorials and 'behind-the-scenes' explanations. This work is situated in a constant 'behind-the-scenes' point of view. It is a performance of method as well as a performance of the relationship between live action and real-time feedback. It makes the 'cause and effect' visible on the stage and scrim, which offers a viewing experience that is different from solely stage performance or cinema. The choreography considers a dialogue between the stage performers and mediated bodies on the scrim to ask how they co-exist. Knowledge of the inscribed dancing body is used to create movements of the camera as an extension of the body." 


After performing a section of it for the Oakland University Board of Trustees on April 14, Associate Professor of Dance Thayer Jonutz premiered "Hammer and Nail" — a multi-disciplined performance merging dance, theatre, surround sound music composition, creative writing and set design — on April 15 in Varner Studio Theatre. "The premiere of 'Hammer and Nail' far exceeded my expectations on so many levels," Jonutz said. "I received a standing ovation and many emotionally moved audience members waited for over an hour to talk to me afterwards before they left the theatre." Due to the overwhelmingly positive response, Jonutz decided to perform the work again on April 23. "Chris Kirkum, father of Katie Kirkum — who just graduated last year from our dance department — attended the show and was overcome with emotion," Jonutz said. "So much so that he invited Jon and I to perform 'Hammer and Nail' a third time as part of a leadership training series." In addition, Jonutz was also invited to perform "Hammer and Nail" on April 29 for dance and English students at Oxford High School.


In April, the OU BFA acting and musical theatre seniors wrapped up successful showcases in Chicago and New York City, respectively, where they met with top local agents, casting directors, actors, directors and filmmakers, and participated in masterclasses and seminars with the industry's leading artists.

Norm Lewis — Emmy, Tony, and SAG Award-nominated actor — was on OU's campus on April 24 for a masterclass with OU theatre students. Lewis' Broadway credits include The Gershwins' Porgy & Bess, Sondheim on Sondheim, The Little Mermaid, Les Misérables, Chicago, Amour, The Wild Party, Side Show, Miss Saigon, and The Who's Tommy. Musical theatre student Ever Liedel said, "Working in the masterclass with Norm Lewis and watching my peers work with him was a beautiful experience and opportunity. Performing for Broadway royalty was nerve wracking but once I got up there to perform, I felt completely in control and in my element because of the wonderful energy that Norm brought, along with his expertise and authenticity. Just from that short amount of time that I worked with him, I had gained a much stronger sense of confidence, focus, and skill that I intend to use for my future studies and career."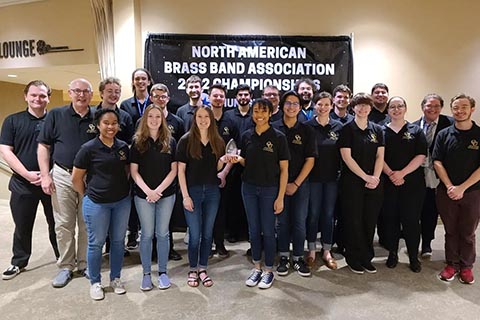 OU brass and percussion students competed at the North American Brass Band Association (NABBA) Championships April 29 - 30 in Huntsville, Alabama: The Oakland University Brass Band was awarded 3rd place in the 1st Section band category; the fOUrce Brass Quartet (Alexis Dill, Jonathon Esbri, Anna Greyerbiehl, Christopher Warren) won 2nd Place in Brass Ensemble; the Magnificent 7 (Collin Arena, Taylor Atkinson, Mattheas Boelter, Brady Jacot, Kyle Paoletti, David Smit, Jake Voight) won 2nd Place in Percussion Ensemble; individual awards were given to Alexis Dill (Winner, Cornet Slow Melody Solo), Carlos Perez-Hijar (Winner, High Brass Youth Solo), Dustin Freeman (2nd Place, Trombone Technical Solo), Makenzie Barber (2nd Place, Low Brass Youth Solo) and Brandon Thibault (3rd Place, Tuba Slow Melody Solo.) "I am just so incredibly proud of what these students have achieved," said Dr. Kenneth Kroesche, director of the OU Brass Band. "It is an honor to share the stage with these wonderful musicians. Their success is no surprise given the wonderful team of brass and percussion faculty we have at OU."

Every spring, OU Music, Theatre and Dance recognizes distinguished students, alumni and community members with MaTilDa Awards. The MaTilDas are named to honor Matilda Dodge Wilson who donated the land on which Oakland University is built. This year's  awards were presented at the SMTD Commencement Celebration on April 30 in the Varner Studio Theatre. Award recipients included: Kevin Cornwell II - Distinguished Musicianship Award (undergraduate), Peyton Miller - Distinguished Musicianship Award (undergraduate), Alexis Dill - Distinguished Musicianship Award (graduate), Nina Gojcaj - Outstanding Student in Vocal Performance, Carson Arcuri - Outstanding Student in Opera, Deven Mallamo - Outstanding Student in Piano Performance (undergraduate), Pinlin Liu and Yelena Murray - Jennifer Scott Memorial Award, Yang Yang - Outstanding Collaborative Piano Award, Corrine Kliewer - Outstanding Student in Instrumental Performance (undergraduate), Kyle Paoletti - Outstanding Student in Instrumental Performance (undergraduate), Tyler Hewett - Outstanding Student in Instrumental Performance (graduate), Noah McDonald - Outstanding Student in Instrumental Performance (graduate), Ilyssa Brunhild - Outstanding Student in Music Education, Wesley Hutchison - Outstanding Student in Jazz, Braden Macchia - Outstanding Student in World Music, Brant Ford and Peyton Miller (The Ford / Miller DUO) - Outstanding Students in Chamber Music, Iyla Miller - Outstanding Student Service Award (Music), Christopher Warren - Outstanding Student Service Award (Music), Noah Canales - Pat and Mercedes Nicosia Meadow Brook Estate, Jalen Wilson-Nelem - Gittlen Achievement in Acting, Liv Kunkle - Gittlen Achievement in Theatre Design and Technology, Stanley Misevich - Gittlen Achievement in Musical Theatre, Olivia Keifer - Gittlen Theatre Award, Kassie Dunaj - Outstanding Student Service Award (Theatre), Madeline Parker - Distinguished Dance Student, Riley McClain - Outstanding Dance Performance, Rebecca Otmanowski - Outstanding Choreography Award, Madisyn Boussie - Outstanding Student Service Award (Dance), Daniel Shiller - SMTD Award (for commitment to the interdisciplinary nature of the school), and Leah Wilson - Social Justice Award.

The 75th annual Tony Award nominations were announced May 9, and alumna Jayne Houdyshell (ADA '74) was nominated for "Best Performance by an Actress in a Featured Role in a Musical" for the role of Eulalie Mackecknie Shinn in The Music Man. Houdyshell graduated with honors from OU's Academy of Dramatic Arts and has since been cast in numerous Broadway productions and has received five Tony nominations, winning in 2016 for "Best Featured Actress in a Play" for the role of Deirdra in The Humans. She has also been awarded two Obie Awards, a Drama Desk Award, a Joseph Jefferson Award, a Barrymore Award and a Theatre World Award. In 2020, Houdyshell was given Oakland University's Distinguished Alumni Achievement Award and was presented with an honorary degree, Doctorate of Arts Honoris Causa.

Brandon Santana (BFA '18) appeared in May as a guest actor on a season five episode of 9-1-1 on FOX. He played Pavel, a groom in a reality show wedding that has a medical emergency. Brandon shared a clip on his Instagram page.

Three OU students attended the International Women's Brass Conference (IWBC) at the University of North Texas from May 24 - 28. Mabelynn Dill (Masters - Trombone Performance) performed as a guest trombonist with the Trilogy Brass Trio in a recital that included two new original compositions for brass trio. Alexis Dill (MM - Trumpet Performance, '22) performed in a concert with the Chromatic Brass Collective, a new brass ensemble composed of female players of color who are all rising stars in the brass world. Shannon Sheldrick (Masters - Trumpet Performance) performed as a cornet player in the acclaimed Athena Brass Band, which is a group of female brass players who gather from across the country to play at the IWBC as well as many of the leading conferences each year. The conference also sponsors competitions throughout the week. Noah McDonald (Masters - Tuba Performance) was the Third Place Winner of the Orchestral Mock Tuba Competition.

OU music faculty member Sharon Sparrow and music students Corrin Kliewer and Claudia Montoya performed in June at CedarBrook Retirement Village. "To find a way to cope and to counter the unimaginable evil and sadness in our world, a part of me believes that spreading joy through music helps to balance it all just a tiny bit," Sparrow said. "It was heartwarming to be able to bring my two amazing students with me to share music for the residents. Music is love."

Sparrow and OU flute faculty Jeffery Zook also published Volume Two of their edition of Telemann for Two, fantasias for solo flute, arranged for two flutes in duet form. These pieces were premiered at the National Flute Association Convention in Chicago in August by Sparrow Hannah Hammel, principal flute of the Detroit Symphony Orchestra.


Alyssa Primeau (BM '18) played with the Detroit Symphony Orchestra several times this past summer, including a concert in July at Somerset Mall featuring the Detroit Symphony and the music of John Williams. Primeau is a regular member of the Civic Orchestra of Chicago.

Brian Wiik, a music education and tuba performance major, and Dustin Freeman, a trombone performance major, both attended the inaugural session of the Brevard Music Center Low Brass Seminar in June, where they studied with faculty from other institutions, performed in chamber groups and participated in a mock audition. Wilk also attended the Pokorny Low Brass Seminar, hosted by Northern Illinois University, and studied with Gene Pokorny, tubist of the Chicago Symphony Orchestra and a professor at Northern Illinois University.

Faculty member Dan Maslanka has been busy this spring and summer. After finishing La Boheme at the Detroit Opera House, he played a successful run of Mean Girls at the Fisher Theatre. Maslanka recently finished playing on an independent film, Yaniv, and will be playing the operas Valkyries and Faust at the Opera House in the fall. In between those shows, he will once again be performing in the orchestra with The Who at Little Caesars Arena.

​​Tara Sievers-Hunt (PhD '21) received the Outstanding Dissertation Award for 2021 from the Oakland University Graduate School. Dr. Sievers-Hunt successfully defended her doctoral thesis, entitled "Called to the Conversation: A Digital Ethnodrama Exploring Collisions of Calling and Shadow Across a Cohort of Hero's Journeys Into Professional Musicianhood," in August.

Music major Hannah Combs was selected as a recipient of the 2022 NAfME (National Association for Music Education) Collegiate Professional Achievement Award. Combs is the current president of Oakland University's NAfME chapter as well as a founding member. "This recognition from NAfME is such an incredible honor," Combs said. "I'm very grateful to NAfME Collegiate for all that they have done to support me during (and after!) my time serving our Oakland chapter. This scholarship is a big help for me as I transition into student teaching in the fall." Last semester, OU's NAfme chapter co-sponsored a professional development event titled "Diversifying Your Stand & Building an Inclusive Program" with speaker Ashley Killam. Now, Combs is interning as the social media manager and graphic designer for Diversify the Stand, an organization dedicated to working with diverse musical voices to create accessible educational music. "I will also be finishing up my Bachelor's in music education by student teaching with Suzanne Myers at Hugger Elementary in Rochester," she said.

Musical theatre alum Jake Daley (BFA '16) went from the ensemble to leading player at Circa 21' Dinner Playhouse. Their production of Beauty and the Beast was halted on their first Wednesday night preview when the actor playing Lumiere contracted COVID-19. That night, Daley was asked to learn the role and was thrown into put-in rehearsals the next morning. In 48 hours, he learned the part and saved the show, performing for a full house on opening night. "I am so fortunate to have had the full support and faith of my fellow cast, crew, and creative team," Daley said. "It was a crazy process, but the outpouring of love and encouragement from them let me know I wasn't going to fail." A review from opening weekend said, "…the role of the candelabra Lumiere, on Saturday, was performed by understudy Jake Daley — typically a member of the ensemble — and he was impeccable. If there hadn't been an announcement at the top of the show, no one would have known that Daley was merely filling in," (River Cities' Reader). "We're seeing more and more understudies going on nowadays," Daley said. "It's a vital part of our industry and I'm thrilled to be part of the group that helps keep theatre alive."

Taylor Hillary Boykins (BM '11) will be joining Lorelei Ensemble to perform with the Boston Symphony Orchestra for Gustav Holst's "Planets," followed by the world premiere tour of Julia Wolfe's "Her Story," a piece that incorporates text from important female figures throughout history, showcasing women's fight for equality and the trying moments in our history and culture. Holst performances include: Boston Symphony Orchestra (September 22 - 23). Wolfe performances: Nashville Symphony (September 15 - 17); Chicago Symphony (January 6 -7 '23); Boston Symphony (March 16 - 18 '23); San Francisco Symphony (May 25, 27 '23); and National Symphony (October, TBD '23). 

Ben Fuhrman, lecturer of music technology and composition, has been busy performing at various venues across the U.S., including: Malleability at the New York City Electronic Music Festival on June 22 in New York City, Particle Forge at the Manchester New Music Festival on May 7 at Manchester University, Malleability at Electronic Music Midwest on April 23 at Lewis University, Lessons from Other Composers by the Oakland University Guitar Ensemble on April 5 at Oakland, Lattice Work by Birds on a Wire Ensemble on April 3 at Western Michigan University, Malleability at the 2022 SEAMUS National Conference on April 2 at Western Michigan University, Caprice No. 1 for Mandolin Solo at the College Music Society Great Lakes Conference on March 18 at Millikin University, and Particle Forge on Feb. 10 at Ball State University.


OU Special Lecturer Thomas Mahard recently worked with his daughter, actress Katy Mahard, on a short film — "The Sponsor — directed by Joe Heck. "I filmed on a day off from A Christmas Carol last fall," said Thomas Mahard, who plays mean-spirited Ebenezer Scrooge in the annual Meadow Brook Theatre production. "It was accepted at the first two festivals we applied to and we're very excited about it." For his role in the production, Mahard also received a Certificate of Achievement (Silver Award for Best Supporting Actor) at the Independent Shorts Awards, which were held in July in Los Angeles. "This means The Sponsor will get a public screening at the festival, and also be eligible for the end-of-the-year awards," he said. Mahard and his daughter are also working together on another short film, "Pocket Aces," which is currently in production.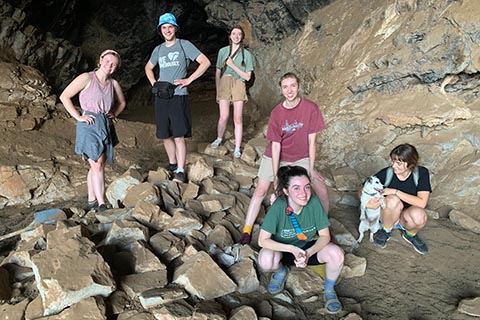 Fourteen theatre students studied abroad in Hydra this summer with the Classical Theatre Study in Greece program, accompanied by theatre professors Jeremy Barnett and Lynnae Lehfeldt. During their trip, the students rehearsed and performed The Trojan Women, an ancient play by Euripides, on the island of Hydra. From there, they went on tour, visiting important sites such as Mycenae, Corinth, Argos, Delphi, and many more. The trip culminated in a three day stay in Athens. Musical theatre major Grace Ricci captured the beauty and excitement of their once-in-a-lifetime trip with a beautiful video.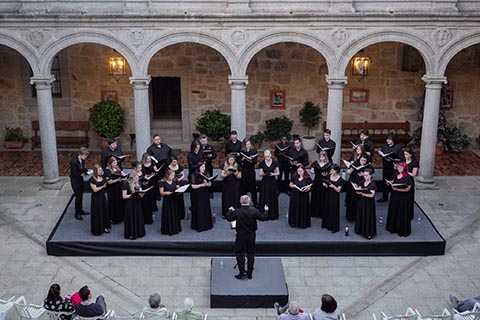 The Oakland Chorale (led by conductor Michael Mitchell and assistant conductor Brandon Gauvin) spent two weeks in Spain touring and performing in some of the nation's most historic venues. After one of their performances, Dr. Mitchell said, "I could not be more proud of the Oakland Chorale. They sang a spectacular concert in a medieval church in Segovia, Spain. The church was overflowing and the students gave a truly inspired performance. They got two encores and a real five minute standing ovation. It was one of the finest, most committed performances I've ever been a part of. I love this." They also had the opportunity to perform on a live radio broadcast on Canal Sur Radio, 105.1 in Seville.

In celebration of the 20th anniversary of the Saugatuck Center for the Arts, Oakland University Associate Professor of Theatre Jeremy Barnett and theatre alumnus Jason Maracani created seven new art installations in the West Michigan communities of Saugatuck, Douglas, Holland, and Fennville as part of a special summer exhibition. "Much of what we're doing is creating an opportunity to celebrate not only the landscape, but the members of the community who contribute to these projects," Barnett said. Read the entire story.

Michelle Tschirhart, SMTD recruitment and outreach manager, received the 2022 AP Reward, a recognition given to administrative professionals who have gone beyond their regular job responsibilities to advance the mission of the university of the past year.

At this year's Art Speaks — an annual creative arts festival held in Midland, Mich. on June 3 - 4 Antonio Vettraino (BFA '21) and theatre minor Alanna Courtright had their plays selected for production in this year's festival: Vettraino for his play, I'll Have What She's Having and Courtright for her play, The Great Adventure. Vettraino's play also won the Best 10 Minute Play award for the festival and he received a cash prize.

A Closer Walk With Patsy Cline ended June 19 at Meadow Brook Theatre, and Tyler Bolda (BFA '19) and current musical theatre major Sam VanKampen played members of the Jordanaires, alongside Broadway veteran Felicia Finley as Patsy Cline. Encore Michigan wrote that actors portraying the Jordanaires (also played by Geoffrey Besser and Mikey Vultaggio) "could think about staying together as a quartet as their harmonies are pitch perfect." The production was directed by MBT artistic director Travis Walter (BA '02) and includes music education major Jackson Stone on bass in Patsy Cline's band.

OU theatre alumna Anetria Cole won a Gilda Emerging Artist Award from the Kresge Foundation this year. The award was for $5,000. Cole took Playwriting I and Advanced Playwriting when she attended Oakland and won a Matilda Award for Playwriting. "I am overjoyed about it," Cole said. Cole was a MaTilDa recipient as a student and has stayed connected to OU over the years, especially through her visits with Kitty Dubin's playwriting classes. "I loved every moment at OU," she said. You can read more about the Kresge Artist Fellowships in this Detroit News article.

The Oakland University Brass Band sent five of its members to the North American Brass Band Summer School (NABBSS) in Halifax, Nova Scotia, Canada from June 21 - July 2. These students included Christopher Warren (euphonium), Iyla Miller (euphonium), Brandon Thibault (tuba), Tyler Schreiber (tuba), and Mattheas Boelter (percussion). Oakland University was one of only six university brass bands from around the world to send students to the summer school with their full tuition, housing and food being provided while there. Among the other universities that were represented included the University of North Texas, the Royal Welch College of Music and Dance, Rowan University, Troy University, and University of Toronto. The NABBSS's faculty include the top brass band musicians from around the world. The school is led by Dr. Nicholas Childs, conductor of the world renowned Black Dyke Band from the United Kingdom. Dr. David Childs, who is the professor of Euphonium at the University of North Texas and a world acclaimed euphonium virtuoso, is the other director of the summer school. In addition to receiving instruction from internationally known faculty, the student band performs concerts during their time in Halifax, as well as performing at the Royal Nova Scotia Military Tattoo.

Nicely Theatre Group presented Pippin July 22-24 and 29-30 at the Berman Center for the Performing Arts, and the production was filled with OU talent: current students Braden Cooper (Pippin), Alec Diem (Player, u/s Pippin), Travis Darghali (Player), Serelle Karasinski (Player, u/s Catherine), Sydney Nummer (Player), Calleigh Wilson (Player, u/s Berthe), Leah Wilson (Player, u/s Leading Player); alumnus Griffin Krause (King Charles); and OU staff/collaborative pianist Amy Sauve (musical director).


Kellan Dunlap won first prize in the National Association of Teachers of Singing (NATS) Upper Classical Tenor, Baritone and Bass division at the NATS National Conference in Chicago in July. Dunlap was invited from thousands of applicants from across the country to compete in the semi-final round, and from there it was narrowed down to a final round of four students. Dunlap was competing against seniors, some of whom were as old as 25. Dunlap is double majoring in music education/vocal performance and studies voice with Drake Dantzler, associate professor of voice. "Kellan flew back from studying abroad in Spain directly to Chicago, had no luggage that was stuck in London, and won the upper division of a national competition as a junior," Dantzler said. "Kellan is that man!" Dr. Mike Mitchell, director of the Oakland Chorale, said. "Kellan is the second OU student to win the national competition in the last six years. Want to be a great singer? Come to Oakland University!" Dunlap was also interviewed on the Oakland County Megacast on July 7 to discuss his first prize win, as well as his study abroad trip to Spain with the Oakland Chorale.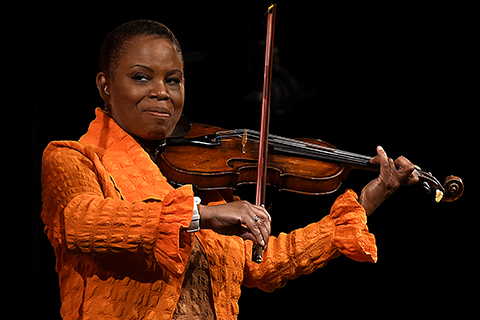 Regina Carter (BA '85) will soon be recognized as an NEA Jazz Master, joining the 2023 class of inductees. The NEA Jazz Masters fellowship, often described as the nation's highest honor for jazz, brings with it a $25,000 award and a prestigious title. The new class will be honored in a gala NEA Jazz Masters Tribute Concert, to be held on April 1, 2023. The concert, presented in collaboration with the John F. Kennedy Center for the Performing Arts in Washington, will be free to attend with a reservation, and webcast live at NPR.org and arts.gov. A past recipient of both a MacArthur Fellowship and a Doris Duke Artist Award, Carter is the most celebrated jazz violinist of her generation, known for a warm, lustrous sound and a springy way with rhythm. Along with being an Oakland University alumna, Carter is also the OU Department of Music's artist-in-residence. Read more here.

Whitney Locher, assistant professor of theatre, designed the costumes for the opera, Sky on Swings, at Opera Saratoga that opened July 7, and she's designing the costumes for a production of L'Orfeo that opened August 26 for Pegasus Early Music. "I'm so excited that live entertainment is back and thriving," Locher said. "Both Sky on Swings and L'Orfeo were pandemic casualties that are performing this summer. I started the process of designing these operas in 2019, and I'm glad and relieved to finally see them coming to life on stage."

Cat Bennett, assistant professor of music, spent 10 weeks in Ecuador this summer starting research on South American school music education, developing and piloting an original survey with Universidad de Las Américas colleague, Dr. Johanna Abril. She also studied Spanish, dance, and vocal music amidst research and travel. In July at the International Society of Music Education world conference, online this year, she presented two paper sessions, one on her work in South America and another on music teacher development. Just prior to the conference, she was also elected to the International Journal of Music Education (IJME) editorial board for a six year term.

Beth Guest, a special lecturer in theatre at OU, served as stage director of Rochester Community Schools Summer Music Theatre's production of Anastasia, which ran July 21-23. "Summer Music Theatre has a 48 year tradition of producing a large musical in just six weeks," Guest said. "SMT brings together a team of professional directors, vocal coaches, choreographers, designers, and musicians to work with students from the Rochester Community and surrounding areas. It was an absolute joy working with these talented students, stage directing this year's production of Anastasia the Broadway Musical." The production team included choreographer and OU alumnus Andrew Dettloff, and the fight choreography was created by Anthony Guest, associate professor of theatre.

Marisa Jacques (B.A. '22) has received the Paul H. O'Neill Fellowship and Service Corps Fellowship to attend Indiana University for a master's degree in arts administration. While at OU, Jacques studied saxophone with Dr. Jeffrey Heisler and participated in numerous ensembles including Wind Symphony, Symphonic Band, Golden Grizzlies Band, Jazz Band, and various saxophone quartets. With a passion for community service and outreach, Jacques has served as Instructor of Woodwinds at Accent Pontiac — a non-profit committed to strengthening Pontiac's youth and community through equitable access to intensive and consistent music making — since 2019.

Cassandra Svacha (BAPA Musical Theatre '02) recently won three awards at the 2022 Collab24 Devise Theatre Festival, which ran July 16 - Aug. 1, including top honors of "Audience Favorite" show, as well the "Winners Circle" award, which is voted on by previous winners and theatre makers. This international festival groups up theatre makers from all around the world to create new work. The show, called Hurricane Season, looks at miscommunications and the unlikely pressure to "be prepared." 

Pam Klena, visiting assistant professor of music, was presented with the Sigma Alpha Iota National Advisor Award at the SAI National Convention, held July 28 - Aug. 1 in Greensboro, North Carolina. Dr. Klena advises the newly installed SAI Nu Zeta Chapter at Oakland University, and the members commented that "This recognizes her for the absolute, steadfast leadership she has provided the past two years; leading us from an idea, to a colony, to a Chapter! We love her and are so thankful and proud to have had her by our side. Such a well deserving human being." This award is based on the candidate's level of participation, dedication, example and support to the chapter.

After being accepted to the European American Musical Alliance's 2022 summer institute, Peyton Miller (BM '22) spent a month (July 1 - 29) in Paris, France at the La Schola Cantorum. While at the institute, he attended group classes, received private instruction from faculty, and had his works performed by resident ensembles. "It was such an honor to meet and work with so many phenomenally skilled and generous individuals over the past four weeks," said Miller, who returned to the U.S. in August. "Now it's time to go and practice some scales!"

Noah Canales (BFA '22) concluded playing the role of Marlon on July 31 in the world premiere of Hastings Street, presented by Plowshares Theatre Company at the Music Hall Center for the Performing Arts in Detroit. Eli Cavaliero (BFA '22) and current OU students Liv Kunkle and Colin Franz were on the costume construction crew. Cassius Merriweather, current OU acting student, was the assistant stage manager and retired OU faculty member, Leslie Littell, designed the costumes.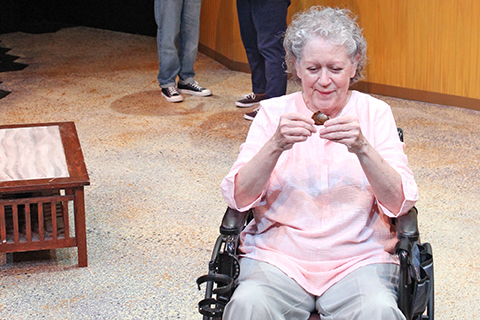 Karen Sheridan, distinguished professor of theatre, is currently in the Williamson Theatre's production of Hat Box. The play, directed by John Lepard, is about two sisters who discover a box hidden in the back of their recently deceased father's closet. What sits inside sends them off to visit eccentric Aunt Esther and on an increasingly wild ride down memory lane. It runs through August. 14.

Oakland University alumni Ellen Hargis and David Douglass, the husband-and-wife team who stepped down recently after many years of serving as the co-artistic directors of The Newberry Consort in Chicago, have been selected to receive the 2022 Howard Mayer Brown Award for lifetime achievement from Early Music America, the leading organization in their field, for their pioneering work in uncovering and performing rarely heard music. "We are humbled to receive this award from EMA and are grateful to the community of scholars and musicians who made our careers in early music so rewarding," Hargis and Douglas said. "Little did we know when we met in Lyle Nordstrom's collegium musicum in 1973 that we would see all our dreams come true: collaborating with amazing colleagues all over the globe and having the opportunity to create, perform, and record our dream projects, now for more than 40 years. For the last 15 years we had the joy of co-directing The Newberry Consort, which was our primary focus until our retirement from the ensemble in 2022. We have been fortunate to be teachers and mentors of many talented and dedicated young artists who are already new leaders in the field. We thank those who nominated and supported us for this award of a lifetime." You can read more here.

Detroit Dance Exchange — a choreographic showcase for artists to present work while receiving audience feedback — took place on August 6 at the Andy Art Center in Detroit. This year's event featured several OU dance alumni including Amanda Fabry, Torri Johnson, Claire Little, and Elliott Vargas. Detroit Dance Exchange was co-founded in 2018 by Teresa Muller, dance lecturer at OU, and Tracy Halloran, assistant professor of dance at Madonna University. 

​Musical theatre student ​Rachel Sarles spent the summer as a swing performer on a seven-show season with the professional Tibbits Summer Theatre company at Tibbits Opera House in Coldwater, Mich. In addition to preparing multiple tracks for each show, Sarles performed in the company's late night cabarets, in the onstage ensemble of Godspell, and as Shere Khan in a musical adaptation of Rudyard Kipling's The Jungle Book through Tibbits' Popcorn Theatre for young audiences program. 

Denise Caston-Clark has been in Plymouth, Mass., recently choreographed a production of the Broadway musical, Something Rotten, for the historic Priscilla Beach Theatre before heading back to Detroit to produce Motor City Tap Fest, a tap festival featuring classes with leading artists, performances and more, which took place from Aug. 3 - 7 at Tap Dance Detroit. "It's been a fun summer of creating and meeting new people, and I can't wait to see everyone at OU this fall," she said.

Cat Dacpano, vocal coach and collaborative pianist for musical theatre, played the lead role of Rosie Alvarez in Riverbank Theatre's production of Bye Bye Birdie in Marine City, which ran through August 7.


Shakespeare Royal Oak presented Romeo and Juliet through August 7 at the Starr Jaycee Park. The cast included OU alums Jalen Wilson-Nelem (Romeo), Alaina Whidby (Mercutio), Dryden Zurawski (Benvolio), Anna Marck (Peter) and current theatre students Olivia Kiefer (Juliet) and Princess Beyonce Jones (Apothecary/Prologue).

OU jazz faculty member Gayelynn McKinney launched a new festival called "Women Who Drum," which will feature all women drummers and their ensembles. The first annual event took place Wednesday, August 10 at the Dequindre Cut in Detroit.

Michael Medvinsky (BM '05, MM '17) was featured in an August 10 Oakland University School of Education and Human Services alumni spotlight article entitled "Striking a Chord." Currently, Medvinsky serves as the dean of pedagogy and innovation at University Liggett School in Grosse Pointe Woods.

Several OU alumni — including Amanda Fabry, Claire Little, Riley McClain, Rebecca Otmanowski, Torri Johnson, Victoria Poirier, and Elliott Vargas —  and current OU student Iyobosasere Enabulele will be performing on Friday, August 12 in a contemporary dance concert by ConteXture Dance Detroit at the Redford Theatre in Detroit. The concert will explore themes surrounding the concept of joy and its impact on our lives.

OU Music faculty member Terry Herald will be conducting the West Michigan Symphony for the Shoreline Jazz Festival in Muskegon on August 26. As music director for Alexander Zonjic, Herald has arranged pieces from his current projects for the orchestra. Zonjic's special guest for the first half of the concert is the Temptations tribute group Serieux. "We will be debuting six of my arrangements of their classic Motown hits with Alexander and the orchestra," Herald said.

Herald and Bret Hoag recently completed a supplementary video series to be used with Thomas E. Larson's "History of Rock & Roll," a popular textbook among SMTD faculty, to highlight major concepts from each chapter with demonstrations. "Kendall Hunt (the publisher) liked the idea and contracted us to create videos that could be linked to each chapter of the text," Herald said. Most of the videos were shot in Herald's record studio at OU, and covered a wide range of topics related to the evolution of rock and roll. "We have videos that explain the different trends, from the blues, funk, reggae, punk, and hip hop, as well as breaking down some of the production techniques used to create the iconic works in the genre." For example, in the motown chapter, Herald and Hoag interviewed Dayna Hartwick, who played flute and piccolo on all of the classic Hitsville recordings. "We approached the videos as casual conversations, and the videos were not tightly scripted," Herald said. "We wanted to keep an informal, conversational approach."

Two OU music alumni — Krysty Swann and Ann Toomey — have been cast in the upcoming Detroit Opera production of The Valkyries, Krysty as Rossweisse and Ann as Ortlinde. This high-tech treatment of the most famous act in Wagner's Ring Cycle opens in September.  

Jacquelyn Wagner (BM '03) will make her debut in the role of Magda in La Rondine at Torre del Lago Puccini festival on August 19 and 27, which takes place in composer Giacomo Puccini's home town of Lucca, Italy. Ms. Wagner's 2022 engagements have included Salomé at Landestheater Innsbruck (Austria), Lohengrin at Osterfestspiele Salzburg (Austria), Fidelio at Staatsoper Hamburg (Germany) and Arabella at Zürich Opera (Germany).

Detroit City Dance Festival — an annual community building event that celebrates dance in its various forms and disciplines — takes place September 9 - 11. Take Root, one of OU's dance-companies-in-residence, will perform in the Choreographers Showcase on Friday, Sept. 9 at 7:30 p.m. and hold a Dance For Parkinson's Disease class on Saturday, Sept. 10 at 10:15 a.m.; the Saturday Summer Stage will include performances by current OU dance student Rebecca Otmanowski and Art Lab J for Grown Ups (including SMTD staff/faculty member Carly Uhrig.) 

Alumna Lauren Faith Goyer (BFA Acting '20) will be playing the role of Nicola in "Kinky Boots" from Sept. 16 - 25 at the Croswell Opera House in Adrian, Mich.

Daniel Abrahams (Ph.D., Music Education '13) was promoted to associate professor with tenure at the University of Arkansas and named music education program coordinator.

David Gram, assistant professor of theatre, and his wife, Kristina Riegle (managing director), have co-founded a new theatre company, Renaissance City Repertory, which will present its inaugural production, Witty Fools & Foolish Wits, on August 25, 27, and 28 at Auburn Hills' Riverside Park Knight Amphitheater (3311 Squirrel Court). "Witty Fools & Foolish Wits takes audiences on a comedic romp through Shakespeare's canon," Gram said. "A comical collage of pieces that feature many of the Bard's famous clowns, lovers and jesters — all trying to help us make sense of the world through their humor, folly and wisdom." Directed by Gram (producing artistic director), the cast of seven includes OU alums Kelsi Fay (BFA '20) and Alaina Whidby (BFA '20), and current senior Princess Jones (BFA '22). The production's design team includes Kerro Knox 3, Terry Herald, and retired special instructor Leslie Littell. Admission is free. For more information, visit www.rcrep.org or follow on Facebook or Instagram.

Several Music Education students have received and accepted job offers, including Collin Kay, who is the new choral director at Walled Lake Western High School; Zachary Musienko, who has accepted a position teaching band and choir at Allen Park Middle School; and Mary Gass, who has accepted a K-5 music teaching position in Ann Arbor Public Schools at their A2 STEAM school. Music alumnus Bert Van Dyke has retired from his position as Marine City High School choir director after 30 years of service and will be succeeded by recent OU alumna Erin Kurtz. On June 4, Bert announced his candidacy for Michigan State Senate. Kasey Julian (BM '21) is teaching at Orchard Hills Elementary in the Novi Community School District and will present at the Michigan Music Conference this January.


Oakland University's School of Music, Theatre and Dance is pleased to welcome several new faculty members: Kelli Crump, Central Michigan University graduate with an MFA in acting from the National Theatre Conservator and studied Shakespeare at the London Academy of Music and Dramatic Arts, is a proud member of Actors' Equity Association and SAG/AFTRA; Elise Eden, OU vocal performance graduate with master's and doctoral degrees from the University of Michigan, has taught voice and voice-related courses at both the University of Michigan and at Albion College; Katrina Van Maanen, Western Michigan University voice performance graduate with a master's degree from the University of Houston, brings a wide variety of performing experiences while maintaining a thriving private voice studio; Constantine Novotny, OU vocal performance graduate with master's degrees from Wichita State University and the University of Notre Dame, comes to us from New York City where he is an active professional singer and voice instructor; Amanda Ross, Baldwin Wallace trumpet performance graduate with master's and doctoral degrees from the University of Michigan, was most recently the interim instructor of trumpet at the University of Michigan and acting principal of the Ann Arbor Symphony Orchestra; and Rachel Stevens, Actors Studio Drama School graduate (MFA) and Stage Directors and Choreographers Society associate, joins us from New York City where she is a director, educator and coach.