Upon recommendation by the Office of Senior Vice President for Academic Affairs and Provost James P. Lentini, and with support of President Ora Hirsch Pescovitz, the Oakland University Board of Trustees unanimously approved a request to appoint Linda Pavonetti, Ed.D.; Karen Sheridan, M.F.A; and Vijayan Sugumaran, Ph.D. to the rank of Distinguished Professor at the formal February meeting. The appointment is effective August 15, 2020.

A selection committee of their peers recommended Professor Pavonetti, Professor Sheridan and Professor Sugumaran for consideration of these appointments and wrote letters of support for the nominations. The provost's office also did an extensive review of each professor's body of work.

"These professors are outstanding examples of people who are not only really excellent in their discipline, but also people who have been here a long time and committed a lot of their career and lives to Oakland University," Lentini said. "They really fit the bill for people who make a real impact on the institution and on our students."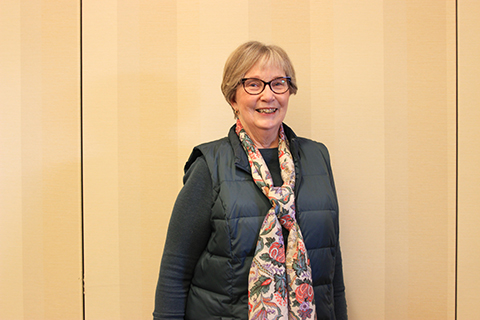 Linda Pavonetti
Pavonetti, a professor of education, joined the faculty of Oakland University in 1997 after completing her Ed.D. at the University of Houston and a more than 20-year career as an elementary teacher in Ohio, Wisconsin, Illinois and Texas. She was promoted to associate professor in 2003 and professor in 2012. She also served as chair of her department from 2011-2014 and was reappointed as chair in 2018 for a term that ends in 2021.

At Oakland University, Pavonetti has been twice nominated for the University's Teaching Excellence Award, has been recognized by student athletes, and has received recognition for her research and service.

An internationally recognized expert in children's literature, literacy, and literacy instruction, Pavonetti has published two books, Bridges to Understanding: Envisioning the World through Children's Books and Children's Literature Remembered: Issues, Trends, and Favorite Books. She has also made international contributions to the field of children's literature through her active involvement in the International Board of Books for Young People and nationally through her work in the United States section of the Board of Books for Young People.

"It is such an honor to be appointed a Distinguished Professor," Pavonetti said. "I never expected anything like this. I started my career very early in education, but I became a professor very late. I was 50 when I started here, and I never expected it to be anything as exciting and rewarding as it is working with the young people here and with my wonderful colleagues."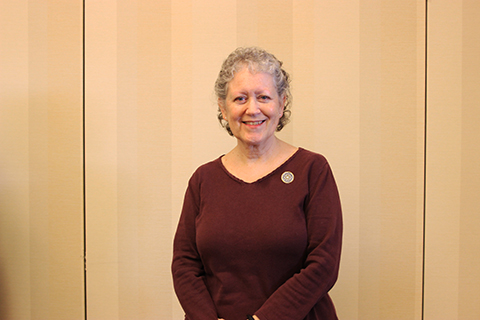 Karen Sheridan
Sheridan, a professor of theatre, holds a Master of Fine Arts degree from Goodman School of Drama and joined the faculty of Oakland University in 1991 as an assistant professor. She was promoted to associate professor in 1997 and to full professor in 2008.

For over 20 years, Sheridan has been invited to act and direct with the Peninsula Players in Wisconsin; she also regularly performs at the Williamston Theatre, the Detroit Public Theatre, the Meadow Brook Theatre, and the Jewish Ensemble Theatre. Nationally, she has performed with Big League Theatricals in New York City and the Cit Lit Theatre Company in Chicago, as well as other venues. Her acting has garnered critical praise and she has received over 30 honors and awards over her career.

In addition to her active stage career, Sheridan has worked in television, film, commercials, is a well-known dialect coach and has given live readings, narrations and voice overs. She has also written six plays.

Her work in the community includes the Meadow Brook Theatre season planning committee, acting as a liaison for the American College Theatre Festival and as a member of the Advisory Board for Stone's Throw Theatre Company in Lapeer.

"I think it's great to have your work recognized and the amount of time that you spend and how much you care about the university," Sheridan said. "I feel it's very exciting that the arts are making an impact here at Oakland University. I'm the third Distinguished Professor from the School of Music, Theatre and Dance, and I think it's exciting when the university sees how much a part of the fabric of the university we are. I'm excited to still be working here and to still be challenged by my students. I'm delighted and honored. It's a nice group of people to be affiliated with."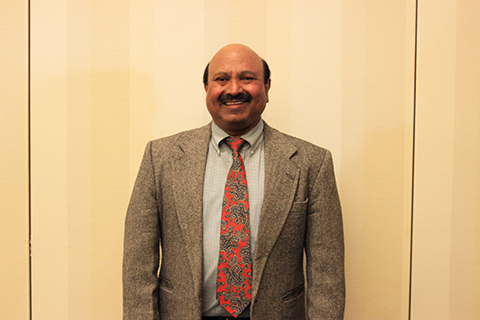 Vijayan Sugumaran
Sugumaran is a prolific scholar who has made outstanding contributions to advance the teaching and research mission of SBA and is internationally known. A professor of management information systems, Sugumaran joined the faculty of Oakland University in 1999. He was promoted to associate professor in 2002 and to professor in Fall 2007.

Sugumaran's research focus centers around the development of intelligent systems using a design science approach. He has published 94 peer reviewed journal articles, 132 peer reviewed conference papers, 20 edited books, nine book chapters, six journal special issues and has more work in progress. His work has been cited more than 5,000 times and he has received nearly $11 million in funding from governments around the world.

In addition, Sugumaran was recognized with the research Excellence Award at Oakland University in 2010. In 2016, he was a visiting scholar at Shanghai University in China and was a visiting professor at Sogang University in Seoul, South Korea from 2010-2013. He was also a Fulbright Scholar in 2012 as part of the Fulbright Specialist Program.

At Oakland University, Sugumaran is Chair of the Department of Decision and Information Sciences. He has also served on numerous committees and led many initiatives. Most recently, he has served as co-director of the Center for Data Science and Big Data Analytics, which promotes interdisciplinary research in data science.

"It's a great honor to be recognized for what I've been working on here at OU for 20 years," Sugumaran said. "As a department chair, part of my job is to get the students the latest and greatest programs, so that's what I'm most proud of."

The Distinguished Professor recognition includes a one-time salary stipend of $2,500 plus an annual supplies and services allocation of $1,500, up to five years, to be paid from the provost's discretionary fund.

Established in 1988 by the Oakland University Board of Trustees, the rank of Distinguished Professor is conferred on eminent faculty members for the duration of their service at Oakland. According to the criteria for Distinguished Professor status, the individual must be preeminent in at least one of three categories: scholarship, teaching, or public or professional service. This distinction has been conferred on a small and highly select group of outstanding individuals. Honorees are selected by the Provost and the Distinguished Professor Advisory Committee.