Thursday, Sep 21, 2023
Stories of success highlight OUWB panel held as part of Women in Medicine Month
Stories of success, mentorship, work-life balance, and more were topics of a Wednesday discussion that featured women in leadership at Oakland University William Beaumont School of Medicine.
"Inspired People Lead" was hosted by OUWB's Center for Excellence in Medical Education (CEME) as part of a series of events designed to celebrate Women in Medicine Month.
Nearly 40 people heard from the panel that consisted of six women who hold various leadership positions at OUWB, and was moderated by Deirdre Pitts, Ph.D., associate dean for Faculty & Staff Affairs and Professional Development. Pitts called it a "very successful program."
"It's important to hear people's stories, where they came from and how they got to be in a leadership role…and to let people know to never give up," she said.
The six panelists and their leadership roles were:
Tiffany Williams, Ph.D., director, Diversity & Inclusion
Jennifer Root, Ed.D., assistant dean, Student Affairs & Career Development
Sarah Lerchenfeldt, Ph.D., vice chair, Department of Foundational Medical Studies
Tracey Taylor, Ph.D., assistant dean, Diversity & Inclusion
Kara Sawarynski, Ph.D., assistant dean, Accreditation and Continuous Quality Improvement
Janine DeWitte, M.Ed., assistant dean, Faculty Affairs and Professional Development
Each panelist shared her respective story about how she worked hard to earn her current position within the school.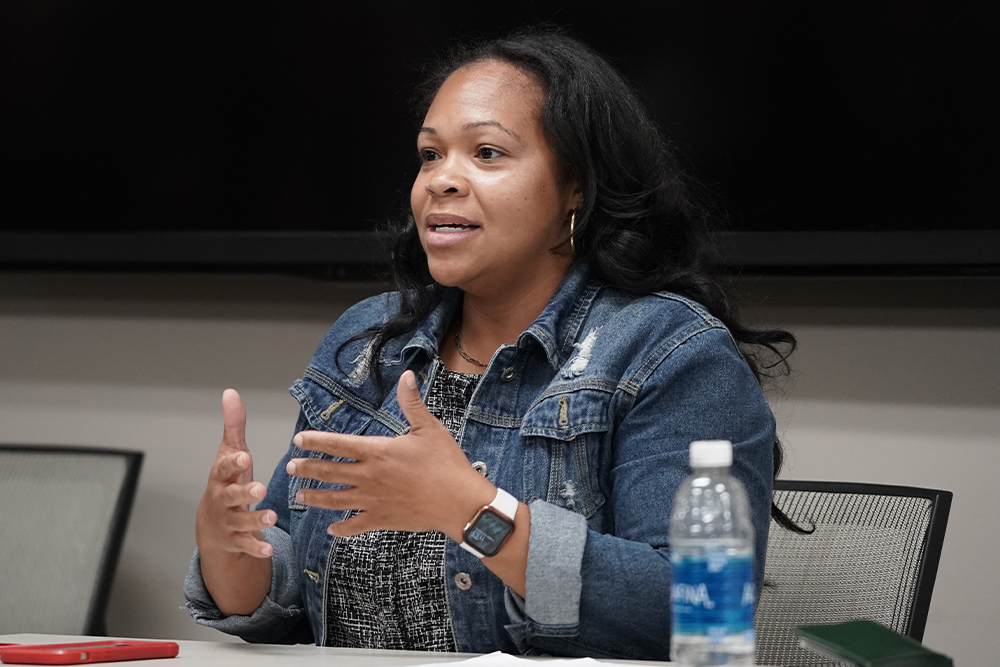 Williams offered advice on how she works to maintain balance.
One common thread was the importance of mentorship — either by an individual or group of people — and how that played into success. (Last week, Oakland University President Ora Hirsch Pescovitz, M.D., also talked about the importance of mentorship to the OUWB community.)
Taylor said one of her mentors led by example when she was a faculty member at Kansas City University of Medicine and Biosciences. The mentor was the chair of her department, and described him as "a hardcore scientist who's actually good with people."
"As a brand-new faculty member, I watched him have difficult conversations with people but always in a very caring way," she said. "You always knew he had your best interests at heart.
DeWitte shared that she didn't have a single mentor who inspired her; rather, she drew inspiration from the environment she previously worked in — the office of the Oakland University Provost.
"My supervisors believed in me and encouraged me to do other things…to get another leadership position, get another professional certification, get another degree," she said. "What really inspired me was that people believed in me."
The challenge of work-life balance was another common theme.
Sawarynski stressed the importance of grace for oneself, especially since it's impossible to be "all the things for all the people, all the time."
"And that's OK," she said. "What you can offer is still really great and worth offering."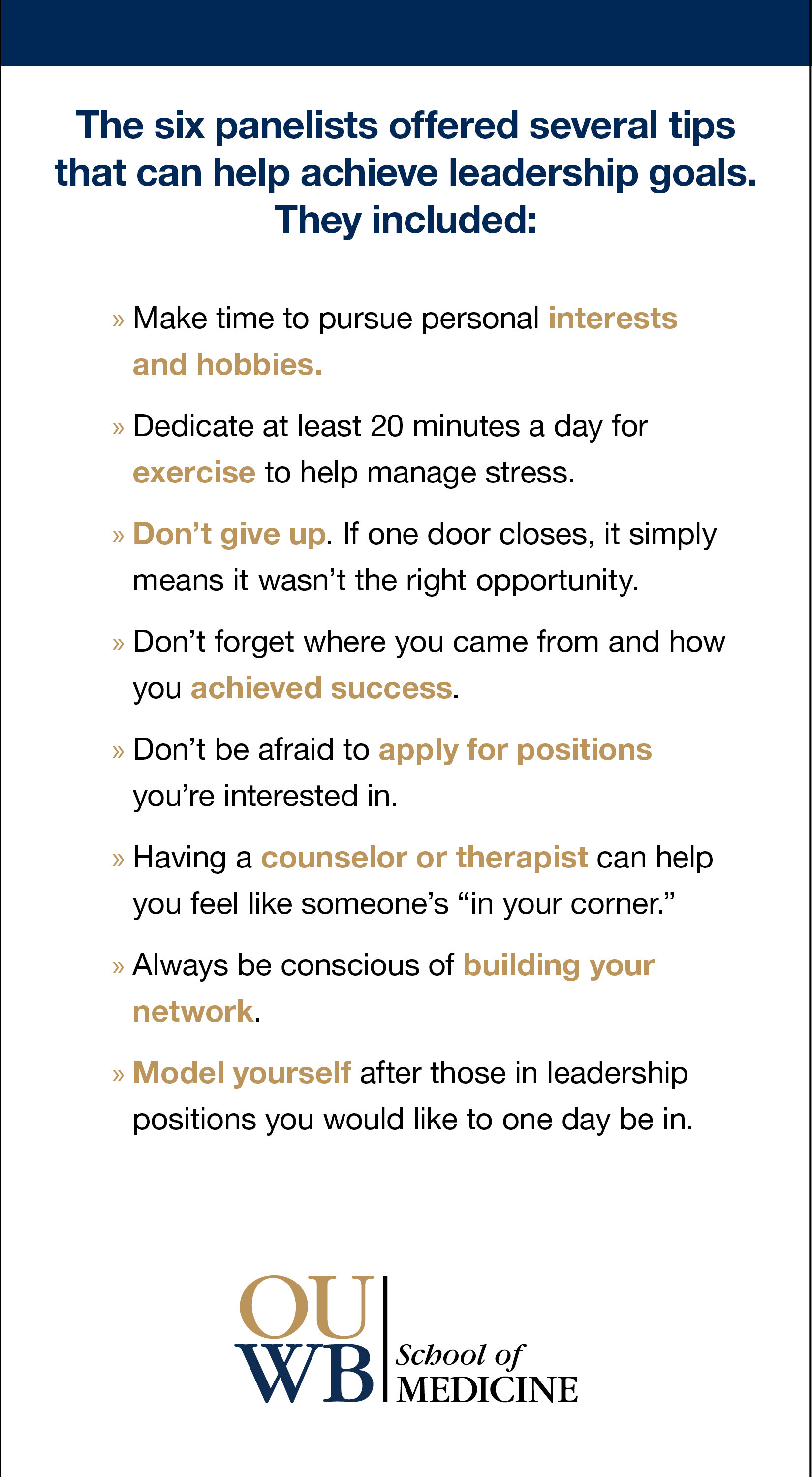 Williams said one action she takes to maintain balance is being aware of setting down her phone after hours.
"As women and leaders, we're still moms and spouses," she said. "It's like your mind never takes a break."
Root said balance is going to be different for everyone.
"When we think about (work-life) balance, we want to say it's 50/50 but that's just not in existence," she said. "We need to come to the realization that what balance looks like for you is what works for you and is sustainable."
Yet another common theme was imposter syndrome and the challenge of overcoming it.
With two young children, Lerchenfeldt said she wasn't sure the time was right for her to apply for the position of vice chair of OUWB's Department of Foundational Medical Studies.
But, she said, she has made a commitment to pursuing such opportunities, especially since "one of the most significant barriers to leadership for me has been myself."
Sawarynski talked about how she handles fleeting moments of doubt.
"I work really hard to remember that I'm here for a reason and that I have something to offer," she said.
She added that it's the same mindset that has pushed her throughout her career to seek out roles with increased responsibilities.
"I feel like I have something to add to the conversation and hopefully I can bring out what other people have to add…to collectively make a difference," said Sawarynski.
The panel discussion resonated well with several in the audience.
Sonal Patel, director, Clinical Skills Center, said she enjoyed learning more about her colleagues.
"It's also interesting to see how everyone has had similar challenges and triumphs," she said. "It helps you see that you're not so different."
Robin Rivest, M.Ed., assistant dean for Medical Education, also said she appreciated the opportunity to learn more about people she's worked closely with for the last decade.
"The big takeaway for me was just how much they had in common, even though they're all doing different things," she said.
Pitts agreed.
"It's amazing to see that…everybody doesn't have to take the same pathway," she said. "One pathway can be traditional, while another can be non-traditional."
Regardless of pathway, Pitts said her biggest take away from the panel is how "important it is to have faith in yourself."
For more information, contact Andrew Dietderich, marketing writer, OUWB, at adietderich@oakland.edu.
To request an interview, visit the OUWB Communications & Marketing webpage.
This work is licensed under a Creative Commons Attribution-NonCommercial 4.0 International License.