Tuesday, Mar 07, 2023
Plant-based diet at the heart of series presented by OUWB student organizations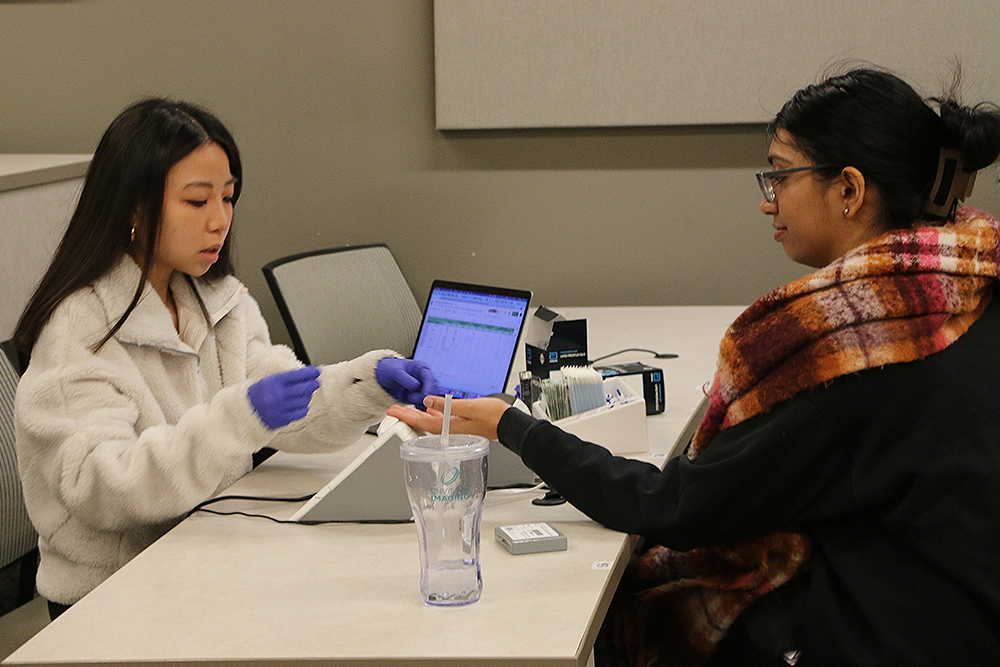 M2 Lily Quach, vice president, Know Your Foods, (left) takes a reading of M1 Manasa Pavuloori at the end of the Plant Plunge series.
Two OUWB student organizations recently collaborated with nonprofit Chickpea and Bean to teach about the power of a plant-based diet — with some students almost immediately seeing positive results.
The "Plant Plunge" series aimed to show participants successful applications of the plant-based diet, what recipes they can use, how they can shop smarter to accommodate the diet, and what important nutrients are in plant-based foods.
The organizations behind it were the Lifestyle Medicine Interest Group and Know Your Foods.
Fanny Huang, president, Know Your Foods (KYF), and vice president, Lifestyle Medicine Interest Group (LMIG), said that especially for "stressed medical students," it can be difficult to have the time to think about their health.
"For me, cooking, cleaning, prepping — that takes three hours out of my day. During exam times, I don't want to do that," said Huang. "We can reach for chips or ramen or instant foods like that. But I think with this conversation, we don't have to see instant foods as those pre-packaged processed foods…I think that can be an educational prospect as well."
The Plant Plunge kicked off with an optional physical exam component on Feb. 3 that consisted of checking cholesterol levels, blood sugar levels, blood pressure, and weight to use as a baseline.
"It's a quick turnaround, but we can probably see changes in blood pressure and blood glucose within those four weeks," said Huang.
Following the exam were four weekly one-hour Lunch-and-Learn sessions where participants were provided vegan meals and learned about how to live a plant-based lifestyle. All food came from local restaurants.
At the first session on Feb. 6, Marc and Kim Ramirez, Chickpea and Bean's co-founders, gave a presentation on their stories, how a plant-based lifestyle helped their health, and the resources available to make the switch to plant-based eating easier.
Marc Ramirez said his family had a long history of diabetes and related complications. After a time, he said, he found himself heading down the same path.
He was able to lower his blood sugar and cholesterol levels, he said, by switching to a plant-based diet in Dec. 2011. The switch had fast results — within two months, he was able to get off all his medications, including his insulin shots.
Since then, he said, he hasn't turned back.
"My energy levels (were) going up, and my blood glucose levels were plummeting," he said. "I can eat as much as I want. I'm not counting calories and not counting carbohydrates. Certainly not eating foods that are very problematic to the human machine."
'Utilizing food as medicine'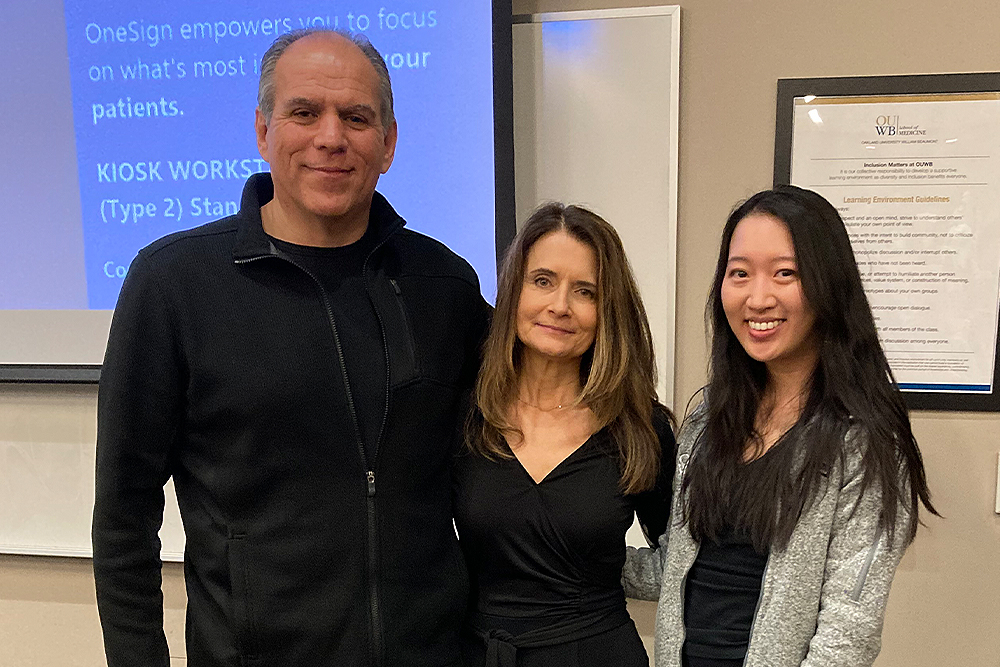 Marc Ramirez, Kim Ramirez, and Fanny Huang
Huang said that learning about plant-based diets and their effects on health can be important for future physicians.
"A lot of our (organizations') members are really motivated by utilizing food as medicine because I think a lot of us are interested in primary care," said Huang. "We recognize that diseases like type-two diabetes, obesity, and hyperlipidemia can be caused by food."
Kim Ramirez said that so long as the participants are coming away with the knowledge of the plant-based diet and can support their future patients who are interested in it, she will consider the Plant Plunge to be an "effective program."
"I'm hoping that when the medical students walk away from this, even if they don't stay plant-based, that they will be open to it," she said.
"If they have a patient coming to them saying, 'Hey, I think I want to try eating plant-based to improve my health,' they'll say, 'Oh, I know all about that because I did that Plant Plunge.'"
Marc Ramirez echoed a similar sentiment.
"It really will help people…medical students in particular, they will be (helping) thousands of people throughout their career," he said. "(We'd like) them to be open-minded about this idea that food is what is killing many people, but it can also be what saves many people."
'A nice nudge'
On March 3, participants took the follow-up health exam to see the difference in their numbers.
One participant, Josh Kuperus, M2, said that he went "all in" with the plant-based diet during the month.
"Before this session, I had heard the research. I was convinced that from an ethical perspective, an environmental perspective, and a health perspective that (going plant-based) is the right move to make," he said. "But just knowing about something and actually acting on that knowledge are two very separate things. This was a nice nudge to start taking the steps to try to become plant-based."
Despite the lack of notable changes in his health screening, he said he came away with the sessions with the encouragement to continue on the diet.
"My family has a history of heart disease…so learning that plants don't have cholesterol and you literally cannot spike your cholesterol by eating plants was interesting and thought-provoking," Kuperus said. "I'm going to continue to attempt to eat whole foods."
Deena Sukhon, M1, also went mostly plant-based for the month of February and noticed several improvements in her test results.
"My blood glucose, my cholesterol, and my HDLs all went down," said Sukhon. "I felt a lot lighter. I feel like I could probably do this beyond the month that we had (these sessions) ...I feel healthier."
Sukhon added that the approach the sessions took was particularly encouraging.
"I was very motivated to know that we were only doing it for a couple of weeks. We were only trying it. I think coming to it from the perspective of telling people that this is not something I'm forcing you to do (is helpful) …it's something that you should want for yourself and try for yourself," she said.
"That has been really helpful. And you can apply that to really anything you do."
To request an interview, visit the OUWB Communications & Marketing webpage.
This work is licensed under a Creative Commons Attribution-NonCommercial 4.0 International License.