Friday, Jan 27, 2023
OUWB Holocaust and Medicine program extends reach into community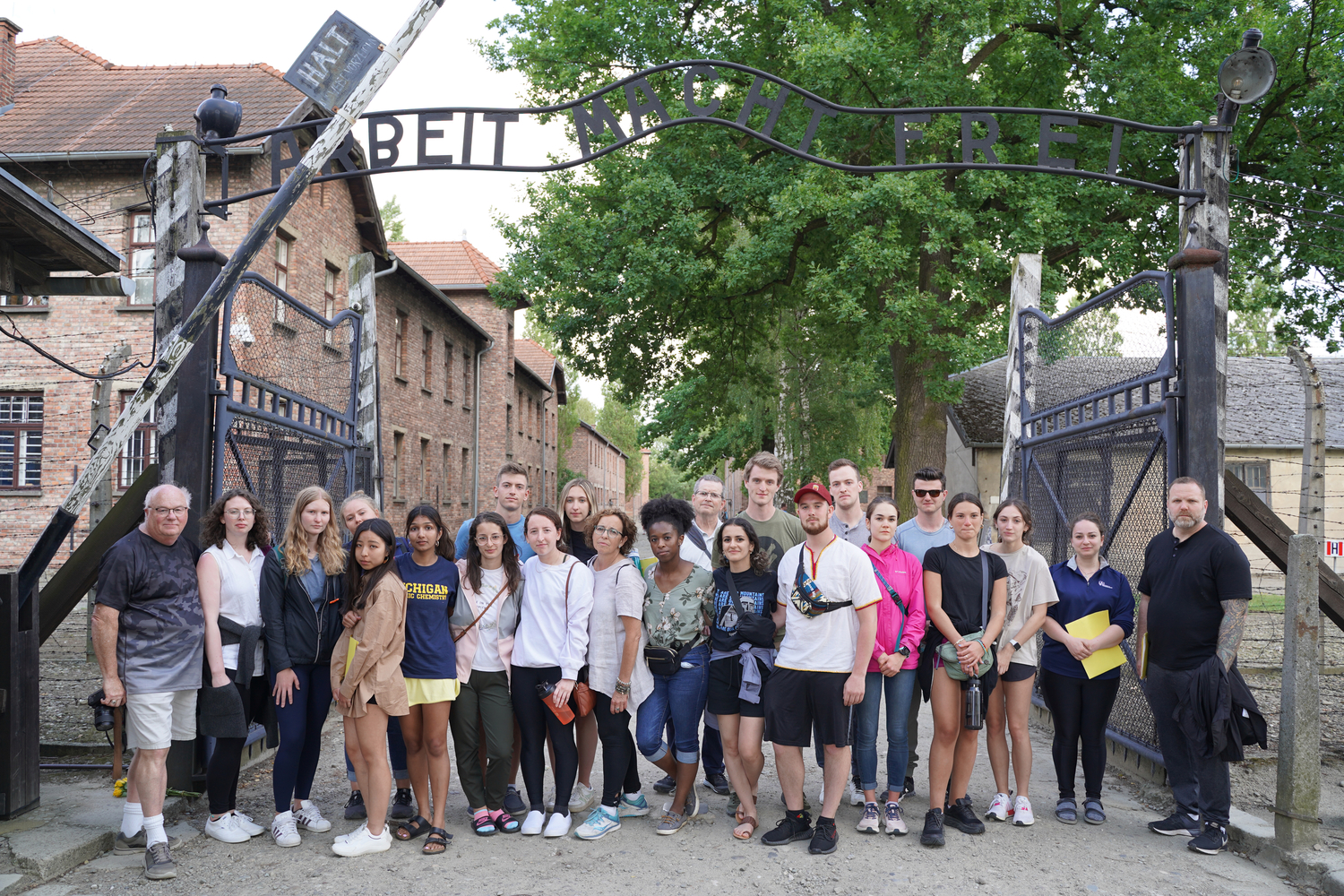 The group of OUWB students and officials who went on the school's inaugural Study Trip to Auschwitz take a brief moment to pause for a photo at the gates of the former concentration camp known as Auschwitz I.
Second-year OUWB medical students who traveled to Poland last year to study the Holocaust and medicine continue spreading word about lessons learned to the community at-large.
In January alone, two presentations were made by a total of nine students who made the trip.
"Holocaust Education in the Medical Curriculum: Inaugural Medical Ethics Study Trip to Auschwitz" was presented virtually on Jan. 11 by Amanda Bachand, Kaycee Fillmore, Saini Kethireddy, Kristin Sarsfield, Rima Stepanian, and Joanna Wasvary.
"The Impact of Death: Lesson from the Holocaust on Coping in Modern-Day Healthcare" was presented Jan. 18 in-person by Jon Blake, Quinn Simpson, and Garrett Peters.
Students also gathered with donors at a special dinner on Sept. 7 to reflect on the trip and share details on what they took away from the experience.
Further, Peters and Bachand talked about the trip at The American Society for Bioethics and Humanities 24th Annual Conference held Oct. 26-29 in Portland, Oregon.
Presenting with them at the conference was Jason Wasserman, Ph.D., professor, Department of Foundational Medical Studies, who said it's vital that the students talk about what they took away from their respective experiences in Poland.
"The experience of going on the Auschwitz study trip is important and it has a tremendous impact on the students who go," said Wasserman.
"But we want the program to impact the other medical students and the larger community who couldn't go on the trip as well."
There's another big motivation, too.
"Creating a presentation and speaking to others about the experience helps the impact of the trip crystallize for those who went; it helps them gather and concretize the thoughts and emotions that they had while on the trip," he said. "It amplifies their experience as well."
Study Trip to Auschwitz
In 2022, OUWB began offering a new transformative learning opportunity to its medical students through the OUWB Holocaust and Medicine program.
Part of the program — the OUWB Study Trip to Auschwitz — is designed to prompt students to delve into this distinctive and tragic era in the history of medicine and critically reflect on its implications for one's own personal and professional development within the medical profession.
The inaugural trip was June 13-20, 2022. The seven-day trip centered on guided tours in Krakow, as well as the sites of the former Auschwitz 1 and Auschwitz-Birkenau concentration camps. Special lectures, and interactive workshops also were part of the trip.
A seven-week seminar followed, taken for credit as part of the Medical Humanities and Clinical Bioethics (MHCB) 3 course, in which students discussed and reflected upon the trip experience, the relevance of this history to contemporary medicine, and developed projects to disseminate what they learned at a symposium dinner as well as to other community groups at OUWB, OU, and beyond.
Wasserman credited the students for doing "a fabulous job with their presentations so far." Other opportunities are in the works.
'Historical gravity'
More than 40 people with various affiliations logged in to watch the Jan. 11 presentation by the group of six students.
The presentation had several objectives:
Describing the historical context of the Holocaust and how it related to the study trip.
Reviewing literature in support of place-based education, critical pedagogy, and critical pedagogy of place.
Defining professional identity formation, and applying it to Holocaust education.
Explaining how immersive learning experiences are beneficial for medical students to become better advocates on the Holocaust and medicine, and how that can extend into leadership development and advocating for their patients and communities.
"While at Auschwitz, we stood on the grounds where these atrocities occurred — we saw the camps, felt the breeze, touched the barrack walls, ultimately culminating into an experience of the historical gravity of the Holocaust," said Sarsfield.
"Physical presence made the experience much more meaningful and taught us more than a textbook reading or video could," she added.
Wasvary addressed the group's overall takeaways from the trip, and how they will use the lessons learned. That included: being an advocate for patients and equality; speaking out against injustices; engaging in community outreach; practicing compassion and acceptance; and serving as a voice for patients.
She also stressed the importance of always remembering that "being a physician comes with power, and with power comes the ability to abuse that power."
After the presentation, Duane Mezwa, M.D., Stephan Sharf Dean, OUWB, said the students are "all going to be better physicians for" being part of the Holocaust and Medicine program.
'Opportunity to act'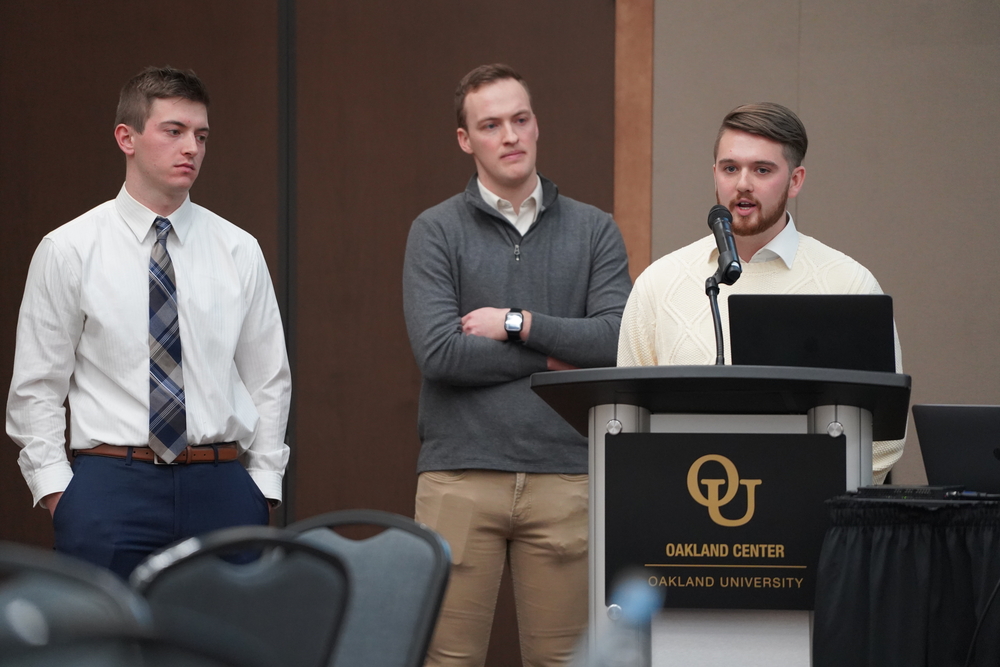 From left, Peterson, Blake, and Simpson.
About 30 people attended the second group's presentation, held in-person at Oakland University's Oakland Center. The event was sponsored by OUWB, the Cis Maisel Center for Judaic Studies and Community Engagement, and The Zekelman Holocaust Center.
The group's presentation centered on coping with death, drawing parallels between the Holocaust and modern-day health care.
They specifically addressed the psychological impact of death on humans. The group also discussed maladaptive and adaptive coping strategies.
"If you take anything from this today, I would hope that it would be that we are able to choose how we react to our situations," said Blake. "Initially, we may have our humanistic instinct that makes us feel a certain way when something negative comes up. But after that, we have the opportunity to act."
"What's so important about learning these coping strategies is that we can't choose to employ them if we don't know them," he added.
Michael Pytlik, adjunct assistant professor of Anthropology, Oakland University, and director of the Cis Maisel Center, said it's important to understand the stress of the medical profession.
Pytlik said the group effectively made the connection between medicine today and lessons learned on the OUWB Study Trip to Auschwitz — as well as the work put in before and after traveling to Poland.
"I expected a great job because our medical students are really good, but this presentation really was impactful," he said. "The things they took away were really important."
Several physicians from Corewell Health East were in attendance.
Shashin Doshi, M.D., a radiologist, said he's attended many presentations on medical ethics, but had never been part of one that discussed the application of lessons learned from the Holocaust to modern health care.
"This was excellent," he said. "There are so many things that we learn in daily life that we can apply to practice. (The Holocaust) is one of the greatest atrocities of all time and I have never even thought about how it can apply (to practice)."
For more information, contact Andrew Dietderich, marketing writer, OUWB, at adietderich@oakland.edu.
This work is licensed under a Creative Commons Attribution-NonCommercial 4.0 International License.