Friday, Jun 02, 2023
Founding member of OUWB leadership team leaves for new medical school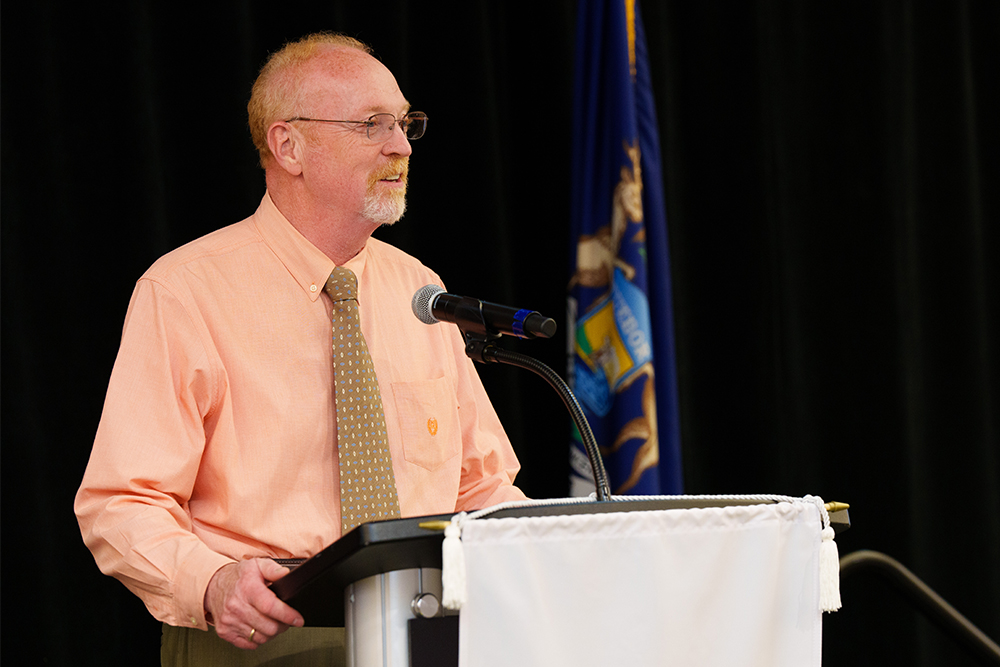 Robert McAuley, Ph.D., speaks at the 2023 OUWB Honors Convocation. The founding member of the OUWB leadership team has left the school for a new one in Las Vegas.
Founding member of the OUWB leadership team, Robert McAuley, Ph.D., is proud of helping build one medical school from the ground up — and thought it was a once-in-a-lifetime experience.
But it turns out, that's not the case.
McAuley has left Oakland University William Beaumont School of Medicine to join Roseman University of Health Sciences, a Las Vegas school that plans to welcome its first class in fall 2024. McAuley joins Roseman as director of accreditation and associate professor of biomedical sciences.
Previously, he had planned to retire this summer, but — and very much how he ended up at OUWB — an intriguing opportunity presented itself and he just couldn't pass it up.
"I'm excited," he said. "I thought 'Well, I got to start one new medical school in my life,' but now I'm going to get to do a second one," he said. "There are very few people who have done two start-up medical schools from the ground up."
"I can help get them accredited and then go back to my retirement plans," he added.
'Appropriate processes'
McAuley was born in Northern Ireland, but spent most of his life in suburban Chicago. He graduated from University of Illinois Chicago (UIC) with a Ph.D. in educational psychology.
McAuley's interest and research in medical cognition led to his running of a student computer lab for computer-based education.
The role expanded until he eventually was the chief information officer for UIC's College of Medicine — the same school where OUWB Founding Dean Robert Folberg, M.D., had served as chair of pathology.
McAuley
Folberg told McAuley what he was doing with OUWB. McAuley wanted to be part of it and joined OUWB in 2009 to primarily use his accreditation experience.  
"This opportunity (at OUWB) came up and I went with it and it was one of the best decisions I ever made," he said.
Throughout his time at OUWB, his duties would expand to include oversight of the school's information technology group, management of the student promotions committee, and student policy development.
The common thread, he said, has always been building systems and processes to help others find success.
"One of the major things behind information technology is really identifying business rules and processes, which is how I ended up having responsibility for policies and accreditation," he said.
"It really is all about making sure that we have appropriate processes in place and documenting those processes."
'An invaluable asset'
McAuley met his wife, Kay, at a charity dinner in 1988, and he said, they've "been together ever since."
They have three children, and six grandchildren.
One of his daughters lives in Las Vegas, which was a large motivating factor for relocating to the area.
Taking on a role with Roseman happened fast, said McAuley, and he's "equally happy" to be joining the Las Vegas school as he was to come to OUWB in 2009.
For the work that he's done since that time, McAuley received a recognition of distinguished service at OUWB's 2023 Honors Convocation.
The recognition is for gratitude of exceptional commitment and service to OUWB, and it includes a special chair with an inscription engraved in it that commemorates commitment to the school.
Duane Mezwa, M.D., Stephan Sharf Dean, OUWB, introduced McAuley.
Mezwa highlighted McAuley's "instrumental" role in helping OUWB achieve and maintain Liaison Committee on Medicine Education (LCME) accreditation and reaccreditation, as well as his collaboration with others on "hundreds of reports" and other projects.
"Most notably, (McAuley) has been an invaluable asset to — and a great champion of — OUWB for the last 14 years," said Mezwa. "OUWB wouldn't be what it is today without your commitment to excellence."
McAuley spoke at the event, too.
He noted that when he started, OUWB essentially was still an idea, and that he's proud of how the school has evolved.
"For the last 14 years, it's been such a joy to see how the school's expanded," he said. "I will always look back at my time at OUWB as one of the most rewarding experiences of my life."
For more information, contact Andrew Dietderich, marketing writer, OUWB, at adietderich@oakland.edu.
To request an interview, visit the OUWB Communications & Marketing webpage.
This work is licensed under a Creative Commons Attribution-NonCommercial 4.0 International License.