Wednesday, Aug 23, 2023
First-year med students learn importance of diversity, equity, and inclusion at OUWB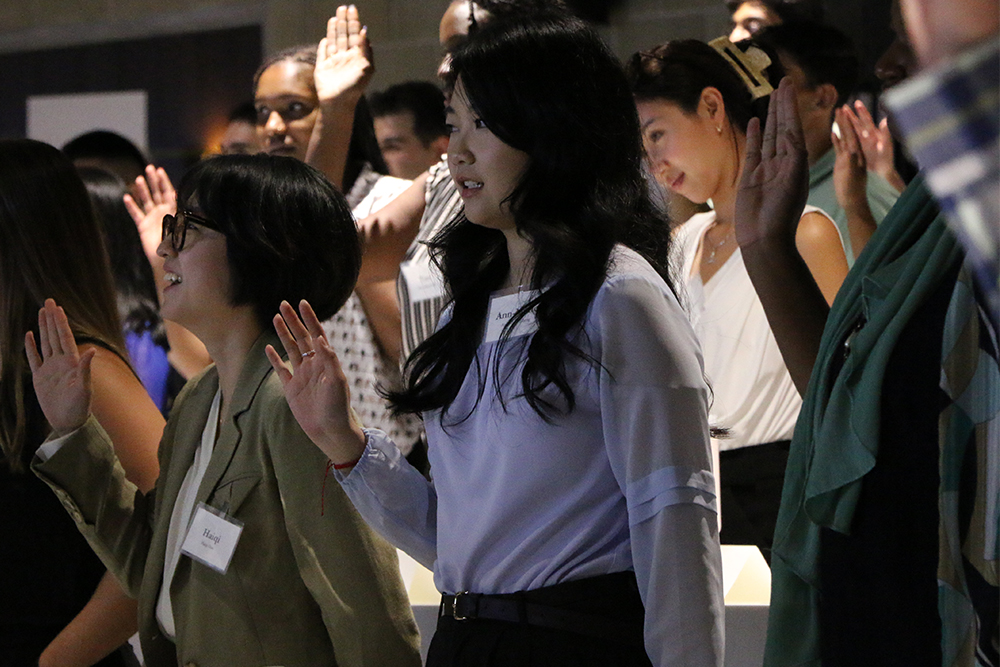 M1 students took the pledge to reflect and journal about racial and health equity topics over a four-day period.
When Oakland University William Beaumont School of Medicine's incoming class spent orientation week getting to know the campus community, a big role was held by diversity, equity and inclusion.
During three sessions held throughout the week of July 31-Aug. 4, the Diversity & Inclusion team detailed the services they provide, the events that they host, and the importance of cultural humility and diversity in medicine.
D&I also hosted a mixer one afternoon, complete with DJ, food trucks, and overall fun.
Tonya Bailey, Ph.D., associate dean, Diversity, Equity & Inclusion and Community Engagement, said such an emphasis is put on diversity early in the new medical students' careers because it is "critical to student success."
"We were excited to partner with Student Affairs to equip medical students with the knowledge, skills, behaviors, and attitudes that promote diversity, equity, and inclusion early on because we know the positive effects it can have on patient care, student learning, and health care outcomes," she said.
The importance of collaboration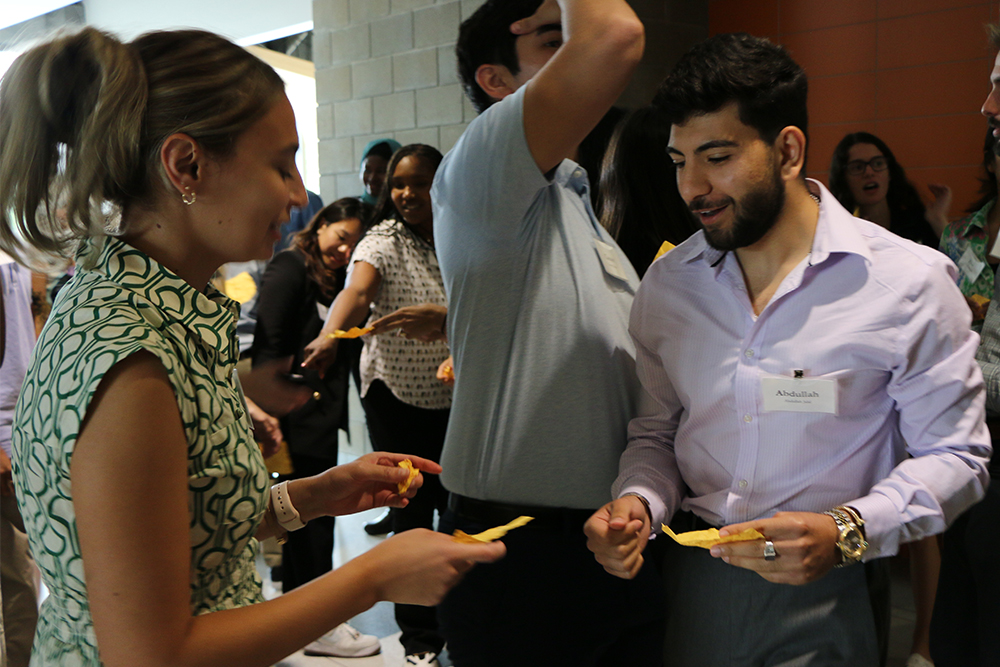 Students take part in an exercise whereby they wrote their names on
 slips of paper, stood in a circle, and threw them in the center. Then, students had to pick a slip of paper and try to find to whom it belonged.
Bailey kicked off the sessions on Monday with a discussion on the importance of cultural understanding as a physician.
"The role of culture in the doctor-patient relationship is very important," said Bailey. "Every relationship you encounter matters…we can't make assumptions about our patient; we can't make assumptions (about) our colleagues."
Students participated in small group discussions on scenarios that involved issues of diversity, equity, and inclusion within the medical field. The collaboration, said Bailey, was a means to foster the sharing of ideas.
"We wanted to intentionally embed DEI to orientation and collaboration was the key," said Bailey. "In order for OUWB to produce culturally responsive physicians, collaborative approaches must be a part of the equation."
"I like that they put us in different situations to see how we would react," said Zhara Alfatlawy, M1. "Each person has their own experiences, whether that's being on the receiving end or (giving). It's really helpful that they allow us to work together."
Another activity, led by Diversity, Equity, and Inclusion Council staff member Trixy Hall, involved the incoming class writing their names on slips of paper, standing in a circle, and throwing them in the center. Then, students had to pick a slip of paper and try to find who it belonged to.
The purpose of the activity, said Hall, was to illustrate how working together within your community eases the burden on everyone. Hall is also OUWB's community outreach coordinator for the department that connects medical students with community partners ¬–Compass.
"When you're working with your resources and others are pitching in, it makes it a little bit easier, that burden becomes a little bit lighter," she said. "That's an important part of community engagement. That's what we are responsible for."
"When we go out into the community, we're there to provide a need to that community. We're there to lighten their burden," added Hall.
Wednesday and Thursday's sessions focused on the community engagement and outreach programs and activities available at OUWB through Compass.
Several matriculating students said they appreciated how much emphasis OUWB puts on diversity both in their curriculum and culture.
M1 Dhuha Al-Rasool said part of the reason she chose to attend OUWB was because of the institution's alignment with her goal to be a physician who can treat people from all backgrounds.
"A lot of medical schools, (and) a lot of schools in general, will talk about diversity and serving underserved communities in their mission, and that's not really reflected in their curriculum or in the day-to-day things that happen on campus," said Al-Rasool.
"The whole reason I even wanted to become a doctor in the first place is because of diversity and (the desire to) serve underserved people," she added.
Alfatlawy agreed.
"I can tell (OUWB) really values having a diverse class and having people who actually understand what diversity means," said Alfatlawy.
To request an interview, visit the OUWB Communications & Marketing webpage.
This work is licensed under a Creative Commons Attribution-NonCommercial 4.0 International License.