Tuesday, Sep 19, 2023
Davidson joins OUWB Department of Foundational Medical Studies
Ever since he was 12 years old, Cameron Davidson, Ph.D., felt drawn to be an educator — a calling that's now led him to Oakland University William Beaumont School of Medicine.
Davidson joined the Department of Foundational Medical Studies as an assistant professor on June 1. He focuses on behavioral aspects of medical training and teaches early career medical students about health behavior, behavioral change, psychopathology, and practical applications of behavioral change principles for the medical professional.
Prior to joining OUWB, Davidson completed a two-year postdoctoral fellow position in the Department of Psychiatry and Behavioral Neurosciences at Wayne State University School of Medicine.
Davidson says he was drawn to OUWB for several reasons.
"I wanted to expand and move out of my comfort zone by coming to a newer medical school," he says. "Plus, people are doing a lot of good work here."
Since joining OUWB, Davidson has been elected as counselor-at-large for the Michigan chapter of the Society for Neuroscience and published two peer-reviewed manuscripts.
He's also impressed colleagues, such as Doug Gould, Ph.D., professor and chair, Department of Foundational Medical Studies.
"He really is a perfect complement to a number of things happening in the department, from both a scholarly and a research perspective," he says. "I can see him plugging into a huge number of things going forward."
'I made a difference'
Davidson grew up in Noblesville, Indiana — about 20 miles northeast of Indianapolis.
He earned his undergraduate degree in psychology from Ball State University. He would also earn his first master's degree (in social and cognitive processing psychology) from Ball State.
It's also where he met his future wife, Olivia.
After completing his master's at Ball State, the two moved to southeast Michigan. Davidson continued his studies at Wayne State, where he earned a second master's degree, which was in behavioral and cognitive neuroscience.
He would go on to earn his doctoral degree in the same specialty from Wayne State.
Davidson says his interest in psychology can be traced back to when he was younger and had to undergo extensive testing because of dyslexia and dysgraphia.
"It's the need to understand who we are as human beings," he says. "Why does my brain do this, and somebody else's does another thing?"
In addition to psychology, Davidson also has long held an affinity for teaching.
It started when he was 12 years old, and his father owned a karate studio.
Davidson's father asked him if he wanted to teach some classes. But it wasn't just handed to him. Davidson says his father made him go through a "normal" interview, complete with making him reschedule after being late for the first appointment.
Eventually, he got the job and primarily taught 4- to 6-year-olds, and also would help older children and adults.
"That really sparked my interest in teaching," says Davidson. "From the instructor's perspective, you start to see things clicking with students. You also learn. You realize when you teach it one way, it might not really work. So, you teach it a slightly different way, and it does."
Davidson taught at the studio until he went away to college. At the time, he thought his teaching days were over.
"For the first two years I was right," says Davidson. "But then one of my professors said that he took notice of how I interacted with the material and students and asked me to be a teacher's assistant (TA)."
Davidson says he was then asked to be lead TA for a "very large lecture."
"That's where the teaching bug reared its head again," he says.
He started teaching regularly at Ball State and continued at Wayne State.
And though his students at the university level were obviously older and more sophisticated, Davidson says it brought up familiar feelings of satisfaction.
"One of the most exciting comments I ever got was after I taught a statistics class," he says. "The student said they had previously failed the course three times and didn't understand any of it. They finished my class with a B-minus and said they finally understood it."
"It was exciting to see that I made a difference," he adds.
Teaching at OUWB allows him to marry his interests in psychology and teaching.
"I'm really excited to dig in here at OUWB," says Davidson.
He also plans to continue his research.
Davidson already boasts an impressive 18 peer-reviewed publications and has given more than 30 presentations to complement the manuscripts. He has another three currently under review, including one co-authored with Varna Taranikanti, M.D., associate professor, Department of Foundational Medical Studies.
"He has impressed everyone with his openness and willingness to contribute, collaborate and converse," says Gould. "He is a true pleasure to interact with and I'm confident he has found an excellent academic home here at OUWB."
'One of the best, most rewarding experiences'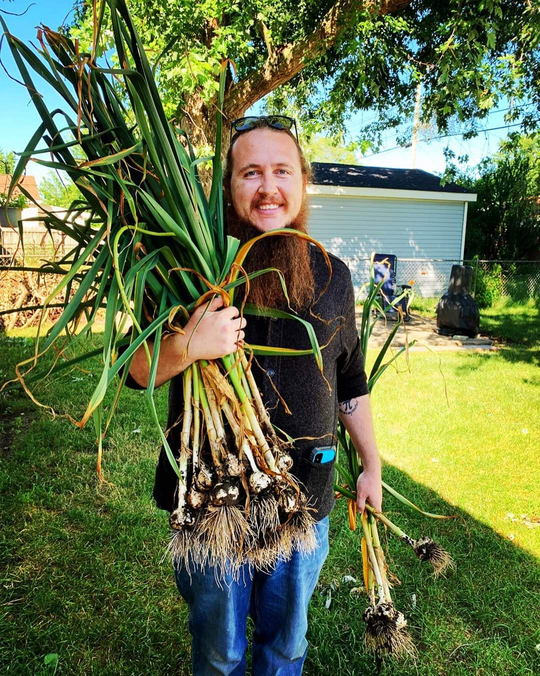 Davidson enjoys gardening, as evidenced by this recent harvest of garlic and luffa sponge gourds.
The first thing one is likely to notice when meeting Davidson is his unique facial hair. Specifically, his chinstrap beard coupled with handlebar mustache.
He started growing a goatee as a freshman at Ball State and hasn't thought about a clean-shaven face since.
When he did trim it several years ago, his then-future wife wasn't having it.
"She reminded me that if I didn't look like myself when she walks down the aisle, she's turning back around," says Davidson with a smile. "So, I've had this for a while and don't expect to change it."
When he's not teaching, conducting research, writing papers, or tending to his facial hair, Davidson can usually be found doing something with his hands: gardening; glassblowing (lampworking); origami; or helping his family settle into their new West Bloomfield home.  
Davidson also calls himself an "avid knitter" and says it led to one of his favorite moments with the son he and Olivia had in 2022.
"One of the best, most rewarding experiences in my life was wrapping up our son in a blanket that I knitted for him," says Davidson. "That was so cool."
And he admits there are parallels between his hobbies and profession — like when he's able to help students continue growing.
"It's this tangible that I can point to and say, 'I helped create this,'" he says. "It's definitely not just me, but to even be a small cog in that does feel good…to see the success of others."
For more information, contact Andrew Dietderich, marketing writer, OUWB, at adietderich@oakland.edu.
To request an interview, visit the OUWB Communications & Marketing webpage.
This work is licensed under a Creative Commons Attribution-NonCommercial 4.0 International License.