Tuesday, Sep 27, 2022
Quilt-making, film-viewing events help OUWB celebrate Hispanic Heritage Month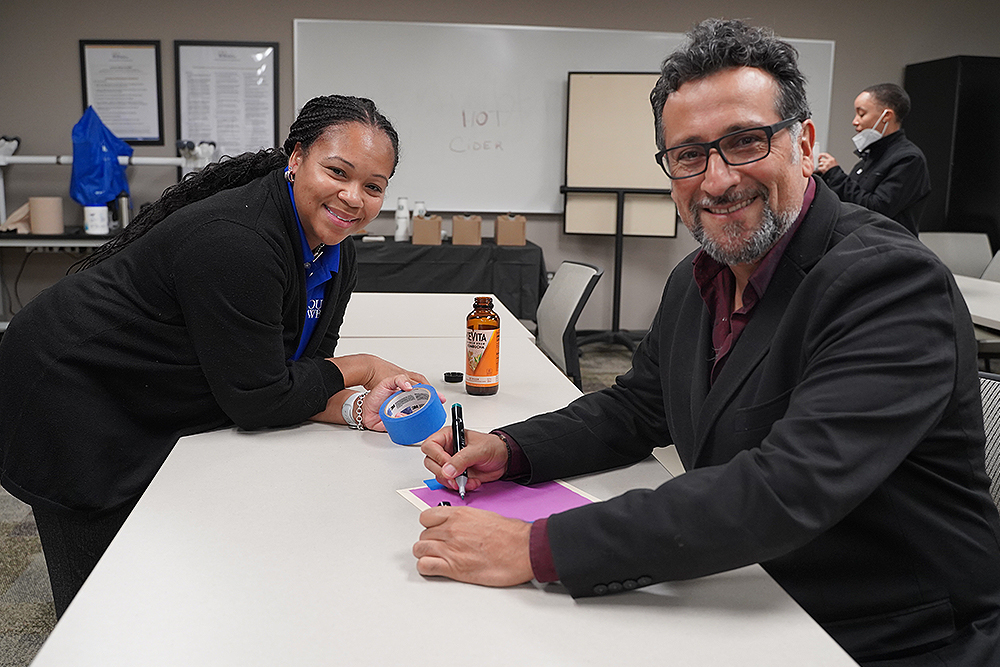 Tiffany Williams, director Diversity & Inclusion, and Claudio Cortes, associate professor, Department of Foundational Medical Studies, pose for a photo during the Quotes on Quilts event held Sept. 27, 2022.
Oakland University William Beaumont School of Medicine is recognizing Hispanic Heritage Month with two events, including a unique one held Tuesday.
"Quotes on Quilts" was held in OUWB's O'Dowd Hall. During the event, participants wrote quotes on fabric panels that will be sewn into a larger quilt for display.
On Oct. 17, a group discussion and debrief will be held on "COVER/AGE," a short documentary about two individuals navigating the exclusion of health care for undocumented youth and elderly in California. The film focuses on the critical gaps in health systems that exclude undocumented migrants from receiving health benefits.
Both events are being led by OUWB's Diversity & Inclusion Department. Hispanic Heritage Month runs Sept. 15 – Oct. 15.
"We wanted to bring the community of students, faculty, and staff together as a way to create fellowship for Hispanic Heritage Month and provide opportunities to learn more about the culture," said Tiffany Williams, Ph.D., director, Diversity & Inclusion.
Participants in Tuesday's event were given several examples of quotes from individuals who trace their heritage to Spain, Mexico, the Caribbean, and/or Central and South America. They also had the option of using their own favorite quote.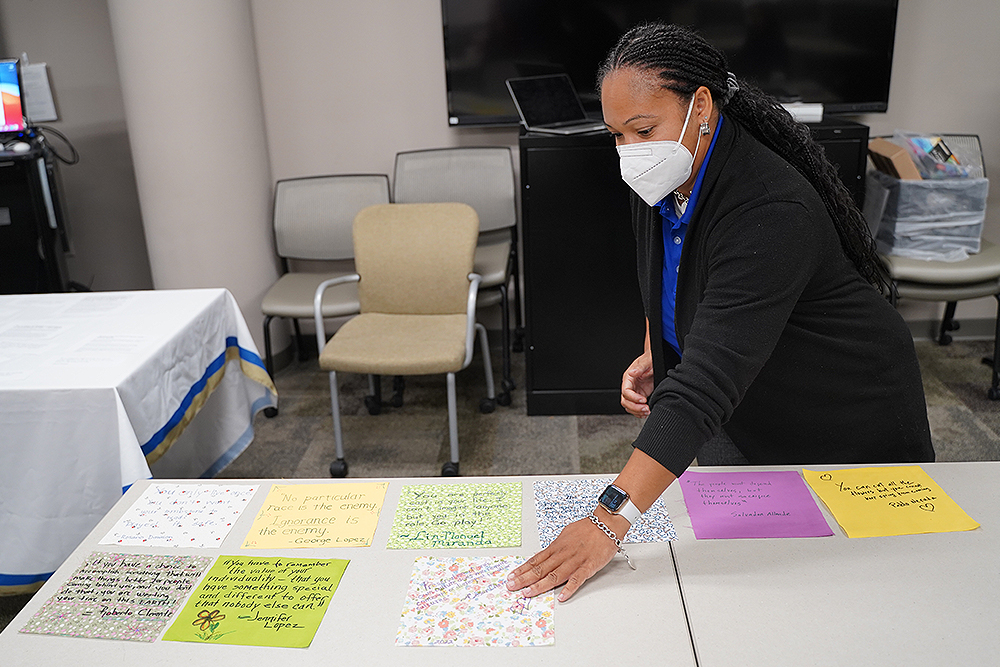 Williams organizes some of the fabric panels from the Quotes on Quilts event.
They then picked a piece of fabric on which to write the quote. The pieces of fabric will be sewn into a quilt that will be displayed in OUWB's O'Dowd Hall.
Zahira Flores-Olivo, research coordinator, OUWB, picked a quote from baseball Hall of Famer Roberto Clemente.
The quote was, "If you have a chance to accomplish something that will make things better for people coming behind you, and you don't do that, you are wasting your time on this earth."
Flores-Olivo said she picked the quote primarily because of the heritage of Clemente, and the fact that he died in a 1972 plane crash while trying to help others as part of his charity work.
She said participating in the Quotes on Quilts event meant a lot to her.
"I'm Hispanic and for me, it's important to let people know how important this culture is not just in the United States, but also in Latin America," she said. "I'm proud that OUWB is sharing this with the community."
Janine DeWitte, assistant dean for Faculty Affairs & Professional Development, wrote a quote from Cesar Chavez that said, "Preservation of one's own culture does not require contempt or disrespect for other cultures."
"In the world we live in today, this really had meaning for me," she said.
DeWitte said she felt it was important to be part of events that recognize the rich heritage of OUWB and Oakland University.
That's what it's all about, according to Williams.
"We want to pay homage to a certain culture and people," she said. "This is a large identifiable month that we want to bring some light to during its time."
The group discussion and debrief on the documentary "COVER/AGE" will be held Oct. 17, from 11:30 a.m. to 12:30 p.m. in O'Dowd Hall, room 110. Participants are asked to view the film ahead of time. A link to view it will be provided after RSVPing here.
For more information, contact Andrew Dietderich, marketing writer, OUWB, at adietderich@oakland.edu.
To request an interview, visit the OUWB Communications & Marketing webpage.
NOTICE: Except where otherwise noted, all articles are published under a Creative Commons Attribution 3.0 license. You are free to copy, distribute, adapt, transmit, or make commercial use of this work as long as you attribute Oakland University William Beaumont School of Medicine as the original creator and include a link to this article.