Tuesday, Aug 23, 2022
Noiva retires from Oakland University William Beaumont School of Medicine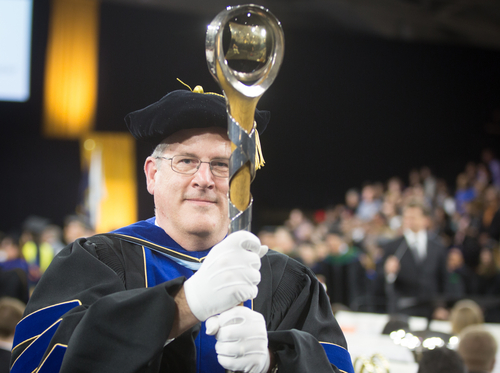 Noiva regularly carried the ceremonial mace at OUWB's commencement.
A thirst for knowledge, love of teaching, and affinity for adventure guided the career of Robert Noiva — a scientist and educator critical to the foundation and future of OUWB.
Now, Noiva, Ph.D., is slowing down — a little, at least — after retiring from OUWB.
For the school, Noiva's most recent titles were associate dean for Graduate Studies and Community Integration, and associate professor, Department of Foundational Medical Studies.
Now, Noiva plans to focus on his titles of retiree, Washingtonian, husband, father, and especially, grandfather.
"I won't miss budget meetings, annual performance evaluations, and all of that paperwork stuff," he said. "But I will miss the interaction with the students…that's what's fun and inspiring."
Colleagues like Judith Venuti, Ph.D., professor emeritus, OUWB. said his commitment to education has always been evident in his work, and will continue to show as OUWB evolves.
"Bob was instrumental in helping OUWB get off the ground and was a strong leader with great organizational skills and vast expertise in medical education," said Venuti.
Duane Mezwa, M.D., Stephan Sharf Dean, OUWB, recently shared similar sentiments about Noiva.
"Bob Noiva brought a wealth of expertise and knowledge in the field of medical education when he arrived at our new medical school more than 10 years ago," said Mezwa. "We are grateful that he accepted the challenge and excelled at shaping medical education at OUWB."
'Strong role models as teachers'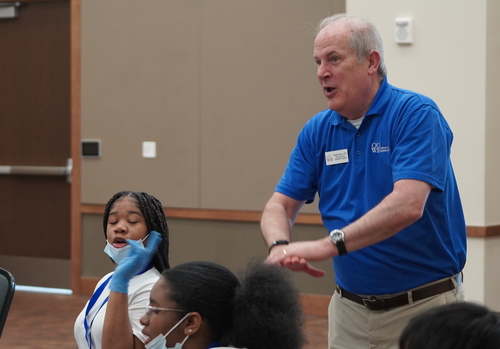 Noiva helped teach CPR to area middle schoolers in May. Noiva said it's important to get middle schoolers excited about science. 
Noiva grew up in Hartford, Connecticut, as one of five children in his family.
He excelled in math and science and enjoyed problem-solving. Noiva also understood from a young age the importance of good mentors.
"When you're a student and in a classroom, I think you can identify when there's a genuine sense of commitment by the instructor…that they care about you learning," he said. "I think that's one of the things that probably motivates many of us that have gotten into academics…we had strong role models as teachers."
Noiva would go on to attend Michigan State University and earn a bachelor's in biochemistry.
"It was really appealing to me to be doing something in chemistry related to human health," he said.
Between his sophomore and junior years at MSU, Noiva began dating a classmate named Nancy. Post-graduation, the couple married and relocated to Hartford. Nancy worked at Oak Hill School for the Blind and Robert worked in the pathology department at Hartford Hospital.
As in high school, Noiva said he had great mentors who encouraged him to go further — specifically to get a Ph.D.
"I told them that I didn't know about graduate schools or how to even do that," he said.
His mentors helped him identify programs, including one at Creighton University. He wrote the school a two-page letter introducing himself, highlighting his experience, talking about his plans, and asking for an application.
"They called me and said 'Can you be out here in two weeks?'" he said. "That's how I ended up in Omaha."
The willingness to take on the challenge was very similar to how he ended up at OUWB.
"When I have an opportunity, I go for it," he said. "We've always been willing to do things that are a little adventuresome."
'It's about being empathic'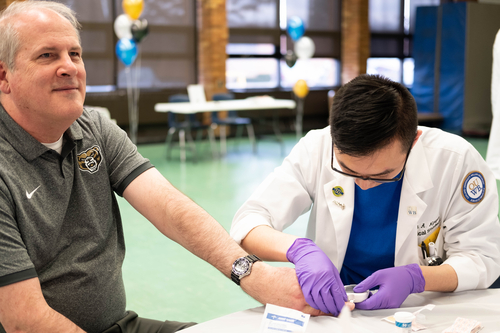 Noiva was a regular at the annual Chandler Park Academy Health Fair, hosted by OUWB.
Noiva did his postdoc in Houston, Texas, at M.D. Anderson Cancer Center, for three years.
By then, in addition to his experience in clinical settings, he had built up a solid teaching portfolio.
Much of it happened at Creighton, where graduate students were required to serve as teaching assistants. He also tutored for a summer program at Creighton for remediating medical students from across the U.S.
"(Those experiences) really helped me to be a good teacher," he said.
After M.D. Anderson, Noiva took his first faculty position at University of South Dakota Sanford School of Medicine — a week after the Noivas' daughter, Jennifer, was born.
At South Dakota, he continued refining and improving his skills as an educator. Senior faculty were required to mentor anyone who took on a new teaching role.
Equally vital, he said, was a never-ending quest to learn, adapt, and improve through professional development. And he always drew on his own experiences as a student.
"It's about being empathic," he said. "That if you know what you wanted as a student and perhaps sometimes didn't get, you think to yourself 'I'm not going to do that to these students.'"
Noiva spent 18 years in South Dakota.
A 'different' medical school
In the early 2010s, Noiva decided to once again take a chance — this time on Lake Erie College of Osteopathic Medicine, a medical school in Erie, Pennsylvania. He was there for a year before the "dream opportunity" to come to Oakland University William Beaumont School of Medicine.
"I don't think you're given many opportunities to start with a blank slate and do what you want to do," said Noiva.
But that's exactly what he got when Noiva decided to join the team launching OUWB.
He worked with OUWB Founding Dean Robert Folberg, M.D., and others, to create the school's blueprint — a plan that very much relied on getting the right people in place.
"They had a great idea of making this a medical school that was going to be different," he said. "Having a faculty that was really going to be focused on student success…was attractive to a number of people."
Noiva said things really started to get exciting as new educators joined OUWB. He recruited Venuti, whom he had worked with at M.D. Anderson.
Nelia Afonso, M.D., assistant dean for Community Integration & Outreach and professor, Department of Foundational Medical Studies, joined the team.
Others did, too, such as David Thomas, Ph.D., who now serves as associate dean for Preclinical Education, along with Barbara Joyce, Ph.D., Rick Sabina, Ph.D., and William Forbes, D.D.S.
Noiva credits Christina Grabowski, Ph.D., former assistant dean of Admissions, for recruiting OUWB's first class of 50 that had an "entrepreneurial spirit" and sought to embody what the school was all about.
Noiva said he regretted not having the opportunity to thank the many other colleagues at OU that helped make OUWB a success, including dedicated educators that emphasized a student-centered approach in their teaching; key staff and faculty important in creating and shaping the OUWB curriculum; outstanding clinician educators; and those who demonstrated the importance to addressing health and wellness disparities in the community.
"It wasn't the administration that made this work," he said. "It was faculty and staff driven."
In reflection, Noiva called his time at OUWB "a wonderful opportunity."
But now he's onto new wonderful opportunities and adventures.
During a recent session called "Five Easy Lessons I Learned to Improve My Teaching," Noiva explained that he and Nancy are moving to a Seattle suburb.
He talked about spending more time doing the little things — simply reading for pleasure or going to baseball games.
Then there are the bigger things — spending more time with his daughter.
And then there's perhaps the biggest thing — the one thing that made him emotional in talking about retirement — spending time with his grandson, Caspian.
"Whenever he sees me, he smiles," said Noiva, his voice cracking. "So that's all."
For more information, contact Andrew Dietderich, marketing writer, OUWB, at adietderich@oakland.edu.
To request an interview, visit the OUWB Communications & Marketing webpage.
NOTICE: Except where otherwise noted, all articles are published under a Creative Commons Attribution 3.0 license. You are free to copy, distribute, adapt, transmit, or make commercial use of this work as long as you attribute Oakland University William Beaumont School of Medicine as the original creator and include a link to this article.