Friday, Feb 04, 2022
Largest amount of donor-supported scholarship funds — so far — awarded to OUWB students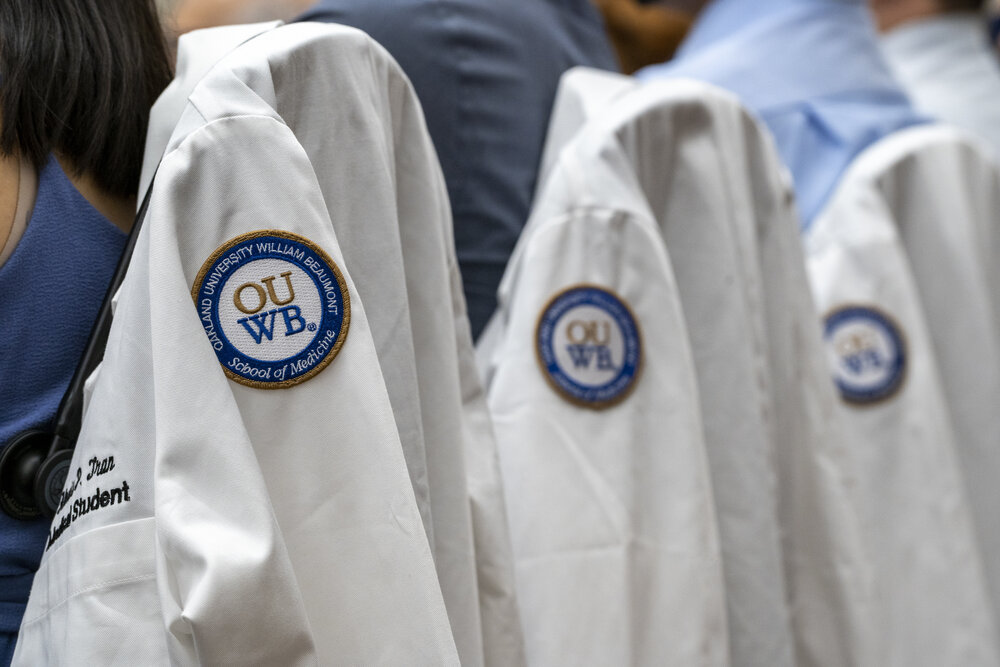 Oakland University William Beaumont School of Medicine has released its most recent round of donor-supported scholarship recipients — and so far, it's the largest total amount awarded by the school.
According to OUWB Financial Services, the students were awarded a total of $250,000.
OUWB released the names of the 25 recipients on Dec. 16 (see full list in graphic below). Ten of the scholarships were awarded via direct contributions to OUWB, while the remaining were awarded from the Beaumont Health Foundation.
Students generally expressed gratitude for the financial assistance.
"My first reaction was a mix of excitement and relief," said Nicholas Ang, M3, and one of five to receive an OUWB Scholarship.
"Medical education is an undoubtedly expensive pursuit, and every little bit of support helps," said Ang.
"Whenever we are fortunate enough to receive support like this, a little bit of that stress is taken off of our shoulders allowing us to focus on learning how to be better physicians for our future patients."
Dan Kallenberger, assistant dean for Admissions and Financial Services, said such scholarships wouldn't be possible without OUWB supporters.
"All of our scholarships are important to students," he said. "But the generosity of our supporters allows us to recognize current students for advancing the mission and embodying the values of OUWB."
Donor-supported scholarships up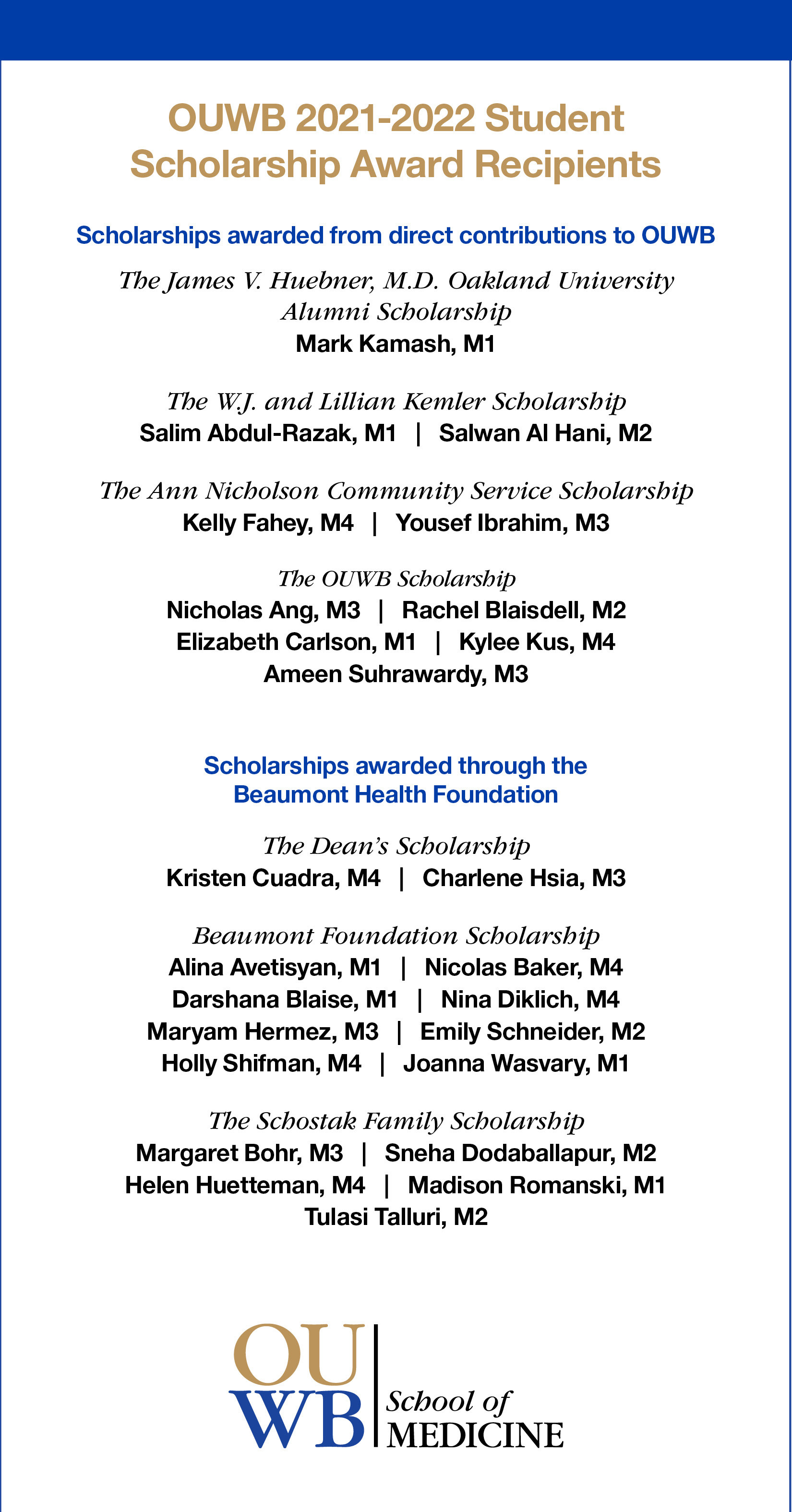 The amount available to OUWB students via donor-supported scholarship funds has continued to grow in recent years. The most recent announcement represents the largest dollar amount of donor-supported scholarship funds awarded to-date.
"We're excited to see scholarships supported by individuals and community partners grow each year," said OUWB Associate Director of Financial Services Jeremy Jones.
"We've made excellent strides over the last few years and look forward to the continued growth of our scholarship program," he added.
Scholarships generally fall into two categories: those awarded from direct contributions to OUWB and those awarded through the Beaumont Health Foundation.
The four scholarships awarded via direct contributions are: The James V. Huebner, M.D., Oakland University Alumni Scholarship, The OUWB Scholarship, The Ann Nicholson Community Service Scholarship, and The W.J. and Lillian Kemler Scholarship.
The three scholarships awarded through the Beaumont Health Foundation are the Dean's Scholarship; Beaumont Foundation; and The Schostak Family Scholarship.
"It's wonderful to have generous individual supporters like the Ann Nicholson, James Huebner, the Kemler and Schostak families, as well as wonderful partners at Beaumont Health Foundation and Oakland University," said Kallenberger
'A burden off my plate'
Scholarships are awarded to current students in recognition of their ongoing commitment to fulfilling various aspects of the OUWB mission. In recent years, scholarships have been awarded for demonstrated academic excellence, commitment to serving the community, and providing leadership in medical education.
Each scholarship has certain criteria that must be met. The OUWB Scholarship, for example, requires students to describe their leadership experience in the areas of community service, medical education, and/or diversity and inclusion as well as clearly articulate how they would continue to fulfill the OUWB mission throughout their career as a physician.
The donor-funded scholarship application process is announced to current students annually, typically in September.
After all applications are submitted, Current Student Scholarship Committee members carefully review the application materials. While students are asked to respond to various essay questions within the application, it is important to note that committee members evaluate applications based on the content of the experiences described against scholarship criteria.
Kallenberger said he is grateful for the work of the Current Student Scholarship Committee.
"We've not only seen growth in scholarship support, but we've also seen an increase in scholarship applications," he said. "(The committee's) dedication is greatly appreciated."
Recipients generally express feelings of gratitude and of feeling honored.
"It takes quite a burden off my plate as I was trying to squeeze in work shifts to make a little bit of money here and there," said Elizabeth Carlson, M1.
Carlson was one of the OUWB Scholarship recipients, and said it also helped her feel "encouraged."
Emily Schneider, M2, received a Beaumont Foundation Scholarship and said she was honored.
"Not only is the financial assistance an amazing and generous gift, but knowing that the foundation chose to support me in my journey to becoming a physician inspires me to continue challenging myself and working to serve my community," Schneider said.
Kristen Cuadra, M4, received and Dean's Scholarship, which is awarded to students who have demonstrated their commitment to improving diversity and inclusion in the OUWB community through service and/or research.
Cuadra said she was happy and felt supported by OUWB.
"As a recipient, I know I am well supported by my OUWB family and I am honored to be able to work with such a dedicated group of future physicians," Cuadra said.
To request an interview, visit the OUWB Communications & Marketing webpage.
NOTICE: Except where otherwise noted, all articles are published under a Creative Commons Attribution 3.0 license. You are free to copy, distribute, adapt, transmit, or make commercial use of this work as long as you attribute Oakland University William Beaumont School of Medicine as the original creator and include a link to this article.