Wednesday, Jul 27, 2022
Emergency contraception use in Catholic hospitals should be up to physicians, argue OUWB authors in new published paper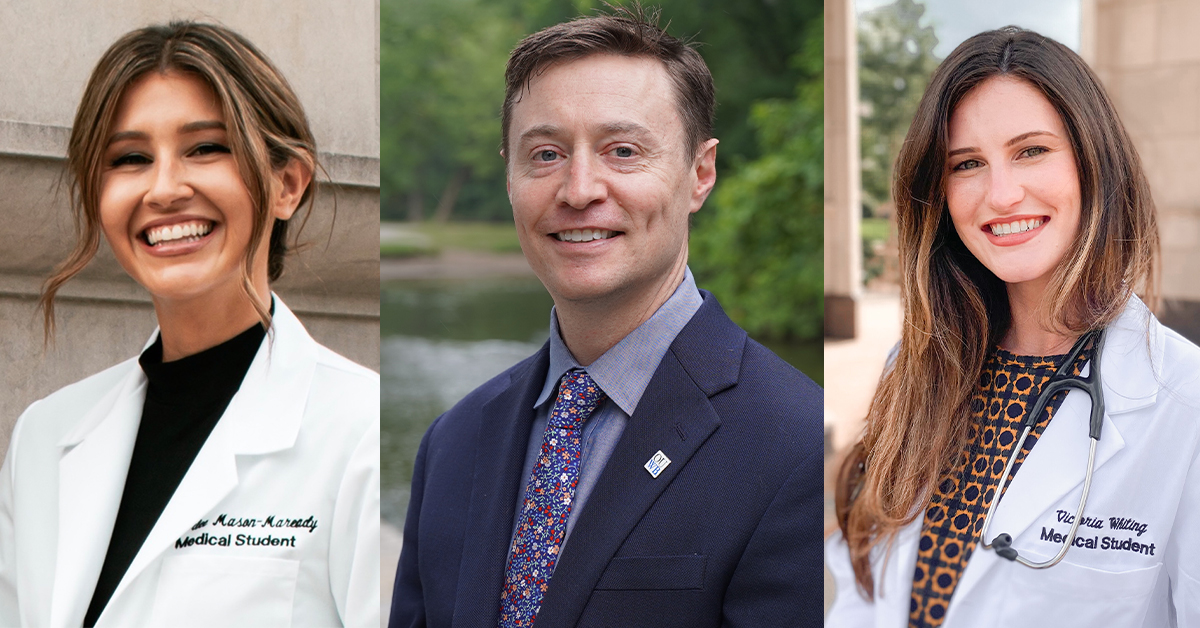 From left, Marlee Mason-Maready, M3, Abram Brummett, Ph.D., assistant professor, Department of Foundational Medical Studies, and Victoria Whiting, M3.
Though some Catholic hospitals prohibit prescription of emergency contraception to rape victims, three OUWB authors argue in a new published paper that the practice should come down to a physician's own conscience.
"Catholic Hospitals Should Permit Physicians to Provide Emergency Contraception to Rape Victims as an Act of Conscientious Provision" was recently published in The Linacre Quarterly, the peer-reviewed, official academic journal of the Catholic Medical Association.
Lead author is Abram Brummett, Ph.D., assistant professor, Department of Foundational Medical Studies. Co-authors are Victoria Whiting, and Marlee Mason-Maready, both M3s.
In addition to publishing the paper, the students have been accepted to present during the American Society for Bioethics and Humanities conference set for October in Portland, Oregon.
Essentially, the paper argues that the presence of reasonable disagreement among Catholics and Catholic hospitals on the topic of emergency contraception for rape victims provides a good reason for Catholic leadership to accommodate physicians who wish to provide it as a matter of conscience.
The topic is especially timely in light of the recent U.S. Supreme Court's decision that overturned Roe v. Wade, the 1973 abortion rights case that served as a precedent in reproductive rights cases for nearly 50 years — and has thrust women's reproductive rights into daily headlines.
"It will still be legal to give emergency contraception, (but) some Catholic hospitals will refuse to do this, and we are giving them a reason to reconsider their view," said Brummett.
Inconsistency exists
The emergency contraception in question is levonorgestrel (LNG), which is sold under various brand names, such as Plan B One Step and Next Choice One Dose. LNG has three proposed mechanisms of action, and it's the third one — preventing implantation — that is controversial for Catholics because they consider this to be an abortion.
The paper notes many Catholics also object to prescription of LNG because it is easily available over-the-counter at many pharmacies. However, the OUWB authors identify several reasons why this can be "problematic" for many women. Those reasons include cost, unreliable transportation, lack of knowledge of generic options, inadequate time, embarrassment, and/or geographic distance to a pharmacy. Studies also have shown that many pharmacies give inaccurate information about LNG.
"Given these concerns, a provider has legitimate reasons to worry that simply informing a rape victim that LNG is available over-the-counter may put the patient in a position where they may undergo the trauma of becoming pregnant from rape and the potential abortion," the paper states.
Enter the discussion regarding physicians at Catholic hospitals prescribing LNG in the event of a rape.
Brummett said it's important to note that it's a point of pride for Catholic bioethicists that their conscientious objections are not "just" religious beliefs, but can be given reasons that are defensible in the public sphere — meaning reasons can be given against abortion or contraception that have nothing to do with Catholic dogma. 
A defense of Catholic conscientious objection in health care is that their refusals to perform abortion, contraception, or sterilization should be respected because they are matters of "reasonable disagreement." 
Concurrently, disagreement exists among leadership at Catholic hospitals when it comes to rape and the use of LNG.
According to Brummett, Catholics have three primary views when it comes to use of the emergency contraception.
"Which of these views any particular Catholic hospital adopts is going to depend on the bishop that runs that Catholic territory," said Brummett.
"And bishops disagree with each other about which of the views ought to be adopted."
The first view, from the Catholic Medical Association, is to never prescribe it.
The second view is that LNG can be prescribed, but only after intense testing has been done to determine that a woman has not ovulated.
The third view is referred to as "the pregnancy approach," whereby a physician looks at menstrual history, and does a basic pregnancy test. If it appears the woman isn't pregnant, LNG can be prescribed. Brummett said this is the most permissive view when it comes to prescribing LNG.
The paper by the OUWB authors argues that because there are these disagreements, the door should be opened for Catholic systems to allow physicians to make their own choices.
"We take the reasonable disagreement that Catholics use to defend conscientious objection to secular society and we invert it into their own tradition on this issue," said Brummett.
In other words, said Brummett, if Catholics think it's important to make space for conscience on issues of reasonable disagreement in society more broadly, why not apply it to the topic of emergency contraception and rape?
"Why don't we also say that Catholics have reasonable disagreement about which of these three approaches to use with respect to emergency contraception, and allow each physician to use their own conscience in deciding whether they will or will not dispense emergency contraception to a rape victim?" said Brummett.
'An individual's core belief system'
The paper is the first published manuscript for both Whiting and Mason-Maready.
Mason-Maready said she was "really happy with how it turned out." Whiting called it a true "passion project."
"We were both so interested in the topic and invested in the research…it was an enjoyable experience," said Whiting. "I loved working with Marlee and Dr. Brummett and I learned so much from both of them."
Both of them also have ideas about what they hope readers take away from the piece.
Mason-Maready said she hopes the paper helps people realize that issues like the use of emergency contraception are not always black-and-white.
"I hope it gives people a more nuanced view of issues related to conscientious objection and provision," she said.
Whiting said she has similar feelings.
"Maybe (readers) can learn something new and have an open mind when it comes to why physicians make the decisions they make…and realize there's so much to it," said Whiting. "It's not just scientific data. It's not just what the patient wants. It's not just what your hospital says you must do. It is all of those things plus an individual's core belief system."
Overall, Brummett said the three OUWB authors hope that their argument "may make some small contribution to expanding access to reproductive care in the current climate of radically curtailed reproductive rights."
For more information, contact Andrew Dietderich, marketing writer, OUWB, at adietderich@oakland.edu.
To request an interview, visit the OUWB Communications & Marketing webpage.
NOTICE: Except where otherwise noted, all articles are published under a Creative Commons Attribution 3.0 license. You are free to copy, distribute, adapt, transmit, or make commercial use of this work as long as you attribute Oakland University William Beaumont School of Medicine as the original creator and include a link to this article.