Tuesday, Dec 06, 2022
Community garden run by OUWB students looks to sustain growth, raise funds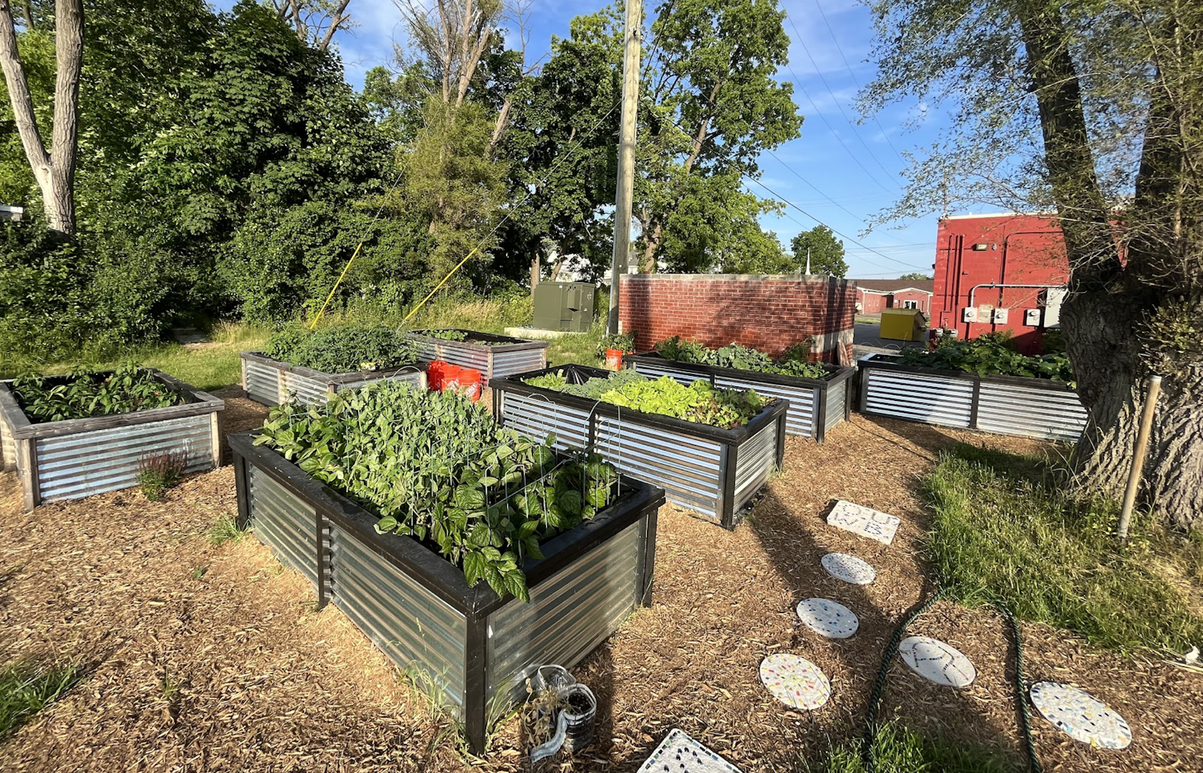 The garden established and maintained by OUWB medical students provided an estimated 168 servings of food for the community. Students have big plans for the garden, too.
In a little over a year, a community garden started by OUWB medical students at Pontiac's Gary Burnstein Community Health Clinic has grown exponentially – with no signs of slowing down.
Started by student leadership at the Student Run Free Clinic (SRFC) — based at the Burnstein Community Health Clinic — the number of garden beds already has increased from three to seven. Also added were a shed for supplies, mulch walkways, stepping stones, and more.
Volunteers and a $2,000 grant from Oakland University's Women and Philanthropy group have made it all happen, but the team is not done yet.
It recently launched a crowdfunding campaign that ends Dec. 31 and seeks to raise another $2,000 – all in the name of furthering the garden's impact on the community, and the students.
"A patient is just more than their diagnoses and treatment options," said Paoula Choobchian, M2, co-director, SRFC. "It's good for the students to expand their point of view to see the patient in a holistic manner, and that can consist of the food (their patients) get to eat."
"One thing we learn about at OUWB… is (how to determine) what a community actually needs," said Sarah George, M2, co-director, SRFC.
"Seeing firsthand what this community actually wants, what these patients actually need really contributes to that humanizing aspect."

Planting the seed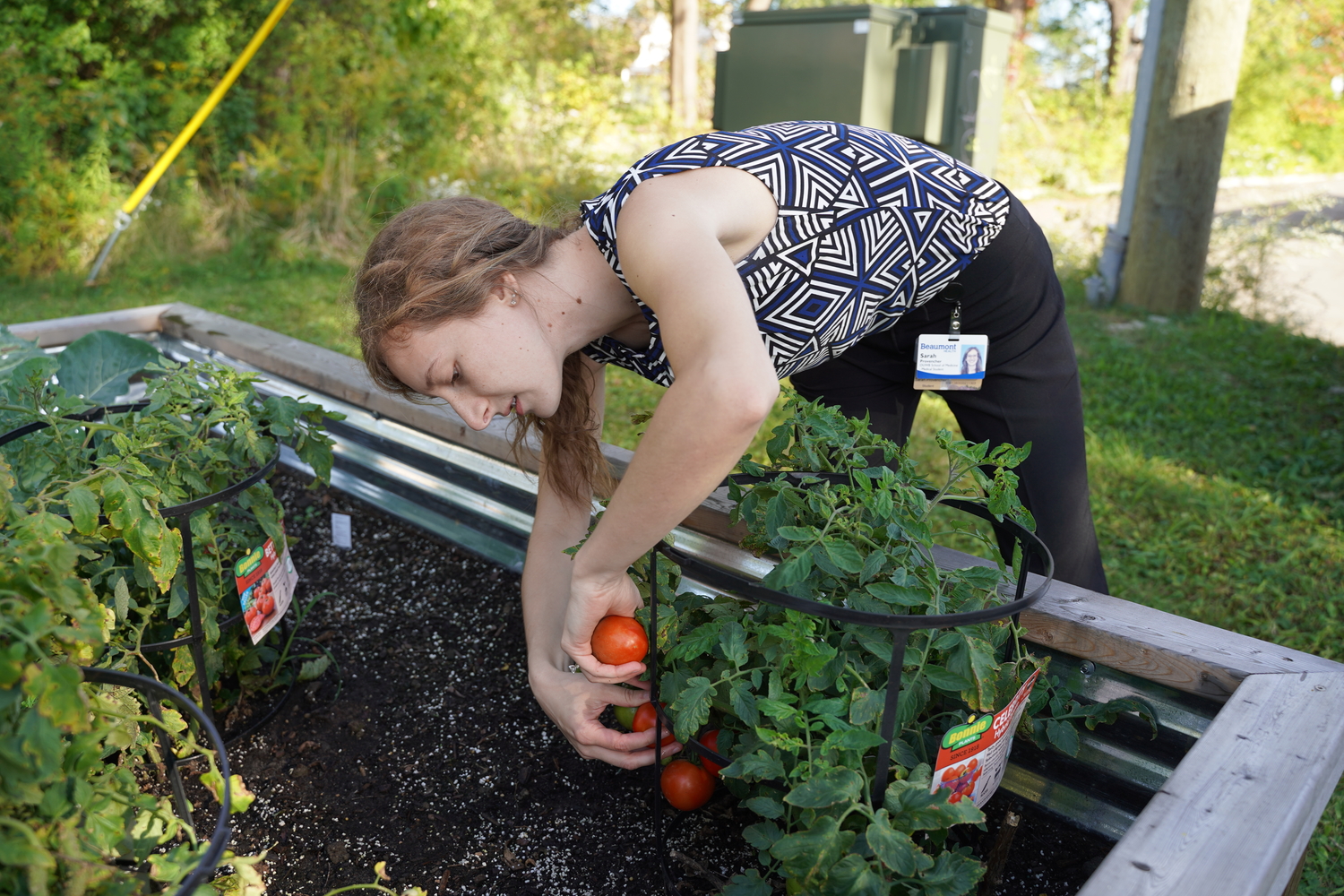 Provencher harvests tomatoes at the end of the garden's first season in 2021.
The garden, founded in 2021, works in partnership with the clinic to grow produce and give it to people who use the services on student clinic nights.
Tiffany Loh, M3, and Sarah Provencher, M3, last season's co-directors, began the garden because they felt the need to address a community need.
"The area in Pontiac where the garden is located has a high rate of food insecurity and so we felt being able to provide clinic patients access to fresh produce during clinic visits would be a great start to addressing this need," said Provencher and Loh in a joint statement.
With the assistance of COMPASS and support from advisors Justin Brox, M.D., executive director, Burnstein Community Clinic, and Srikala Yedavally, D.O, assistant professor, Department of Family Medicine and Community Health, they ushered in a successful first season, building three garden beds, clearing the space, and experimenting with what types of vegetables could be grown during the season.
The produce is free to the patients, and volunteer OUWB students encourage them to take any amount they need.
Patients also receive information about where the produce is from, and simple recipes to give patients examples of how they can use the produce.
"We try to grow a variety of things that are nutritious and that people would eat but also things that could be found in your local grocery store," said Madison Romanski, M2, one of this year's garden coordinators..
"We want to give them produce but also show them what foods are healthy foods…attainable in our region and not ridiculously expensive."
The garden's second season was considered by the team to be a big success.
Over spring break, Romanski and her father built four raised beds to increase the amount of produce that the garden could grow. Other major additions of the second season included a shed for supplies, adding mulch, creating stepping stones for the garden, and clearing space for native pollinators to inhabit next year.
Rima Stepanian, M2, who also serves as a garden coordinator, said she started some of the seeds early at home to ensure that the plants would be ready to give produce to the community in a timely manner.
"The growing season here is significantly shorter than in warmer climates," she said. "By the time it was warm enough to get them in the ground, we already had smaller plants as opposed to seeds that were just starting."
By the end of the season, SRFC patients received an estimated 168 servings of produce, and nearly 50 M1 through M4 students volunteered throughout the season, via watering, cleaning, mulching, maintenance, and passing out produce to the patients.

Room to grow
Though Michigan's outdoor growing season is over, Romanski said there is "a lot of brainwork" underway with regard to the garden's future.
The team soon will pick the next garden coordinators. It also is seeking additional funding.
With the money from the crowdfunding campaign, they plan to make donor plaques, gather materials for the next season, build vertical planters, and purchase a collapsible greenhouse to start seeds earlier in the year.
They also hope to purchase more gardening tools and equipment to involve more students, and to eventually include the greater community as well.
Even with big plans for the future, students said they are mindful and grateful for the support that's allowed them to get to this point.
"Truly, without their generosity, this garden would not have been made possible," said Choobchian. "Even the school itself [supports] us in ways that we can be creative to serve the community, too."
Anyone who is interested in donating to the community garden can do so through the Student Run Free Clinic Community Garden crowdfunding link.
To request an interview, visit the OUWB Communications & Marketing webpage.
NOTICE: Except where otherwise noted, all articles are published under a Creative Commons Attribution 3.0 license. You are free to copy, distribute, adapt, transmit, or make commercial use of this work as long as you attribute Oakland University William Beaumont School of Medicine as the original creator and include a link to this article.