Friday, Feb 12, 2021
Valentine's Day fundraiser led by OUWB student group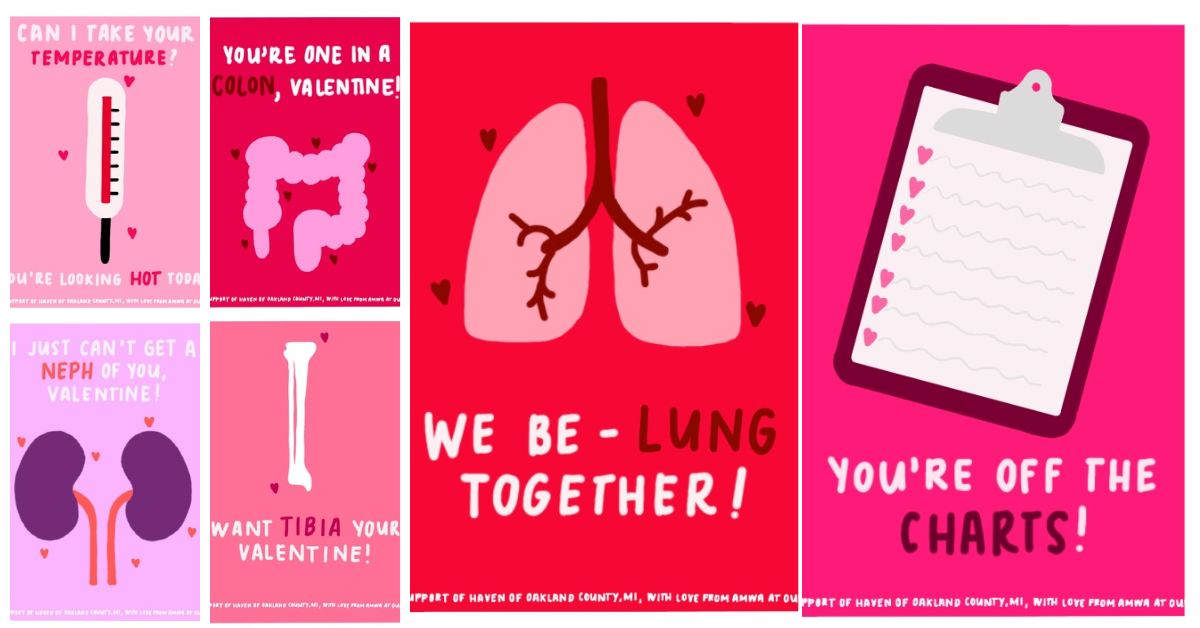 A sampling of the valentines created by the AMWA chapter at OUWB for its annual Valentine's Day fundraiser
A student interest group from Oakland University William Beaumont School of Medicine set out to raise funds for a local nonprofit and spread some Valentine's Day love at the same time.
The OUWB chapter of American Medical Women's Association held its annual Valentine's Day-related fundraiser for Pontiac-based Haven of Oakland County.
AMWA sold about 200 valentines and raised $500 for the organization.
The valentines, which were mailed to recipients across the country, replaced the annual on-campus fundraiser that encourages the purchase of candy grams to be delivered in person.
"The candy grams were such a tradition in OUWB and it was a nice way to show the people around you that you're thinking of them," said Jody Esguerra, president, AMWA at OUWB.
"We didn't want people to miss out on that because of COVID-19."
Esguerra, along with AMWA social committee co-chairs Nicole Lewis, M2, Krickett Kazyak, M2, Nell Brigoli, M1, and Rachel Blaisdell, M1, set out to find an alternative to the candy grams.
The team decided to create valentines with medical-themed puns. Valentines were sold via email and social media with senders given the option to fill out a Google form to select a desired card, write a note, and then pay via Venmo. The valentines were printed with the assistance of staff at the OUWB Medical Library.
"This ended up being a great way to stay safe, but spread some much-needed love," said Kazyak.
Kazyak said the need to spread love and joy is especially needed "during this time when so many are isolated."
Doing so in a way that raises funds for Haven is a natural fit for an organization like AMWA, according to Kazyak.
"AMWA's mission is to advance women in medicine and improve women's health; and intimate partner violence disproportionately affects women and girls, and can be thought of as a public health crisis," said Kazyak. "AMWA at OUWB is committed to helping all women succeed — not just female physicians —so connecting with Haven has always been a great way to uplift and empower women in our local community." 
Kazyak said that the fact that so many people bought valentines highlights "that everyone at OUWB, fellow students, faculty, and staff, are deeply committed to helping others."
"OUWB is truly a community for others and one we are so proud to be part of," she said.
For more information, contact Andrew Dietderich, marketing writer, OUWB, at adietderich@oakland.edu. 
To request an interview, visit the OUWB Communications & Marketing webpage.
NOTICE: Except where otherwise noted, all articles are published under a Creative Commons Attribution 3.0 license. You are free to copy, distribute, adapt, transmit, or make commercial use of this work as long as you attribute Oakland University William Beaumont School of Medicine as the original creator and include a link to this article.