Friday, Feb 26, 2021
Research project led by OUWB medical student lands $150K for future work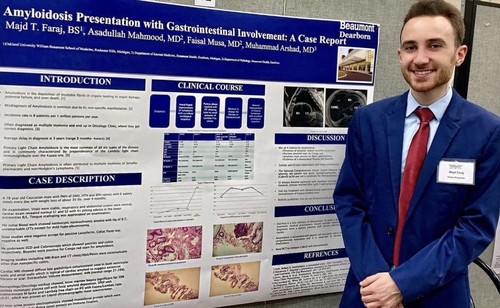 Majd Faraj, M2, stands in front of the poster for a previous research project he led. His Embark project led to a contract worth $150,000 for future work.
A project led by a medical student from Oakland University William Beaumont School of Medicine has received $150,000 in external funding to further the work — the highest amount ever connected to an OUWB capstone project.
The project was led by Majd Faraj, M2. Additional funding is set to be provided via contract from A.M. Surgical Inc. of Smithtown, N.Y., a surgical devices company.
The contract will allow for continuation and expansion of research related to a surgical modality known as Wide-Awake-Local-Anesthesia-No-Tourniquet (WALANT), which involves the patient being awake (compared with traditional operating room procedures involving sedation) for hand and wrist conditions such as carpal tunnel and trigger finger.
Faraj created a novel decision aid to help further patients' knowledge of wide-awake surgery. He developed the decision aid as his Embark project, a required scholarly concentration program at OUWB that provides mentored research and scholarship.
"External funding really suggests that there's somebody out there who cares about a topic as much as you do…in fact, there's somebody out there who cares about it a lot," said Charles Day, M.D., chief, hand and upper extremity surgery, Department of Orthopedic Surgery, Henry Ford Health System. Day is Faraj's co-mentor on the project.
Reinforcing student commitment to research
Dwayne Baxa, Ph.D., assistant professor, Department of Foundational Medical Studies and co-mentor on Faraj's project, said "any time our students received recognition for their research efforts in the greater research community shows that our students are taking the information shared by our course to heart."
"Being recognized as a fundable project means that the purpose and rationale for the study are clear, that the approach is feasible, and that the description of the innovation and significance made this proposal competitive and worth the investment by the funding entity," said Baxa.
Faraj said he started working with Day's research group in the orthopedic surgery department (hand surgery division) at Henry Ford Hospital early in his first year as a medical student at OUWB.
Today, the research group has 25 members and also includes medical students from Wayne State School of Medicine, Central Michigan College of Medicine, and University of Michigan.
The group is working on more than 20 projects, said Day.
Faraj said he wanted to further explore the topic of wide-awake surgery because of the potential for more practical surgical options, especially with regard to carpal tunnel.
According to compiled information from the Bureau of Labor and Statistics and the National Institute for Occupational Safety and Health (NIOSH), carpal tunnel surgery is the second most common type of surgery, with more than 230,000 procedures performed annually.
A common carpal tunnel surgery is making a small incision in the wrist and — with the aid of an endoscopic device — cutting the retinaculum to relieve pressure on the median nerve whose inflammation or irritation is the cause of carpal tunnel.
As the name implies, patients who undergo wide-awake surgery aren't sedated, nor do they have to deal with any potential side effects of sedation. Faraj likened it to going to a dentist to have a procedure done and getting back into regular daily activities relatively quickly.
But perhaps the biggest benefit, he said, is costs.
"(WALANT) is 85 percent less costly than your average procedure," he said. "You're not employing an anesthesiologist, not renting out an OR, not having post-op work, not having preoperative tests…all of those costs are eliminated."
Helping patients decide
As Day notes, however, the research group found that there are still a good number of people who would prefer what has become the traditional method of surgery.
That's where the novel decision aid created by Faraj comes in.
"We always go back to what does the patient want, and what would the patient find best?" said Faraj. "We created this novel decision aid that hasn't been done before to help patients really make an educated decision."
Faraj said A.M. Surgical expressed interest in future funding for the the research largely because they want to measure how effective some of their devices are in a wide-awake setting. Funding also will help with a patient advisory council that the research group has created as well as with any kind of general further research related to WALANT. Among other things, the research group already has created the WALANT Research Consortium in the U.S., which groups hand surgeons from eight health systems across the U.S. into a panel of experts who will be involved in future planning.
"I'm really proud and honored to be part of something like this," said Faraj. "I've worked so hard on this project from start to finish, so it is very fulfilling to see it come to completion with promising prospects for future projects."
He added that he hopes other medical students get inspired and can realize the difference research can make in medicine and that research can be as fruitful and enjoyable as the effort you put into it. 
"Research really can reshape practice and have very tangible results," said Faraj. "It's really great to see that happening."
For more information, contact Andrew Dietderich, marketing writer, OUWB, at adietderich@oakland.edu. 
To request an interview, visit the OUWB Communications & Marketing webpage.
NOTICE: Except where otherwise noted, all articles are published under a Creative Commons Attribution 3.0 license. You are free to copy, distribute, adapt, transmit, or make commercial use of this work as long as you attribute Oakland University William Beaumont School of Medicine as the original creator and include a link to this article.