Tuesday, Oct 19, 2021
OUWB professor earns prestigious laureate from American Academy of Ophthalmology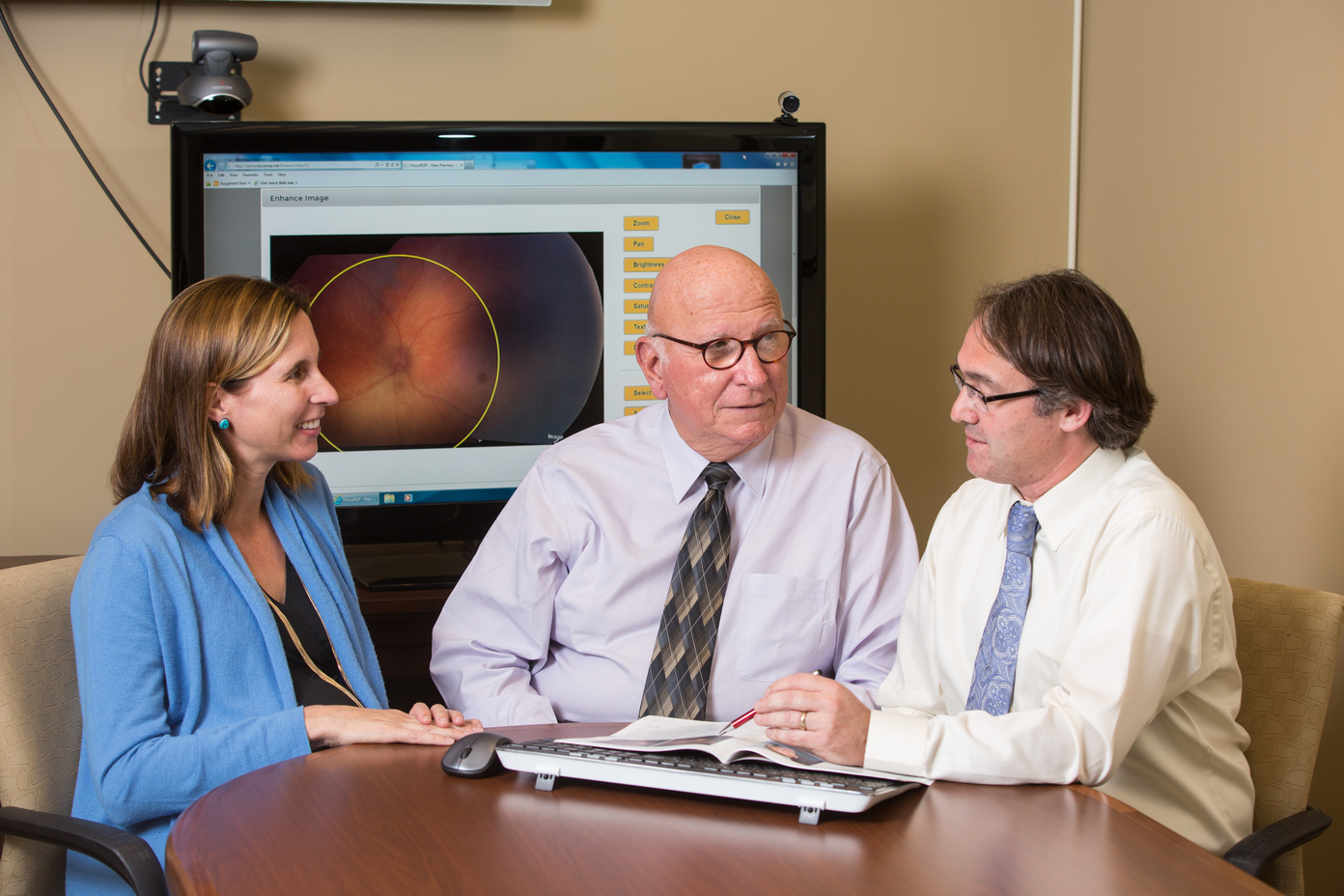 Michael Trese, M.D. (center) talks with Maria Woodward, M.D., (left), associate professor of ophthalmology and visual sciences, University Michigan, and Cagri Besirli, M.D., assistant professor, University of Michigan. (Photo courtesy of Michigan Medicine)
An OUWB faculty member is set to receive the highest possible honor from the American Academy of Ophthalmology.
During its meeting next month in New Orleans, Michael Trese, M.D., will receive the organization's laureate award for his work in the field of pediatric retina.
Trese is a professor in the Department of Ophthalmology, OUWB, and a clinical professor of Biomedical Sciences at Oakland University. He has played a significant role in the evolution of OU's Eye Research Institute. Trese is also a member of the Department of Ophthalmology at Beaumont Hospital, Royal Oak.  
The American Academy of Ophthalmology (AAO) says Trese is "widely considered the father of modern pediatric vitreoretinal surgery," who "revolutionized pediatric vitreoretinal surgery with the concept of lens sparing vitrectomy in the late 1980s."
"A dedicated educator, Dr. Trese taught his techniques to a generation of fellows and colleagues," AAO says on its website.
"These techniques are now performed worldwide and have restored and preserved sight in untold thousands of children."
AAO also says that Trese's work has defined the new surgical discipline of pediatric retinal surgery, and that few ophthalmologists "have had as profound an impact on any disease process as Dr. Trese has had on pediatric retinal detachment."
In the history of AAO, only 23 people have received the laureate award.
"It's a very humbling experience," says Trese. "The other people who have received this recognition are so highly respected in the field. I was taken aback to learn I now join the group."
'The bench-to-bedside approach'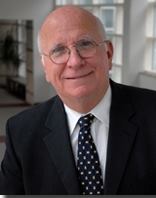 Trese
Trese earned an undergraduate degree from the University of Michigan, medical degrees from Georgetown University, served his residency at the UCLA Jules Stein Eye Institute, and fellowship at Duke University.
Today, Trese is an internationally recognized expert in pediatric retinal disease with nearly 40 years of clinical experience. He has served in a number of leadership positions in ophthalmology.
He still expresses a sense of awe and enthusiasm when talking about eyes.
"The eye is a beautiful structure…it's just wonderful," he says. "It's absolutely fascinating when you think of an image being transmitted first through optics…then interpreted by the brain in some fashion that allows us to acknowledge things like depth perception, stereopsis, color changes, and so on. I think vision is an extraordinarily wonderful function."
Twenty years ago, Trese founded ROPARD (Retinopathy of Prematurity and Allied Retinal Disease), which is now the Pediatric Retinal Research Foundation (PRRF). The organization had one primary goal: to foster research into blinding pediatric retinal diseases. 
The PRRF funded the Pediatric Retina Research Lab at the ERI, which Trese continues to oversee. One of the lab's goals is to translate the results of research efforts into drugs that can be used in the treatment of pediatric retinal diseases — a task Trese already accomplished with the development and commercialization of Ocriplasmin. 
"I've always believed in the bench-to-bedside approach to innovative therapies," says Trese. "I've always found innovation to be very exciting."
Additionally, he has published many papers with ERI faculty, including Ken Mitton, Ph.D., and Frank Giblin, Ph.D., distinguished professor emeritus of biomedical sciences and past-director of the ERI.
"The nearly 40-year relationship that I have had with Dr. Trese has greatly influenced my professional career," says Giblin. "I have always been highly impressed with his abundant energy and enthusiasm for research, especially translational research that is aimed at helping patients."
'Those types of things keep me working'
Even as it continues to evolve, Giblin says the ERI will forever owe Trese "a sincere debt of gratitude for his many years of contributing to the success of the institute."
In addition to establishing the Pediatric Retinal Research Lab, Giblin says Trese came up with the idea in 1982 to have ERI faculty present annual basic science lectures to Beaumont ophthalmology residents. The practice continues today.
Further, says Giblin, the reputation of Trese and the Pediatric Retinal Research Laboratory "significantly influenced" the late Irene Kinsey Stare's decision to donate $3.7 million to establish the V. Everett Kinsey Endowed Professorship in the ERI.
All of that is on top of an extraordinarily impressive body of work and research.
"The remarkable surgical innovations that he has pioneered during the past 30 years have had a huge effect on advancing the treatment and improving the lives of countless infants suffering with advanced retinopathy of prematurity disease," says Giblin.
Despite his accomplishments in the field, however, Trese says he isn't about to sit back and relax.
Among other things, he says he is particularly excited about work that continues in the field of regenerative medicine. Trese points to work being done to treat patients with Norrie disease, an inherited eye disorder that leads to blindness in male infants at birth or soon after birth.
Researchers have been working with regenerative medicines to grow healthy retinas in an attempt to offset the effects of Norrie disease — and Trese can't wait to see what happens next.
"Those types of things keep me working," says Trese. "It's new, it's exciting, it's a new contribution to the profession…and, most importantly, it helps people."
For more information, contact Andrew Dietderich, marketing writer, OUWB, at adietderich@oakland.edu. 
To request an interview, visit the OUWB Communications & Marketing webpage.
NOTICE: Except where otherwise noted, all articles are published under a Creative Commons Attribution 3.0 license. You are free to copy, distribute, adapt, transmit, or make commercial use of this work as long as you attribute Oakland University William Beaumont School of Medicine as the original creator and include a link to this article.