Friday, Feb 05, 2021
OUWB call to action featured in Journal of Academic Medicine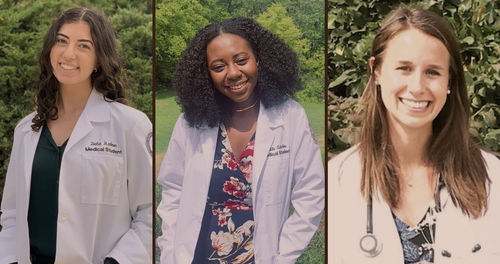 OUWB medical students (from left) Dalia Rahmon, Abiba Salahou, and Michelle Fedorowicz, wrote a letter to the editor of the Journal of Academic Medicine about the call to action plan, which is, among other things, "an effort to highlight opportunities to improve our curriculum." The plan was created by OUWB students.
For the second time in two months, Oakland University William Beaumont School of Medicine students have penned a letter in the prestigious Journal of Academic Medicine — this time drawing attention to a "call to action" plan.
The call to action efforts were led by second-year medical students Abiba Salahou and Dalia Rahmon. The two —along with fourth-year medical student Michelle Fedorowicz — also wrote the letter to the editor in Academic Medicine. The headline is "Medical Students Confront Racism and Systemic Oppression Amidst a Global Pandemic."
The 13-page call to action is described as "an effort to highlight opportunities to improve our curriculum" and outlines eight core action items for OUWB to address. Those items include curriculum reform, more robust support for minority medical students at OUWB, and implementation of antiracism workshops.
The document was created last summer in conjunction with students at other medical schools drafting similar documents, prompted in large part by events in 2020 that led to what many have generally described as a racial awakening.
"I am very proud and thankful for our students in generating this call to action document," said OUWB Stephan Sharf Dean Duane Mezwa, M.D.
"The results of this endeavor have led to great improvement in our curriculum and opened a willingness to extend dialogue across many fronts."
The letter to the editor in Academic Medicine confirms that OUWB leadership has worked diligently to address the concerns in the call to action.
"Since publishing our call to action document, our institution's administration has been receptive to implementing the proposed action items, and we have witnessed an overall increase in discussions at our institution surrounding inequality," the letter notes.
Inspired by others
In 2020, the deaths of Ahmaud Arbery, Breonna Taylor, and George Floyd took place between February 23 and May 25.
Subsequent to those events, an estimated 23 million-plus participated in anti-police-brutality protests, potentially making it the largest protest movement in American history, according to The Atlantic.
The spirit of the protests was not limited to the streets.
"The news and what was going on really brought everyone's attention toward issues of systemic racism, especially for people that maybe didn't know or feel the extent of it," said Rahmon.
Salahou, Rahmon, and others at OUWB became aware that students at medical schools across the country were channeling much of their frustrations and emotions into initiatives similar to what would become the call to action at OUWB.
"Medical students across the country began drafting 'call to action' documents urging their institutions to reassess their medical curriculum and the ways in which the medical community has failed marginalized patient populations," states the letter in Academic Medicine.
Salahou said she and others "brainstormed whether it would be useful to have a similar initiative at OUWB." Rahmon said she and the OUWB students became more motivated when they saw students from other schools posting their respective calls to action on social media.
"We did get some inspiration for how they structured their letters and some of the topics they brought up," she said. "We definitely got inspired by them."
The team behind OUWB's call to action eventually reached out to all OUWB students for input.
The call to action was turned in to OUWB administration on July 9, signed by nearly 200 current students and alumni.
Overall, the plan urges OUWB to adjust its curriculum accordingly and with regard to offering a more robust and inclusive curriculum.
For example, one point calls for OUWB's cardiology course material to "be more inclusive and representative of Black, Asian, and Minority patients."
"As medical students who will one day serve an ever-diversifying patient population, we emphasize that our course material must reflect contemporary race issues and increased efforts need to be made to ensure that minority populations are represented in our medical school curriculum," states the letter in Academic Medicine.
'A far better OUWB community'
Salahou admits she wasn't sure how the call to action would be received by OUWB officials, but said she needed a way to channel her frustrations and emotions that were particularly strong in the spring and early summer.
She was pleased with the initial reception.
"I was really happy to see that so many students as well as faculty and staff really vocalize their support of the letter, and really validated the need for such an initiative," she said.
In response to the call to action, OUWB immediately formed a curriculum task force and an ad hoc committee.
Overall, recommendations centered on possible solutions and recommendations (which were shared with the students) to points in the call to action.
The students also formed a task force to ensure recommendations resulting from the call to action stay on track.
Salahou said she has already seen changes implemented as a result of the call to action.
"This really illustrated to me that medical students, starting from their M1 year, do have the capacity to make changes in medicine that ultimately impact patient care," said Salahou. "That advocacy role we take on doesn't have to wait until we're officially MDs."
Rahmon said it "was really inspiring to see so many students across so many years come together."
"The process itself was really rewarding and inspires me," she said. "If I do see something like this in the future that I want to address, I will definitely move forward with it."
Mezwa praised the students for their efforts.
"I believe we are a far better OUWB community because of the leadership and initiative of this group of students," Mezwa added.
"It is through efforts like this that we will continue to produce the special type of physicians and leaders that graduate from our school."
For more information, contact Andrew Dietderich, marketing writer, OUWB, at adietderich@oakland.edu. 
To request an interview, visit the OUWB Communications & Marketing webpage.
NOTICE: Except where otherwise noted, all articles are published under a Creative Commons Attribution 3.0 license. You are free to copy, distribute, adapt, transmit, or make commercial use of this work as long as you attribute Oakland University William Beaumont School of Medicine as the original creator and include a link to this article.