Friday, Feb 14, 2020
'Follow your heart:' Couples match delivers benefits, challenges for graduating med students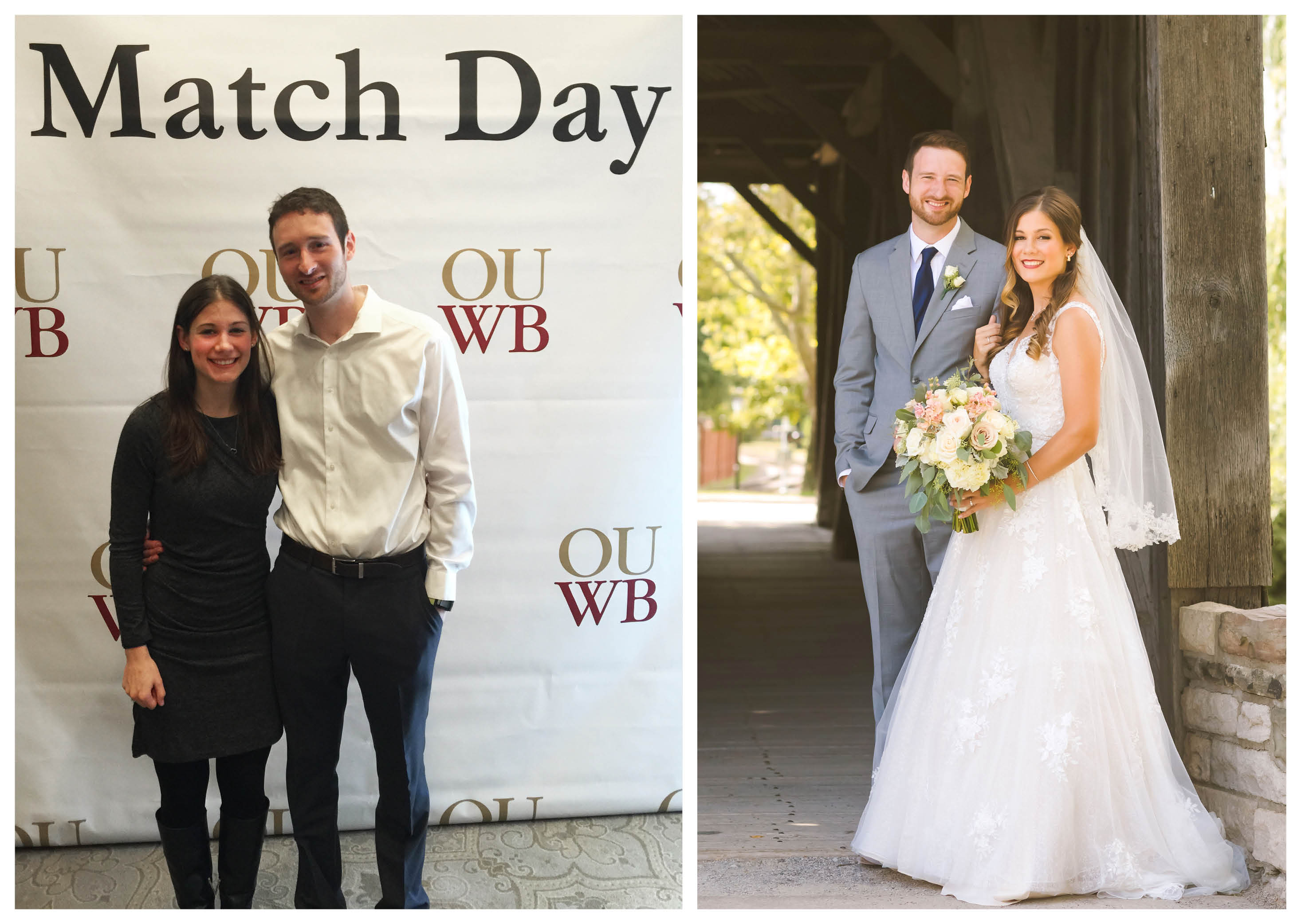 Jonathan Goike, M.D., and Laurie Goike, M.D., started "officially" dating as M3s at OUWB (Class of 2015). They went through the process of a couples match and ended up at The Ohio State University.
Laurie Goike, M.D., clearly remembers sitting on a couch with her now-husband, Jonathan Goike, M.D., and first discussing the idea of a couples match for their anticipated post-medical school residencies.
Many such discussions about the monumental decision would follow for the alumni of Oakland University William Beaumont School of Medicine (Class of 2015).
The unmarried couple had two choices: match individually and likely end up in different parts of the U.S., or embark on a couples match that would keep them together in the next stage of their medical careers — if they were successful. They took a chance and ended up at The Ohio State University. They married in 2019.
The Goikes are part of an upward trend at medical schools. According to the Academy of American Medical Colleges, the number of medical students annually applying for a couples match has risen 37 percent in the last decade — from 788 in 2009 to 1,076 in 2019 (95 percent match rate).
"We both have made each other much happier," Laurie Goike (nee Bossory) said with regard to their post-med school experiences. "Being together has made life a lot better."
The Goikes point to many benefits of a couples match: the close bond with someone going through many of the same things professionally, having goals that align — even the little things like having someone grab food for the other who might be exhausted.
"It's nice to have someone to talk to, and get through things with," said Jonathan Goike.
Yet despite the benefits, experts say getting to the point of the Goikes can be a challenging process, likely to put the strongest of relationships to the test.
As such, deciding to pursue a couples match should not be taken lightly, said Sandra LaBlance, Ph.D., associate dean for Student Affairs, OUWB.
"Sometimes students don't realize that going into a couples match could mean giving up his/her individual needs and making decisions about the relationship versus the career path," LaBlance said.
What is a couples match?
A couples match allows any two applicants to be matched with residency programs in the same geographic area. The applicants can be married, domestic partners, dating, friends, siblings, whatever — so long as they both agree to engage in a couples match.
Further, any two people applying in the same cycle can apply as a couple, even from different medical schools.
The rub, of course, is that applying for a couples match doesn't guarantee a couples match.
Still, LaBlance said OUWB never dissuades applicants from engaging in the process.
"If students say they really want to go through a couples match, I help them the best I can to make it work," she said.
"But (early in the process) I ask them to think about what might happen if it doesn't work and I encourage them to ask themselves, 'Is it better for you to be together and have one of you not match, or is it more important that you both have a job after you finish medical school?'"
How it works
The timeline is the same for a couples match as it is for individuals.
Medical students begin putting their applications into the Electronic Residency Application Service (ERAS) in June of their third year. On Sept. 15, applications are released to the various residency programs. Interviews generally take place between November and January. Students then have until late February to place their rank order lists into the National Resident Matching Program (NRMP) where the final match is determined. Match Day is the third Friday of March.
The same timeline for individuals and couples is about where the similarities end.
"It's the same timeline for everyone," LaBlance said. "Applicants seeking a couples match just put in more hours."
The differences begin with each of the applicants indicating to NRMP that they plan to pursue a couples match. Fees are slightly higher for couples, too (about $40 more for each person).
Differences continue in deciding how many programs the couples will apply. Though it depends on the respective fields of the pair and the competitiveness of each applicant, the standard recommendation is to apply to up to double the number of programs an individual would normally apply.
Differences follow into the process of interviewing, which can present its own set of challenges, LaBlance said. Such challenges might include one of the applicants securing more interviews and/or disagreements over where they want to go.
LaBlance said OUWB student advisors work hard to help couples address any issues that arise.
"We help them identify how to have difficult conversations when they aren't aligning with each other," said LaBlance.
Another big difference between individual applicants and those applying as a couples?
Negotiating with programs on behalf of a partner can occur, LaBlance said, and a positive end result isn't guaranteed.
"The person who is stronger may be able to use his/her application as leverage and get an interview for his/her partner," she said. "But it could go the other way where a program says something like 'We can't get an interview for your partner. You're likely not going to come here because your partner is not going to be able to get in.'
"(The strong applicant) could lose the opportunity for a really competitive program or a program they really want," said LaBlance
After interviewing, the couples match applicants submit a rank order list of pairs of programs.
The NRMP links the match lists of the couples and will only match them to the most preferred pair of programs on their rank order lists where each partner has been offered a position.
(Partners can apply for different specialties, programs or institutions, but to successfully match as a couples, both applicants must be matched to the same set of programs they paired on their rank-order lists.)
In short, the couple has to submit the same number of ranked programs, agree on how they'd like to pair and rank their preferred programs, and then hope each of their paired respective programs accepts them.
LaBlance said communication is key.
For example, after applicants separately develop their own match lists, she encourages the couple to "talk about their match lists together, and decide what makes sense… 'If I go here, what are the options?'
"That's where they start compromising," she said. "And that takes a lot more time and energy to figure all of that out."
'Follow your heart'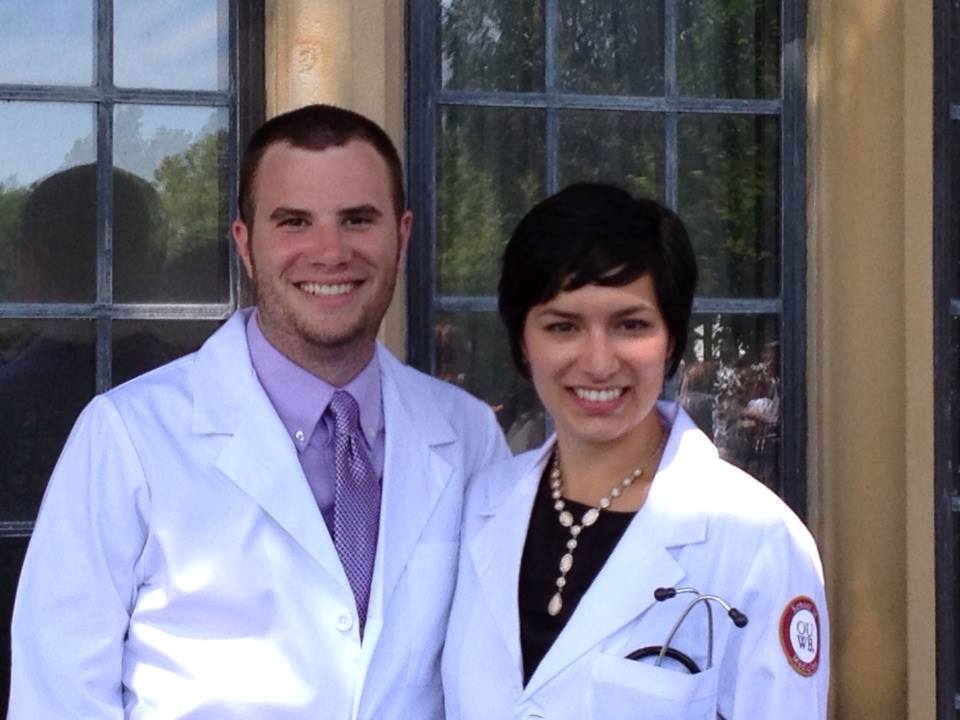 For all of the extra time and energy that goes into a couples match, OUWB alum Zachary Hartley, M.D., (Class of 2017) says the "incredibly anxiety-inducing" process is worth it.
Hartley married his wife, Julie Blossom-Hartley, M.D., when they both were M1s at OUWB. They had been together as undergrads at University of Michigan.
They matched at Brown University in Rhode Island.
"Obviously, Match Day is super exciting, especially when you end up at the same place," he said. "It really felt like everything paid off."
Because being apart was not an option, he said, they drew on the strength of their relationship and love to work together.
They discussed at length where they wanted to go, for example, with each having slightly different preferences, until they formed a list that made them both happy.
As strong candidates, he said, they were able to advocate for each other while interviewing, each helping the other land interviews they might not otherwise have pursued.
"It was really exciting to feel like you're positively impacting each other's experiences and opening doors for each other," he said.
Additionally, he said, it helped further their already strong bond.
"We're each other's best friend," he said. "It's nice to be going through the process with somebody who understands what you're going through and understands the unique stresses associated with both med school and the match process so that we could support and help each other through."
LaBlance said the Hartleys are a good example of how a couples match can work for two people who commit to the process and are prepared for the challenges.
"Your mind needs to be part of it and you need to use your logic, but in the end, it's about following your heart," she said.
For more information, contact Andrew Dietderich, marketing writer, OUWB, at adietderich@oakland.edu. 
Follow OUWB on Facebook, Twitter, and Instagram.
NOTICE: Except where otherwise noted, all articles are published under a Creative Commons Attribution 3.0 license. You are free to copy, distribute, adapt, transmit, or make commercial use of this work as long as you attribute Oakland University William Beaumont School of Medicine as the original creator and include a link to this article.