Wednesday, Mar 31, 2021
Future newlyweds and physicians from OUWB match as a couple at Beaumont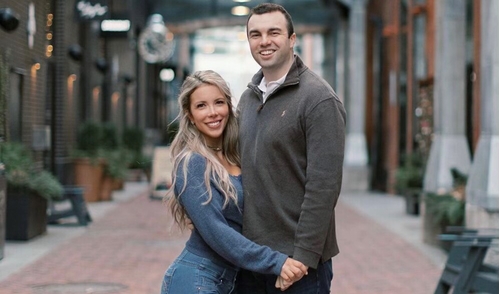 Alyssa Perozich and Mitchell Reitsma are part of OUWB's Class of 2021. The pair, shown here after their engagement last August, recently matched as a couple at Beaumont.
The weeks leading up to Match Day can be stressful for medical students, but for OUWB Class of 2021 members Alyssa Perozich and Mitchell Reitsma, it was downright nerve-wracking.
The reason?
The future newlyweds and physicians decided to pursue what is known as a "couple match."
A couple match allows any two applicants to be matched with residency programs in the same geographic area. The applicants can be married, domestic partners, dating, friends, siblings — so long as they both agree to engage in a couple match.
The already stressful time for medical students is amplified by the fact that applying for a couple match doesn't guarantee the two individuals will match as a pair.
"You're just waiting," said Perozich. "We couldn't make any plans about our life. Various little logistical things just had to wait."
"We hoped we were together, but that wasn't a given," she added.
Reitsma said they felt a tremendous sense of joy and relief when they learned they had matched together at Beaumont: Perozich in family medicine and Reitsma in diagnostic radiology.
'Someone to go through the same thing'
Perozich and Reitsma met during their first year at Oakland University William Beaumont School of Medicine. Perozich had earned a bachelor's degree from Johns Hopkins University, and Reitsma had earned a bachelor's degree from Hope College and an MBA from Grand Valley State University.
"We hit it off right off the bat, started dating, and very quickly it became serious," said Perozich.
Reitsma said the two understood each other in unique and advantageous ways.
"It's really great having someone go through the same thing that you do because they understand what it means when you have to say 'Hey, I'm on nights this week,' or 'Hey, there's another surgery that went until 10,'" he said.
Off-time, spent studying and otherwise working toward the same goals of finding success as medical students, fortified their relationship that much more, he said.
Perozich said their relationship throughout medical school has been an "overwhelmingly positive" experience.
"We've made it a point to prioritize our relationship, in addition to school," she said. "We're both on the same page. We understand the demand. We understand the responsibilities. We understand the ebbs and flows of the emotion and stress associated with medical school."
"We've been there for each other - to support, understand, and encourage - because we know exactly what (medical school) requires," she added.
Last August, the couple got engaged.
Long before that, however, they had decided to match as a couple.
How it works
The residency match timeline is the same for a couple matching as it is for individuals.
Medical students begin putting their applications into the Electronic Residency Application Service (ERAS) in June of their third year. On Sept. 15, applications are released to the various residency programs. Interviews generally take place between November and January. Students then have until late February to place their rank order lists into the National Resident Matching Program (NRMP) where the final match is determined. Match Day is the third Friday of March.
The timeline for individuals and couples is where the similarities end.
First, applicants notify NRMP that they plan to pursue a couple match. Then, the couple must decide on how many programs, and where, they will apply. Typically, a couple trying to match together applies to significantly more programs with hopes to increase their success as a duo.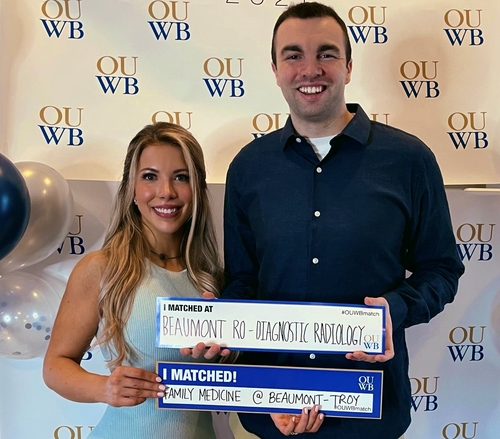 Perozich and Reitsma
Perozich and Reitsma applied to about 60 programs and each took part in about 20 interviews, which, during the couple match process, are done independent of each other.
Due to COVID-19, programs conducted interviews virtually for the latest Match Day — a benefit to couples like Perozich and Reitsma who would otherwise have double the costs of traveling to interviews nationwide.
Still, Reitsma said there were some disadvantages to doing interviews virtually.
"You don't get to see things…how staff interactions are, how the residents interact with each other," he said. "Not being able to see that was a little challenging."
Fortunately, Beaumont — where both had trained extensively as medical students — was at the top of both of their rank lists.
"We knew the (Beaumont) programs in and out — we were very happy and loved our experiences (there)," said Perozich.
Other couples seeking to match, however, might not be so fortunate.
Potential pitfalls that couples trying to match together can face include: one applicant securing more interviews; disagreements on where to apply; or a strong applicant losing out on the opportunity for a really competitive program.
'A smooth process'
After residency program interviews conclude, the couple match applicants submit a rank order list of pairs of programs.
The NRMP links the match lists of the couples and will only match them to the most preferred pair of programs on their rank order lists where each partner has been offered a position.
(Partners can apply for different specialties, programs or institutions, but to successfully match as a couples, both applicants must be matched to the same set of programs they paired on their rank-order lists.)
In short, the couple has to submit the same number of ranked programs, agree on how they'd like to pair and rank their preferred programs, and then hope each of their paired respective programs accepts them.
That's why both Perozich and Reitsma said communication is critical.
"It's about the pre-planning process and being in communication with your partner and saying 'Our relationship is a priority and it's going to shape where we apply,'" said Perozich.
Reitsma said it's never too soon for couples in medical school to start talking about the match process. He and Perozich started talking about the process as soon as their second year of medical school, and that made a big difference.
"We had talked about so many of the potential roadblocks ahead of time that when we got there is was a smooth process," he said.
Both say they are looking forward to the next step in their respective careers as doctors. Reitsma said they are "super, super excited" and that it took several days after Match Day to process the magnitude of their accomplishment.
Now that reality has set in, Perozich said, "We have nothing but pure excitement, relief, and gratitude."
For more information, contact Andrew Dietderich, marketing writer, OUWB, at adietderich@oakland.edu. 
To request an interview, visit the OUWB Communications & Marketing webpage.
NOTICE: Except where otherwise noted, all articles are published under a Creative Commons Attribution 3.0 license. You are free to copy, distribute, adapt, transmit, or make commercial use of this work as long as you attribute Oakland University William Beaumont School of Medicine as the original creator and include a link to this article.