Tuesday, Apr 13, 2021
Boosting camaraderie, raising funds: OUWB student interest groups hold fundraisers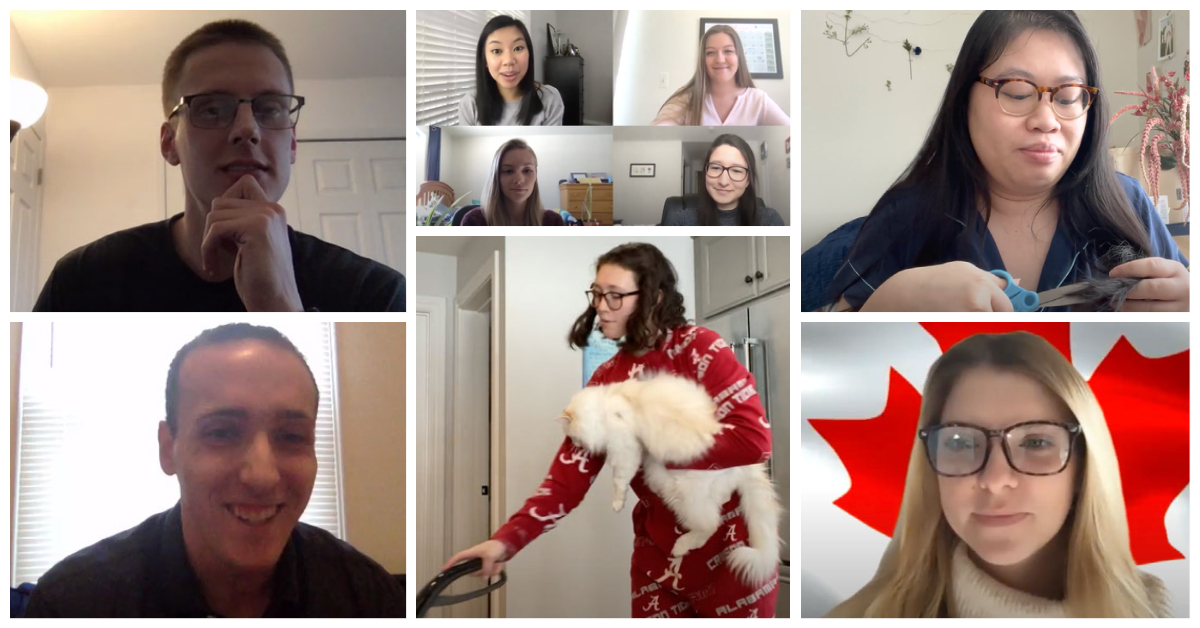 OUWB medical students were all smiles during two recent fundraisers held virtually. The right half of the collage shows students participating in funny skits as part of the P.I.G. Roast. The left two photos show the speakers from the fundraiser for St. Baldrick's Foundation.
Several Oakland University William Beaumont School of Medicine student organizations raised a total of about $10,000 for charitable causes during recent fundraising events.
The OUWB Pediatric Interest Group (P.I.G.) raised $4,600 during its annual P.I.G. Roast. Monies go to CARE House of Oakland County.
The OUWB Oncology Interest Group and Urology Interest Group teamed up to raise $5,300 during the Shave to Save fundraiser for St. Baldrick's Foundation.
Both events traditionally take place in-person, but this year were held online, in March.
"I was very pleased with it," said Sara Diltz, a second-year medical student and coordinator of the P.I.G. Roast.
"We wanted to create a fun event that would provide a sense of community while raising money for a good cause."
PIG Roast
According to the CARE House website, its mission "is to be a leading resource in the prevention of child abuse and neglect, and the protection of children through advocacy, education, intervention, research, training, and treatment, in collaboration with the community. Our vision is to impact the safety of every child in Oakland County through intervention, prevention and treatment."
P.I.G. Roast planning starts near the beginning of the school year and is done by a committee of about 20 students. Funds are raised via tickets sold to the event, a silent auction, and other mini-fundraisers held earlier in the year.
The roast featured several acts, with most of them being videos produced by students. Among others, medical students produced a segment called "OUWB Jeopardy," and did their own take on the popular show, Hot Ones, where guests ingest extremely hot sauces and try to participate in an interview.
"The acts were great," said Diltz. "I appreciated the diversity, and I really loved how much the faculty got involved."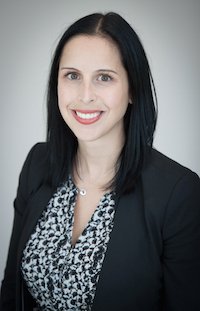 Attardi
Among the participating faculty members from OUWB's Department of Foundational Medical Studies were: Jason Wasserman, Ph.D., associate professor; Abram Brummett, assistant professor; Gustavo Patino, M.D., Ph.D., assistant professor; and Stefanie Attardi, Ph.D., assistant professor.
Attardi was the winner of the penny wars mini-fundraiser that allows participating voters to put pennies in a jar representing faculty members. The person with the most pennies agreed to take part in the roast.
"I am always impressed by P.I.G.'s fundraising efforts and success," she said. "It has been important to me to support their efforts, and ultimately, children in Oakland County."
"The roast also boosts camaraderie among the OUWB community," she added. "OUWB students, faculty, and staff work very hard at their jobs, so it is nice to have a night where we can get together with each other and our families to kick back, relax, and share some laughs."
Shave to Save!
According to its website, the St. Baldrick's Foundation is a volunteer- and donor-powered charity dedicated to raising money for lifesaving childhood cancer research, and funds more in childhood cancer grants than any organization except for the U.S. government.
At OUWB, a fundraiser for St. Baldrick's is held annually.
Sukhmani Singh, M2, hosted the event and provided a brief overview of why it's so important to raise awareness and funds for pediatric cancer research.
"One in about 285 children in the U.S. will have cancer, and worldwide, a child is diagnosed every two minutes," she said. "Unfortunately, it's not as researched as it should be. In the last 20 years, only four new drugs have been approved that were specifically developed to treat children with cancer."
Prior to the event, participants collect donations via webpages they set up through St. Baldrick's. Then, they step up and have their heads shaved in front of a supportive crowd. Additionally, funds are raised during the actual event.
Five people shaved their heads and/or facial hair after raising funds for this year's event. There were: Wasserman, and M1 students Danny Fortney, Ali Rida, and Michael Marchiori, along with community member Ashley Schmittler.
The St. Baldrick's Foundation fundraiser at OUWB also features speakers. This year it was Fortney and Mitchell Becker — two OUWB medical students who shared personal stories about dealing with cancer and the importance of feeling supported through events like the fundraiser.
"I can't even begin to tell you how important it is to raise awareness (of childhood cancer)," said Fortney. "I'm super grateful for the opportunity to be here today."
Becker shared that several members of his family, including himself, have fought cancer.
He said events like the St. Baldrick's Fundraiser are important to him for several reasons.
"They're important to me because they help me to remember the members of my family that I've lost," he said. "And they're important to me because there's hope — hope that someday no one will ever have to lose another friend or family member to cancer, hope that someday, no child will have to hear those three horrible words that Danny and I have heard, 'You have cancer.'"
For more information, contact Andrew Dietderich, marketing writer, OUWB, at adietderich@oakland.edu. 
To request an interview, visit the OUWB Communications & Marketing webpage.
NOTICE: Except where otherwise noted, all articles are published under a Creative Commons Attribution 3.0 license. You are free to copy, distribute, adapt, transmit, or make commercial use of this work as long as you attribute Oakland University William Beaumont School of Medicine as the original creator and include a link to this article.