Friday, Nov 06, 2020
Take 5 with Claudio Cortes, DVM, Ph.D., assistant professor in the Department of Foundational Medical Studies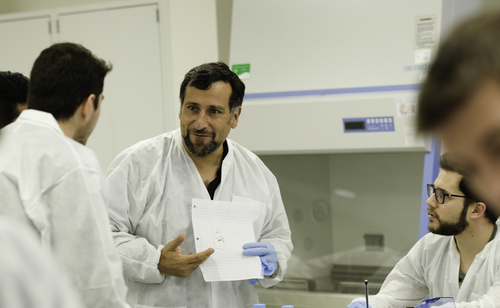 Claudio Cortes works with students in OUWB's microbiology lab. (Photo taken prior to COVID-19 pandemic.)
Claudio Cortes, DVM, Ph.D., assistant professor, Department of Foundational Medical Studies, found his passion for science due to a unique opportunity working in a lab on an antibody for E. coli in his home country of Chile.
Learn about that and more below in this edition of Take 5. 
Was there a defining moment in your life that led you to a career as an immunologist?
I was required to complete two-years of research prior to completing my degree in veterinary medicine. I was very interested in Physiology; and wanted to write my thesis on the subject of EKG in dogs. During that time my professor was planning to retire, and understandably, could not commit to the two-year assignment. I had a phenomenal conversation with a brilliant professor who discovered how the arm on the innate immunity work to defend the host. He gave me the opportunity to work in his lab, and quickly became my mentor. Our work included generating one of the first monoclonal antibodies in our country (Chile), against a gastrointestinal disease that affected cows, called E.coli. Dr. Arturo Ferreira is not only a well- known immunologist (doing research on Chaga's disease, at that time), but his passion for science further sparked my curiosity for the unknown, and opened-up the door for my career in immunology and mentorship for future generations.
You are extremely involved with OUWB community partner, Hispanic Outreach Services, starting a mentoring program that has been fully embraced as a Compass program. Why was it important for you to work with Hispanic Outreach Services? What is your favorite part about working with this OUWB community partner?
I am grateful to have created this community partnership with the Catholic Charities of Southeast Michigan, and OUWB. It offers medical students the opportunity to mentor Hispanic children in the Hispanic Newcomer Outreach (HNO) Mentoring Program.
Why It is important for me? Since I began my professorship at OUWB, I wanted to create a program that aims to educate our Hispanic youth to make positive life choices that promote health, and enable youth to improve their self-concept and maximize their full-personal potential in life. I also wanted to create a program that served the purpose of actively educating OUWB's medical students in cultural humility, in addition to refining medical students' communication skills with Hispanic culture, and furthermore, better understand the complexity of the Latin-American society.
I find the value of the intangible connection that happens between a medical student and a mentee is priceless, and this interaction between mentor-mentee could generate future outcomes in both the students and children. My favorite part is when I see a child have an "a-ha moment", and see how medical students value diversity and truly care for others.
When COVID-19 impacted OUWB in late March, you worked with Dr. Baxa and Dr. Kemp to develop the M4 Elective COVID-19 graduate seminar course.
What was the reaction from the M4 students when they took the course? Since then, how has working remotely during COVID-19 impacted your teaching style?
During the COVID-19 pandemic I was appointed course director of Respiratory, and also a co-director of the M3-M4 elective on COVID-19. It was certainly a stressful and unknown time for all, especially for the physicians who taught in the respiratory course that suddenly were desperately trying to save lives during this global pandemic. Several changes had to take place to create this 100% online course. I am grateful that I was part of a passionate team, between the administrative personnel (Catherine Hitt and Cheryl Lim), and the clinical course director (Dr. Bhavinkumar,) who aided in a smooth transition. During this time, a COVID-19 elective course was proposed, and again I was really honored to work with Dr. Kemp and Dr. Baxa that became one of the first courses on COVID-19 in Michigan. New information about COVID-19 was coming in every minute, and the M3-M4 students that participated in this elective were engaged and created several presentations regarding the medical and social impact of COVID-19 in our society. It was an amazing experience for me to see the dedication of our medical students during this difficult time.
Since then, now that all of our teaching is online, I am happy that I had created several online videos before COVID-19, which helped me to transition to virtual teaching. I still have Google meetings with some students for Immunology discussions, and additional projects.
You received a doctorate in veterinary medicine (DVM) from the University of Chile. How does this assist you in your current role at OUWB?
After I finished my DVM, and later finished my Ph.D. in science, I did research for more than 20 years. I thought my clinical skills were not going to be used at all. Nevertheless, I am happy to say that teaching at a medical school has been an amazing opportunity to bring back those skills in medicine. Pathogens that affect animals do it in a similar manner to humans, thus my skills as DVM helped me to make sure to empathize the clinical significance in each of my classes. Since I also did my Ph.D. in science, it has helped me to be able to apply the science behind each lecture in a way that make sense to health professionals. So, basically both careers, DVM and research, has shaped, in a positive way, how I teach at OUWB.
How are you celebrating the fall season? And, can you tell us one thing that people at OUWB probably don't know about you?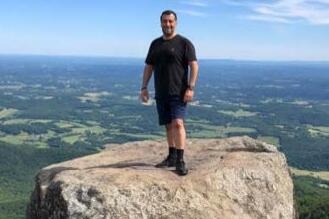 I decided to take some time off to visit some national parks. I enjoy connecting with nature, and feel it is healing, and it allows me to listen to what the "universe" is asking of me, and to be present. One thing that students do not know about me is that I am a passionate tango dancer and that I ride a motorcycle. I started tango dancing four years ago, as a way to decompress. Prior to COVID-19, I had plans to compete in the national tango competition as a way of pushing myself to further advance and grow as a tango dancer. The next competition is in 2021, and I will continue to train as hard as I can for that opportunity.
To request an interview, visit the OUWB Communications & Marketing webpage.
NOTICE: Except where otherwise noted, all articles are published under a Creative Commons Attribution 3.0 license. You are free to copy, distribute, adapt, transmit, or make commercial use of this work as long as you attribute Oakland University William Beaumont School of Medicine as the original creator and include a link to this article.