Friday, Sep 04, 2020
OUWB officials: Medical students should serve as role models, now more than ever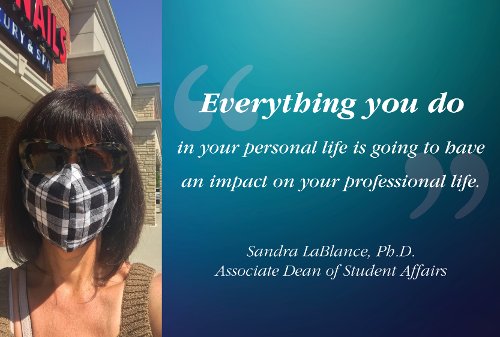 Oakland University William Beaumont School of Medicine officials are urging medical students to serve as role models when it comes to safe practices with regard to the ongoing COVID-19 pandemic.
That was among the primary messages delivered during "Being a Medical Student and a Human Being During the COVID-19 Pandemic" — a recent presentation by Sandra LaBlance, Ph.D., associate dean for Student Affairs, OUWB, and Robert McClowry, M.D., assistant professor, Family Medicine and Community Health, OUWB.
Medical students from OUWB participated in the session held via teleconference.
LaBlance said the purpose was to help people "think about how we can make COVID-19 mistake-proof and human-proof…because we all make mistakes."  A big part of her message addressed the need for future physicians to carry themselves as if they already are doctors.
"As medical students, one of the things we really want to emphasize is that how you live your life as a person is reflective of how you're going to be as a professional," she said.
"Everything you do in your personal life is going to have an impact on your professional life."
"We really need to start thinking about how those two overlap and really play a role for each other…the personal risk you take now is going to impact those around you later," she added.
LaBlance used the hypothetical situation of someone going to a party and not wearing a mask — a person essentially taking an approach that says "I can do whatever I want because it's my own personal risk."
"But the risk that you're taking will impact people that you're around when you're volunteering in the community, working in the hospital, with your classmates, faculty, staff, and administration, your friends and acquaintances," she said. "These are all people that could be impacted by you taking this personal risk."
She suggested anyone who's considering engaging in risky behavior ask themselves three questions first:
Am I willing to die for this person/group of people?
Am I willing to be responsible for the death of this person/group of people?
Why am I willing to take this risk?
"You have a choice to be educated and to educate yourself and make good choices — avoiding ignorance is the best remedy," said LaBlance. "As a medical student, you have an obligation to the community to not be a threat, to not be ignorant, and to avoid human error as much as you can."
To emphasize the importance of the situation, McClowry offered impactful insight from his experience on the frontlines during the entire pandemic. For example, McClowry said he saw countless cases where various people who had attended a family gathering had fallen ill as a result of COVID-19.
"The only thing, in my opinion, that's been shown to make any bit of different in this pandemic — including saving lives — have been socially distancing and mask efforts," he said.
McClowry said that he takes several steps to protect himself and those he cares about, including: substituting in-person visits with video chats whenever possible; working from home as much as he can; going to stores (when absolutely necessary) on top of their social distancing and cleaning; and always carrying a mask in his pocket.
"That way, I can pull the mask out at any time," he said. "It's my way of showing people that I care about them because the whole thing with the mask is that it's not really to protect me from other people, it's to protect my droplets from going elsewhere."
McClowry said that wearing a mask combined with social distancing provides the most "bang for your buck" when it comes to safe practices. That includes making sure masks are snug to the face.
"Don't wear it so it just covers the tip of your nose," he said. "I saw a student doing this earlier today and I said 'Please pull that up,'" said McClowry. "Don't wear it below your nose. I don't know why people don't believe that we breathe in and out of our nostrils."
LaBlance reminded participants in the session that decisions related to COVID-19 at OUWB are made by school officials, along with Oakland University's policy, process, and procedures related to COVID-19, and in conjunction with the state of Michigan Governor's orders.
Currently, Michigan is in Phase 4 of the Safe Start Plan. Phase 4, also known as the "Improving" phase, requires face coverings when in enclosed public spaces. Indoor social gatherings and events of more than 10 people are prohibited. Outdoor social gatherings and events are permitted so long as people maintain six feet of distance from one another and the assemblage consists of no more than 100 people.
Oakland University's policy, process, and procedure reflect strict adherence to the state order.
LaBlance said OUWB's expectations are that students continue to keep track of and follow the governor's orders, keep track of and follow OU's overall policy and procedures, and that people take care of themselves "and be respectful of those around you."
Based on state recommendations, LaBlance urged students to:
Wear a mask over nose and mouth unless eating or drinking
Maintain a distance of 6 feet from others
Limit social gatherings to no more than 10
Disinfect surfaces within your home and spaces you use on campus
Wash or sanitize hands thoroughly throughout the day
LaBlance cautioned against loosening up what should be a vigilant approach to safety around others people see often, such as roommates.
"It's somebody you trust and so you feel really comfortable being around them without a mask," she said. "But just because you trust them doesn't mean they aren't carrying COVID-19."
"It's just about protecting the people around you," she added. "It's a similar approach you would take to protecting others if you have the flu — you'd rather keep people around you safe and isolate if you start having symptoms."
For more information, contact Andrew Dietderich, marketing writer, OUWB, at adietderich@oakland.edu. 
Follow OUWB on Facebook, Twitter, and Instagram.
NOTICE: Except where otherwise noted, all articles are published under a Creative Commons Attribution 3.0 license. You are free to copy, distribute, adapt, transmit, or make commercial use of this work as long as you attribute Oakland University William Beaumont School of Medicine as the original creator and include a link to this article.