Monday, Aug 24, 2020
COVID-19 doesn't change big plans for new OUWB Medical Student Government executive board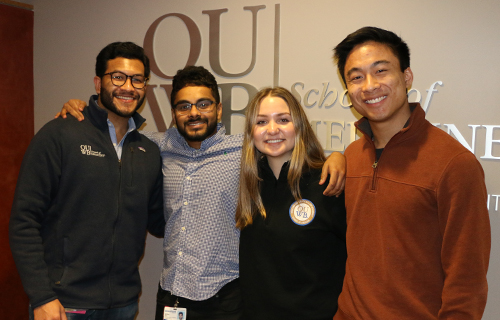 Sunny Khatter, president, Jithin John, treasurer, Maryam Hermez, secretary, and Nicholas Ang, vice president. (Picture taken prior to COVID-19 pandemic.)
Oakland University William Beaumont School of Medicine's academic year is underway with a new Medical Student Government led by an ambitious executive board.
Elected earlier this year — not too long before the COVID-19 pandemic took center stage — the executive board consists of second-year medical students Sunny Khatter, president, Nicholas Ang, vice president, Maryam Hermez, secretary, and Jithin John, treasurer. Their respective terms are for one year.
The board is the head of the OUWB Medical Student Government (MSG), which serves as the official representative body of medical students to the OUWB administration, faculty, Beaumont Health, Oakland University, and the community. MSG generally strives to investigate, discuss, and act on issues pertinent to the student body.
In addition to the four-person executive board, each class has four senators (see sidebar). Each class also has a member on the Organization of Student Representatives (OSR).
All four members of the current executive board said they have high expectations with respect for what they hope to accomplish this year, even with COVID-19 a factor.

"As OUWB is still a relatively new medical school, the role of student leaders to shape the direction of our school is imperative," said Khatter.
"I wanted to be involved with MSG since I set foot on campus as I found it to be a great opportunity to leave a lasting mark on the school for future generations of our students," he added.
For more on why the others wanted to be on MSG's Executive Board, along with their respective goals as a board member — and how COVID-19 plays into everything — please see the question-and-answer below:
What made you want to be involved with OUWB's MSG?
Ang: After falling in love with the medical school, I knew I wanted to learn how OUWB created such a tight-knit community of students and faculty. More than that, I wanted to find ways to contribute to it and help with its continued growth. My classmates are like one big Type-A, stress-filled, and supportive family. We'll be going through thick and thin…and words can't describe how big of an honor it is to serve as a representative for these amazing people. 
Hermez: I wanted to learn about the inner workings of OUWB and work alongside faculty and staff to improve curriculum and student life. I served as a student senator this past year where I had the opportunity to listen to my classmates' concerns and make them heard at the faculty and administrative levels. As secretary, I'm excited to continue this work as well as implement new ideas to further improve the student experience at OUWB.
John: I really wanted to learn more about what happens behind the scenes of school policies. Knowing that OUWB is receptive to the students' opinions and since we are still relatively a newer school, joining MSG was a must.
What goals do you have for your term?
Khatter: One major focus of mine is to explore, develop and build out opportunities for our students to earn master's degrees while in medical school. Many schools across the nation offer five-year programs that allow students to graduate with an MPH or MBA in addition to their M.D. degree. Oakland University currently has both MPH and MBA programs in place, and I would like to coordinate opportunities for our students to explore these programs. I believe that physicians should be multidimensional and that these programs could be a great way for medical students to learn more about fields they are interested in that can supplement their capabilities as a clinician.
Ang: My main goal for this term is to find ways to expand OUWB's involvement and impact to a state and national level. We're a new school with so much potential, and I plan on developing projects and collaborations to bring our school to the forefront of medicine. In addition, I'll continue to serve as the voice for my class along with my fellow MSG leaders! 
Hermez: My main goal this coming year is to strengthen the sense of community among the M1 and M2 classes and create a welcoming and inclusive environment for all students. As secretary of MSG, I also have the exciting role of serving as chair of the MSG Social Committee. This committee works to carry out some fun "non-academic" events for the OUWB community, such as the End of Year Picnic, and Big Sib Little Sib Reveal. This coming year I plan to improve the Big Sib Little Sib program by creating more avenues for Bigs and Littles to bond through informal lunch potlucks and mentoring events. Overall, I'm very excited to dedicate my time to serving the OUWB student body this coming year! 
John: I am really excited to work with my MSG colleagues. I can really see the collaborative group dynamics forming and can tell of the great things that are waiting to happen. We hope to address all concerns the student body may have and bring change to the best of our abilities.
How did the COVID-19 pandemic impact how you prepared for the year?
Khatter: As our campus is almost exclusively virtual for the fall semester we had to get creative with how we go about our normal MSG functions (electing M1 senators, hosting town halls, having weekly meetings, etc.). The acceleration of online conferencing services like Google Hangouts and WebEx have made the transition much easier for our team as we are still able to maintain our week-to-week responsibilities as representatives of the student body.
Ang: The COVID-19 pandemic affected us all tremendously. It changed how all of us, students and faculty alike, approached medical education and our role in the community. It tested our resiliency in the face of adversity, and we're continuing to work through it to obtain the best outcome possible.
Hermez: We've had to find a new way to run the Big Sib Little Sib program. Usually all the Littles (M1s) and Bigs (M2s) meet at a park in the beginning of the semester where they play games to figure out who their sib is. Due to COVID, we couldn't meet in person so we decided to do a "reveal in a box" for the M1s. Each box contained a T-shirt and welcome letter from the Bigs (see photo). It seems the Littles and Bigs are connecting well so far and we hope to continue planning more virtual events for M1s and M2s to connect through!
How do you feel the COVID-19 pandemic will affect the year?
Khatter: As president, I feel the most significant impact of COVID has been with relation to our town hall meetings. Once a month at our town halls, we invite all members of the OUWB community to attend a meeting regarding a topic relevant to student concerns in which students and administration/faculty members can freely interact with one another and share particular grievances, information, and updates. While we will not be able to conduct these meetings live, we have been able to transition these meetings to be virtual. 
Ang: One positive outcome going into the year is the increase in medical students volunteering in the community. We have numerous students working on ongoing service projects that started in the summer, and since school is online, we have more time to focus on these volunteering opportunities. The move to online learning has given us the chance to simultaneously engage issues coming out of the pandemic and other problems facing our community in addition to continuing our medical education. As for my role on the executive board, I will stay busy as I work to maintain communication between key functions of the school such as between subcommittee representatives and also between student organization leaders.
John: It's important to remain optimistic, calm, and fluid in terms of my role as the treasurer. Feelings of uncertainty are expected from the situation and from my colleagues, so as MSG members we have to roll with the flow and situation, to ensure we are properly able to do our responsibilities.
For more information, contact Andrew Dietderich, marketing writer, OUWB, at adietderich@oakland.edu. 
Follow OUWB on Facebook, Twitter, and Instagram.
NOTICE: Except where otherwise noted, all articles are published under a Creative Commons Attribution 3.0 license. You are free to copy, distribute, adapt, transmit, or make commercial use of this work as long as you attribute Oakland University William Beaumont School of Medicine as the original creator and include a link to this article.