Friday, Jan 17, 2020
OUWB medical students, Beaumont team to screen metro Detroit teens for heart abnormalities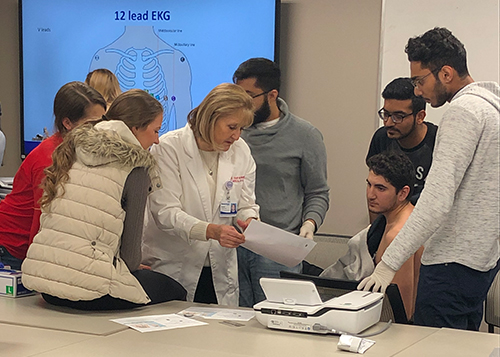 Medical students from OUWB are trained by Beaumont officials in how to properly administer an EKG before heading out to a Student Heart Check event.
Oakland University William Beaumont School of Medicine medical students recently helped screen youth from 94 metro Detroit schools as part of a program aimed at identifying potential heart issues. 
The Beaumont Healthy Heart Check Student Heart Screening was held Dec. 14 at Fordson High School in Dearborn. About a dozen OUWB medical students volunteered to help students who visited from all across metro Detroit.
Jennifer Shea, manager of the Student Heart Check Program within Beaumont Health's Heart & Vascular Services, said 200 teens were screened at the event. Of those, 158 were found to not have any concerns, and 36 students were recommended to follow up with their physician. Six students were recommended to stop sports until they saw a physician. 
Shea said the partnership with OUWB "really helps us make it possible to screen so many kids each year." Plans are in the works for the next community student heart check event to be held in spring.
"This program is great to be involved with for so many reasons," said Jean Szura, director of service learning, OUWB. "It's an opportunity for our students to go into the surrounding community and fill a need. They get to interact with kids and parents from so many different backgrounds. 
"In addition, it's an educational experience for them," Szura added. "They get hands on practice with the 'clinical' side doing blood pressures or EKGs, but they also get to hone their communication skills."
Screening since 2007
Beaumont created the Student Heart Check screening program in May 2007. Since then, Beaumont has screened more than 18,000 high-school age boys and girls. Of those, nearly 1,900 were recommended to seek follow-up appointments with their physicians, more than 200 were told to stop sports and meet with a cardiologist due to heart abnormalities, and nine were diagnosed with hypertrophic cardiomyopathy (HCM).
Screenings take about an hour and consist of a medical history, blood pressure check, an electrocardiogram, and a "quick-look" echocardiogram, which is an ultrasound image of the heart. (In addition, hands-only CPR training is available for participants.)
"One of the most serious conditions we're looking for through the Student Heart Check screening is (HCM) — a common cause of death in young athletes," said Ismael Gonzalez Rangel, pediatric cardiologist, Beaumont Children's.
Gonzalez Rangel said HCM is a condition where the walls of the heart are abnormally thick.
HCM is the single most common cause of death among U.S. athletes. Nearly 4,000 of these deaths are among young people, and one in 200,000 high school athletes will die suddenly, most without any prior symptoms. In addition, male athletes are 10 times more likely to die suddenly as a result of HCM.
"Not only can this thickness cause blockage of the blood flow of the heart, but it can also put them at risk for life-threatening heart rhythm problems, including sudden cardiac death," said Gonzalez Rangel.
OUWB's involvement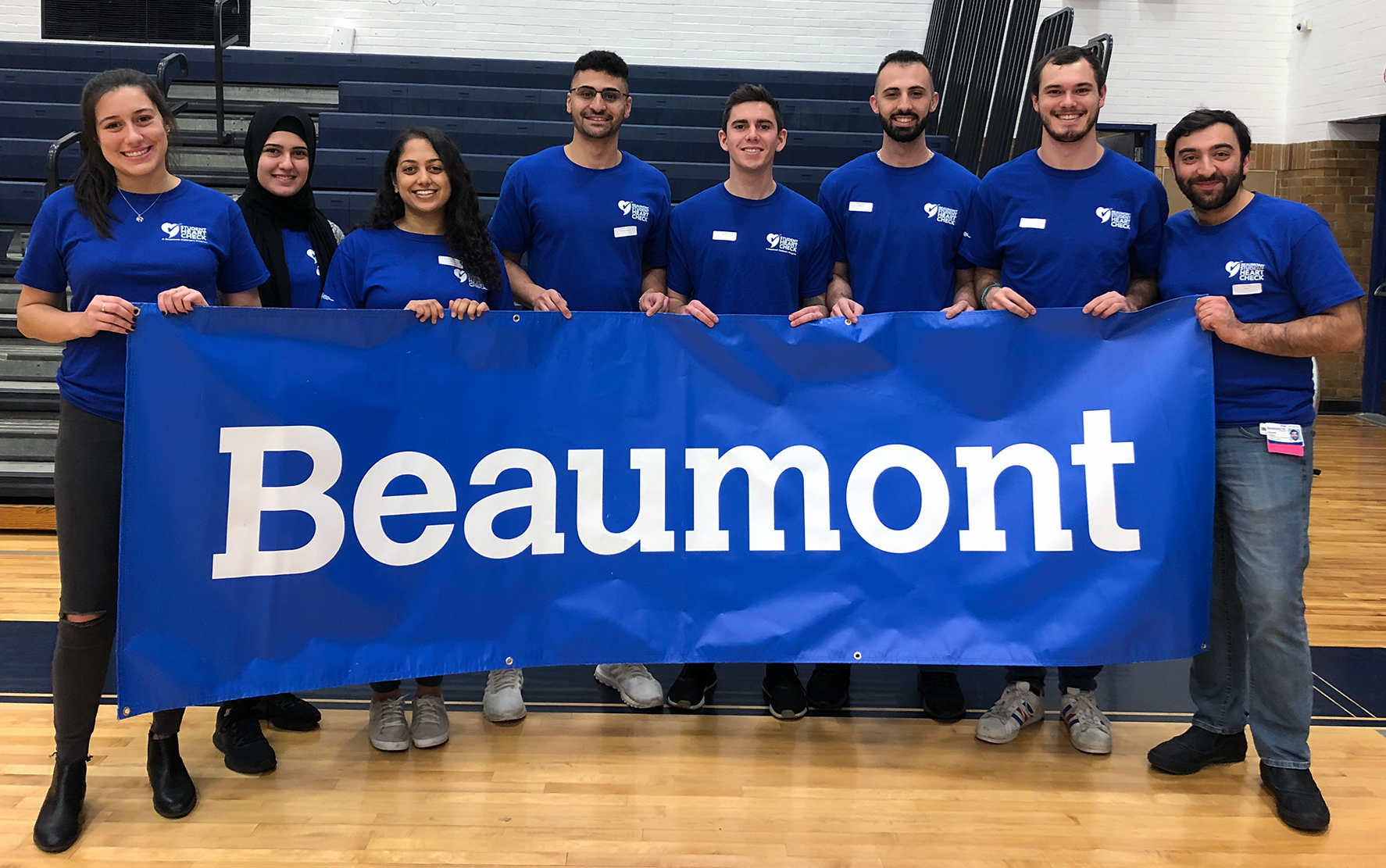 Szura said any OUWB student can participate in the program, regardless of level.
Medical students with the proper training can, among other things, run blood pressure, cardio, and hands-on CPR demonstration stations.
However, students interested in the doing EKGs must attend training from the Beaumont team.
In addition to the community student heart check events like the one at Fordson, OUWB medical students also volunteer through the program to run a fluid station on Belle Isle in Detroit during the Detroit Free Press Marathon.
"It is really exciting to be a small part of these future physicians' education," said Shea. "They are all very dedicated and have a heart for service, which I think OUWB does a great job of cultivating." 
Shea added that at the screenings, OUWB medical students "are so excited and positive to be a part of it. They are really good at interacting with the nervous (teenage patients) helping them to feel comfortable."
For more information, contact Andrew Dietderich, marketing writer, OUWB, at adietderich@oakland.edu.