Friday, Sep 18, 2020
OUWB Anesthesiology Interest Group wins top honor in U.S.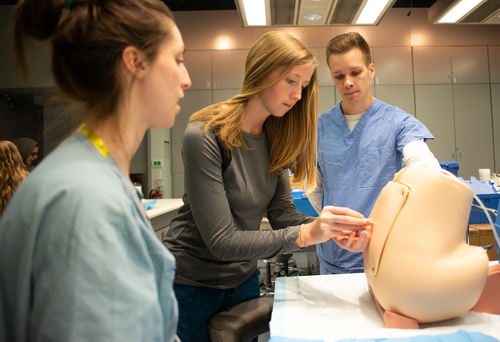 Oakland University William Beaumont School of Medicine's Anesthesiology Interest Group hosts events throughout the year, including simulation opportunities. (Note: Photo taken prior to COVID-19 pandemic.)
Oakland University William Beaumont School of Medicine's Anesthesiology Interest Group was recently named the American Society of Anesthesiologists' Outstanding Anesthesia Interest Group for 2019-20.
It was the fourth consecutive year that OUWB students in the Anesthesiology Interest Group (AIG) were awarded a top honor from the American Society of Anesthesiologists (ASA). (The announcement came just a couple of weeks after OUWB's Pediatric Interest Group was named Pediatric Interest Group of the Year by the American Academy of Pediatrics.)
According to the society, awards "are presented annually to those AIGs that show an exceptional level of participation, enthusiasm, program quality, professionalism, and involvement in their university, community, and at (ASA's) annual meeting."
The OUWB AIG — currently at about 240 members — edged out similar organizations from medical schools across the U.S., including last year's winner from University of California – San Francisco. (OUWB was named ASA's Most Innovative AIG in 2019.)
"Through this award, the American Society of Anesthesiologists recognizes OUWB as an outstanding school for what we do in our group and the opportunities that we provide for students," said Alan Nguyen, the OUWB student who served as president for 2019-20. "This lets program directors and other students know that (OUWB) is a contender."
"The fact that we've won an award four years in a row is really saying something about our students and the dedication that they put into events," he added. 
OUWB's AIG, launched in 2013, is designed to increase awareness of the spectrum of clinical practice in anesthesiology as well as encourage medical students to explore career opportunities within the field of anesthesiology.
The group aims to go beyond what's available through the OUWB curricular experience by providing opportunities for mentorship, education, and hands-on experience with anesthesiology faculty and residents.
"Anesthesiology is one of those specialties where you might not get that much exposure in your first and second years (of medical school)," said Paul Patel, current president of OUWB's AIG. "The role we play in offering those anesthesiology-related connections and activities is crucial in providing early exposure to a field they otherwise might not get until their fourth year."
Patel said the group aims to hold an event once a month. Among other events held by OUWB's AIG in the last year were:
Hosted an introduction session called "What is Anesthesiology?"
Participated in the Foundation for Anesthesia Education and Research (FAER) program that involves OUWB students taking part in anesthesia-related summer internships at various locations across the country.
Hosted a Michigan Society of Anesthesiology Physician Panel.
Hosted AIG Procedure Night 2019, which featured several simulated cases.
Held a Narcan Training Event
Volunteered at World Medical Relief in October
Held a "Meet the Match" event for M4s who matched into anesthesiology
"We put a lot of effort into making events that participating students, residents, and doctors will enjoy," said Nguyen. "To get the Outstanding AIG Award offers proof positive that our hard work really does pay off."
Prior to last year, ASA annually awarded three schools an Outstanding AIG Award.
In 2018, OUWB shared the honor with the University of Miami Miller School of Medicine and the University of Oakland College of Medicine.
In 2017, OUWB's AIG was named outstanding alongside the University of Oklahoma College of Medicine and Vanderbilt University College of Medicine.
Nguyen said ASA changed the program starting in 2019. Changes included having only one school named "Outstanding" along with categories for "Best New AIG" and "Most Innovative AIG."
Stacie Griebahn, president, ASA Medical Student Component, ASA, congratulated OUWB's AIG on being one of the top AIGs in an email announcement.
"Your AIG deserves recognition as a model AIG that exemplifies the mission of the ASA Medical Student Component to encourage medical student participation in anesthesiology, provide resources for medical students pursuing careers in anesthesiology and providing leadership, research and education in the field of anesthesiology within your school," she said.
For more information, contact Andrew Dietderich, marketing writer, OUWB, at adietderich@oakland.edu. 
Follow OUWB on Facebook, Twitter, and Instagram.
NOTICE: Except where otherwise noted, all articles are published under a Creative Commons Attribution 3.0 license. You are free to copy, distribute, adapt, transmit, or make commercial use of this work as long as you attribute Oakland University William Beaumont School of Medicine as the original creator and include a link to this article.