Tuesday, Jul 07, 2020
Longtime Beaumont exec joins leadership team at Oakland University William Beaumont School of Medicine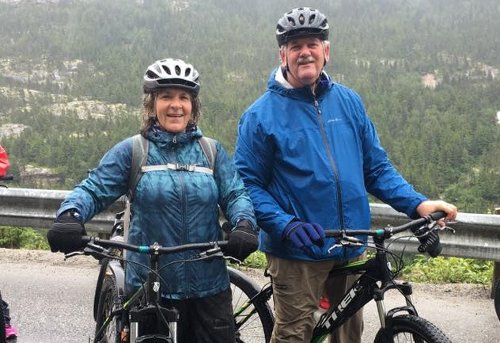 Steve Collard and his wife, Lydia, take a break while biking in Alaska. Collard is OUWB's new vice dean for Business and Administration.
In various roles at Beaumont Health in the last three decades, Steve Collard has worked closely with Oakland University William Beaumont School of Medicine — but not quite as close as he is now.
On June 22, Collard, CMA — who has held various leadership positions in finance with Beaumont Health in the last 33 years — began his role as OUWB's vice dean for Business and Administration.
Collard replaces Cheryl Verbruggen, MSA, recently named director of Budget and Financial Planning for the University of Michigan School of Dentistry.
"Having worked with physicians for many years, I understand the pressure and challenges they face, along with the satisfaction they receive from making a difference in their patients' lives," said Collard. 
"I am thrilled to play a role in preparing OUWB medical students for their future careers as physicians."
Among others with connection to OUWB, Collard has worked closely for about 20 years with Duane Mezwa, M.D., Stephan Sharf Interim Dean, OUWB.
"Steve's expertise in health care finance make him an excellent fit for OUWB," said Mezwa.  "He is a welcome addition to the school's leadership team, providing significant guidance on wide-ranging financial issues." 
'Thrilled to play a role in preparing OUWB medical students'
Collard lives in Sterling Heights, Michigan with his wife, Lydia, and their dog, Max.
They have three grown children — Andrew, Kristi, and Allie — and three grandchildren.
Collard said his favorite thing to do is spend time with his grandchildren, but he also is an avid sports fan (their dog is husky-lab mix named for former Detroit Tigers pitcher Max Scherzer). He and his wife also like to walk the Clinton River Trail and travel to National Parks for hiking adventures.
Collard grew up in Waterford, Michigan, and graduated from Waterford Kettering High School in 1979. He attended Oakland University where, in 1983, he earned a bachelor of science degree in Finance.
Collard's first job in accounting was for Crowley Milner and Co. — aka Crowley's — a former department store chain with a rich history in the Detroit region dating to 1909.
His first experience in health care-related finance was for Horizon Health System, which merged with Henry Ford Health in 1995.
At 25, Collard started working for Beaumont Hospital, Royal Oak. A year later he moved to the Troy Hospital location where he spent 18 years as the hospital doubled in size and brought much needed services to Oakland and Macomb counties.
"Basically, we added bed capacity, and specialties such as OB/Gyn, radiation oncology and open heart surgery," he said. "It was a fun place to be because it was just constantly growing."
In 2006, Collard was named vice president of finance for a then-new Beaumont Health business unit that consisted of "everything that wasn't on a hospital campus." That included outpatient centers, physical therapy, nursing home joint ventures, and home services.
Collard said that's when he first worked closely with Mezwa, who was medical director of the group.
The business unit grew and Collard said within a couple of years it had done "thousands of surgeries and MRIs at (Beaumont) off-site locations."
"That business was probably bigger than a lot of Michigan hospitals," he said. "So it was a pretty enriching experience. I learned a lot."
From there, Collard was named vice president of the Medical Group at Beaumont, where he said his primary mission was to grow the system's employed physician base and function well as an academic physician practice.
He also was given responsibility of managing Beaumont's finances with regard to OUWB.
Following the 2014 merger of Beaumont Health System, Botsford Health Care, and Oakwood Healthcare, Collard has served as finance lead for Undergraduate and Graduate Medical Education. 
His responsibilities included pulling together the graduate medical education programs at all eight hospitals into one business unit.
Between his experience at Beaumont and what he called "a lot of exposure to OUWB," Collard said he believes he's in good position to help take the school to the next level.
"Part of what interested me in the position was — with my background — I would be able to help strengthen the ties between Beaumont and OUWB," he said. "I thought I could make a contribution to the medical school between the relationships I have with Beaumont physician leaders and with some of the OUWB leaders who are now my day-to-day colleagues.
"I am thrilled to play a role in preparing OUWB medical students for their future careers as physicians," he added. 
'Another step in (OUWB's) development'
Collard described starting a job during COVID-19 as "tough," but not impossible.
During his first week, for example, he not only spent some time in OUWB's O'Dowd Hall, but had more than 20 virtual meetings.
His first impression?
"I'm really excited about working with this team," he said. "It's a great group of people to work with. People have been super friendly and very welcoming…I've really enjoyed getting to know everyone."
Among the first things he's tackling are various ways to get students back to campus in as safe of manner as possible, ways to possibly re-open the student lounge when school starts, and continuing to meet with various people connected with OUWB.
Collard said that a year from now, he hopes to have accomplished several tasks, including a seamless transition to his role as OUWB's vice dean for Business and Administration.
"In terms of objectives, I would hope that we had made progress despite COVID-19 on some of our new initiatives," he said.
"I am really excited about helping the medical school take another step in its development," he added.
For more information, contact Andrew Dietderich, marketing writer, OUWB, at adietderich@oakland.edu. 
Follow OUWB on Facebook, Twitter, and Instagram.
NOTICE: Except where otherwise noted, all articles are published under a Creative Commons Attribution 3.0 license. You are free to copy, distribute, adapt, transmit, or make commercial use of this work as long as you attribute Oakland University William Beaumont School of Medicine as the original creator and include a link to this article.