Student Maayan Yakir receives prestigious USPHS award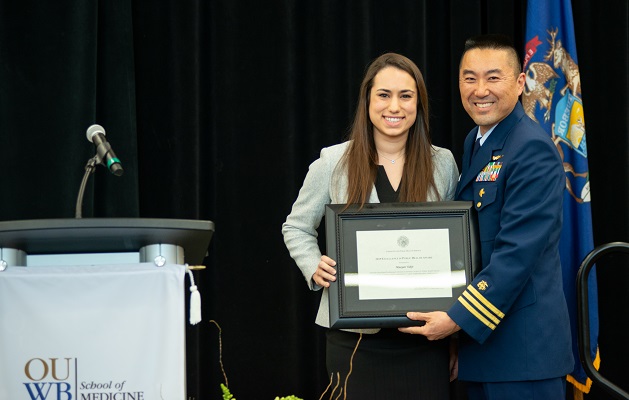 Class of 2020 medical student Maayan Yakir has been selected to receive a prestigious 2019 Excellence in Public Health Award from the U.S. Public Health Service (USPHS) Physician Professional Advisory Committee.
Yakir is one of 96 medical students from around the country selected to receive the award that recognizes medical students who advance public health in their communities and who exemplify the USPHS mission to protect, promote, and advance health and safety.
The committee takes into account each nominee's demonstrated leadership level, the impact of the student's work, and the nominee's commitment to a career in public health or preventive medicine.
"It is a big honor just to be the nominee from your school," says Robert Noiva, Ph.D., OUWB associate dean for preclinical education.
"We were very impressed with Maayan's public health work, accomplishments, and impact," says Marie de Perio, M.D., USPHS awards program co-chair.
Yakir was identified by OUWB faculty and staff as the student who had done the most to positively impact the health of the community because of her work to improve children's health. Working in collaboration with her faculty mentor, Mary Smyth, M.D., and the Medical Legal Partnership at Beaumont Hospital, Yakir has studied how the lack of utilities – gas, electricity, water – at home impacts children's health and well-being.
"When I heard that young children were leaving the hospital to return to homes with no utilities, I knew I had to find out what was happening and why," Yakir explains of her Embark project. "The more I learned, the more I saw that there was an opportunity to help."
Over the course of the past three years, Yakir's work has evolved to encompass three tiers as she has learned more about the issue:
Research

Practical advocacy

Professional development
She began by studying the impact the issue has on the health and safety of children younger than 3 in the Detroit area. Among other things, she discovered that while the utility companies and the state had protections in place for the elderly, there was nothing for young children in this age range.
This led to advocating for changes at both the local and state levels. Maayan and Dr. Smyth presented their work to the Michigan Public Service Commission in Lansing, Michigan and both were invited to join the Health, Safety and Walk-away Issues Subcommission of the organization's Low-income Workgroup.
The third tier, professional development, is focused on talking with Beaumont Hospital social workers as well as pediatric residents and staff about services available to help people who struggle to pay for utilities.
In addition to this work, Yakir also helped spearhead an expanding middle school classroom health education and mentoring program in Pontiac. She and several peers taught lessons on health and wellness to eighth graders once a month. The program continues to be successful this year and is planned to restart again next year with a new cohort of volunteer medical students.
"I've been fortunate to be part of many excellent teams. Their support, mentorship, and guidance have allowed me to keep moving forward. I'm so lucky to work with many wonderful people at Beaumont and in metro Detroit who continue to inspire and motivate me," Yakir says of the recognition.
USPHS representative, Commander Harry Ko, presented Yakir with the award at OUWB's Honors Convocation on May 9.