Wednesday, Aug 21, 2019
OUWB grad opts out of traditional residency to become U.S. Naval Flight Surgeon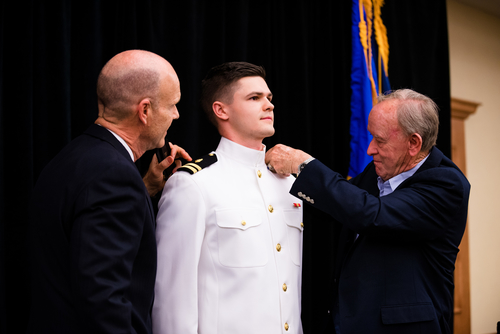 Kyle Eaton's grandfather (right) and father (left) pinned on his Lieutenant shoulder boards during OUWB's Class of 2018 Honors Convocation.
When it comes to post-medical school experience, one Oakland University William Beaumont School of Medicine alum has opted for a nontraditional track that will soon see him taking to the skies aboard some of the world's most advanced military aircraft.
Kyle Eaton, M.D., OUWB Class of 2018, is set to begin training later this year as a U.S. Naval Flight Surgeon.
Among other things, the intensive program includes flight training "to provide exposure to the various flight regimes and associated phenomenon of aeromedical concern."
But Eaton says he isn't worried — after all, he has U.S. Navy in his DNA.
"My father was a major influence in pursuing this unique career path," Eaton said, noting his dad was a Naval aviator and that he looks forward to "soon be providing essential primary care to aviators like my father as a Navy Flight Surgeon.
"It is my hope that this unique opportunity as a flight surgeon will allow me to serve my country in an adventurous and fulfilling way," Eaton said. "I hope to travel the world and provide care in austere environments."
According to the Navy Medicine Operational Training website, Naval Flight Surgeons serve as "the natural interface between the practice of medicine, the science of safety, and the profession of aviation."
Through successful aviation medicine programs, the flight surgeon promotes aviation safety, decreasing the potential for aircraft accidents.
"This is accomplished by a dedicated search for those problems — physical, mental, environmental, and man-made — which compromise safety in the air and in the workplace," the Navy states. "To accomplish the job, the naval flight surgeon makes regular visits to squadron spaces, constantly assessing squadron esprit, safety consciousness, and the mental health of the aircrew and critical support personnel. Additionally, the flight surgeon flies with the squadron as aircrew to observe in-flight stressors and crew coordination."
Eaton officially chose the path to becoming a Naval Flight Surgeon when he was accepted into the U.S. Dept. of Defense's Health Professions Scholarship Program (HPSP). Through the program, Eaton received a full scholarship to OUWB (HPSP covers civilian medical school tuition, pays for fees, provides a monthly living stipend, and includes a signing bonus under certain conditions).
HPSP is offered by the Army, Navy and Air Force, and the benefits are the same across all three services. Per the U.S. Department of Defense, selection boards tend to look at all aspects of a person's application — leadership, extracurricular activities, fitness, grades and scores — so they can determine who will succeed in both medical school and the military.
In return for qualifying for the HPSP, Eaton owes the U.S. Navy at least four years of service as a licensed physician.
Training begins in November
Training starts in November for Eaton who — having recently completed a one-year internship in Internal Medicine at Naval Medical Center in Portsmouth, Va. — is set to begin the six-month flight surgery training program.
The "Naval Flight Surgeon Course is designed to prepare Navy physicians for duty with the operational forces of the Navy and Marine Corps aviation communities," according to the Navy Medicine Operational Training website. "The graduate of the program is expected to practice this aeromedical specialty in an operational setting with the purpose of ensuring combat readiness of the unit. Preventive medicine, primary care, contingency planning and medical administrative duties, whether ashore or afloat, are all important roles that the naval flight surgeon can expect to perform."
"I will learn the fundamentals of aviation, aircraft mechanics and controls, atmospheric science, and aerospace medicine," Eaton said. "I will also experience, first-hand, the physiologic stressors of flight that our aviators encounter on a daily basis."
Eaton said OUWB has proven critical to his success, due to what he calls a "well-rounded medical school education."
"OUWB gave me a strong foundation in medicine, allowing me to stand out among my peers and peruse my personal goals," Eaton said. "The most common feedback I received as an intern was my good rapport with patients and my ability to communicate effectively with medical providers and patients.
"Communication is an essential skill in the aviation community, just as it is in the medical community," Eaton said. "At OUWB, my experiences in the (Clinical Skills Center), biomedical ethics, and team-based learning all contributed enormously to my communication skills."
For more information, contact Andrew Dietderich, marketing writer, OUWB, at adietderich@oakland.edu.