Tuesday, Sep 10, 2019
OUWB Department of Pathology Chair speaks on leadership as part of Women in Medicine Month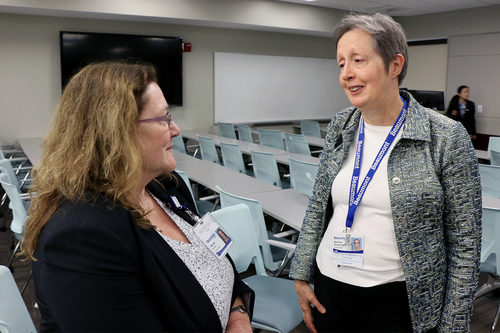 Barbara Ducatman, M.D., professor and chair of the Department of Pathology at OUWB, (right) presented a professional development session on leadership. Attendees said they took a lot away from the session, including feeling inspired.
Oakland University William Beaumont School of Medicine's Office of Diversity & Inclusion kicked off Women in Medicine Month last week with an educational session designed to help attendees sharpen leadership skills.
Barbara Ducatman, M.D., professor and chair of the Department of Pathology at OUWB, presented a professional development session called "Lean In? Lean Out? Personal Reflections on Leadership" held at Beaumont Hospital, Royal Oak.
Overall, the intent was to help attendees better understand the qualities, attributes, and skills needed for leadership, discuss strategies for maintaining work-life balance, and analyze ways to develop these management skills.
Ducatman touched on the pros and cons of being a leader, and aimed to highlight the questions potential leaders should ask themselves, how to take away the right things from various work experiences, the importance of learning from personal experiences, and more. She drew from her four decades in medicine.
"I view (being a leader) as a three-dimensional chess game," she said. "It involves a lot of thought processes. You've got to think upwards, downwards, and laterally, you get to contribute your perspective, you help other people, you make your world better.
"To me, it's important to always make where I am a bit better."

Leadership values
Ducatman joined OUWB and Beaumont Health on July 31, 2017.
Immediately prior, she was at West Virginia University School of Medicine for 21 years, where she was professor and chair of Pathology, the founding associate dean for Faculty Services, and the founding director of the WVU National Center of Excellence in Women's Health.
Ducatman received her M.D. degree from the Albany Medical College and completed a residency in anatomical and clinical pathology at the Mayo Clinic. She is subspecialty trained in cytopathology and is recognized as a national expert in this discipline. She has served at the Beth Israel Deaconess Medical Center (Harvard) and has also served in the U.S. Navy.
Further, Ducatman has held leadership positions in academic pathology, including on the executive advisory board of the Archives of Pathology and Laboratory Medicine, the highest circulation major peer-reviewed publication in the field, and is an associate editor of Academic Pathology.
During her presentation, Ducatman provided detailed background on how she constantly has strived to be a leader throughout her career. She challenged attendees to ask themselves and answer six key questions related to values before setting out to become leaders.
The questions were:
What do you want to accomplish in your life?
What are you prepared to sacrifice to obtain (whatever you want to accomplish)?
What are you prepared to ask others to sacrifice?
How can you add value to your organization, specialty, and the profession of medicine?
What are your values?
What is most important to you (what would you want in your eulogy)?
In answering what is most important to her, Ducatman said she "went beyond 'I wrote 100 papers' because you don't create your CV on your tombstone."
"Instead, I want to leave the world a better place," she added. "That's why I choose to lead."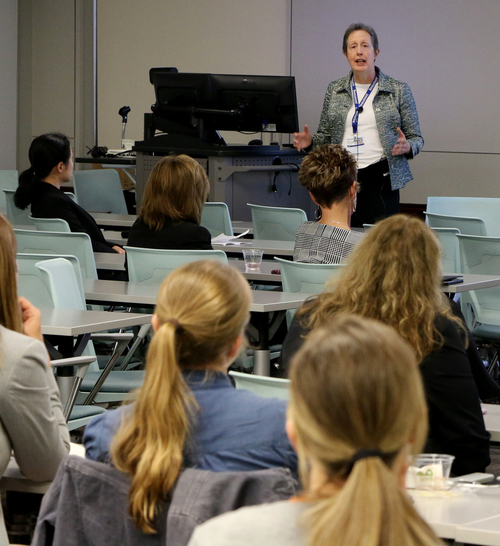 Ducatman explained the credentials that are generally required for leaders and/or potential leaders: experiences within an organization (success with prior roles and responsibilities); experiences outside the organization; a "big CV" that includes academic institutional leadership; academic and non-academic leadership experiences; and increasingly a degree.
She also reminded the audience that a career should be viewed as an "adventure, not just a job."
Ducatman highlighted her own career as an example, and cited her clinical experience, as well as teaching, research, service, and other accomplishments that she classified as "usual."
Her "unusual" experience includes visiting Guantanamo Bay (prior to Sept. 11, 2001), visiting uranium mines/processing plant, helping establish a medical school in Oman (a country southeast of Saudi Arabia), and having lunch with West Virginia's first lady in the governor's mansion.
She urged audience members to continually learn and internalize experiences — both professionally and personally — as they occur.
Ducatman also reminded attendees to keep their work in perspective, pointing to a previous battle with breast cancer that gave her a whole new perspective on life, including coming to the realization that "a job is just a job."
"You can fail at your job, and you can succeed in life," she said. "But if you continue (at a job), it's a choice, so suck it up and do your best."
Feeling 'validated'
Meeting an expert like Ducatman is one reason M3 Brandon Metcalf said he wanted to attend the session. Metcalf said he plans to go into pathology and hopes to do so at Beaumont.
"Also, she's talking about leadership development, and I think it's just good to learn about that for future career development," he said.
Karen Frederick, physical therapy supervisor, Beaumont Hospital, Grosse Pointe, said she took a lot away from the presentation, including a certain level of validation. Frederick said there was a particular point made by Ducatman that stuck with her.
"I think one of them was you can always walk away (from a job), and if you choose not to, then do your best," she said. "If you stay planted, you have to do it with the intention that you're going to lead."
Susan Walker, transplant social worker, Beaumont Hospital, Royal Oak, said she found Ducatman "completely inspiring."
Walker said she felt validated in doing things she already does, particularly with regard to chairing or co-chairing various committees.
"It validated things I currently do to say 'Yeah, I'm not doing so bad,'" she said.
For more information, contact Andrew Dietderich, marketing writer, OUWB, at adietderich@oakland.edu.