Monday, Oct 15, 2018
Take 5 with Rebecca Pratt, Ph.D.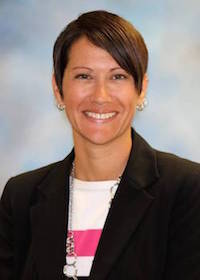 As a way to learn more about the diverse educators who share their expertise with our medical school students, OUWB presents a special interview series called "Take 5."  

Dr. Pratt joined Oakland University William Beaumont School of Medicine faculty in January 2018 as a tenured professor in Foundational Medical Studies teaching anatomy. Dr. Pratt joined OUWB from Michigan State University College of Osteopathic Medicine (MSUCOM), where she was a professor of anatomy, embryology, neuroanatomy, physiology and histology for seven years. Before that, Dr. Pratt was an associate professor of anatomy and the director of histology at the West Virginia School of Osteopathic Medicine in Lewisburg, WV for four years. Prior to that, Dr. Pratt worked as an assistant professor at Grand Valley State University and as a post-doc at Purdue University. Her scholarly endeavors focus on student-led anatomy dissection projects, surgical anatomy and the longitudinal implementation of radiology and clinical imaging within the undergraduate medical curriculum.

Currently, Dr. Pratt serves as an elected board member of the American Association of Anatomy (AAA). She has also served a term as a board member of the American Association of Clinical Anatomy. Dr. Pratt has been chair of the Educational Affairs Committee, Professional Development Committee and Committee for Early Career Anatomists within AAA. Highlights of her academic career include receiving the Basmajian Award (AAA) for outstanding research, leadership and teaching in the field of anatomy and the Keith and Marion Moore Award (AAA) for her manuscript on histology education. Dr. Pratt has also been the recipient of numerous teaching awards including five consecutive Golden Apples at MSUCOM.

Did you have a defining moment that made you want to go into the medical education field?
A couple of years after I completed my research postdoc, I was asked by a graduate student of mine what my motivation for education was. I probably fumbled through an answer. It wasn't until years later when I received a letter from him that I learned what my real response should have been. "Dr. Pratt, I don't know if you remember me or what you said to me when I left, but I wanted to write to you and say thank you. You said that your motivation for teaching was not to change the world, but to make a positive impact on those who would." I truly believe that teaching is more than sharing knowledge. It is inspiring a generation to embrace thought, query, revisit assumptions and question logically. Medical education is about making a connection that stays with the learners long after they leave the classroom.

What is your favorite part about teaching?
Educators are not only a master of core knowledge, but also a conduit for administrating that knowledge. Teaching requires to not only be competent in one's field, but to be proficient in effectively communicating with students who come from diverse backgrounds, who possess a variety of skill sets and who represent innumerable learning styles. I enjoy the challenge of adapting and adjusting quickly, changing gears and redirecting tasks to embrace a teachable moment.

I see that you're interested in mindfulness in the medical curriculum. What does this mean, and why is it important to you?
First of all, everyone in academia needs opportunities for mindfulness (especially when our minds are full). An environment is only as healthy as those who live in it, and if we only focus on a student's well-being, we ultimately fail because the community in place to support him or her is left unnourished. Unfortunately, mindfulness is often linked to selfishness because many of the principles of well-being are about healing oneself first. Perhaps this is even more prevalent in the medical arena where we push for empathy, altruism and selflessness. I think of mindfulness as aligning the mind, body and spirit so that you are ready to take on the challenges of the day without self-hate or self-deprivation. I believe that learning from mistakes and accepting that they happen can often produce a far greater outcome than mere perfection alone. Mindfulness in the medical curriculum to me means helping people from falling in the trap of being what others say we should be as opposed to who we were meant to be.

When did you first become interested in anatomy? What sparked your interest?
I have always flirted with morphology… whether it was geological, botanical or zoological. All of the natural world's details, intricacies, functional interactions and structural relationships fascinate me. I certainly did not know that microanatomy and macro-anatomy were my "career callings," but when I look back at my academic journey, they always had a presence. A few of my anatomy colleagues say that perhaps my passion for music helps make me a gifted anatomist and educator. Perhaps because I can hear not only an oboe, but how it connects to all the instruments in an orchestra and still not lose the melody, the harmony or the overall performance of masterpiece.

What was it about OUWB that made you want to work here?
I enjoy working with colleagues who share a love for education. OUWB offers me a venue to share my knowledge and enthusiasm while continuing to build upon my own professional skill set as I entertain new viewpoints and practices. I wanted to be at a university where my eagerness to develop, implement and work with others to help them achieve their potential was welcomed. While accepting the fact that people have different administrative styles and strengths, I feel that OUWB facilitates working as a cooperative unit, not a competitive one. I have been in the field of health care education for 15 years, and I feel that my accomplishments, passion, leadership style and knowledge base have primed me for this endeavor. I am excited to offer my skills and insights to OUWB to help the collective become even better at graduating compassionate physicians who are invested in the scholarship of discovery and who are effective medical ambassadors in their community.

What is one thing people probably don't know about you?
Ha! I am sort of an open book. I lead with my heart so it isn't difficult to tell how the day is going or what I am excited about pursuing. Perhaps my colleagues are not aware that I went skydiving [twice!] with medical students from the Michigan State College of Osteopathic Medicine to raise money for lupus research. People may also not know that I have a strong fondness for the performing and visual arts and that I have an absolute weakness for popcorn (no butter though).