Thursday, Mar 22, 2018
Students and alum honored at Faircloth Evening of Medical Humanism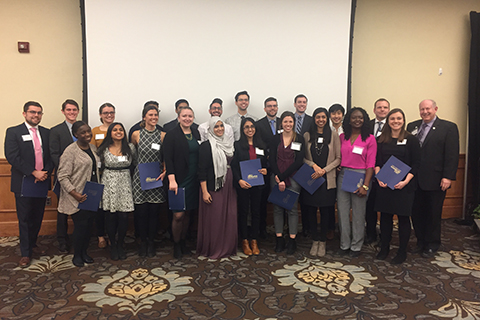 Each year, OUWB collaborates with the SEHS Department of Counseling at Oakland University to host The Faircloth Evening of Medical Humanism, an event representing OUWB's deeply-held commitment to the humanistic aspects of patient care.

The event also welcomes a keynote speaker and honors both current M3's and alumni recently inducted into the Gold Humanism Honors Society (GHHS). The GHHS annually recognizes students, residents and faculty who exemplify their compassionate approach to medical care. M3 inductees Jeniffer Okungbowa-Ikponmwosa and Matthew Drogowski are humbled and honored to become a part of this exclusive group.

"Being inducted into the Gold Humanism Honor Society challenges me to continue to build collaborative relationships with my patients as I enter into residency and become an attending physician," Okungbowa-Ikponmwosa says.

Both students share the OUWB and GHHS-held belief that future physicians should start learning compassionate care practices now, before they step onto the hospital floor.

"In my very brief clinical experience thus far, I have seen the incredible impact a physician's attitude has on a patient," Drogowski says. "If the most well-intentioned, intelligent physician lacks compassion for his or her patients, patient care suffers."

Okungbowa-Ikponmwosa adds: "When we have encounters with our patients, we are often placing them in a vulnerable position. We rely on them to provide us with information that will help in generating a diagnosis; however, if they do not feel comfortable with us, it makes it harder to get the story."

The two advise their fellow medical students, particularly those entering their clinical clerkships, to remain grounded in their purpose despite the overwhelming transition. "No matter how your day is going, remain present in the moment," Okungbowa-Ikponmwosa says. "Your patients are your teachers, and you can learn so much from them. They are trusting you to act in their best interests and to be their advocates; so, treat them how you would like your loved ones to be treated."

Other M3 inductees include Barabara Gordon, Daniel Yamane, Emile Muallem, Ishani Shah, Jacquelyn Cameron, Jamilah Alhashidi, Jessica Dzubnar, Manali Shah, Megan Boyk, Miriam Ahmad, Noah Kline, Rollin Cook, Russel Dedon, Sanjiy Kandiah, Sarah Dykowski, Subhash Edupuganti, Thomas Bebekoski and Tolulope Ifabiyi.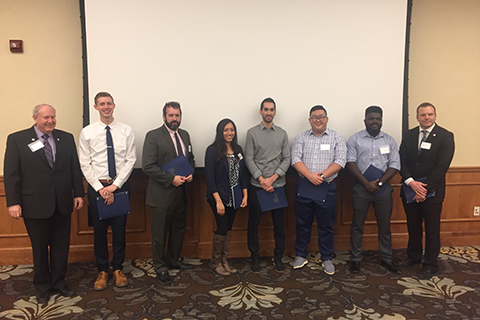 OUWB alum inducted alongside students

As he works at his residency in internal medicine at Beaumont Royal Oak, Joseph Vercellone, M.D., OUWB Class of 2016, makes a conscious effort to connect with his patients on a personal level.

"With every patient, I work at establishing a relationship built on compassion, communication, collaboration and mutual trust," he explains. In order to do this, he practices certain habits, such as sitting or kneeling at the bedside of patients, avoiding the use of medical jargon and discussing topics beyond patients' ailments. "We have a conversation," he says. "A dialogue that brings us together as equals, as partners in their treatment."

To Vercellone, this induction is an acknowledgement that the physicians with which he works recognize and value the importance of patient-centered, empathetic care, and he feels encouraged to continue making this positive, emotional impact on his patients.

"Remember that no matter how many years of medical study, how much knowledge you acquire, how many skills or accolades you may obtain, you are first and foremost a human being, not unlike each and every one of your patients," he says.

Other OUWB graduates inducted as residents include Kaitlyn Liroff and Andrew Koo.

Keynote speaker shares journey toward empathy

Brian Goldman, M.D., is an emergency physician at Mount Sinai Hospital in Toronto and the host of the Canadian Broadcasting Corporation's award-winning radio show White Coat, Black Art, where he takes listeners behind the scenes of hospitals and doctor's offices. 

Dr. Goldman began the evening with a presentation titled: Kindness and Empathy: one physician's personal and professional search. Dr. Goldman has traveled the world exploring the concepts of kindness and empathy, as he wished to challenge himself to be more empathetic with his patients. As he shared his insights with the audience, he expressed praise toward OUWB.

"I'm so glad that kindness is so important here," he said. "OUWB embodies kindness, and that's the greatest gift you can bestow on students and faculty."

The passing of Arnold Gold

Arnold Gold, M.D., world-renowned pediatric neurologist and founder of The Arnold P. Gold Foundation, died at 92 on Jan. 23. He will be remembered for his commitment to training and honoring caring and compassionate physicians. His legacy will live on with those medical students who partake in a White Coat Ceremony, a tradition established by the Gold Foundation as a rite of passage.

The Association of American Medical Colleges will continue to annually honor a medical school faculty physician who exemplifies the qualities of a caring and compassionate physician with The Arnold P. Gold Foundation Humanism in Medicine Award.